Biko Kalabasa topped with Latik is a variation of Filipino favorite snack, biko. It is a simple-to-make yet super healthy dessert or snack that is great for sharing!
Jump to:
What is it?
This dish is an adaptation of one of my most popular recipes, Biko, made healthier with the addition of squash. It is a native Filipino delicacy or 'kakanin' made with glutinous rice is cooked in coconut milk and brown sugar then topped Latik. This Kapampangan variation simply mixes kalabasa (squash) puree into the glutinous rice mixture to give it a nutty and sweeter flavor plus a creamier texture. It is a great way to sneak squash into a delicious snack or dessert- the kids won't even notice it!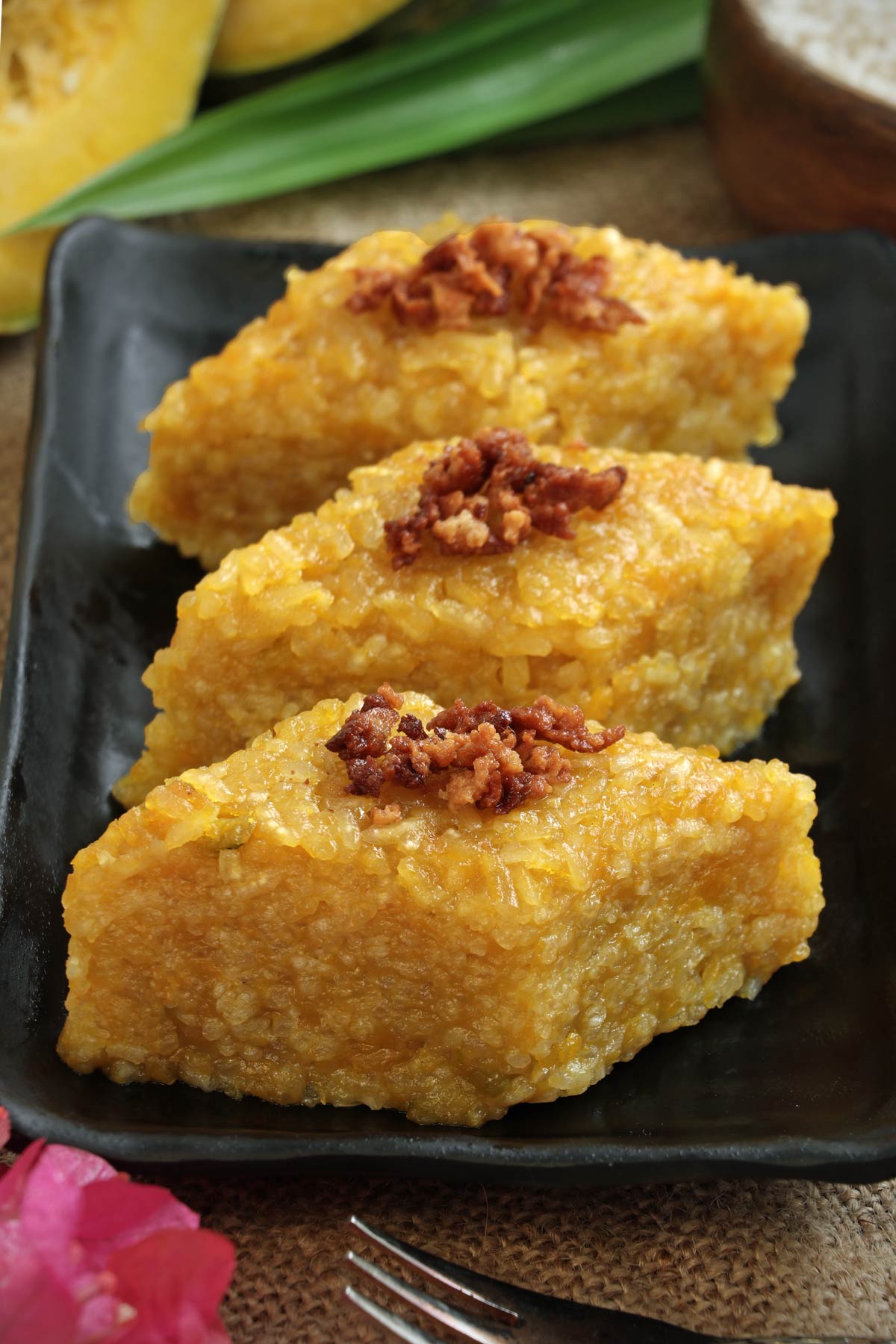 What is Latik?
If this is your first time making a native Filipino rice cake, then you might not be familiar with this delicious savory topping. These are coconut curds created by cooking coconut milk until it evaporates, releasing its natural oil, and leaving behind these solid brown bits.
How to make Biko Kalabasa
Making this yellow sticky rice cake is easier than you think with only 7 ingredients needed. First, just cook the glutinous rice in coconut milk and water with the pandan leaves until liquids are absorbed. While waiting, make the squash puree by boiling it in coconut milk until tender. Then mash them into a cream-like consistency. Once the glutinous rice is done, add it to the squash sauce and add some sugar to sweeten and continue cooking until the rice is fully coated and cooked.
Transfer in an 8x8 square pan, or go traditional by using bilao lined with banana leaves as I did. Then top with latik and you are ready to serve.
Foxy Tips when making Biko Kalabasa
Check out my tips here to make sure that your glutinous rice is cooked perfectly and does not turn out mushy or under-cooked.
If the squash's outer skin is too tough to cut through, you can blanch it for a few minutes, it will be easier to peel, seed, and cut into cubes then.
To cut down the cooking time, you can soak the glutinous rice in a plate of cold water overnight. This will soften the outer layer of the grains so they will take less time to cook. If you do this, use less water when cooking.
Storing and reheating
You can keep Biko Kalabasa at room temperature the day it is made. After that, store leftovers in the fridge in an airtight container so it will not dry out. I, personally, do not really recommend freezing it as it will not have the same texture when thawed and reheated.
Warm the Biko in the microwave for a few seconds, or serve chilled or at room temperature. It's delicious no matter what!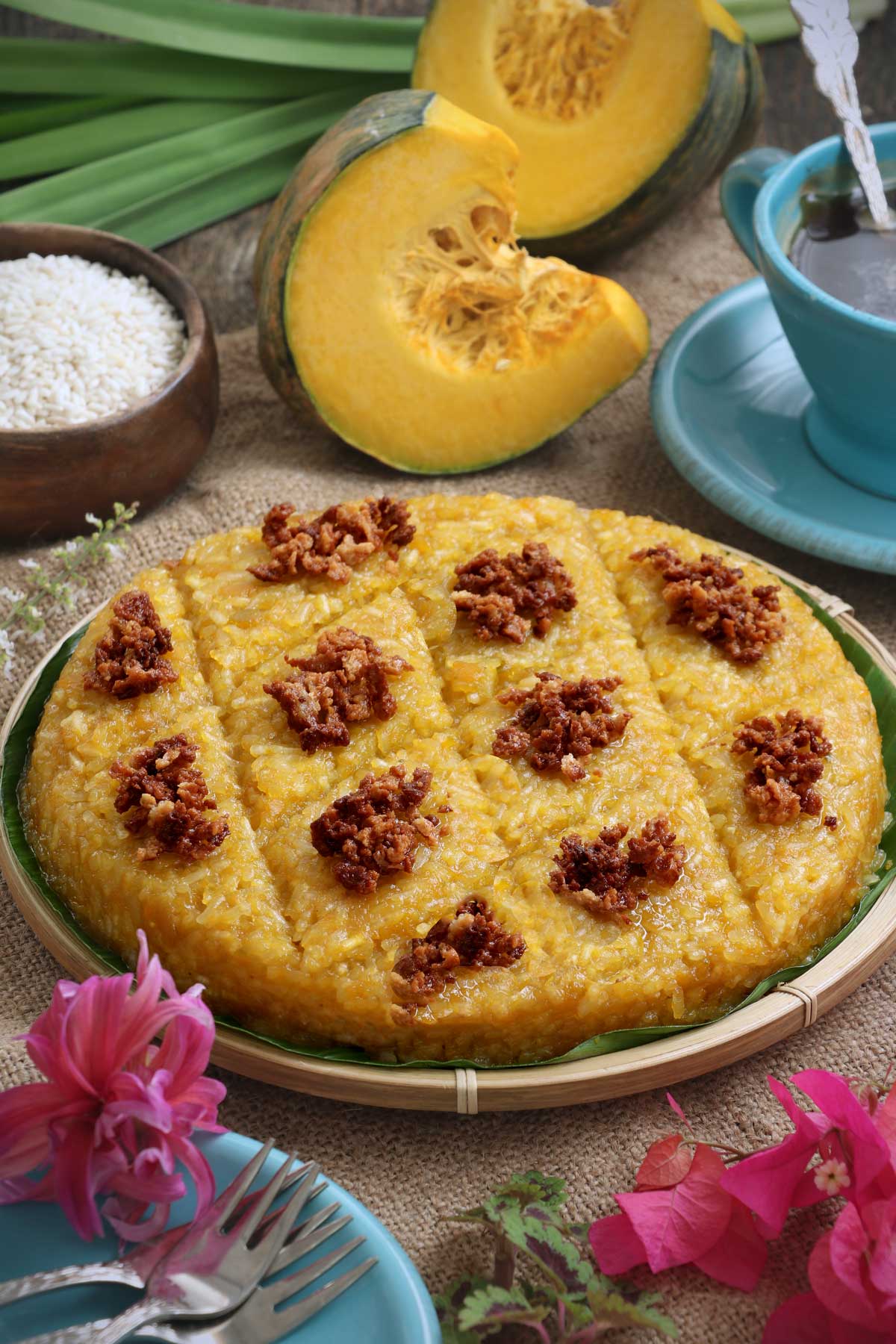 FAQs
Is squash the same as pumpkin? Can I use them both?
Though they are from the same plant family and have lots of similarities, they are classified as different fruits. They have different nutritional values and shapes. Also take note that while pumpkin is seasonal, squash is available all year round. And yes, yes can use pumpkin to make this yummy treat too.
Can I use a different variance of rice when making Biko Kalabasa?
Glutinous rice is ideal for desserts because of its high starch content. Replacing it with a different kind of rice may not give you the same results. Glutinous rice is widely available and can easily be found in groceries, supermarkets, and local markets

I do not have banana leaves. What can we use as a replacement?
You may use parchment or wax paper as a lining.  If you do not have this, brushing with coconut oil will prevent your rice cake from sticking on the pan or any dish.  
Why the need to add pandan when cooking the glutinous rice?
Pandan gives an extra flavor and fragrance to the rice. You can omit this is you can't find one.
Printable Recipe
Biko Kalabasa
Biko Kalabasa topped with Latik is a variation of Filipino favorite snack, biko. It is a simple-to-make yet super healthy dessert or snack that is great for sharing!
Ingredients
2

cups

glutinous rice

- washed and drained

1

cup

canned coconut milk

1

cup

water

2

pieces

pandan leaves

cut into 4

2

cups

coconut milk

1

cup

light brown sugar

2

cups

squash

cut into cubes

1

can

coconut cream

for latik
Instructions
Make latik curds and set aside.

Generously grease an 8x8-inch square pan with oil or line a 8 inch bilao with banana leaves greased with a bit of oil.

In a large pot over medium heat, mix together the 1 cup coconut milk and 1cup water. Add the glutinous rice and pandan leaves. Bring to a simmer then turn heat to low and cover. Let it cook until all liquids are absorbed. The rice should only be almost cooked at this point.

While waiting, add squash and 2 cups coconut milk on a large pan or pot and cook over medium heat until fork tender. Use potato masher or wooden fork to mash into a puree.

Add the light brown sugar and cook while constantly stirring until thick.

Add the cooked rice without the pandan leaves to the pan of squash sauce. Gently fold the sticky rice and the squash sauce until completely coated.

Cook further while stirring from time to time until the rice completely absorbs the sauce and the rice is fully cooked.

Transfer the rice into the greased pan or bilao and spread out evenly.

Cut into serving size and top with latik and serve.
Nutrition
Calories:
531
kcal
Carbohydrates:
64
g
Protein:
6
g
Fat:
30
g
Saturated Fat:
27
g
Polyunsaturated Fat:
1
g
Monounsaturated Fat:
1
g
Sodium:
23
mg
Potassium:
467
mg
Fiber:
3
g
Sugar:
24
g
Vitamin A:
3145
IU
Vitamin C:
9
mg
Calcium:
56
mg
Iron:
4
mg