A sticky rice cake with a chocolatey twist! Suman Moron is a Visayan delicacy that uses glutinous rice flour cooked in coconut milk mixed with cocoa powder. This one is made special by adding chopped peanuts.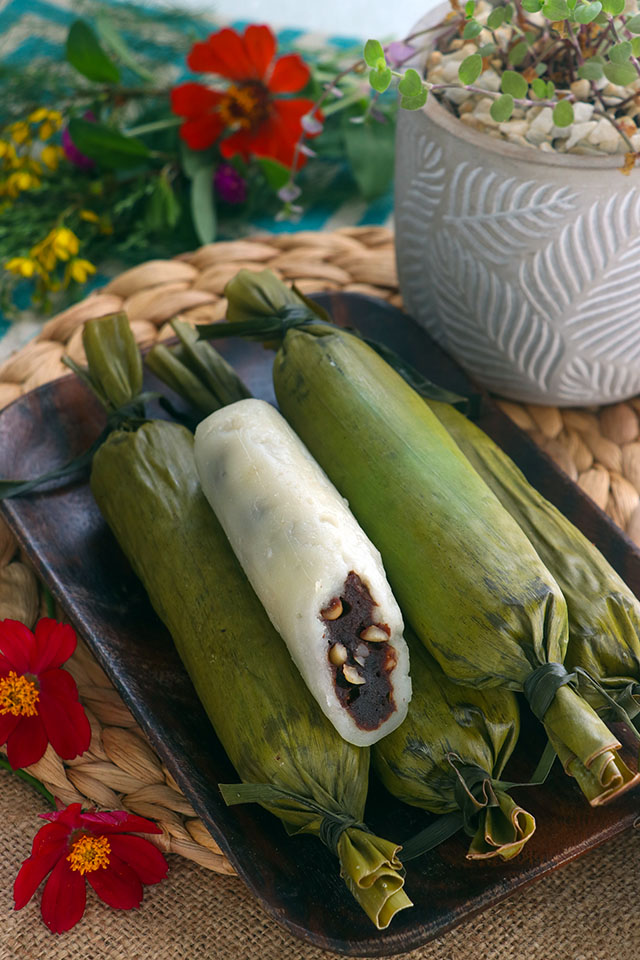 If you love Suman with its mild flavor and grainy mouthfeel, you will adore Letye's quintessential rice cake with its smooth texture and chocolatey and (sometimes) nutty flavors. It is also fairly easy to make and would be a great breakfast or afternoon snack for your family.
What is it?
Suman Morón or Chocolate Morón (pronounced with the stress on the last syllable) or Muron, is an Eastern Visayan sweet rice cake comparable to the Suman that we all know. Moron, however, is made by rolling two layers together. The first layer is vanilla flavored while the second one is mixed with cocoa powder and sometimes with peanuts added.
It is a popular delicacy in Leyte specifically in Tacloban City. It is always a part of local festivities such as fiestas, festivals, and birthdays. You will also see these commonly sold in pasalubong shops or stalls for tourists to bring home to their family and friends.
Typically paired with hot coffee or Tsokolate Batirol, a Filipino hot chocolate drink, for a complete breakfast or snack.
How to Wrap Chocolate Moron
Clean the banana leaf and cut into 6x10 inch rectangles. Prepare them by carefully heating to make them more pliable.
You can brush them with oil or butter to prevent the mixture from sticking to the leaves.
Place two spoonful of the vanilla-flavored mixture and flatten them in a 6x4- inch rectangle on the banana leaf. Place two spoonful of the chocolate mixture directly on top of the vanilla one and flatten it as well.
Gently roll the layers together in a cylinder and tie the ends with kitchen twine.
You can also intertwine the vanilla and chocolate mix together instead of rolling the layers together. To do so, just roll the vanilla mixture into a 3/4 inch log and do the same with the chocolate mixture. Place them side by side and then twist them together until it forms into one big roll.
Serving and Storing
You can enjoy the Chocolate Moron as is, but you can also add a few ingredients to make it extra special.
You can add cheese to the vanilla mixture to give it a savory taste that will contrast well with the sweetness of chocolate.
As mentioned above, it is best served with hot coffee or a hot chocolate drink.
If you have a sweet tooth and would like to amp the sweetness, you can drizzle some latik or caramel syrup.
If you would like it to have a more native flavor, you can also enjoy it with grated coconut on top.
For leftovers, you can store them in the fridge for up to 5 days to a week. Warm it using a microwave oven or steamer when you are ready to eat some more!
Here are some more Sticky Rice Cake varieties that you can sink your teeth into!
WANT MORE RECIPES? Subscribe to our newsletter and follow us on Facebook, Pinterest and Instagram for all of the latest updates.
Suman Moron (Chocolate Moron)
It is a variety of sticky rice cake with a chocolatey twist! Suman Chocolate Moron is a delicacy that uses glutinous rice flour cooked with coconut milk, cocoa powder, and crushed peanuts.
Print
Rate
INGREDIENTS
 12-14 pcs Banana Leaves – 6x10 inch
INSTRUCTIONS
Plain Vanilla Moron
In a deep pan, add rice flour, glutinous rice flour and sugar. Whisk to combine.

Add coconut milk and vanilla extract.

Simmer over low heat while stirring regularly until very thick, sticky dough forms. Transfer to a bowl and set aside.
Chocolate Moron
In a deep pan, add rice flour, glutinous rice flour, brown sugar, and cocoa powder. Whisk to combine.

Add coconut milk and vanilla extract.

Simmer over low heat until it thickens slightly. Add chopped roasted peanuts and continue to simmer until very thick, sticky dough forms. Transfer to a bowl to cool down a bit.
Assembly
Heat cleaned banana leaves to make them pliable.

Divide the dough into 12 -14 portions each. Take a portion of the white moron and place it on top of one side of the banana leaf and flatten it about 6x4- inch rectangle.

Place a portion of chocolate moron and spread it on top but just within the white one.

Gently roll the two into a cylinder then wrap it with the banana leaf. Tie the ends with a kitchen twine or use a thin strip of banana leaf as a twine. Do the same with the rest of the mixture.

Place the rolled suman moron in a steamer basket and steam over low heat for 30 minutes.

Take them out of the steamer and transfer to a plate to cool down. Serve with hot coffee or hot chocolate.
VIDEO
Nutrition Facts
Suman Moron (Chocolate Moron)
Amount Per Serving
Calories 360
Calories from Fat 126
% Daily Value*
Fat 14g22%
Sodium 15mg1%
Potassium 213mg6%
Carbohydrates 57g19%
Protein 4g8%
Vitamin C 1mg1%
Calcium 32mg3%
Iron 3mg17%
* Percent Daily Values are based on a 2000 calorie diet.
Tried this recipe?
Tell us how it went. Tag us at @foxyfolksy or leave a comment and rating below.