This authentic Moche Kapampangan recipe is a sticky rice delicacy with sweet red bean paste filling. It is baked in rich and creamy sweetened coconut milk. Serve it fresh and hot from your oven as an afternoon snack or a sweet dessert!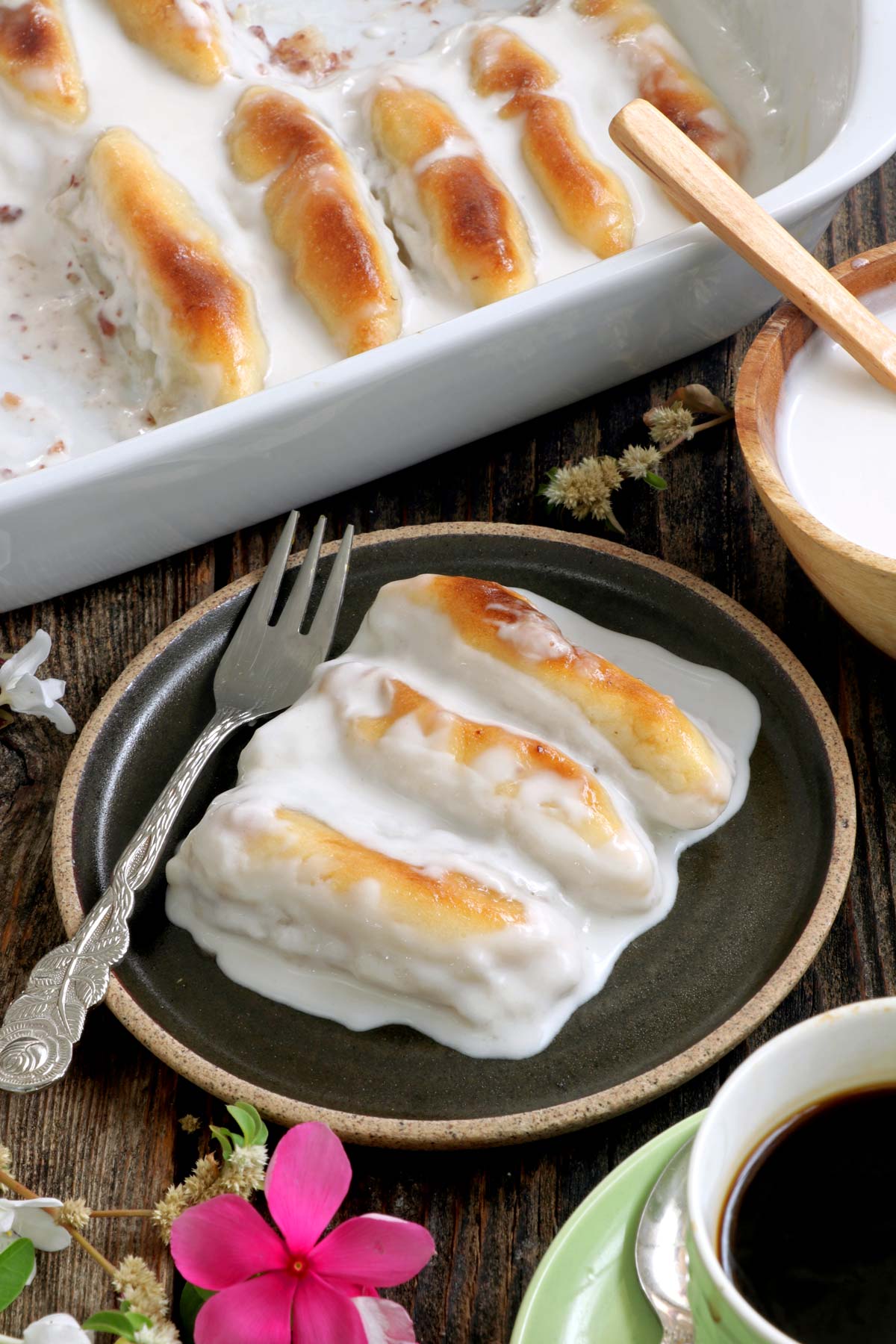 Jump to:
What is Moche Kapampangan?
Also called Mochi, Muchi, or Mutsi. This delicacy is made from glutinous rice flour shaped into balls, or more often into ovals. The usual fillings are red bean paste, mung bean paste, or Bukayo (sweetened coconut strips). What makes it absolutely addicting is the sweetened coconut milk sauce that is poured over the sticky rice cakes. Some also add toppings like sesame seeds and crushed peanuts. But, I prefer having this delicacy without any of those embellishments. Just like the one that we usually buy at famous Kapampangan delicacy stores here.
People often think that this is a variation of the popular Japanese Mochi. However, this Kapampangan snack is actually derived more from Buchi. Both are made from glutinous rice with sweet fillings. While Buchi is fried to golden perfection, Moche is boiled then baked while doused in the sweetened coconut milk sauce.
Moche vs Mache, Masi and Bibingkoy
This Kapampangan delicacy has different regional versions. They are all delicious and are all made from glutinous rice. However, they have distinct characteristics that make them each unique in their own right!
Let me introduce the different variations from other parts of the country- Mache from Laguna, Masi from Cebu, and Bibingkoy from Cavite!
Mache. Natives of Laguna make this by boiling the glutinous rice balls in sweetened Pandan water. They are rolled in coconut bits and powdered sugar once cooked. The rice balls are light green in color due to the pandan flavor.
Masi. These are glutinous rice balls with Muscavado and peanut filling. They are usually boiled or steamed and wrapped in banana leaves. Cebuanos also call these peanut rice balls.
Bibingkoy is similar to Moche in terms of cooking method and the filling used. However, this southern recipe is usually served with jackfruit and tapioca pearls as toppings.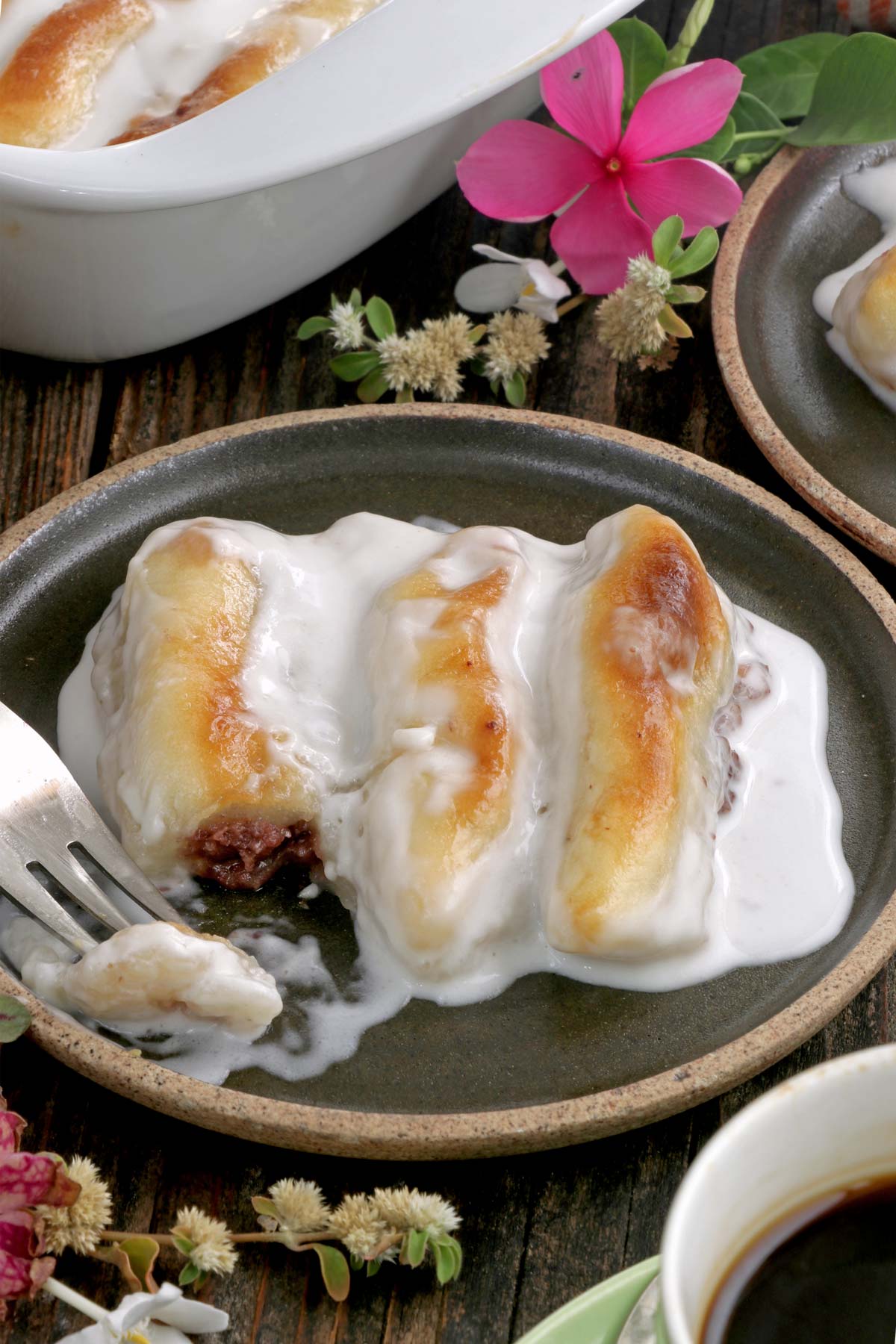 Foxy Tips when making Moche Kapampangan
Just like any other flour, glutinous rice flour also has varying water absorption levels. This recipe should only serve as a guide. You may need to adjust the water if the dough is too dry to form into balls. Alternatively, you may need more glutinous rice flour if the dough is too wet and flattens a bit after forming into a ball. This is important as too much water will prevent the balls from floating even when cooked.
Make sure to not over-crowd the pot with too many balls when boiling them. You can boil in batches instead.
Line a parchment paper or banana leaves on the pan before baking to make sure the sticky cakes do not cling to the pan.
Printable Recipe
Moche (Kapampangan rice filled balls)
This authentic Moche Kapampangan recipe is a sticky rice delicacy with sweet red bean paste filling. It is baked in a rich and creamy sweetened coconut milk.
Ingredients
Rice Dough
2

cups

glutinous rice flour

2

tablespoon

sugar

1

cup

water

 more or less

2

tablespoon

coconut oil or vegetable oil

⅛

teaspoon

salt
Filing
1 ½

cup

Red Mung Bean in Syrup

reserve drained syrup
Instructions
Place red mung beans in a food processor and pulse until it becomes smooth and paste-like. If too dry, add more of the reserved syrup. Set aside.

Combine all ingredients for the dough in bowl except for the water. Gradually add water while mixing the dry mix from time to time until a dough forms. Just use enough water. The dough should not be too wet and soft but also not dry and crumbly. It should be easy to handle and form.

Turn the dough into a ball and lightly flatten it a bit. Using a knife or bench scraper, divide the dough into 16 equal parts, like you would a pizza.

Take a piece of the dough and roll it into a cylinder about 3 inches long. Flatten it with using your fingers (or use a rolling pin) about half centimeter thick.

Scoop about a tablespoon of red mung bean paste and spread it in the middle of the flattened dough. Now fold the sides towards the middle to enclose the filling inside. Do the same with the rest of dough.

Fill a large pot with water and bring to a rolling boil. Gently drop some of the filled doughs one by one into the boiling water. Do it in 2 or 3 batches. Just make sure they are not over-crowded. Once they float remove them from the pot using a slotted spoon.

Transfer them to a baking dish arranged in a single layer. Bake at 200°C until tops turns brown.
Coconut Sauce
Combine rice flour and sugar in a small pot or saucepan. Gradually add some coconut cream to the dry ingredients while mixing just to moisten it and prevent it from forming lumps. Mix until smooth. Add the rest of coconut cream  and bring the mixture into a simmer over low heat until it turns into a thick sauce. Turn off the heat and add the vanilla extract and mix.

Pour some of the sauce over the moche, reserve some for toppings later. Return to oven and bake for another 10 minutes
Notes
Alternatively, you can also fry the mochi in coconut oil until the sides are brown.
Nutrition
Calories:
128
kcal
Carbohydrates:
15
g
Protein:
3
g
Fat:
7
g
Saturated Fat:
6
g
Polyunsaturated Fat:
1
g
Monounsaturated Fat:
1
g
Sodium:
25
mg
Potassium:
177
mg
Fiber:
2
g
Sugar:
3
g
Vitamin A:
1
IU
Vitamin C:
1
mg
Calcium:
12
mg
Iron:
1
mg