This Arroz Caldo is more than just a simple congee or rice porridge. A very hearty dish made from glutinous rice and various cuts of chicken and boiled eggs. Made flavorful and fragrant from all the spices like ginger, calamansi, and roasted garlic. This version is zestier from the addition of lemongrass and safflower.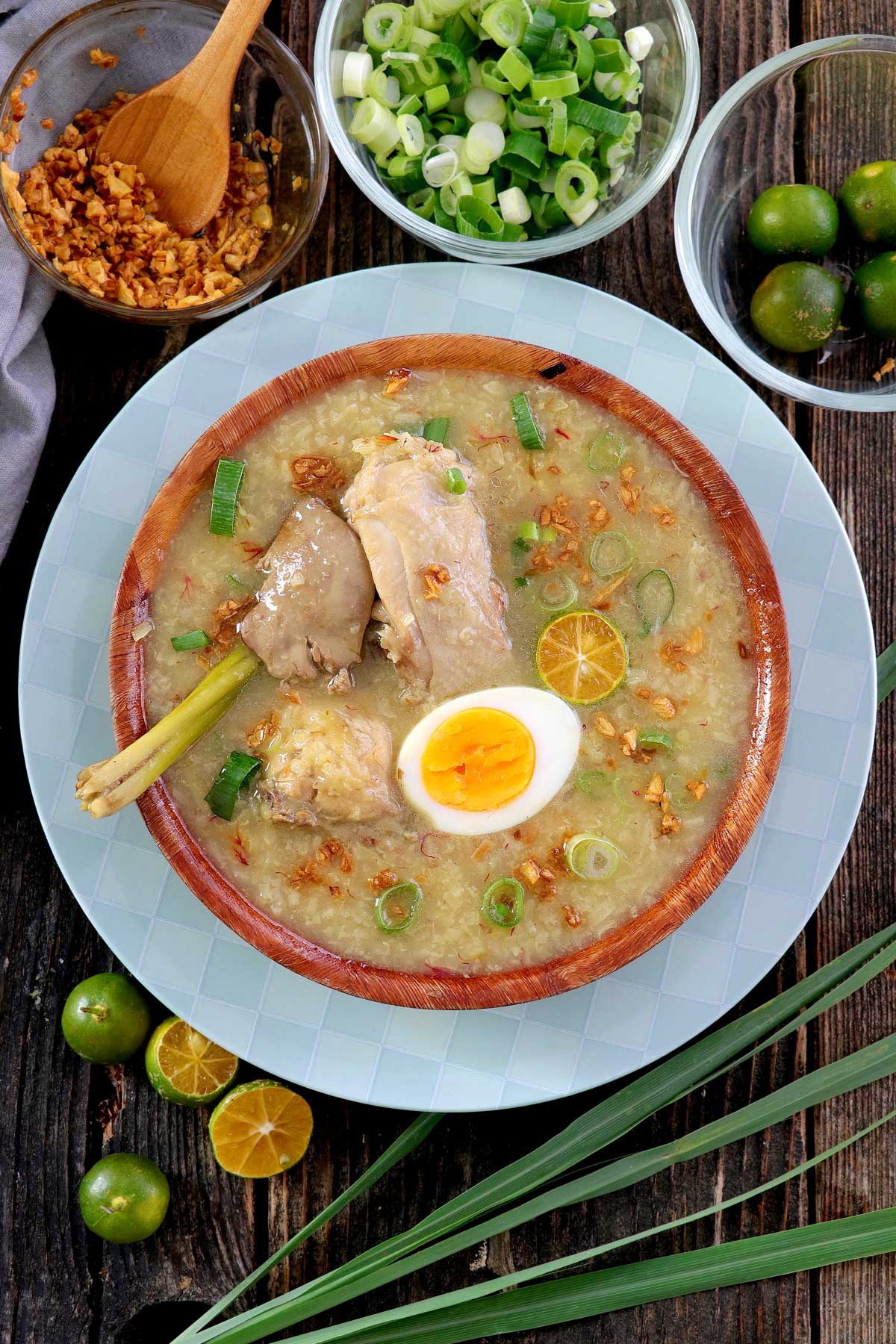 Jump to:
What is Arroz Caldo?
Arroz Caldo is a Filipino version of rice porridge or congee, made with glutinous rice and flavored with ginger and other spices. The main difference of Arroz Caldo from other Filipino rice porridge, like Goto or Lugaw, is that it uses chicken meat and sometimes chicken liver and hard-boiled egg.
It is known to be good comfort food especially for the sick or during the rainy season. Also usually served as breakfast because it is filling and nutritious.
Armin and I are not picky as to when or what time of the day to enjoy a bowl (or two) of Arroz caldo. I usually cook a large pot of it in the morning and it would be our meal throughout the day.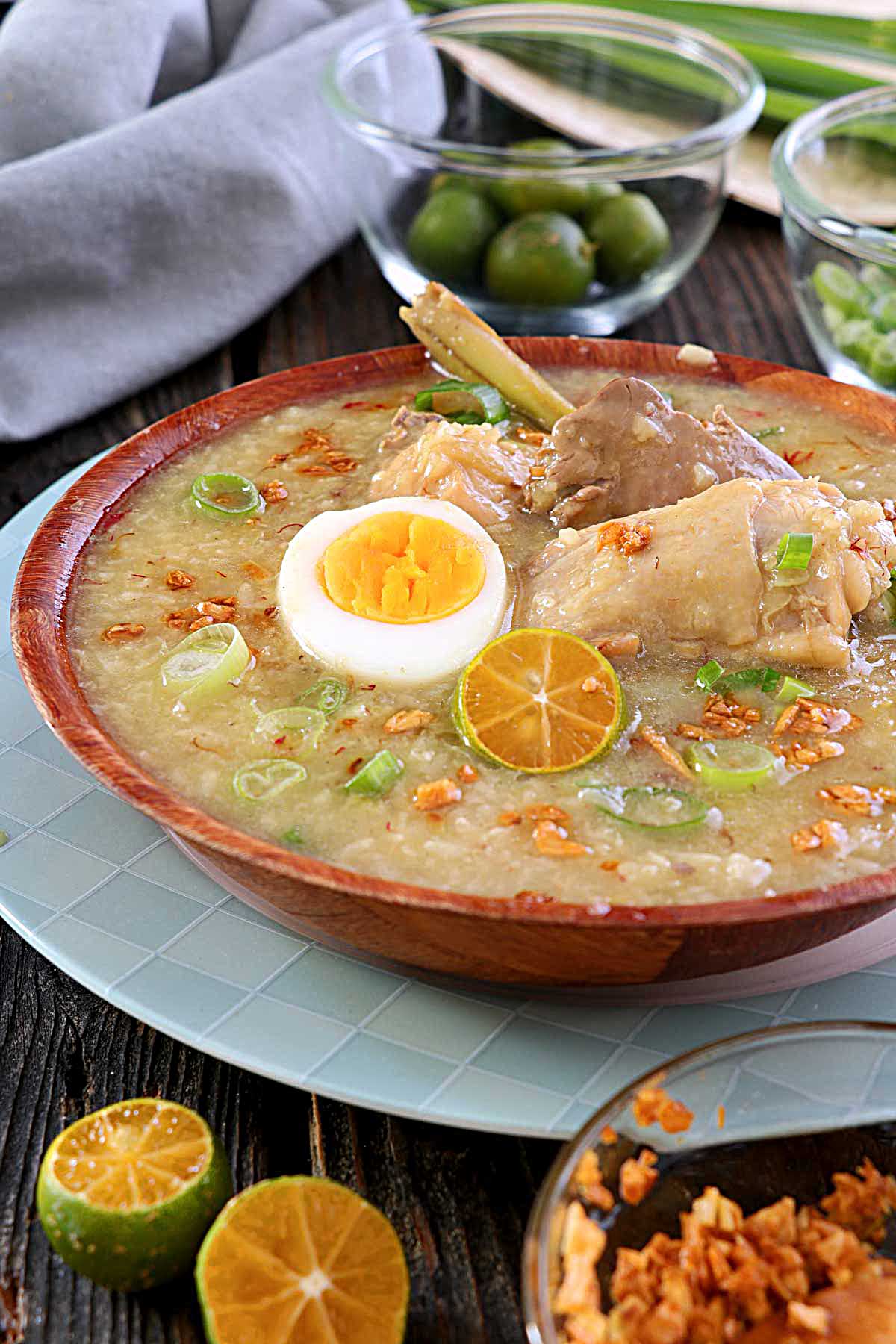 The Secret to the Best Chicken Arroz Caldo
Aside from the usual ginger, which Armin and I love and I add in loads, and various toppings, there is another thing or two that makes this Arroz Caldo special. That is the addition of lemongrass and safflower.
Safflower or "Kasubha" is usually mistaken for saffron. It is normally used as a coloring agent and it gives this dish a lovely yellow color. It has a nice aroma that is likened to chocolate and tobacco. The flavor itself, however, is actually very mild.
Adding lemongrass to Arroz Caldo is not a new innovation that I can claim, sad to say. I learned about it when I was still in Germany from another Filipina friend. It adds so much flavor and aroma that is so refreshing and citrusy and intensifies the taste of ginger. Believe me, if you haven't tried it, then you should and you'll know what I am talking about.
Although, these who additions are optional, I highly recommend it. I would never make Arroz Caldo again without at least the lemongrass.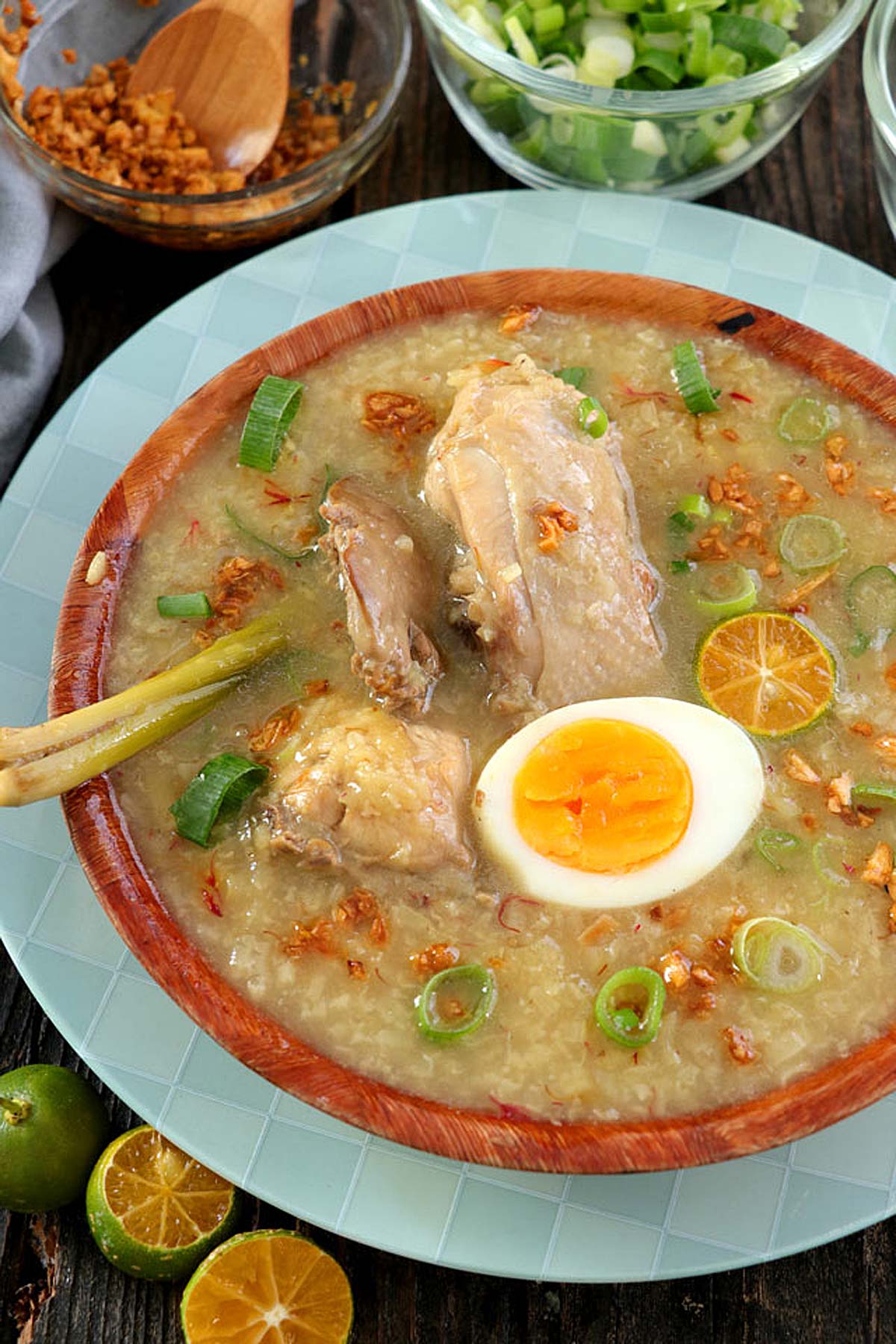 How to store and reheat?
The process of making arroz caldo is easy but making a big batch in one go can save you lot of work and you can to serve and enjoy it for several days.
Arroz caldo can be stored in the fridge for up to a week. For a big batch, divide it into separate containers so you can just heat up what you need.
To reheat, just put it in a pot or saucepan and add a bit of water as the rice would have absorb most of the liquids. You can also warm it in the microwave. You might need to add some fish sauce or salt and pepper and add some more of the toppings.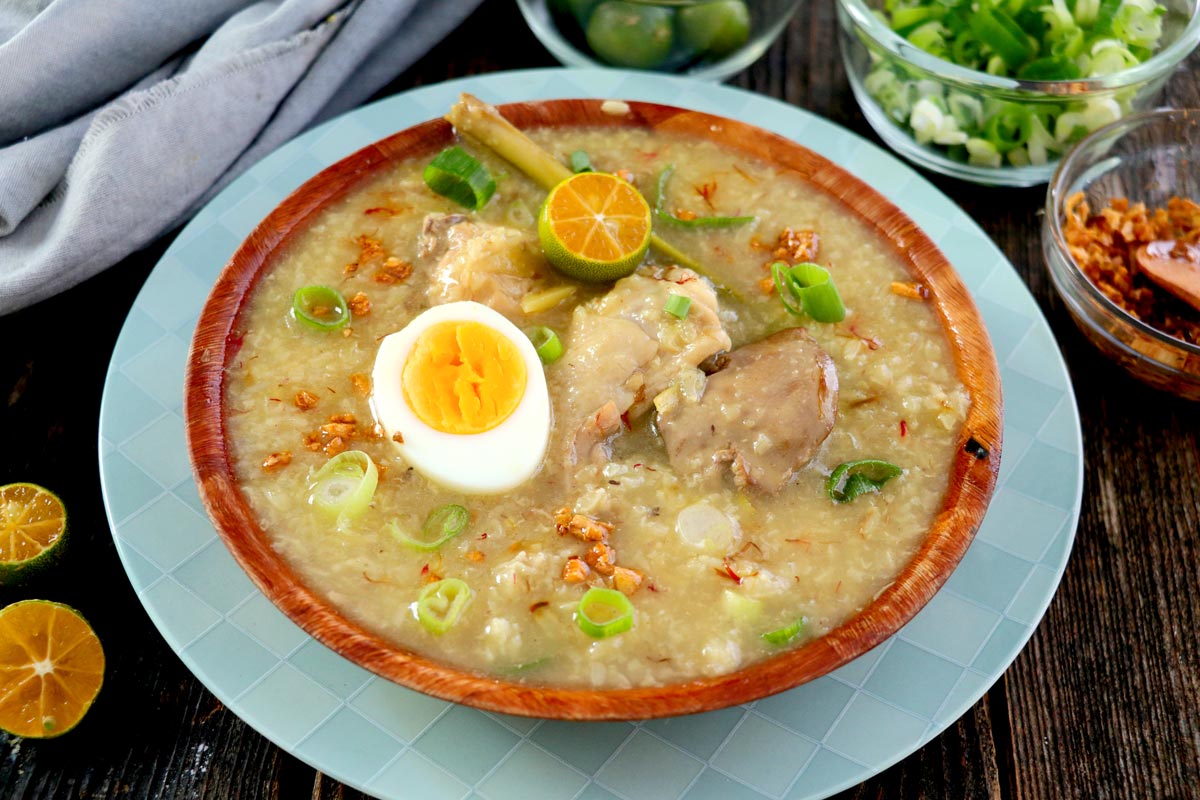 Printable Recipe
Arroz Caldo (Chicken Rice Porridge)
Make the best Arroz Caldo you can make! A very hearty Filipino rice porridge from glutinous rice and chicken. Made flavorful and fragrant from all the spices like ginger, calamansi, and crispy garlic. With added lemongrass and safflower for extra zest.

Ingredients
2

tablespoons

cooking oil

2

cloves

garlic

- minced

1

small

onion

- chopped

4

tablespoons

ginger

- peeled, julienned and crushed

1

kilogram

chicken

- cut into serving pieces

4

tablespoons

fish sauce

1 ½

cup

glutinous rice

(uncooked)

8

cups

water

4

tablespoon

safflower

(optional)

3

stalks

lemongrass

- crushed (optional)

4

pieces

preboiled chicken liver

(optional)

½

teaspoon

ground black pepper
Toppings
4

pieces

hard boiled eggs

- shells removed and each cut into half (optional)

1

head

garlic

-minced and fried until brown and crispy

1

bunch

spring onions

- chopped

8

pieces

calamansi

- or 2 lemons cut into quarters
Instructions
In a large pot over medium heat, saute ginger, onion, and ginger in hot oil over medium heat until aromatic and onions and garlic are tender.

Add in the chicken pieces and stir in fish sauce. Mix several times and cover the pot with a lid. Let simmer in own juice for about 5 minutes or until the outer layer is no longer pink, turning occasionally to keep them from burning.

Add in the glutinous rice and cook while stirring for 2-3 minutes.

Pour in the water. Add the lemongrass and safflower and bring to a boil. Cover pot to let the rice cook faster while mixing now and then to prevent the rice from sticking at the bottom of the pot. Cook for 10-15 minutes or until rice grains has expanded and become soft.

Add pre-boiled liver and season with ground pepper. Add more salt or fish sauce if still needed. Cook for another minute or 2.

Ladle Arroz caldo to bowls with chicken pieces and liver as desired. Top with half hard-boiled egg, crispy garlic, leeks, and calamansi or lemon.
Nutrition
Calories:
513
kcal
Carbohydrates:
33
g
Protein:
26
g
Fat:
29
g
Saturated Fat:
6
g
Cholesterol:
97
mg
Sodium:
812
mg
Potassium:
379
mg
Fiber:
1
g
Sugar:
0
g
Vitamin A:
260
IU
Vitamin C:
5
mg
Calcium:
44
mg
Iron:
2.4
mg
FAQs
Can I use dried or powdered ginger?
Use fresh ginger, if possible. But if you really must, yes you can. It will not taste the same though.
Which cut of chicken to use?
ou can use any cuts of chicken but I recommend thigh, back and wings as they are the most flavorful. For more meat, you can add some breast parts.
I do not have glutinous rice. What can I use?
Glutinous rice is best used to give you thicker, silkier texture. If not available, opt for other starchy rice like jasmine and japonicarice. Don't use parboiled rice.
I can't find safflower, what is an alternative?
If you cannot find safflower, you can also use the more expensive saffron or you can also add a dash of turmeric powder. Or you can add both if you like.
This Arroz caldo Recipe was originally published in June 2015. Updated in April 2019 with new photos and improvement to the recipe with the addition of lemongrass.