Almondigas or "bola-bola" soup is classic Filipino comfort food. It is a dish made of meatballs and misua with patola (sponge gourd) in a clear broth. A simple yet satisfying healthy dish.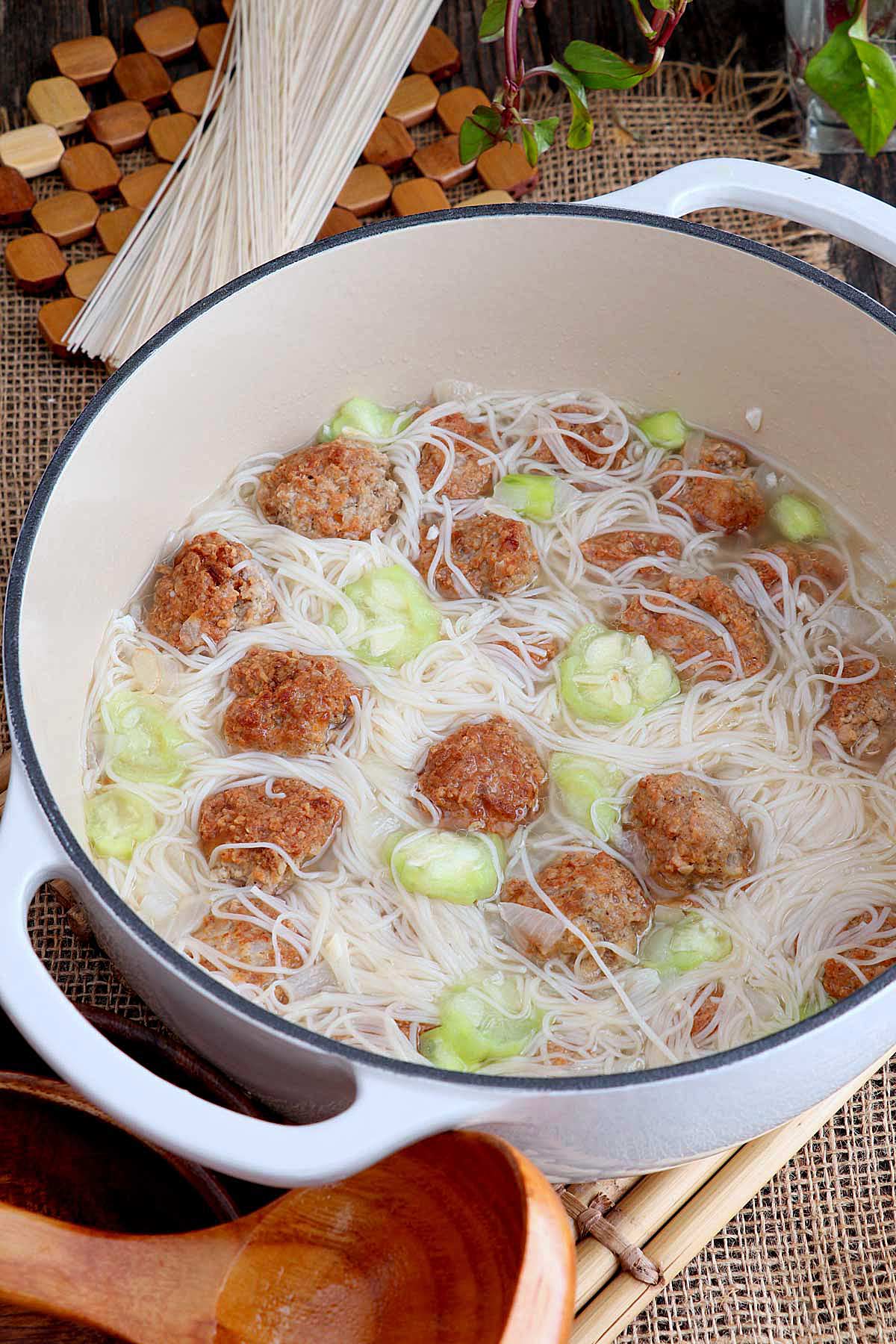 Jump to:
This soup reminds me of our childhood. Mama would cook this soup every now and then. Especially when we just had meatballs and there are some leftovers. Not enough on their own for another meal, so this is the best way to reuse them to make a completely new dish. At that time, I thought she invented it herself! We just call it "Miswa-Bola-Bola" at home. Later on, I found out our neighbors do the same. But it is only recently that I learned it has a proper name, Almondigas.
This is also one of the first soup dishes I've learned to make when I was still a kid because it is so easy to cook and done in just a few minutes.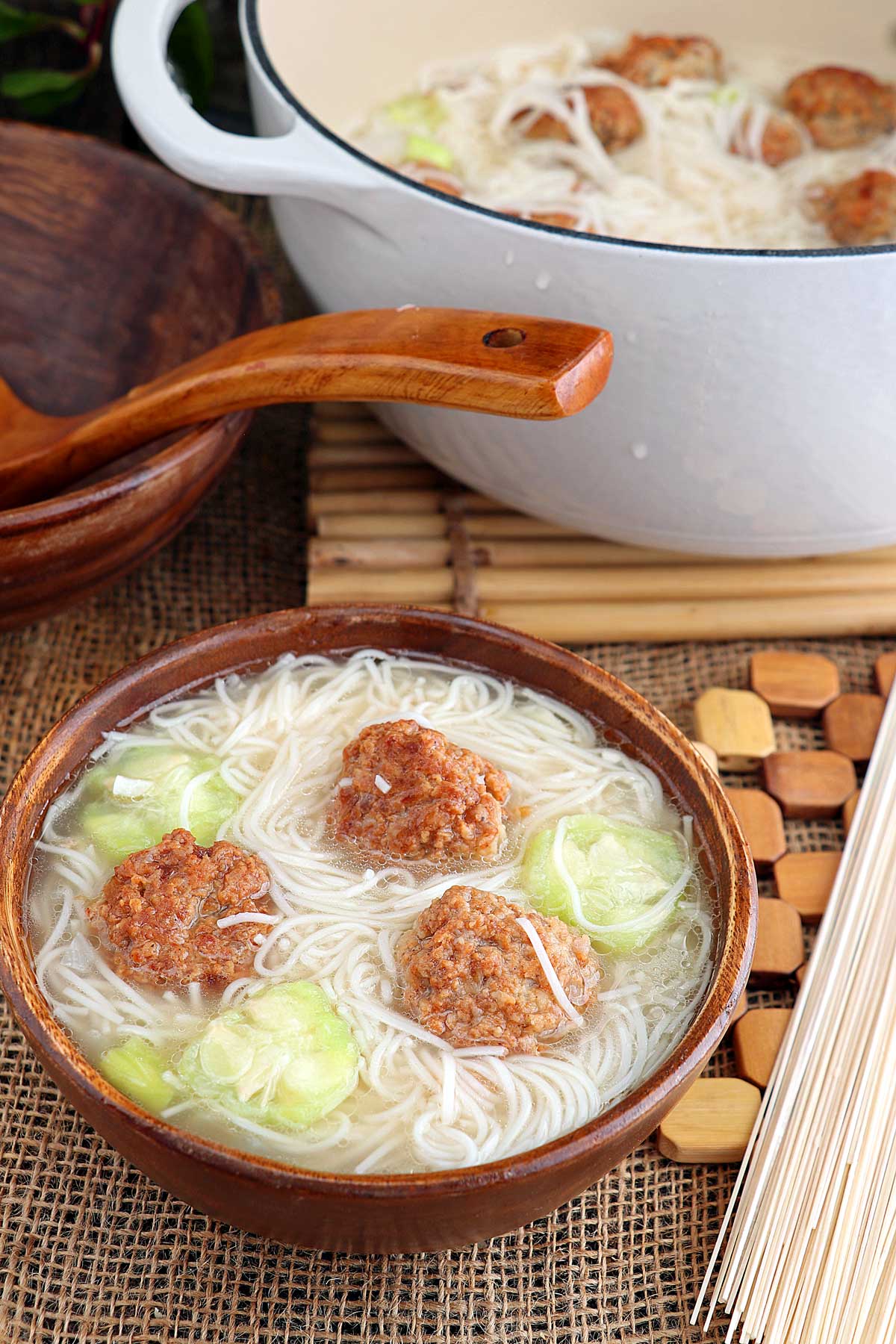 What is Almondigas Soup?
Almondigas is a Filipino soup made of clear broth with meatballs, noodles, and patola.
Filipinos love having this soup, especially on rainy days, but also on hot sunny days. Since it is very simple, economical, and easy to make. You can cook it for less than 30 minutes, including the preparation time. Cooking almondigas soup follows two main processes: firstly, forming the meatballs, and then making the broth with misua. Others would cook the meatballs in the boiling water directly, while some, like myself, prefer to fry them first.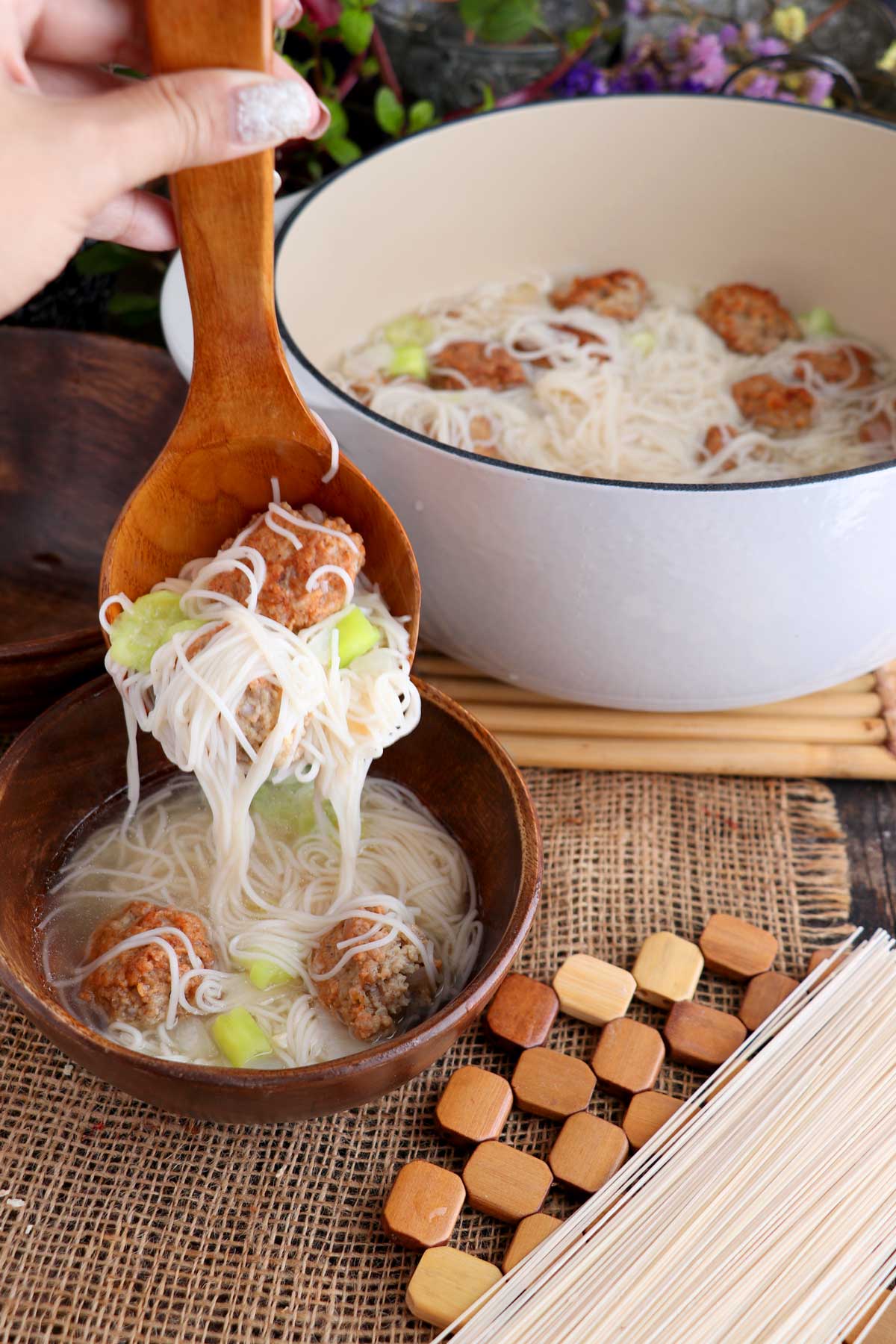 Almondigas vs. Albondigas?
Although there is no exact source which tells the origin of this soup, it is believed to be an adaptation of a Mexican meatball dish called "Albondigas" which means "meatballs" in Spanish.
The difference between Filipino Almondigas and Mexican Albondigas soup is that the latter uses tomatoes and other vegetables in addition to the meatballs and no noodles. While we Filipinos eat it with rice (what else!), they usually add the rice on the meatballs itself or in the soup.
About the ingredients
The meatballs, traditionally, are made with pork, but ground beef or chicken also works as good.
Misua is a Chinese thin, salted noodle made from wheat flour. It is high in fiber and other nutrients because of its wheat component. You can substitute misua with Japanese somen noodles since they are alike in texture and made of the same thing.
Patola, also known as ridge gourd, Chinese Okra or Luffa, is also rich in various nutrients such as calcium, iron, and potassium, which are good for your body.
So you see, Almondigas is a nutritious and hearty soup.
Printable Recipe
Almondigas Soup
Almondigas (Bola-bola soup) is classic Filipino soup made of meatballs, misua noodles and patola. A quick and easy soup to make!
Ingredients
MEATBALLS
1

pound

ground pork

1

egg

½

big

yellow onion

chopped finely

½

cup

flour

1

teaspoon

salt

½

teaspoon

ground pepper

oil

for frying
SOUP
2

cloves

garlic

minced

½

big

yellow onion

chopped

6

cups

water

1

medium

patola

peeled and cut into slices

100

grams

misua noodles

3

tablespoon

fish sauce

salt
Instructions
In a bowl, combine all the ingredients for the meatballs and mix well. Scoop a spoonful and form a ball using the palm of your hands. Place the balls on a plate.

In a pan, heat enough oil over medium heat and fry the meatballs until golden brown. remove the meatballs from the pan and transfer to a plate. Set aside.

Take about 2 tablespoons of the oil and heat over medium heat in a pot. Saute garlic and onions until aromatic and limp.

Pour in the water and bring to a boil. Add the patola slices and cook for 2 minutes.

Add the misua noodles and cook for another 2 minutes. Season with fish sauce. Add salt if needed.

Transfer to a soup dish or bowl and serve while still hot.
Notes
You can also add pork cubes to the soup to enhance the flavor.
If you wish, you can skip the frying of the meatballs and just drop them one by one to the boiling water to cook before adding patola and miswa.
Nutrition
Calories:
310
kcal
Carbohydrates:
21
g
Protein:
18
g
Fat:
17
g
Saturated Fat:
6
g
Cholesterol:
82
mg
Sodium:
1161
mg
Potassium:
300
mg
Fiber:
1
g
Sugar:
1
g
Vitamin A:
40
IU
Vitamin C:
0.8
mg
Calcium:
35
mg
Iron:
1.9
mg