Sinigang sa Miso has all the goodness of the classic Filipino sour soup, sinigang, but is made even more flavorful with the addition of fermented soybeans!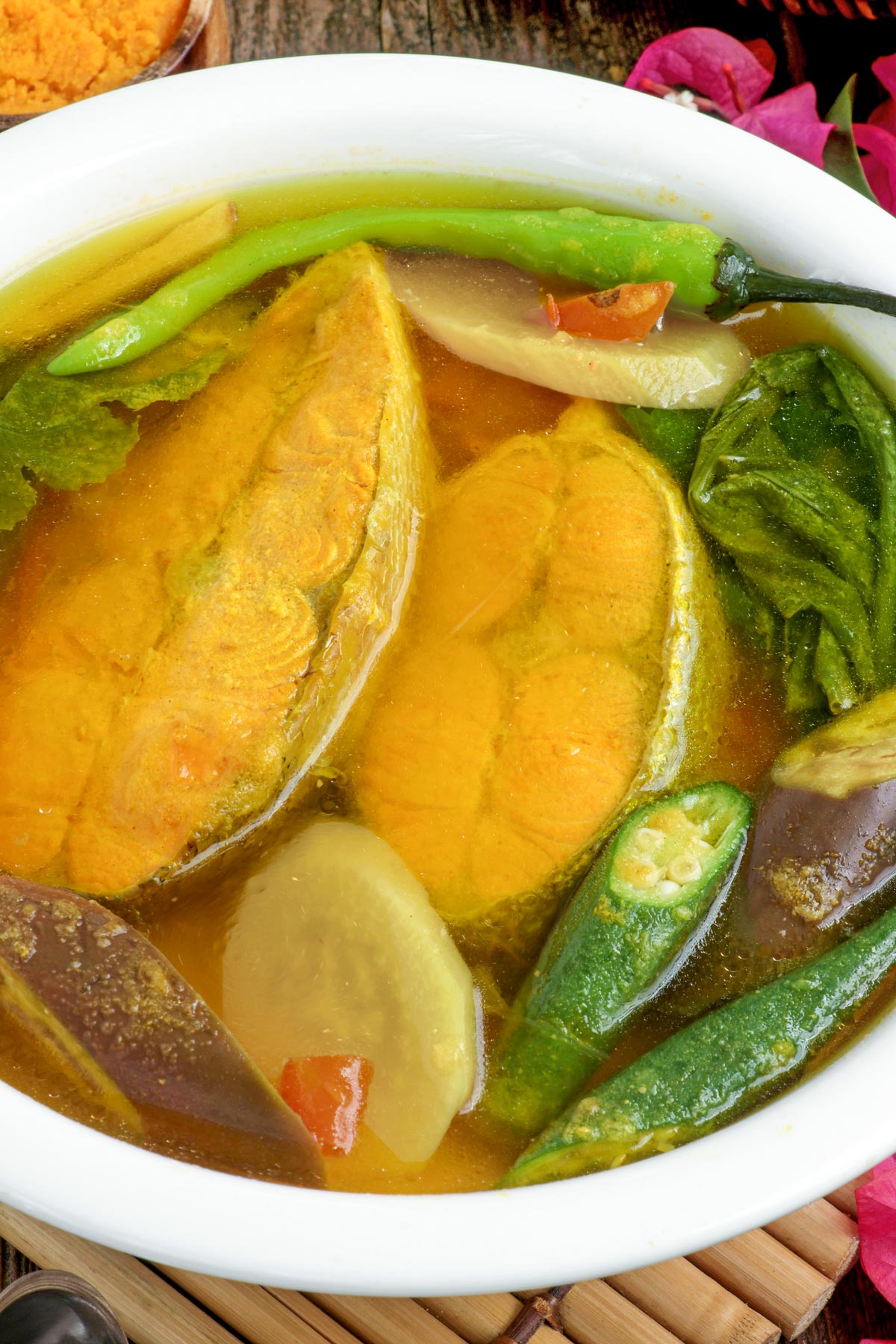 Everybody loves a steaming bowl of Sinigang! It is one of the most popular Filipino dishes loved worldwide, along with Adobo. This comfort dish is enjoyed year-round but is very much in demand during the rainy season. It definitely tickles the tastebuds and warms the belly with every sip and slurp.
This variation of sinigang captures the fruity tartness of the traditional tamarind soup but is made extra flavorful with miso. It lends a uniquely oriental taste that is truly one of a kind. If you are making this Sinigang sa Miso for lunch or dinner, I urge you to double up on your steamed rice!
What is Miso?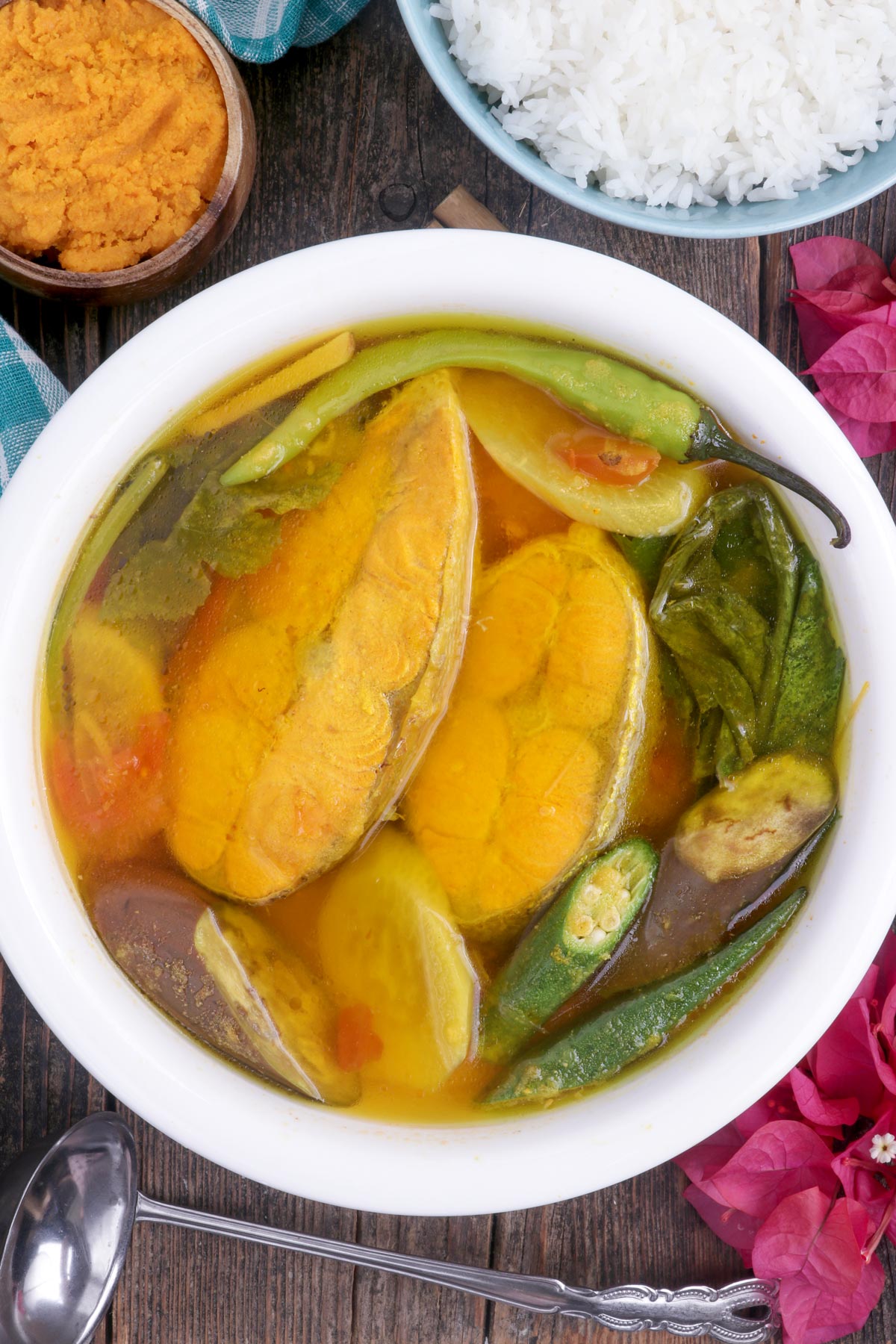 Originally from Japan, it is a popular Asian seasoning made from fermented soybeans, koji, grains, and salt. There are several types of miso depending on the region it is made from, the ingredients used, and the duration of the fermentation process. The ones often used in the Philippines are orange, yellow, or brown and have a thick paste-like consistency. It is the embodiment of the flavor called "umami." A funky mixture of salty, sour, sweet, and savory! Give it a try and indulge in the flavor intricacies that miso delivers.
Ingredients needed for Sinigang sa Miso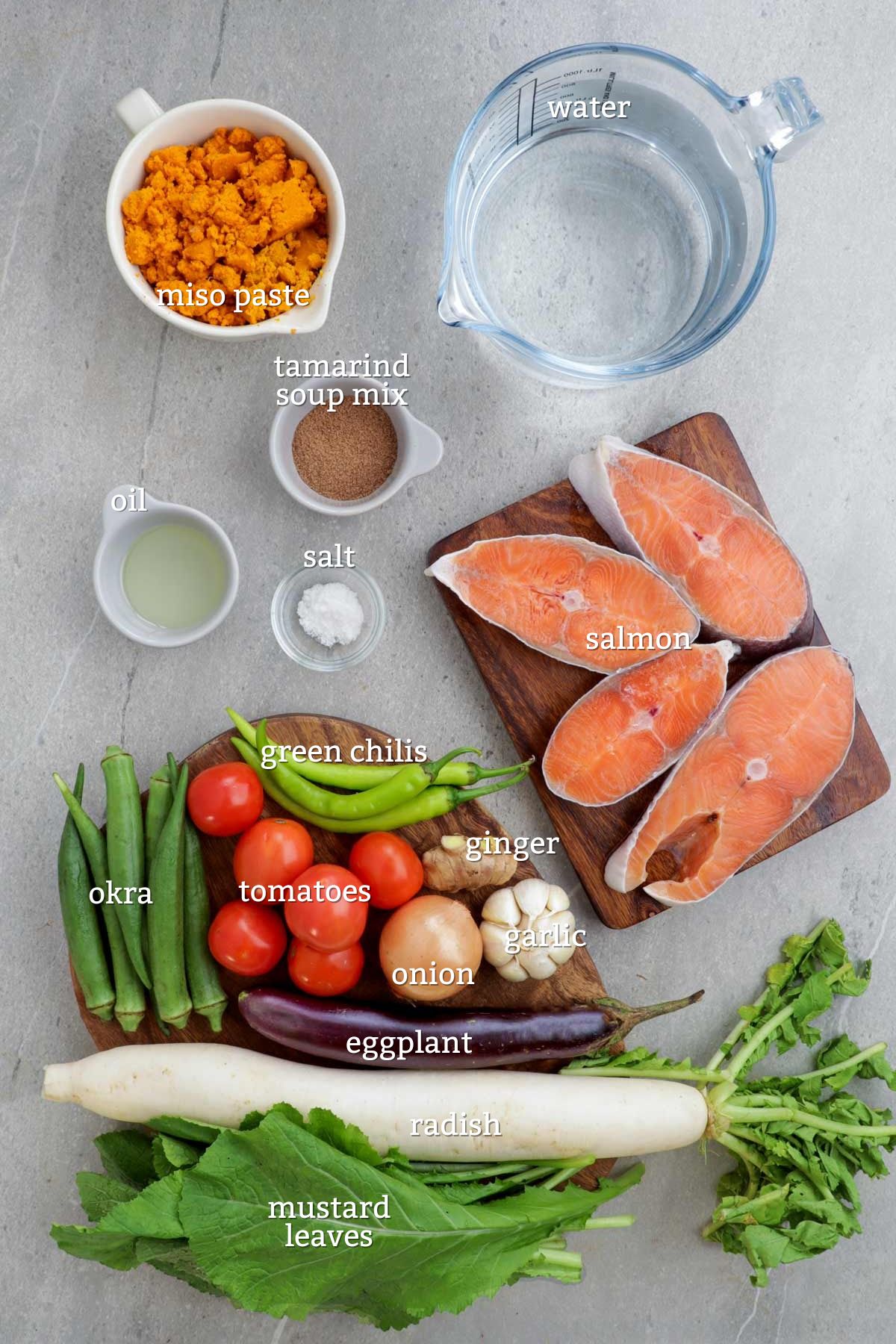 Salmon- you can use the same cut I did but also try using the head or salmon belly only. They are equally delicious and contain healthy fats. This is the more popular fish choice for this recipe but you are welcome to use other kinds of fish.
Miso paste – yellow miso is normally used giving the soup its signature yellow color. It has the perfect blend of flavors that is not too overpowering for the dish.
Tamarind Soup Mix- I used instant dry mix because it is quicker and more convenient. However, feel free to use fresh or tamarind paste if that is what you prefer.
Aromatics- the combo of garlic, onion, and ginger makes the perfect base for any Sinigang!
Vegetables- A mix of tomatoes, green chilies, okra, eggplants, radishes, and mustard leaves. Green mustard leaves (mustasa) are preferable as it gives the soup a new flavor, peppery and sharp with a touch of bitterness. If not available then use water spinach (kangkong) which is much milder in comparison. You can add other veggies like yard-long beans or kangkong (water spinach).
Salt- to taste
Oil- for frying
What Fish To Use?
As mentioned above, I used salmon fillets, however, you can use other types of fish you like. Here are some options:
Catfish (Hito)
Red Snapper (Maya-maya)
Milkfish (Bangus)
Tilapia
Tuna
Cooking Tips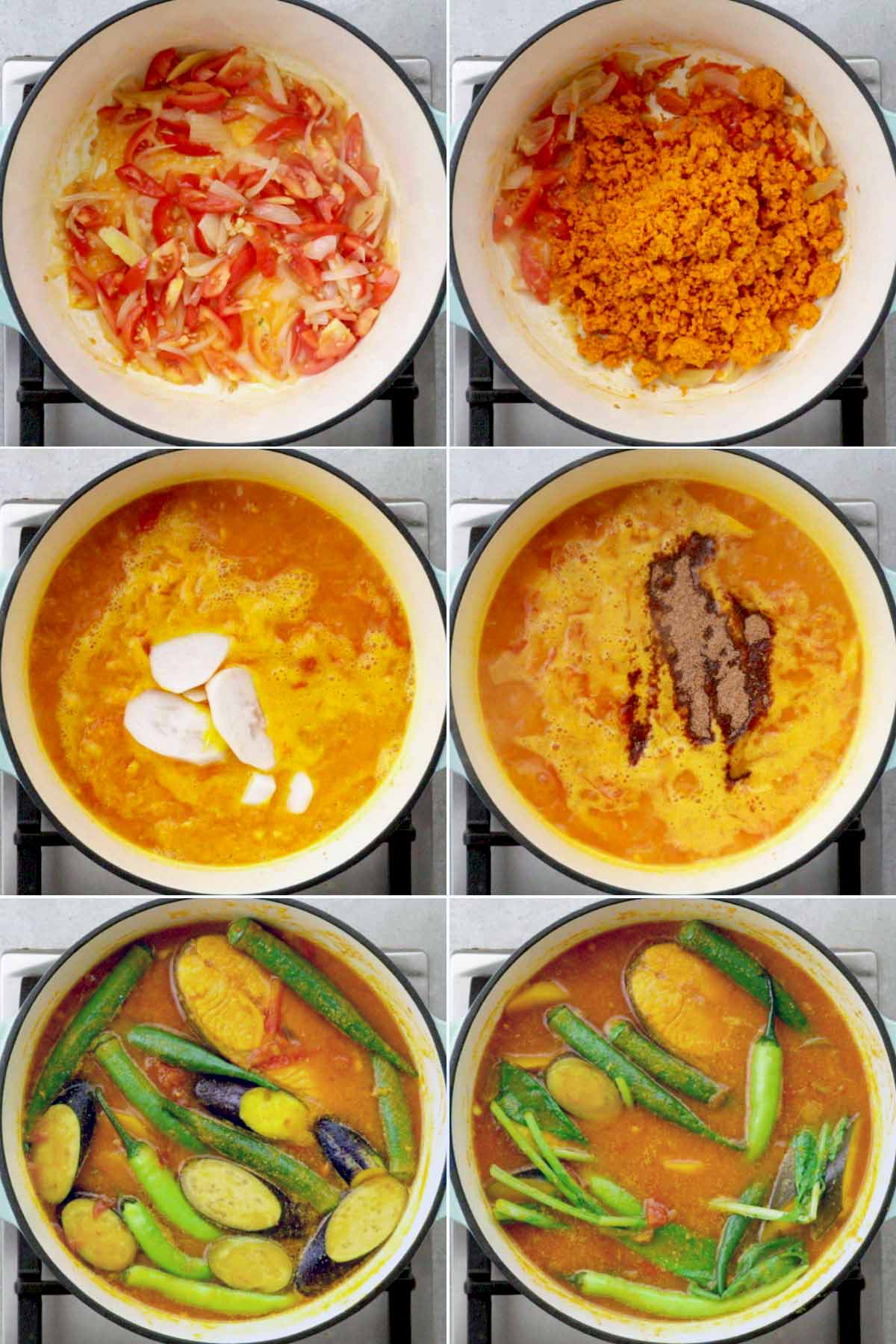 Once you add the salmon fillets to the soup, stir in a gentle swirling motion to mix everything together. This way, your fish will remain intact.
The soup is not spicy despite adding the green chilies because I added them whole. If you want a spicier Sinigang sa Miso, you can cut them into pieces before adding them to release their fiery flavor.
To avoid overcooking the green leafy vegetables, always add them a few minutes before turning off the heat. The leaves will look limp, but the stalks should still be crunchy.
Feel free to adjust the seasoning, like the tamarind mix or miso paste, to your preference.
How to Serve and Store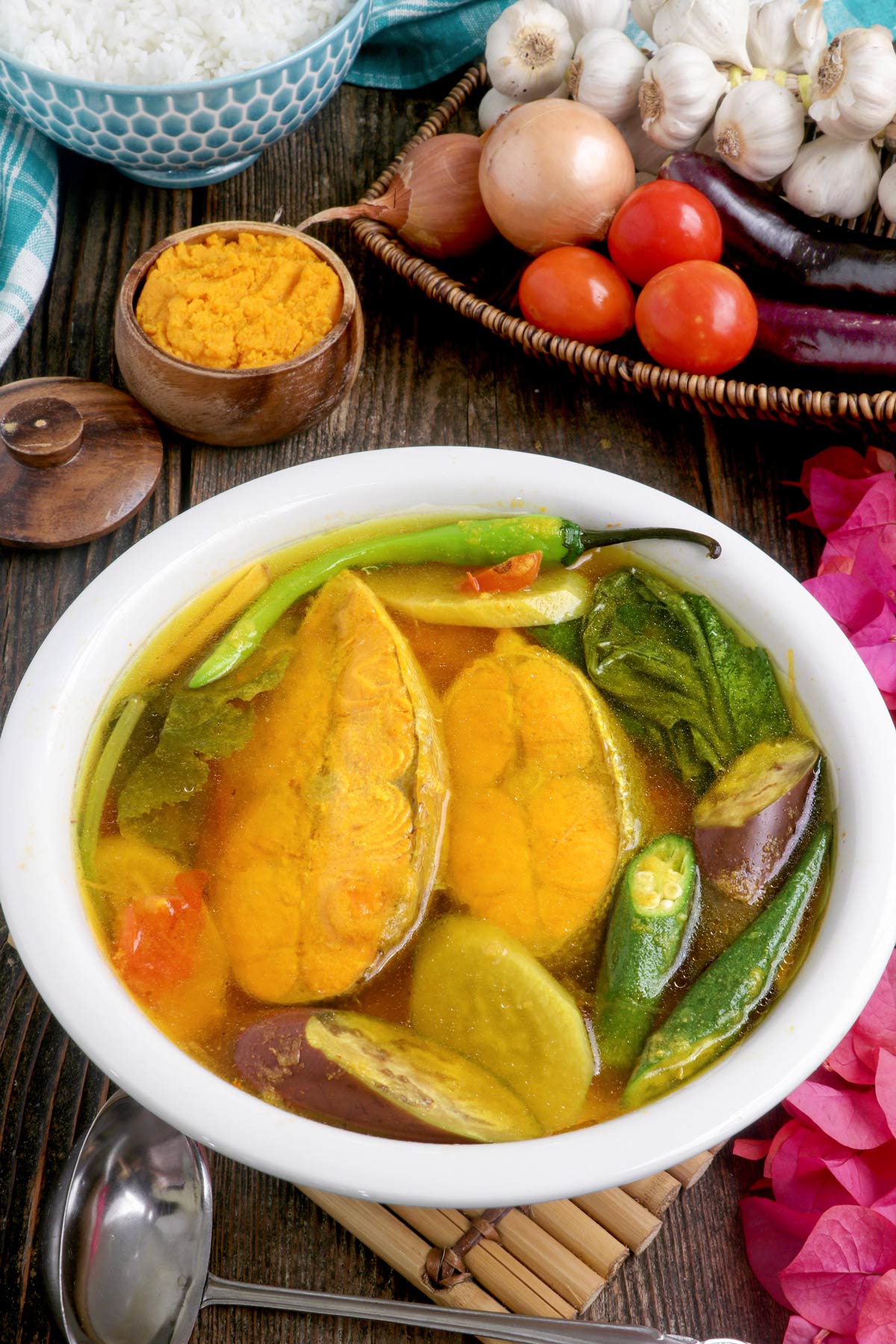 Enjoy Sinigang sa Miso with heaps of steaming rice for a hearty lunch or dinner. You may serve it with spiced fish sauce on the side as a dipping sauce.
Allow leftovers to cool at room temperature before storing them in the fridge. Transfer in an airtight container and keep it in the refrigerator for 2-3 days.
To reheat, place leftovers in a saucepot and bring to a gentle simmer until heated through.
Other Delectable Fish Recipes to try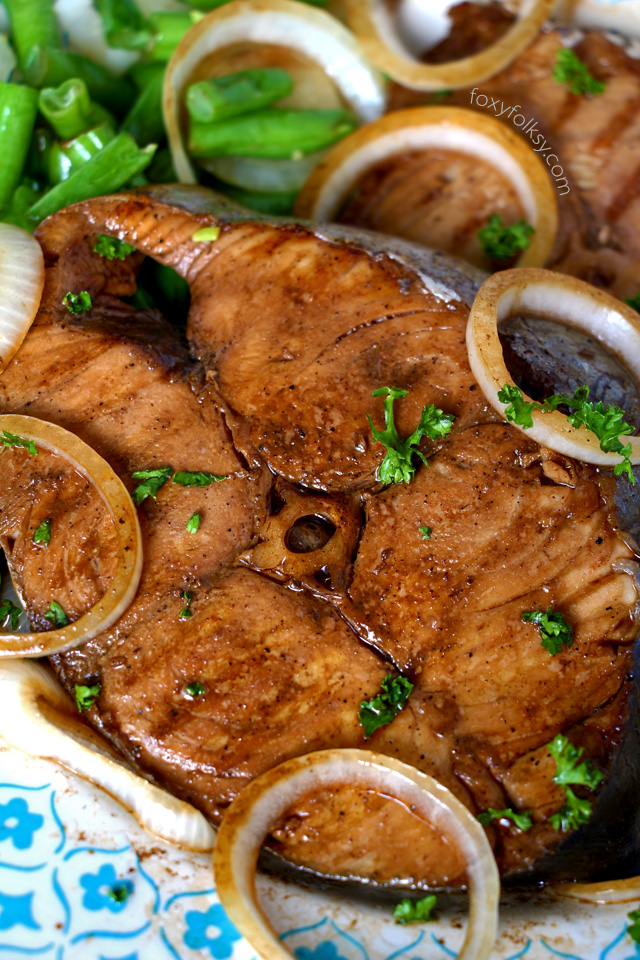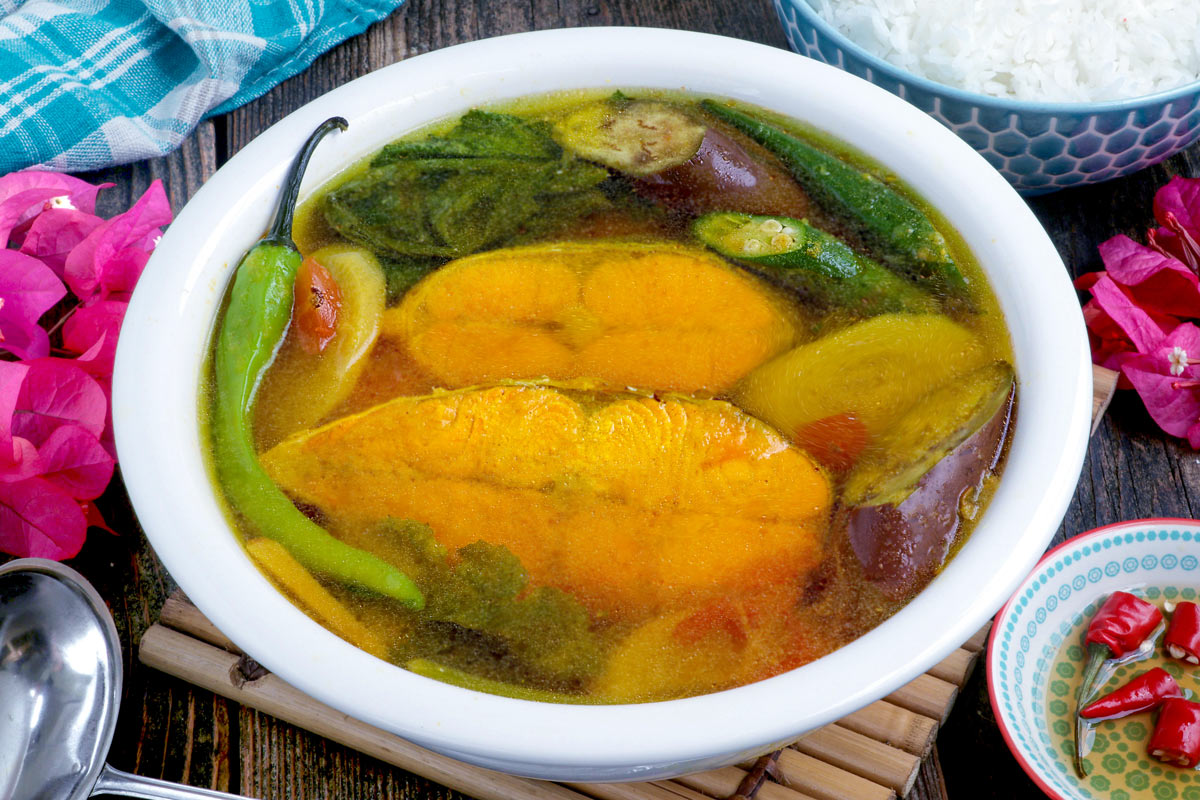 Printable Recipe
Sinigang sa Miso Recipe
Sinigang sa Miso has all the goodness of the classic Filipino sour soup but is made even more flavorful with the addition of fermented soybeans! Enjoy this dish in less than 20 minutes.
Ingredients
2

tablespoon

oil

3

cloves

garlic

1

medium

onion

1

thumb

ginger

6

pieces

tomatoes

1 ¼

cup

miso paste

6-8

cups

water

1

medium

radish

3

tablespoon

tamarind soup mix

1

pound

salmon

3

pieces

long chilis (siling haba)

6

pieces

okra

1

medium

eggplant

1-2

bunch

mustard leaves

salt

to taste
Instructions
3 cloves garlic,

1 medium onion,

1 thumb ginger,

2 tablespoon oil,

6 pieces tomatoes

Heat oil in a large pot, then saute garlic and onion then add the ginger. Cook until aromatic. Add the chopped tomatoes and cook until they soften.

1 ¼ cup miso paste,

6-8 cups water

Add the miso paste and cook for 2 minutes. Then add water, mix, and bring to a boil.

1 medium radish,

3 tablespoon tamarind soup mix,

salt

Add the radish and cook until tender. Add the tamarind soup mix and salt and stir.

1 pound salmon,

6 pieces okra,

1 medium eggplant,

3 pieces long chilis (siling haba)

Add the salmon fillets, eggplant, okra, and green chilis and gently mix them together. Cook for 5 minutes or until the veggies and fish are cooked through.

Add the mustard leaves, cook for another minute then remove from heat. Serve and enjoy!
Nutrition
Calories:
318
kcal
Carbohydrates:
27
g
Protein:
24
g
Fat:
13
g
Saturated Fat:
2
g
Polyunsaturated Fat:
5
g
Monounsaturated Fat:
5
g
Trans Fat:
0.02
g
Cholesterol:
42
mg
Sodium:
2311
mg
Potassium:
764
mg
Fiber:
6
g
Sugar:
10
g
Vitamin A:
124
IU
Vitamin C:
4
mg
Calcium:
72
mg
Iron:
3
mg
Frequently Asked Questions
Can I use other souring agents instead of tamarind?
Though tamarind is the traditional ingredient in making Sinigang, you can use others like bilimbi (kamias), guava, santol, batuan.
Is miso healthy?
It sure is! Miso is rich in protein, nutrients, and vitamins that promote gut health and improve our immune system. Take note, though, that it is also high in sodium, so moderation should still be applied.
Can I use other meats or proteins to make Sinigang sa Miso?
I have tried making this with shrimp and shellfish, which is also super delicious.