Try this quick and simple Maja Blanca recipe for a creamy, soft and light Filipino pudding made from coconut milk. The perfect dessert for any occasion and can be done in no time at all!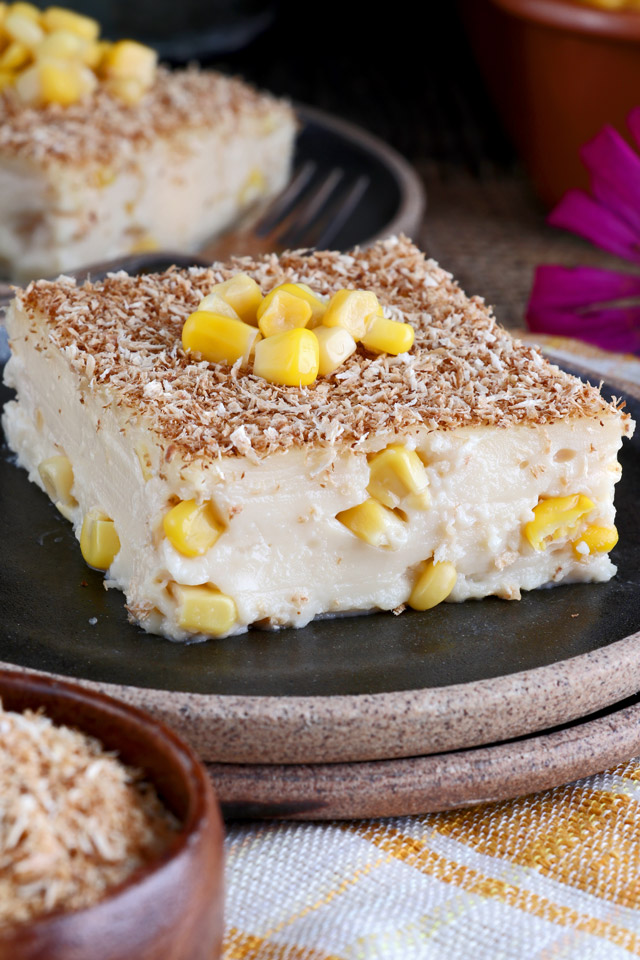 What is Maja Blanca?
Commonly served at Fiestas, holidays and special occasions. It a coconut pudding that is basically a combination of coconut milk, milk, cornstarch, and sweetener. What I like best about it is the texture; soft and light.
You may add corn kernels to give some contrast. Some use sugar as a sweetener but I opted to use sweetened condensed milk to make it creamier.
The original Maja Blanca is topped with 'latik'- that is what coconut milk becomes when simmered under medium fire for some time. This process will give you coconut oil and some brown solids, or 'latik' as we call it, which is common toppings for rice cakes and other Filipino desserts. You can check our post on how to make Latik.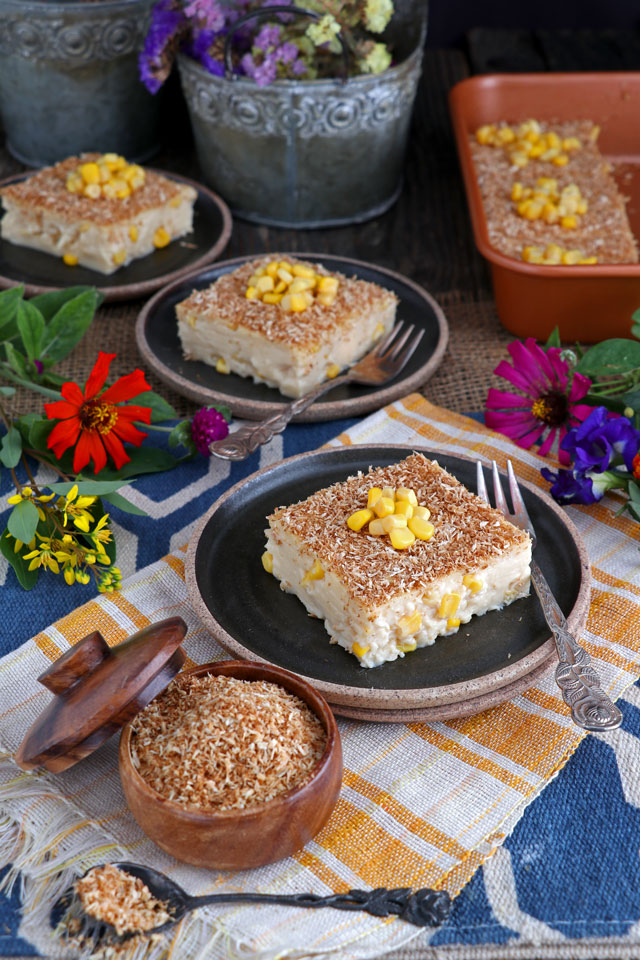 Since I was pressed for time when I made this Maja Blanca for my friends' visit and didn't have time to make 'latik', what I did was, I toasted some dried coconut flakes in a pan until golden browned and sprinkled them on top of my Maja Blanca.
I missed the latik but this substitute is really good as well. Good thing they can be found easily here in German supermarkets so is the coconut milk in a can and other ingredients needed to make this delicious dessert.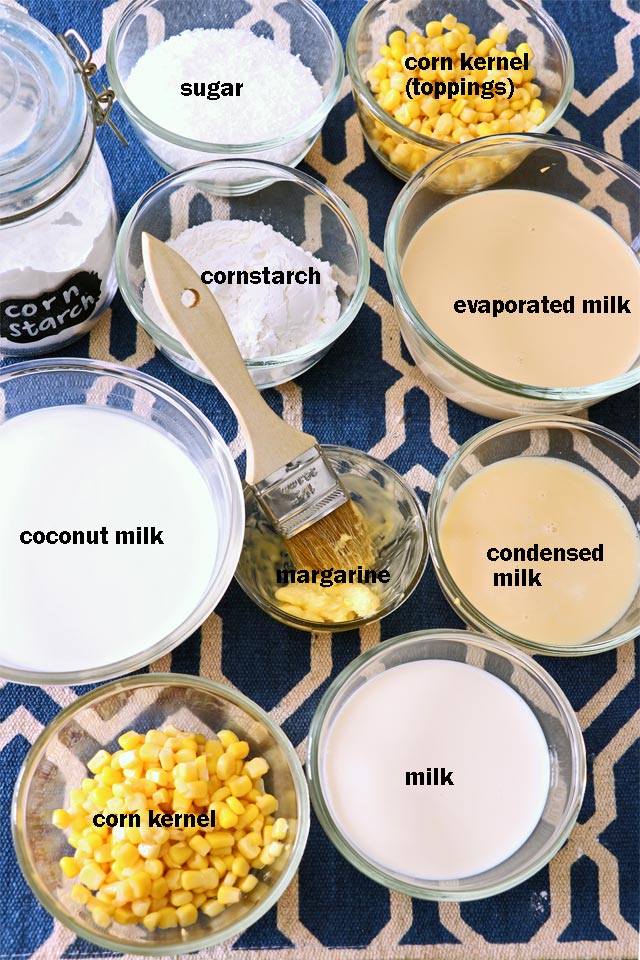 Maja Blanca vs. Tibok-tibok
A lot of people think that they are one and the same as they look very similar. But Tibok-tibok, a native Kapampangan delicacy, is made from carabao's milk.
The taste is very distinguishable from the other. Carabao's milk is also richer and creamier than you regular cow's milk as it contains higher milk fat. It also has a rather mild saltiness in it. The texture can also a little different, Tibok-tibok has a more delicate jelly-like consistency while Maja Blanca is more on the creamy .side.
Which one is better? The Kapampangan in me could be biased because I would choose Tibok-tibok. But Maja Blanca is still there on my list of personal favorite Filipino desserts.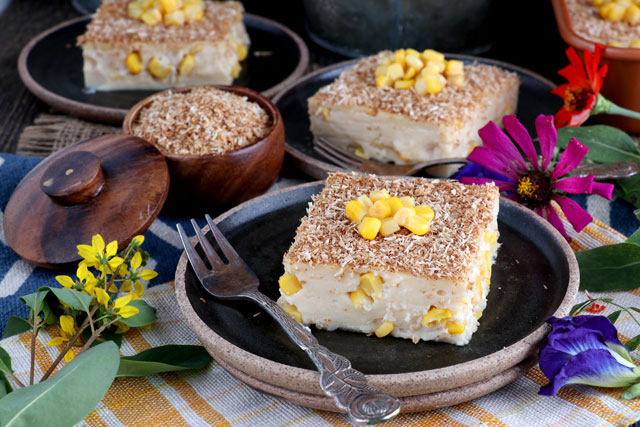 Try our Other Filipino Desserts
Sapin-Sapin - 3 layers of rice cake with different flavors
Fruit Salad - a medley of (canned) fruits with cream served chilled
Buko Pandan - another cold dessert of coconut strings and pandan-flavored jelly
Cassava Cake with a creamy custard topping
Printable Recipe
Maja Blanca (Coconut Milk Pudding with corn)
Try this quick and simple Maja Blanca recipe for a creamy, soft and light Filipino coconut pudding made from coconut milk, milk, sweetener, and corn kernel.
Instructions
Grease a (21x21cm) square pan with butter or margarine. Set aside.

Combine coconut milk, milk and condensed milk in a pot and bring to boil over medium heat while stirring occasionally.

Add the corn kernel. Pour in the cornstarch mixture and stir constantly and quickly until the texture turns into a paste-like consistency. Remove from heat and transfer to greased pan immediately. Gently tap the pan on the kitchen counter a couple of times to get rid of trapped bubbles and even out the surface with spatula or spoon. Let the Maja Blanca settle and cool down.

Toast the coconut flakes in a pan over low fire until browned. Stir constantly to avoid burning them. Set aside.

Sprinkle top with toasted coconut flakes.
Nutrition
Calories:
221
kcal
Carbohydrates:
31
g
Protein:
5
g
Fat:
8
g
Saturated Fat:
5
g
Cholesterol:
21
mg
Sodium:
97
mg
Potassium:
264
mg
Fiber:
0
g
Sugar:
21
g
Vitamin A:
175
IU
Vitamin C:
1.7
mg
Calcium:
188
mg
Iron:
0.4
mg
Maja Blanca recipe was originally published in May 2015. Updated in September 2019 to include new photos and video. The recipe remains the same.