Buko Pandan salad is a Filipino dessert from young coconut meat and Pandan-flavoured jelly that is very easy to make. Try this special Buko Pandan Salad recipe with added tapioca/sago pearls, kaong, and nata de coco.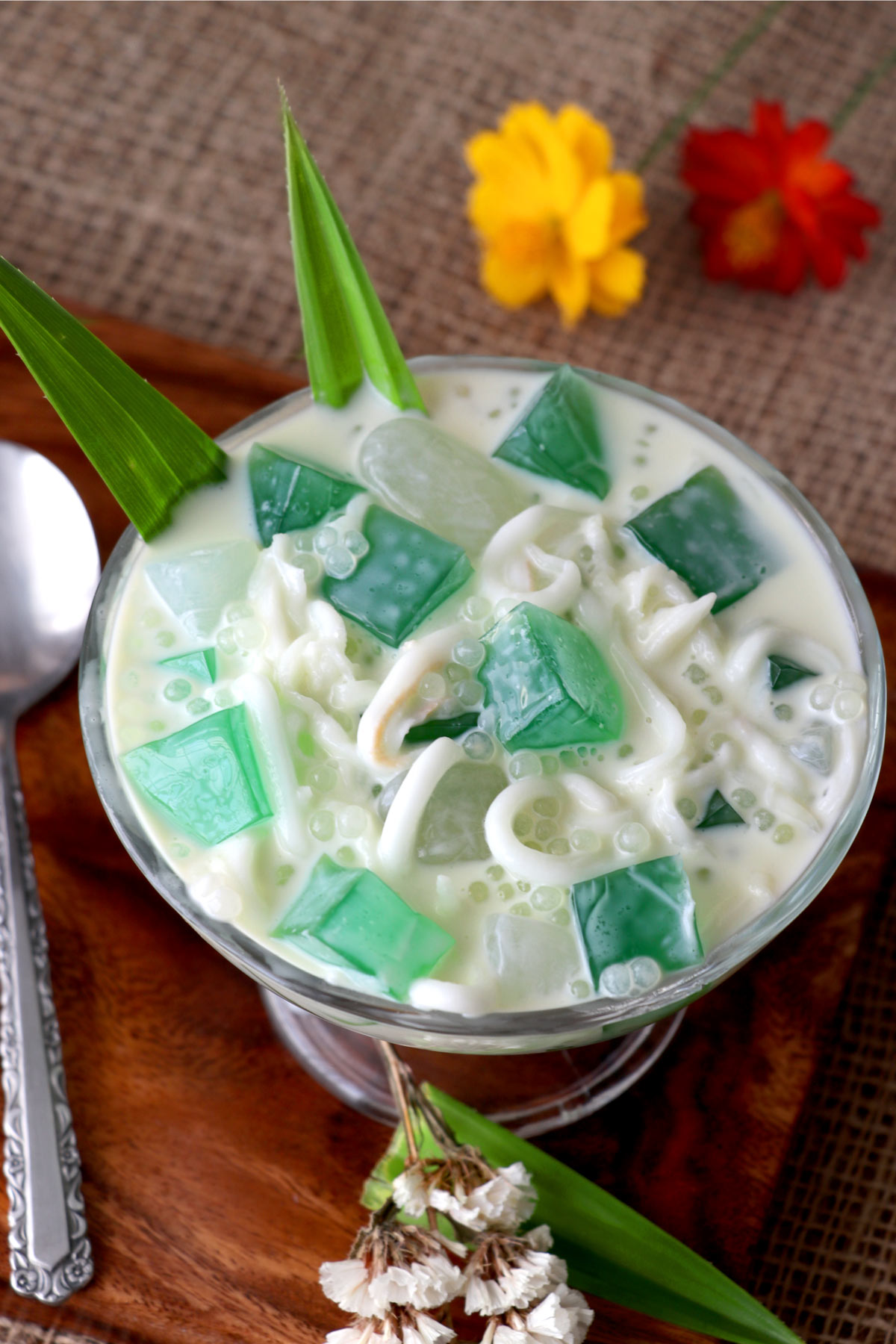 Buko Pandan is a popular cold dessert in the Philippines. Especially when the summertime comes as a way of cooling down from the heat.
However, it is not only favored during the hot season, it is also a favorite dessert for Noche Buena.
My Papa loves this dessert and would ask me to make some for him from time to time. It is like a local ice cream but it does not have to be frozen to be enjoyed. I know a lot of people prefer it like that but I personally like it only chilled. 
As the name suggests, the main ingredients for this wonderful dessert are coconut (Buko) and screwpine (Pandan).
Screwpine (or locally known as Pandan) leaves are used for natural flavoring, although Pandan essence or extract will do if the leaves are not easily available. To be honest, though, I find it is not the same. Somehow you can distinguish the 'bottled' taste of the pandan extract. But when necessity calls, it would do.
Back home it is easy to get Pandan leaves as they grow almost anywhere in the Philippines. I used to ask our neighbors for some leaves when I want to make this dessert, and she would give me a lot probably because she would not know what to do with all of them as they tend overrun her garden.
Both the coconut meat and the coconut juice are used to create this dessert.
What I normally do is, I would boil the Pandan leaves in coconut juice and will use the liquid for making the gulaman or gelatin.
The water would already turn a bit greenish from the pandan leaves. However, it is not enough to make it aesthetically appetizing. What I do is add some green food coloring...just a tiny bit to enhance the color.
Aside from the coconut and pandan leaves, sweetened condensed milk and all-purpose cream or whipping cream is added.
Typically, I also add small tapioca or sago pearls. I am not sure why, but although flavorless, I find that these tiny bits of pearls make this dessert more delicious. Probably because it adds another texture to it.
Armin compares them though to fish eggs. It never crossed my mind until he mentioned it. But I still like them.
To make it extra special, Kaong and Nata de Coco are also added but are purely optional.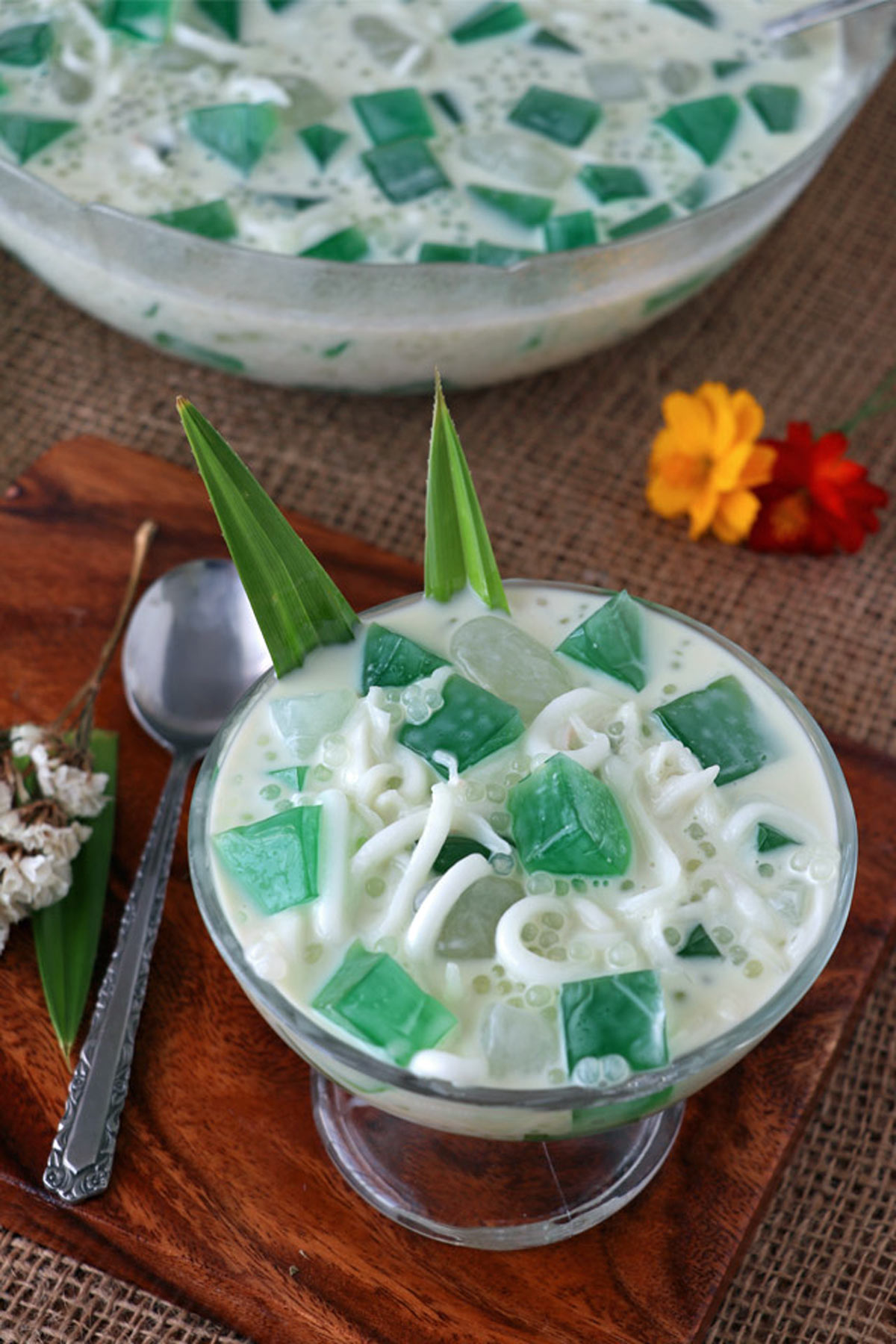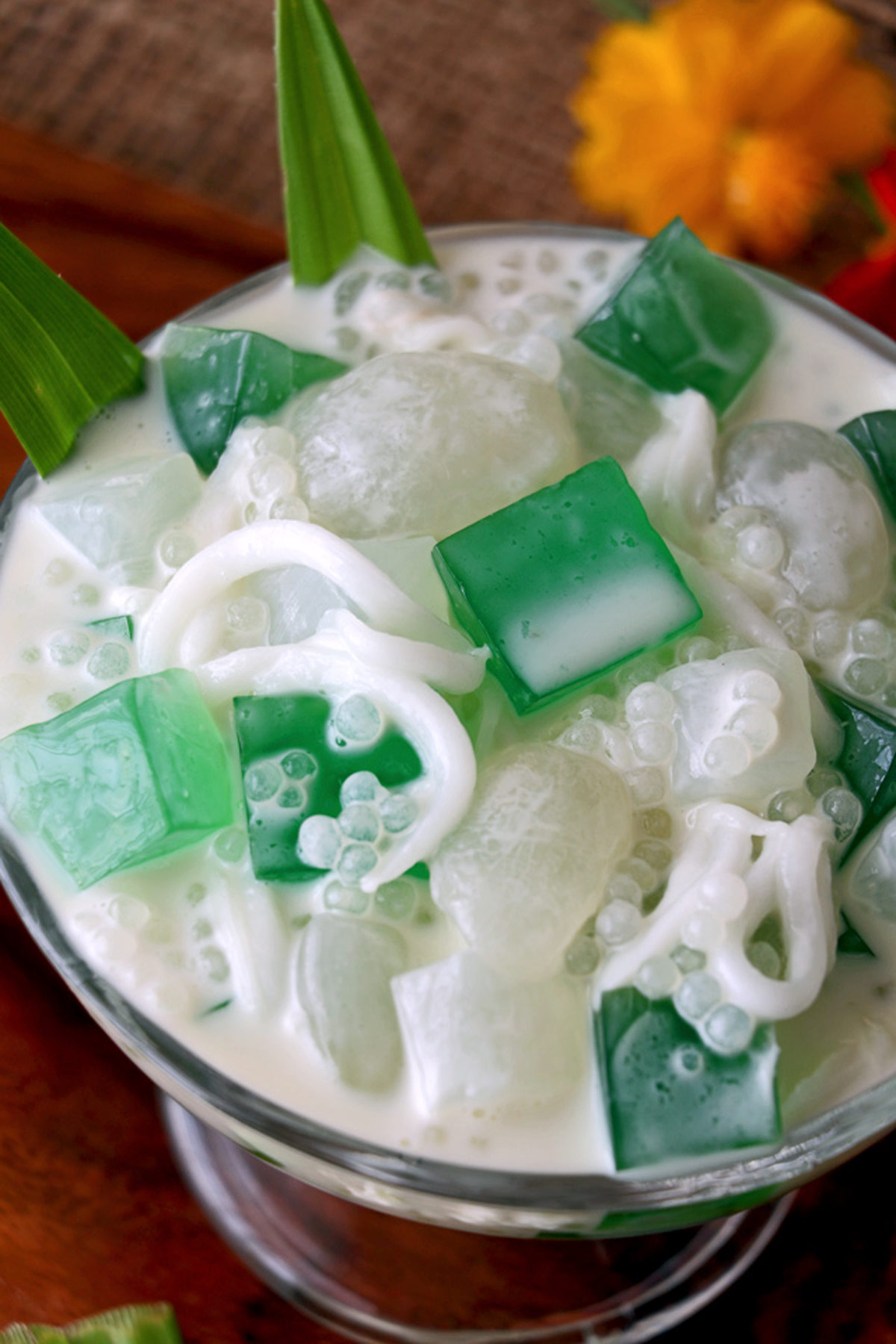 WANT MORE RECIPES? Subscribe to our newsletter and follow us on Facebook, Pinterest and Instagram for all of the latest updates.
Buko Pandan Salad
Buko Pandan salad is a Filipino cold dessert from young coconut meat and Pandan-flavoured jelly that is very easy to make. Try this special Buko Pandan Salad recipe with added tapioca/sago pearls, kaong and nata de coco.
Print
Rate
INGREDIENTS
3

cups

coconut juice

½

pouch (12g)

jelly powder (gulaman)

-

- use green if available. Gelatin may also be used (see Note 1)

½

cup

sugar

6-8

pieces

Pandan leaves

-

- or use pandan extracts (see Note 2)

1

can (14 oz)

sweetened condensed milk

1

pack (250mL)

all-purpose cream -

- or table cream / whipping cream

2

cups

coconut meat

-

- shredded into strips

½

cup

tapioca pearls -

- uncooked

1

bottle (12oz)

kaong (sugar palm fruit)

-

- syrup drained and rinsed

1

bottle (12oz)

nata de coco (coconut gel)

-

- syrup drained and rinsed
INSTRUCTIONS
In a pot, bring 1 liter of water to boil. Add the small sago or tapioca pearls and cook for 15 minutes or until translucent. (Check package instructions.) Stir occasionally to prevent from sticking together.

Turn off heat and strain the sago pearls using a fine sieve. Rinse thoroughly until the sago or tapioca pearls are no longer hot to touch. Set aside.

In a pot, add coconut juice and dissolve the jelly powder or gulaman. Add the sugar and pandan leaves and bring it to boil while stirring constantly.

Once it boils, remove from heat and pour into a square pan and let cool to set. You may place it in the fridge to fasten the process. Once ready, cut the gelatin into cubes.

In a big bowl, add the cream and sweetened condensed milk and stir until well blended. Add the coconut strips, tapioca pearls, pandan jelly cubes, kaong and nata de coco and gently mix until well combined. (see Note 3)

Cover bowl and leave it in the fridge to chill or transfer to another container if planning to freeze.
VIDEO
RECIPE NOTES
Note 1. 2 pouches of gelatin powder (Knox) may also be used.  
Note 2. If using Pandan essence/extract, use about 6-8 drops.
Note 3. If you have time, whip the cream separately into stiff peaks and gently fold it into the mixture after all ingredients are added. If will give it more volume and is better for freezing.
Nutrition Facts
Buko Pandan Salad
Amount Per Serving
Calories 114
Calories from Fat 36
% Daily Value*
Fat 4g6%
Cholesterol 0mg0%
Sodium 66mg3%
Potassium 197mg6%
Carbohydrates 18g6%
Protein 0g0%
Vitamin C 1.9mg2%
Calcium 18mg2%
Iron 0.6mg3%
* Percent Daily Values are based on a 2000 calorie diet.
Tried this recipe?
Tell us how it went. Tag us at @foxyfolksy or leave a comment and rating below.