Quench the summer heat and enjoy this tropical treat with each lick and bite! These ice buko with munggo (coconut popsicles with red mung beans) are made extra creamy with just the right amount of sweetness.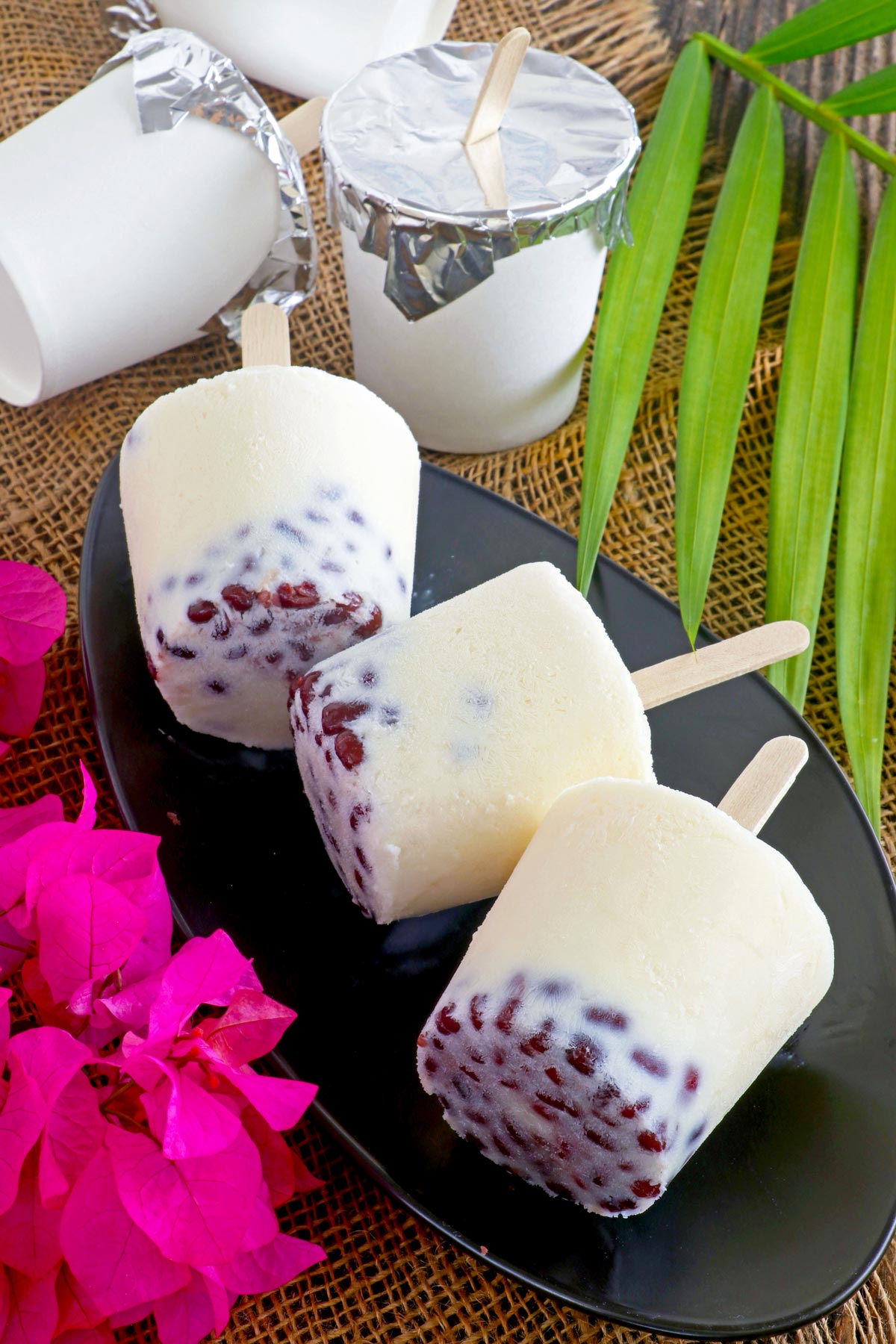 If you grew up in the Philippines, then you are most likely familiar with this delicious frozen treat. It's been a while since I last had them, and making these made me nostalgic! I remembered hot, sticky summer days (AC was only for the really rich back then), my siblings and I would wait in eager anticipation for the ice cream peddler to arrive every afternoon. This was my favorite!
What is Ice Buko?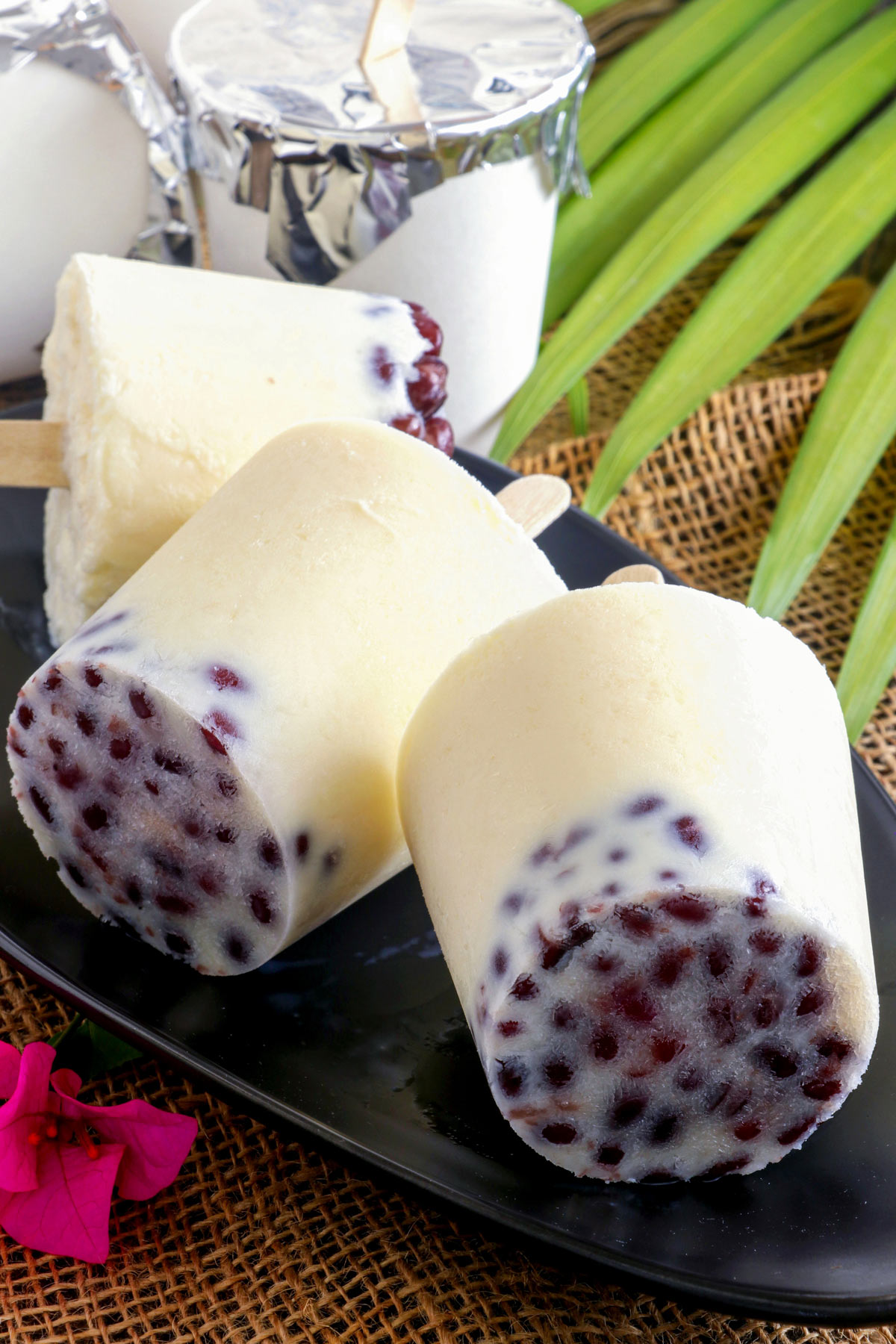 Ice Buko is a Filipino popsicle made mainly with coconut. It also usually has red mung beans (munggo). It is usually cylindrical in shape with the popsicle stick as the handle. It is one of the most popular summer coolers in the country alongside Halo-halo, Pinipig Ice drops, ice scramble, and ice candy. 
Why make Ice Buko?
We all know that we have a very long summer season here in the Philippines, and a cool and refreshing treat is always welcome. Yes, we can just run to the store and easily buy these treats, but making these yummy delights at home has advantages.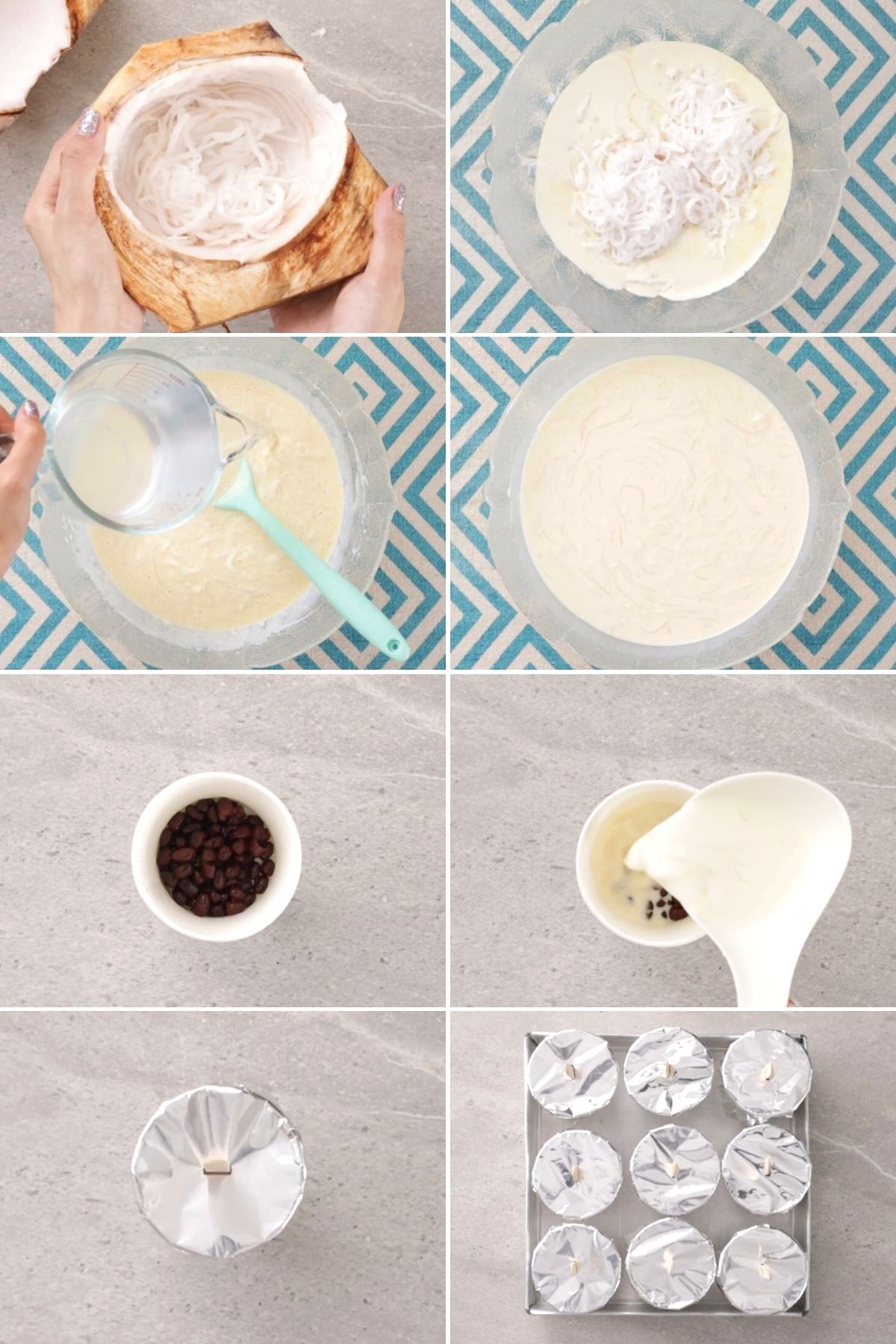 It's super easy to make! Just mix all the ingredients, mold, and freeze. You just need paper cups, aluminum foil, popsicle sticks, and you're all set.
It's affordable. All the ingredients used for this recipe are reasonably priced. It is way cheaper to make this than other frozen delights but is equally delicious and refreshing.
No artificial flavors were added. Since we are using all-natural ingredients, you are assured that it is healthy as any sweet treat can be.
You can control the amount of sugar and other ingredients you put. And if you are like me, who prefers a lot of coconut strings and munggo, who's to stop you from making it happen?
Ingredient substitutes and Tips for making Ice Buko
I used all-purpose cream, but you can also use whipping or heavy cream.
It is easier and more convenient to use bottled red mung beans in syrup. But you can always cook your own if you prefer.
If fresh coconut is unavailable, you can use canned coconut water in place of the fresh one and use coconut sport or macapuno strings instead of fresh coconut shreds.
Aside from paper cups, you can also use styrofoam and plastic cups as molds. If you have a popsicle mold, you can use that too.
You can also use a plastic film to cover the cups instead of aluminum foil.
If both foil or plastic film is unavailable, wait for the ice buko to slightly set in the freezer before placing the popsicle sticks. This will ensure that they stay in the center of the ice drops.
For easy release of the ice drop, briefly dip the mold in hot water. Slightly squeeze the sides to loosen it and then pull using the stick.
Ice Buko
Make these sweet, creamy, and refreshing Ice Buko or Buko Ice Drop dotted with red mung beans at home. Quench the summer heat and enjoy the this tropical treat with each lick and bite!
Ingredients
2

cups

coconut strings

2

cups

coconut juice

250

ml

all purpose cream

300

ml

condensed milk

⅛

cup

sugar

1

cup

red mung beans
Instructions
250 ml all purpose cream,

300 ml condensed milk,

2 cups coconut strings

In a big bowl, add the condensed milk, all-purpose cream, coconut strings, and mix until well combined.

2 cups coconut juice,

⅛ cup sugar

Pour the coconut juice then add sugar. Mix until sugar is dissolved.

Scoop 1 and ½ tablespoons of red mung beans per mold and pour the coconut mixture until just below the rim of the mold.

Cover with foil, and poke a small hole in the middle when you can insert the popsicle stick.

Refrigerate for at least 4 hours to overnight.
Notes
Dip the mold in hot water quickly to easily dislodge the ice drop from the mold. 
Nutrition
Calories:
2774
kcal
Carbohydrates:
269
g
Protein:
48
g
Fat:
177
g
Saturated Fat:
125
g
Polyunsaturated Fat:
6
g
Monounsaturated Fat:
37
g
Cholesterol:
445
mg
Sodium:
1521
mg
Potassium:
3657
mg
Fiber:
31
g
Sugar:
217
g
Vitamin A:
4476
IU
Vitamin C:
29
mg
Calcium:
1214
mg
Iron:
9
mg
More Cool and Refreshing Treats