Beat the heat with this no-muss, no-fuss creamy Mango Ice Cream recipe! With just four ingredients, you can make and enjoy this delicious ice cream with fresh bits of mangoes Try this quick and easy recipe and enjoy it with your family!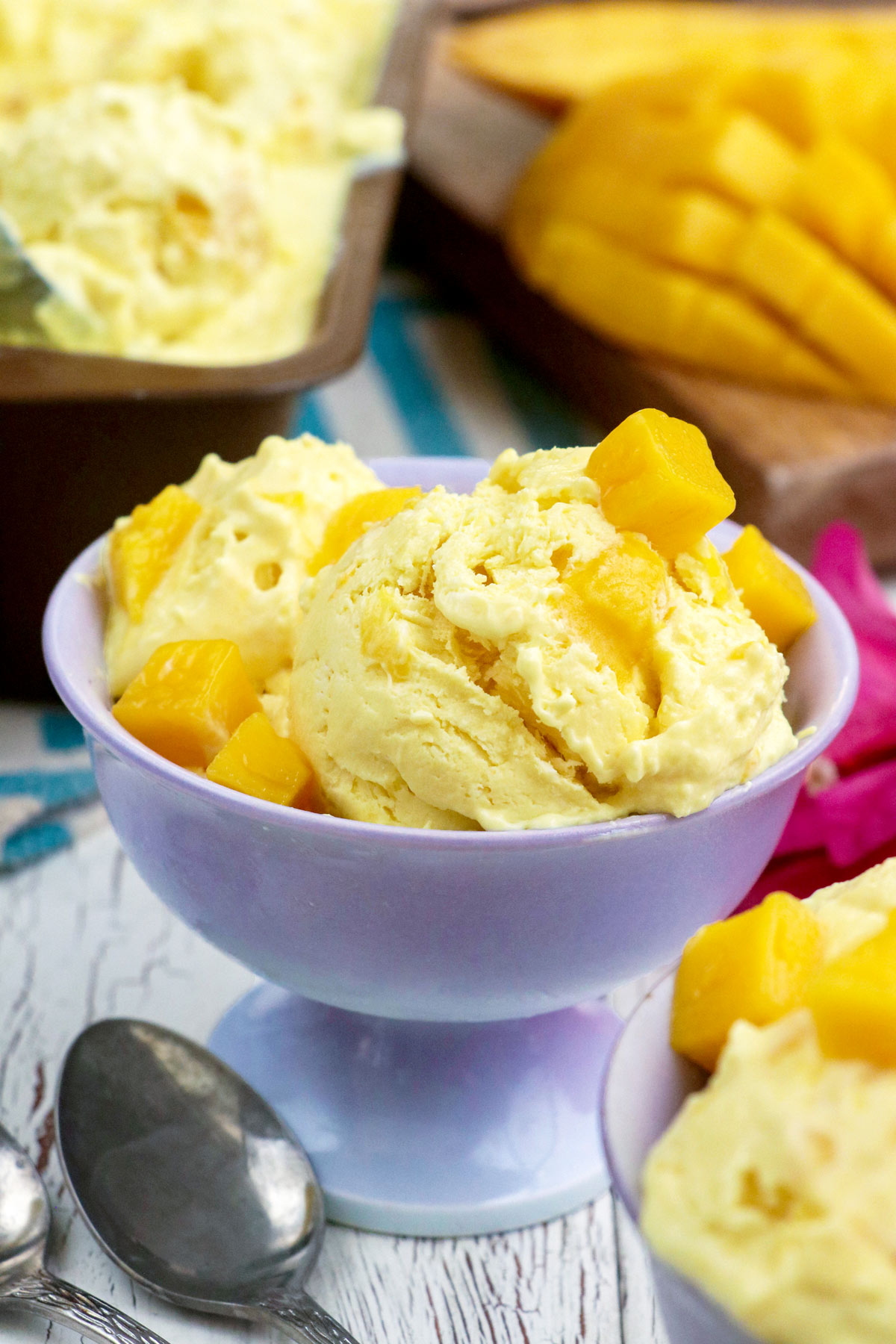 Desserts are the highlight and the finale of a full meal. A scoop or slice of any dessert can melt away the stress and tension of the day. You can indulge yourself and satisfy your sweet tooth with some of our delectable dessert recipes such as Banoffee Pie, Ube Ice Cream, Fruit Salad, and Leche Flan.
Of course, eating desserts, especially in restaurants, can be rather costly. And if you're health-conscious, you might be concerned about the calories and sugar. But with this homemade Mango Ice Cream, you can put those worries to rest and customize it to your preference!
Easy Homemade Mango Ice Cream
Get yourself dessert-ready with just this four-ingredient Mango Ice Cream recipe. It is incredibly simple to make and only takes about 15 minutes to prepare. And for the cherry on top, you don't even need an ice cream maker! You can make delicious homemade ice cream exactly how you want it with just a bowl, blender, and mixer.
This no-churn homemade ice cream is creamy, silky, and bursting with the flavors of fresh mangoes! It surely beats the commercially bought one, as it is healthier and can be tailored to suit your taste buds.
Ingredients You'll Need
Ripe mango - for best results, use Manila or Carabao mango, which is sweeter, fleshier, and less fibrous. Alternatively, you may use Alphonso or Ataulfo mangoes.
All-purpose cream - this is a more budget-friendly option. Chilling the all-purpose cream overnight will make it hold its shape and have a thicker consistency. Use whipping cream if available; although it is more pricey, it is easier to whip as it has a higher fat content. Your ice cream will also have a lighter and smoother texture.
Cream cheese - adds a tangy flavor to ice cream while also making it richer and smoother due to its high-fat content and stabilizers.
Condensed milk - is used as the sweetener. It adds extra creaminess and makes for a smoother texture than using sugar.
Yellow food color - this is optional, but it allows the ice cream color to really pop.
Tips for making Mango Ice Cream
When selecting mangoes, you can test their ripeness by gently pressing them with your index finger and thumb. If it gives a little, it's ready. If it's too hard, it's still unripe and will taste sour.
Chill all of your ingredients for the best results. You can also place your mixing bowl and beaters in the freezer for about 5 minutes before using them.
Use a stainless bowl if you have one, it will help keep the chilled temperature which is good for the cream and will result in better texture for your ice cream.
To avoid deflating the whipped cream, gently fold it into the mango-cream cheese mixture rather than stirring it. Add a
Don't let your ice cream do the "freeze-melt-freeze" dance. This will result in runny and crystallized ice cream. This means that your ice cream will gradually lose its creamy texture and lose its strong mango flavor.
Serving your Mango Ice Cream
Serve your Mango Ice Cream in dessert bowls or wafer cones. Enjoy it as it is or with additional toppings.
Here are some easy-to-find and budget-friendly topping ideas to make your this frozen dessert even yummier!
Mango bits - in addition to the puree and mango cubes in your ice cream, you can add mango bits as a topping.
Caramel or Chocolate syrup - If you're a pancake lover, you probably have some lying around your pantry/refrigerator. Drizzle that delicious syrup on your ice cream for some variety!
Crushed graham - Instant mango graham flavor! Just crush some graham crackers and sprinkle them on top of your mango ice cream.
Storing Notes
Storage is very important to ensure that your mango ice cream doesn't crystallize or lose its flavor.
Use plastic wrap to cover the ice cream before placing it in the freezer. Lightly press it on the surface to prevent ice crystals from forming. You may also use parchment or wax paper.
Place the ice cream at the back of your freezer where the temperature is most consistent. It would help preserve texture and flavor.
Printable Recipe
Mango Ice Cream Recipe
Beat the heat with this no-muss, no-fuss creamy Mango Ice Cream recipe! With just four ingredients, you can make and enjoy this delicious ice cream in the comfort of your home. Try this easy and simple recipe and enjoy it with your family!
Ingredients
500

grams

ripe mango flesh

(about 2 cups)

500

ml

all-purpose cream or whipping cream

chilled overnight

1

block

cream cheese

200g

300

ml

condensed milk

Yellow food color

optional
Instructions
500 grams ripe mango flesh

Cut the mango flesh into small cubes.

Using a blender, puree 1 cup of the mango cubes. Set aside. Refrigerate the rest until ready to use.

500 ml all-purpose cream or whipping cream

In a bowl, whip cream until it is smooth and fluffy and almost double in size. Place in fridge until ready to use. (See Note 1)

1 block cream cheese,

300 ml condensed milk

In a large bowl, combine cream cheese and condensed milk. Beat with an electric mixer at high speed until it becomes smooth, light, and airy.

Add the mango puree to the cream cheese mixture and beat until well combined.

Take a large dollop or two of the whipped cream and gently fold it into the mango-cream cheese mixture using a spatula until well combined. Add the rest and do the same until well combined but do not overdo the mixing or it might turn dense.

Add the mango slices and fold just to disperse. Add a few drops of yellow food color, if using any.

Transfer to a freezer-safe container and cover with aluminum foil and cover with a plastic film, lightly pressing on the surface. Freeze for at least 6 hours or until frozen.
Notes
NOTE 1 - If you are using all-purpose cream, do not expect it to double in size when whipped, unlike whipping cream and it is denser too. But it would also increase in volume.
Nutrition
Calories:
165
kcal
Carbohydrates:
13
g
Protein:
3
g
Fat:
12
g
Saturated Fat:
7
g
Polyunsaturated Fat:
1
g
Monounsaturated Fat:
3
g
Cholesterol:
38
mg
Sodium:
53
mg
Potassium:
126
mg
Fiber:
0.3
g
Sugar:
13
g
Vitamin A:
689
IU
Vitamin C:
8
mg
Calcium:
70
mg
Iron:
0.1
mg