Mango float could be the easiest, delicious no-bake dessert you could ever make. It only needs 4 ingredients too! It is a favorite Filipino 'icebox cake'  that is a big hit during the holiday seasons or any other special occasion.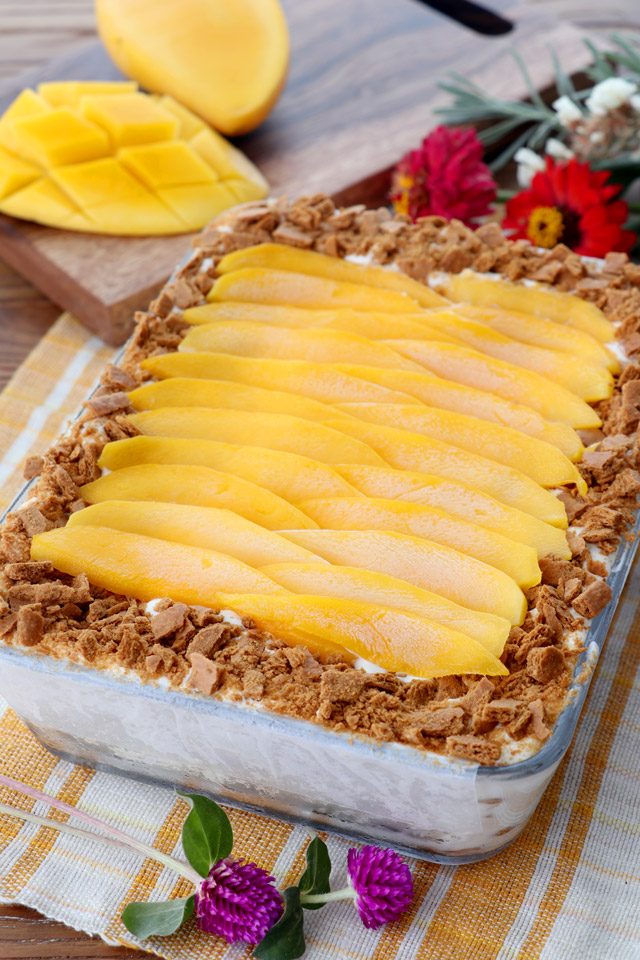 What is Mango Float?
Mango float is a popular dessert in the Philippines. It also goes by the names: Mango Royale or Crema de Mangga. A Filipino icebox cake made of graham crackers, all-purpose or whipped cream, sweetened condensed milk, and ripe mangoes.
It is made by creating layers of graham, cream, and mangoes using a big square or rectangle dish. Normally served chilled or even frozen. It is then cut into smaller squares before serving.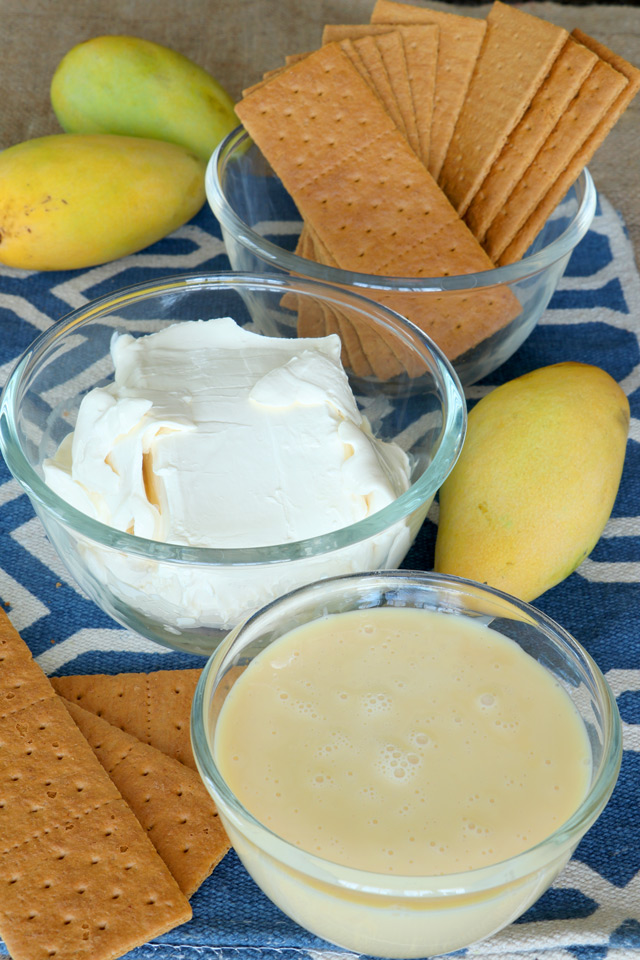 Notes on some of the ingredients:
Cream. This recipe uses all-purpose cream because this is what is commonly available locally and is much more affordable. But I have also made this several times using whipping cream or heavy cream successfully.
Mango. Most ripe mangoes can be used to make this dessert. The best variety though would be the Philippine mango or also known as carabao or Manila mango. It is known for its sweetness and delicious taste.
Graham. Mango float is normally made using whole graham crackers. You can also use ladyfingers or sponge cake.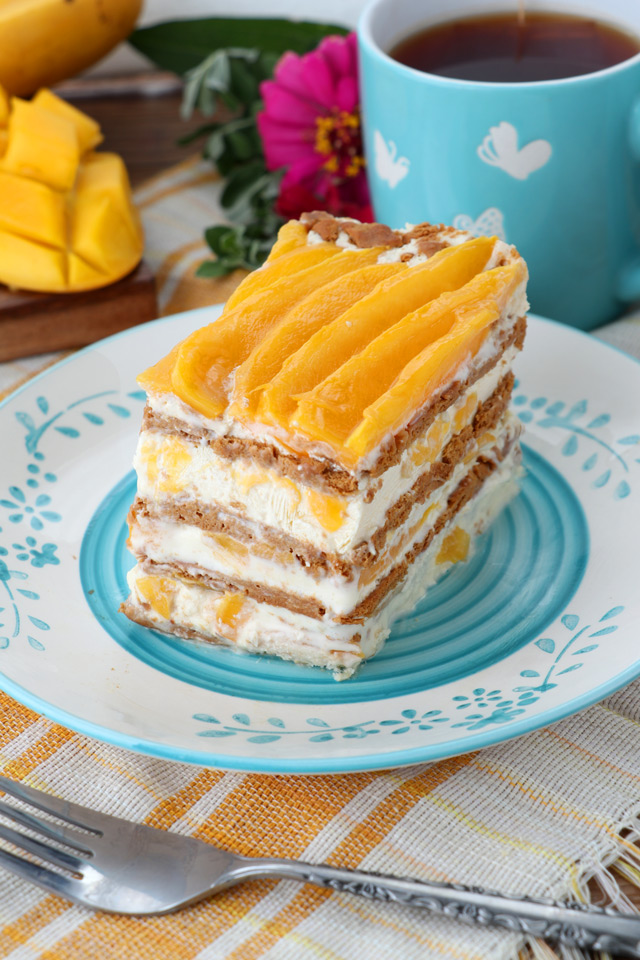 Helpful tips in making Mango Royale/Float
Normally, you only need to chill the all-purpose cream in the fridge for some hours or overnight. Chilling it will turn it into a thicker or solid form (similar to cream cheese )and add it to the recipe as is. If you are going to use heavy or whipping cream you also chill it first and then whip it at high speed until stiff peaks form. Remember to chill your bowls and whisks as well. You can also whip all-purpose cream for a lighter texture and it will also increase in volume.
Remember that if you prefer to freeze your Mango Float, you have to refrigerate it first. This will give the graham crackers to absorb some of the moisture from the cream mixture so it can expand and soften. Freezing it for at least two hours will make it easier to cut and serve.
You may line your container with a parchment paper so you can lift the whole cake once frozen. Just make sure to use a sturdy one so it will not break even when soaked.
Printable Recipe
Mango Float Easy Recipe
Mango float could be the easiest, delicious no-bake dessert you could ever make. It only needs 4 ingredients too! Try it now!
Instructions
Chill the all-purpose cream the fridge overnight or in the freezer for 30 minutes.

Peel the skin off the mangoes. Cut away the sides (flesh) from the pit. Lay the mango halves flat-side down on a cutting board. Cut the flesh lengthwise into thin slices. Set aside.

Transfer chilled all-purpose cream in a large bowl. If you like it lighter and fluffier, whip it with a hand mixer until it doubles in volume.

Gradually add the sweetened condensed milk to the all-purpose cream until well blended.

Line the bottom of a rectangular or square (8x8 or 6x6) glass dish (or something similar) with a layer Graham crackers then pour and spread ¼ of the cream mixture on top of the crackers and then top with mango slices.

Repeat this process until 4 layers are formed, ending with the cream and mango slices on top. You can arrange the mango slices for the top in an overlapping manner for design.

Chill for at least 3-5 hours to set completely. You know it is ready when the Graham becomes soft and fluffy and no longer dry. You can also freeze it at this point before serving.
Notes
If you have some graham crackers left, crushed it finely and dust it on top before adding the final mango cubes.
You might want to adjust the measurement for the sweetened condensed milk, remember that the ripe mango will also add sweetness to the cake.
Nutrition
Calories:
349
kcal
Carbohydrates:
25
g
Protein:
4
g
Fat:
27
g
Saturated Fat:
16
g
Cholesterol:
98
mg
Sodium:
91
mg
Potassium:
191
mg
Fiber:
1
g
Sugar:
21
g
Vitamin A:
1019
IU
Vitamin C:
2
mg
Calcium:
149
mg
Iron:
1
mg
This recipe was originally published in January 2017. Updated in May 2020 to include new photos and a recipe video. Tips are also added.