You will be amazed at how super easy it is to make this English classic Banoffee Pie! A scrumptiously layered dessert made of crumbly graham cracker crust, creamy dulce de leche, and sliced ripe bananas topped with fluffy whipped cream sprinkled with cocoa powder.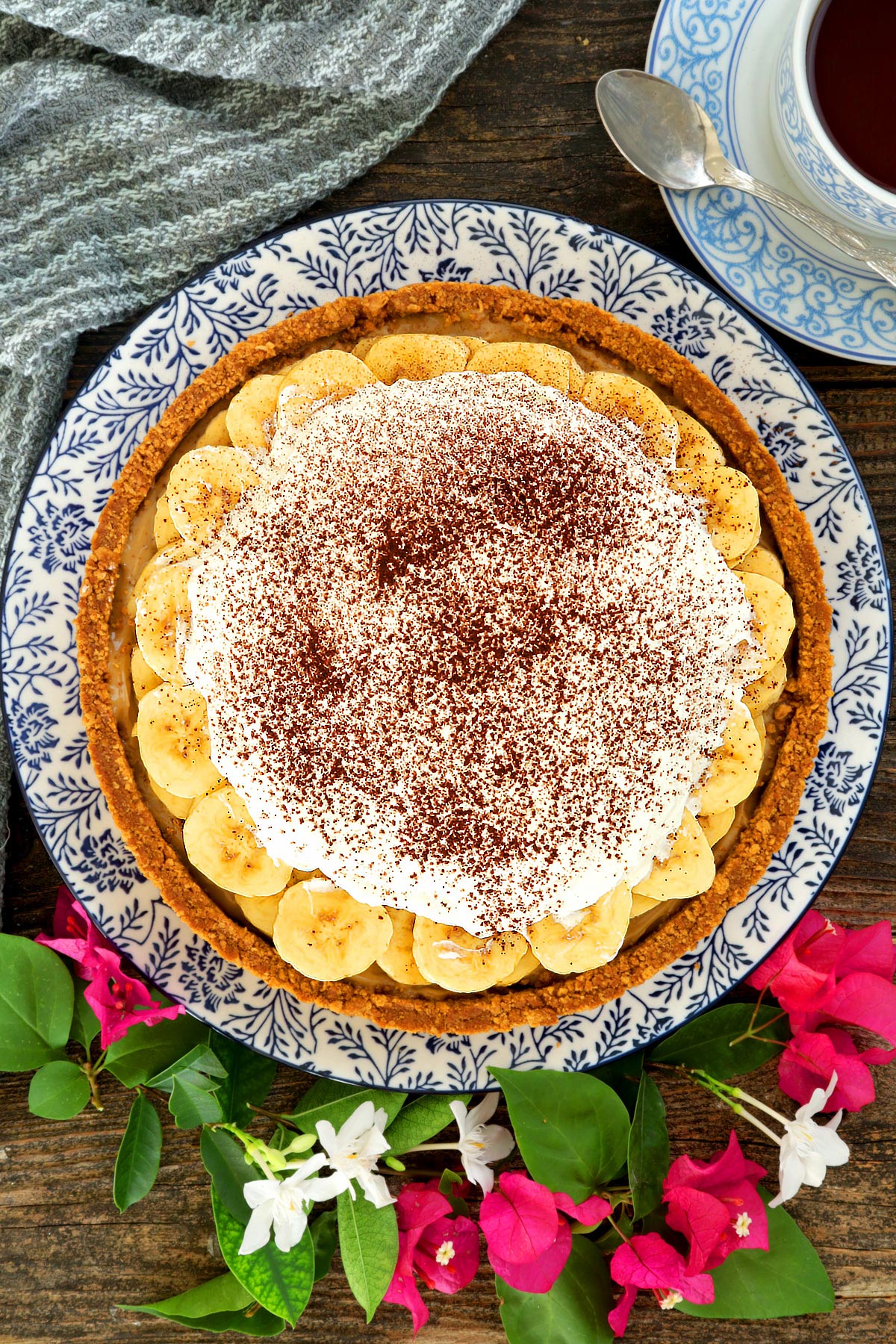 You would think just by looking at this heavenly concoction that it'll probably take hours to make. Well, you couldn't be more wrong! This banana-toffee treat is done in just under 30 minutes using 7 simple ingredients- graham crackers, butter, milk, bananas, dulce de leche, whipping cream, and cocoa powder.
What is a Banoffee Pie?
Banoffee or Banoffi is a term made by contracting the names of the two distinguishing ingredients of this dessert- banana, and toffee. Though toffee is described as a sweet candy made of caramelized sugar mixed with butter and flour, the English people who created this dessert have always used Dulce the Leche since it was introduced way back in 1971.
Due to its worldwide popularity, there is a multitude of variations made. Some would make the crust using crushed or crumbled butter cookies. As long as the banana and toffee duo are present, the crust and toppings can be customized depending on what you like. Some pies are embellished with chocolate shavings, coffee powder, and even coconut flakes.
How to make Dulce de Leche?
Making your own Dulce de Leche at home is so easy and can be done using several different methods. The most basic way to do it is by boiling an unopened can of condensed milk for 3 hours until it caramelizes. For more details, check out my homemade Dulce de Leche recipe.
Foxy Tips when Making Banoffee Pie
I use ripe bananas that are still firm and not overripe. The dessert is sweet enough so you need bananas with just the right flavor and you do not like them mushy!
For a firmer crust, you can make it ahead of time and refrigerate it overnight. If you want it to have a crunchy texture, you can bake it in the oven until it turns dark brown in shade.
It is important to make sure that all your ingredients are cooled down before and after adding the whipped cream. Or you the run risk of making the pie soggy and runny.
How long can you store it?
It might not happen, because, in my experience, it doesn't last long on the table once served! It is so addictive, most will even have second helpings! But in rare cases that you have some leftovers, or if you wish to make this ahead of time, it can be stored in the fridge for up to 3 days placed in a cake box. It won't be as good as freshly made though. I don't recommend freezing this for longer storage because some elements like the banana and whipping cream do not freeze well.
Printable Recipe
Easy Banoffee Pie
You will be amazed at how super easy it is to make this no-bake Banoffee Pie! A scrumptiously layered dessert made of crumbly graham cracker crust, dulce de leche, and sliced bananas topped with fluffy cream sprinkled with cocoa powder and almond slices.
Ingredients
FOR CRUST
1

pack

graham crackers

- crushed

½

cup

salted butter

- melted

5

tablespoons

milk
FOR TOPPINGS
3

big

ripe bananas

- cut into rounds

200

ml

whipping cream

1

can

dulce de Leche

cocoa powder

- for sprinkling
Instructions
Combine all ingredients for crust in a bowl and mix until all parts are moistened. Try pressing a bit to the bottom of the bowl, it should stick and pack firmly, if not add a bit more milk. Transfer to a 8 or 9-inch round spring-form and spread evenly. Press crumbs tighly against the pan using the bottom flat of a meauring cup or glass to create a crust.

Spread Dulce de Leche on top of the crust. Place in fridge for now.

In a deep chilled bowl, whip the whipping cream until firm peaks form. You can put it in a piping bag and use a big star tip, pipe the cream on top of the banana slices to make nice patterns. Alternatively, you may just spread the cream on top using spoon or spatula.

Bring the crust out of the fridge, add a layer or two of banana slices on top of the dulce de leche. Then spread the whipped cream on top of the banana layer.

Sprinkle with cocoa powder before slicing and serving.
Notes
This recipe is good for a 17cm or 7 inch spring-form round pan or 3 small pies using a dessert ring.
Nutrition
Calories:
414
kcal
Carbohydrates:
40
g
Protein:
5
g
Fat:
27
g
Saturated Fat:
14
g
Trans Fat:
1
g
Cholesterol:
67
mg
Sodium:
457
mg
Potassium:
128
mg
Fiber:
2
g
Sugar:
12
g
Vitamin A:
761
IU
Vitamin C:
1
mg
Calcium:
72
mg
Iron:
2
mg
More no-bake desserts here for you:
This recipe was originally published in April 2015. Updated in March 2021 with a change in recipe ingredients and new photos and videos as well.