Nothing says festivity more than Crema de Fruta! With varying layers of cool, delicious sweetness. No wonder it is a favorite Christmas dessert. This recipe is no-bake and so easy!
The first time I made this dessert was at elementary. It was taught to us in one of our home economics classes. I will not say how long ago that was but one thing for sure, this dessert is a classic. It is still well-loved now as it is then. We used store-bought taisan for the base as it was easily available at that time. Graham cracker was not yet so popular. I think I should stop saying anything now, it somehow makes me sound so ancient.
Different variations stem from this Filipino dessert but I guess Crema de Fruta holds a special place in my heart. It does not only bring childhood memories but also of the happy holidays and special occasions that it has shared with us.
What is Crema de Fruta?
Cream de Fruta is a classic  Filipino layered dessert consisting of cake, creamy custard, fruit cocktail, and fruit-flavored gelatin.
It is a popular dessert served during the holidays. Canned fruit cocktail is normally used. But there are other variations like all peaches or mangoes or a combination of several fruits.
What cake to use as a base?
Traditional Crema de Fruta uses taisan for its base cake. It is the Filipino-version of chiffon cake.  However, other similar cakes can be used. Normally foam cakes like sponge cake and angel food cake would also be good alternatives. Other recipes that also use graham crackers that is commonly used for making mango float or other similar desserts.
This dessert can be time-consuming if all is done from scratch. But this is a no-bake version for those who do not have the time or inclination to exert the effort. Instead of baking a chiffon cake, I opted for something that is fuss-free to use— broas (brojas) or ladyfingers!
Once the ladyfingers soak up some of the liquids from the custard, it becomes soft just like a cake. I also like that is airy and spongy so it does not add much weight to the whole dessert. Having different layers could become heavy and we try to avoid that in desserts such as this.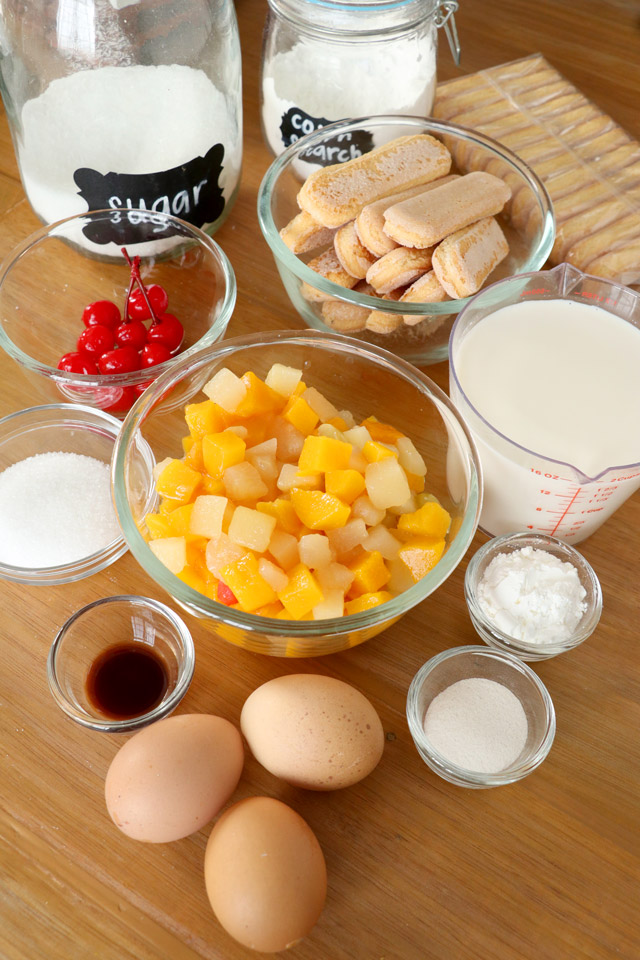 Tips on making the custard
The trick in making a great custard is patience. It has to cook slowly at low heat while stirring continuously.
Do not overcook it. You might be tempted to cook it longer to reach the desired thickness as when it is cold. Remember that custard actually thickens once it cools down.
Cooking custard at high temperature or for too long can cause it to curdle. If this starts to happen to your custard you can try to fix it. Immediately remove it from the heat and transfer to a bowl. Run it through a sieve to remove the lumps.
Not cooking it long enough though can also result in a watery or thin custard. You know it is cooked when it is thick enough to coat the back of a spoon and when bubbled starts to break in the surface.
Scalding or warming the milk before using it to make custard is not really necessary but it helps cut down the cooking time.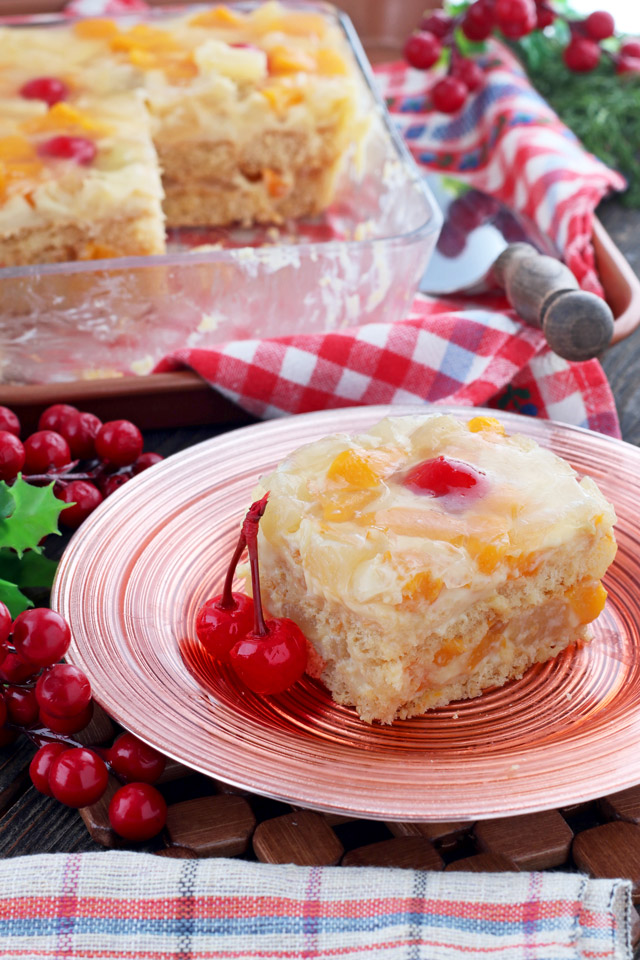 Additional Tips for non-bake Crema de Fruta:
Drain the fruit cocktail for a few minutes before starting to make sure most liquids are removed. This will prevent diluting the custard when assembling the dessert.
You may use some of the fruit cocktail juice to add flavor to the ladyfingers. Just dip one side to avoid them from getting soggy. You can also just drizzle some on top of the broas.
Make sure that the custard has completely cooled down before using it. Some gelatin sets really fast (the ones in the Philippines do), so prepare the gelatin last just before using it. Let it cool down before using it.
Refrigerate the assembled Crema de Fruta for some hours or overnight to let the ladyfingers absorb some of the liquids and soften. Never freeze it as custard does not freeze well, they separate and become watery when thawed.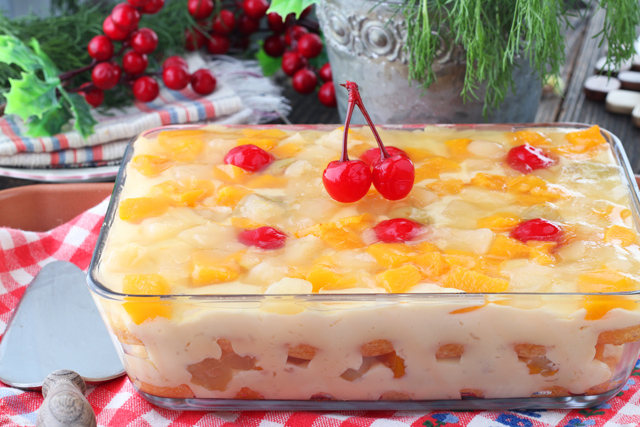 Printable Recipe
No-bake Crema de Fruta
Nothing says festivity more than Crema de Fruta! With varying layers of cool, delicious sweetness. No wonder it is a favorite Filipino Christmas dessert. What's more, this recipe is no-bake and so easy!


Ingredients
18-20

pieces

ladyfingers

1

big can

fruit cocktail

- drained and juices reserved

6

pieces

Maraschino cherries

(optional)
CUSTARD
⅓

cup

sugar

1

tablespoon

corn starch

3

pieces

eggyolks

2

cups

milk

1-2

teaspoon

vanilla extract
GELATIN
½

cup

water

½

tablespoon

gelatin powder

1

tablespoon

sugar

1

cup

reserved fruit cocktail juice
Instructions
CUSTARD
Warm milk in the microwave for several seconds on high until warm but not boiling.

In a saucepan, combine sugar and cornstarch. Add the egg yolks and beat until it becomes pale and smooth. Gradually add the milk while continuously stirring.

Bring the mixture to a gentle simmer over low heat, whisking constantly, until custard thickens enough to coat the back of a spoon, 10-12 minutes. Add vanilla extract and stir several times to blend. Remove from heat and let it cool down.
GELATIN
Dissolve gelatin and sugar in water. Bring it to a boil over medium heat, stirring regularly to dissolve the lumps and granules.

Turn off the heat. Add the reserved fruit cocktail juice. Let it cool down.
ASSEMBLY
Arrange a layer of ladyfingers at the bottom of a 6x8-inch or 7x7-inch pan.

Pour half of the custard on top and spread evenly. Spread half of the fruit cocktail on top of the custard.

Create another layer of the ladyfingers, custard and fruit cocktail. You may add some cherries if you like, spaced evenly.

Lastly, very gently pour the gelatin all over the final layer covering the fruits completely.

Chill in the fridge for at least an hour or overnight. Best serve cold.
Nutrition
Calories:
137
kcal
Carbohydrates:
26
g
Protein:
4
g
Fat:
1
g
Saturated Fat:
1
g
Cholesterol:
16
mg
Sodium:
44
mg
Potassium:
166
mg
Fiber:
1
g
Sugar:
22
g
Vitamin A:
170
IU
Vitamin C:
0.4
mg
Calcium:
102
mg
Iron:
0.2
mg