This No-Bake Mango Cheesecake is probably the easiest cheesecake I've done. No cooking or baking involved. It is very mildly sweetened to highlight the natural sweetness of the fresh mangoes and tartness of cream cheese. I also like the contrasting flavor of the salted graham crust and the touch of bitter-sweet chocolate sauce.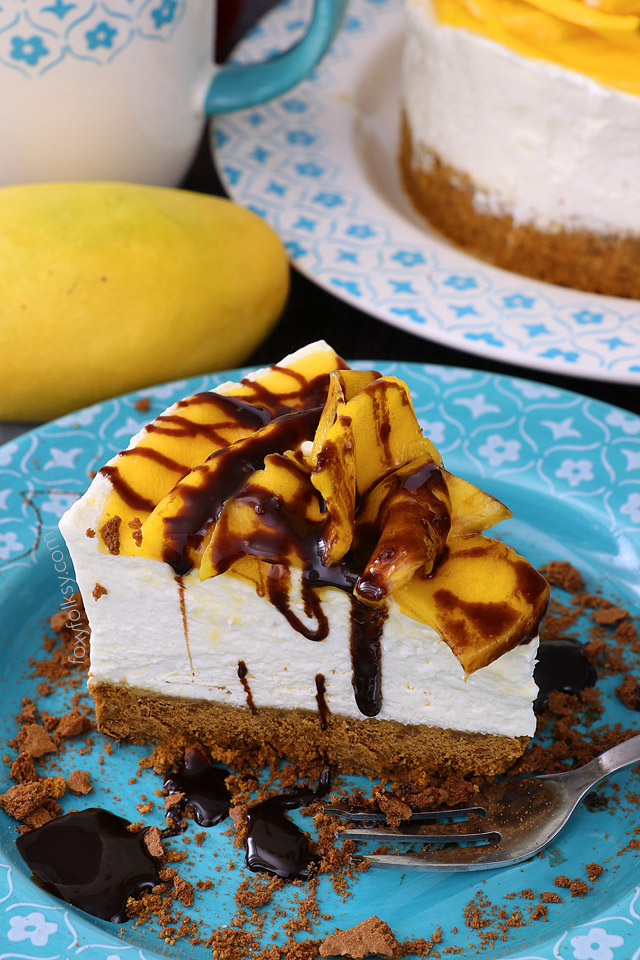 You will probably notice and wonder that I only used 3 tablespoons of sugar in this recipe. Yes, this is not a sweet cheesecake. I like that the sweetness mainly comes from the ripe mangoes. Not using too much sugar also lets you taste and appreciate the other flavors especially of the cream cheese.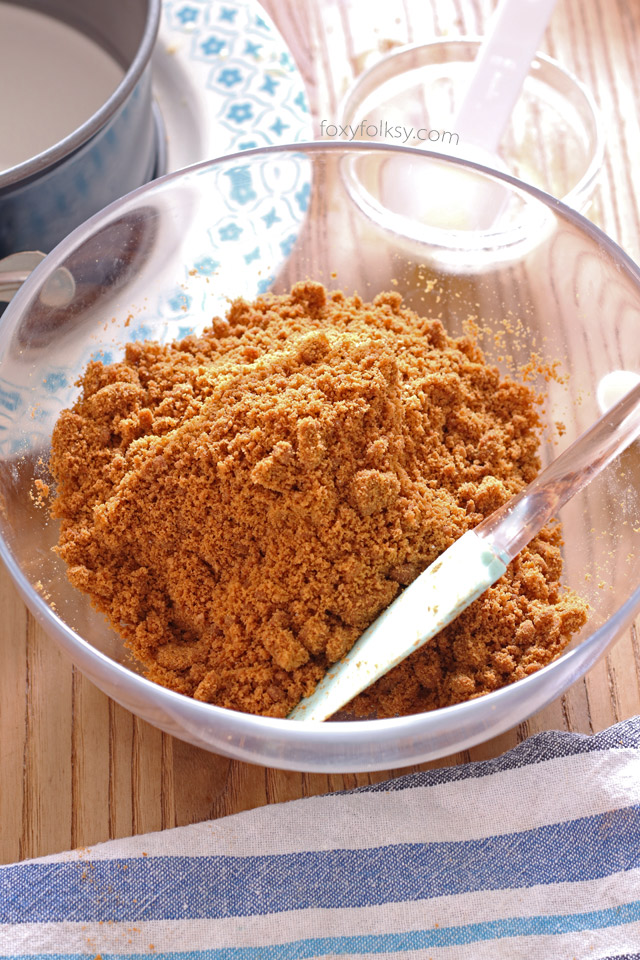 Tips on using Powdered Gelatin:
This Mango cheesecake recipe uses gelatin powder to help it retain its form once set. I know, when it comes to using gelatin powder, some of us can find it a bit intimidating. Believe me, I had my share of fails when it comes to using gelatin (in any form), especially when adding it to cold mixtures. Here are some of the things I've learned in using powdered gelatin:
Sprinkle the gelatin powder over the top of the liquid (water or juice)...not the other way around, then stir to combine. This will prevent it from forming lumps at the bottom.

Give it time to bloom. Let the mixture sit a few minutes until the gelatin absorbs all the water and swells.

It needs to be warmed before using. If adding to a warm base then simply add the bloomed gelatin but if adding it to a cold base (like in this recipe)  it needs to be warmed first. You can do this using a microwave (5-10 seconds at high power)  or a hot water bath by placing the bowl of bloomed gelatin on top of another bowl with hot water. Be sure to stir thoroughly to dissolve all the granules.

Wait that the dissolved gelatin has cooled down to room temperature before adding to the cold base. Once added, you have to work fast to prevent the gelatin base from setting in before you are done. 
I was actually inspired to make this Mango Cheesecake when Armin and I went out to do some errands some weeks back and ended up having lunch at a local resto-bar near our place. I saw this on their menu and wasn't able to resist ordering it! Good thing we did! We went back to this place just for this dessert...(maybe not anymore now ?). They serve it frozen and we love it!   
Someone asked for the thing I used to press the crumbs. I got it from a dessert ring set and it is available on Amazon. Just click image below to check it out.

Tips on making a delicious Mango Cheesecake
 I used a 7-inch ring of a springform and it gave me a 6 cm tall cake, not including the toppings. You may also use an 8 or 10-inch cake ring for this recipe.
 You can also put it in the freezer to have a frozen Cheesecake then add the mangoes when ready to serve.
 Warm a knife by either running it quickly in fire or dipping it in hot water.
Printable Recipe
No-Bake Mango Cheesecake
This No-Bake Mango Cheesecake is probably the easiest cheesecake recipe I've done. No cooking or baking involved. It is very mildly sweetened to highlight the sweetness of fresh mangoes and tartness of cream cheese.
Ingredients
CRUST
2

cups

Graham crackers

- crushed

⅛

teaspoon

salt

½

cup

butter

- melted

5

tablespoons

milk
FILLING
2

teaspoons

gelatin powder

⅛

cup

water

8

ounce

cream cheese

- chilled

3

tablespoons

white granulated sugar

8

fluid ounce

whipping cream

(or all-purpose cream), chilled

2

teaspoons

lemon juice

(optional)
Instructions
Place a cake ring or the ring of a springform (Note1) on a plate with a flat surface. Set aside.

In a large bowl, combine all ingredients for the crust and mix until well combined. There should be no lumps or clumps. Use an electric mixer if you have one.

Pour the crumbs into prepared cake pan. Press down firmly and evenly. Place in the fridge to chill and set while preparing the filling.

Sprinkle and dissolve the gelatin powder in ⅛ cup of water in a small bowl. Let it bloom for 3-5 minutes or until it becomes gelatinous. Pulse it in the microwave for 5-10 seconds to warm it or use a water bath by putting some hot water in another bowl with the same size and place the bowl of gelatin on top of it. Mix until completely dissolved and no more granules are visible. Let it cool down to room temperature.

In a bowl, combine the cream cheese, lemon juice and sugar and whip for 3-5 minutes or until the textures become lighter and airy.

In a separate bowl, whip the whipping cream until foamy and stiff peaks forms.

Fold in the whipped cream into the cream cheese mixture until well combined. Add the dissolved gelatin and beat several times for about 10-20 seconds.

Take out the prepared crust from the fridge and pour the filling on top of it. Tap the plate several times to level out the filling and use an offset spatula to make it as even as you can. Refrigerate for 3 hours until top is set.

Run a warm knife along the inner edges of the cake ring to separate it from the cheesecake so it can be easily lifted.

Peel the mango and use a sharp knife to cut thin slices, arrange the mango slices on top of the cheesecake to form a flower or you can simply just cut cubes and spread it on top.

Sprinkle with some crushed graham and drizzle with some chocolate sauce before serving.
Nutrition
Calories:
430
kcal
Carbohydrates:
41.5
g
Protein:
5.8
g
Fat:
27.8
g
Saturated Fat:
16.4
g
Cholesterol:
79
mg
Sodium:
327
mg
Potassium:
206
mg
Fiber:
1.8
g
Sugar:
27
g
Calcium:
50
mg
Iron:
1.6
mg