Refreshing and creamy Mango Jelly is a mouthwatering medley of sweet mango cubes and mango-flavored jellies in a sweetened cream mixture made extra special with chewy nata de coco and tapioca pearls!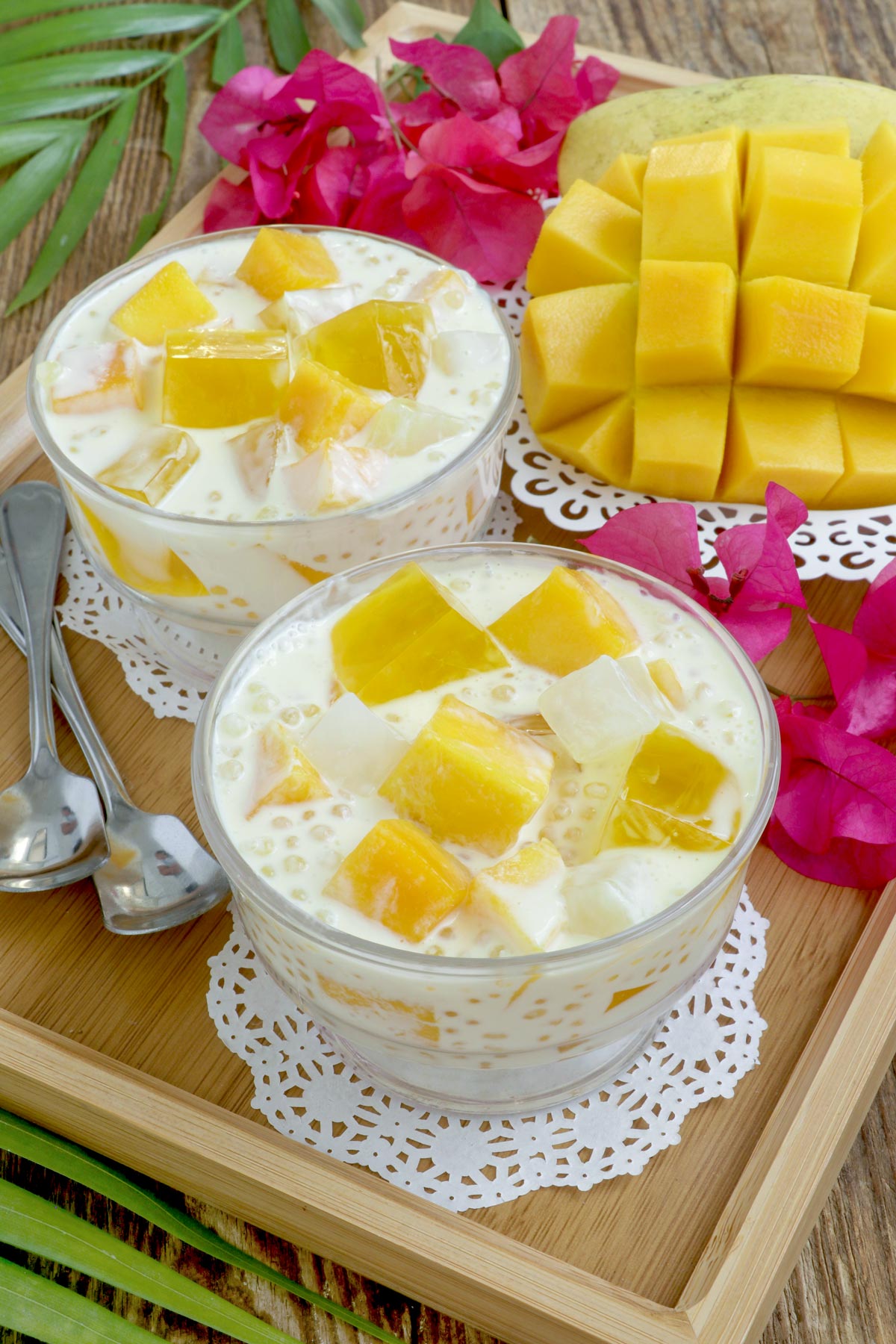 Summer-in-a-bowl! Exactly how I would describe this easy, chilled dessert brimming with ripe mango goodness in every mouthful. Though there are a lot of summer fruits, I always associate mangoes with golden sunshine and warm weather. Maybe this is because we spent our childhood summer vacations in our ancestral home, where we have big mango trees in our backyard. The fruits are so abundant that you can easily pick them fresh off the tree and eat them right under it!
Maybe that is why I have a penchant for making different dishes using these juicy stone fruits! My Mango Cake, Mango Pandan, Salmon with Mango Salsa, Mango Lassi, and Mango Float are just a few of these recipes. Don't even get me started on green mangoes with bagoong.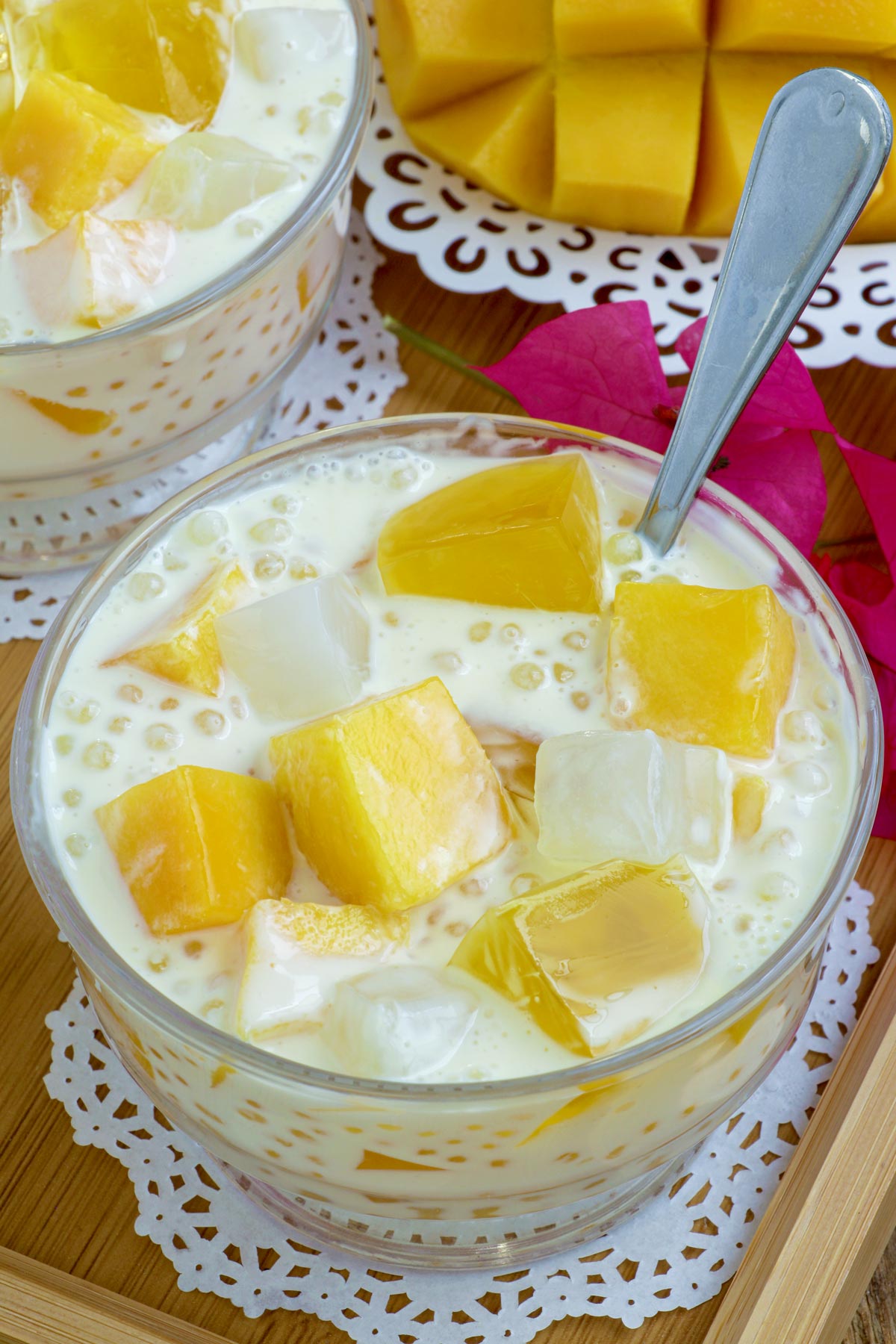 What type of mangoes to use?
The sweetest variety of mango, according to the Guinness Book of World Records, is the Carabao mango, also known as Philippine mango or Manila mango, which is what I used in this recipe. You may also use Ataulfo or Alphonso mangoes, which are equally tasty and sweet, or any ripe mangoes you have available.
What is it made of?
Fresh Ripe Mangoes - Choose mangoes that have smooth and blemish-free skin and are heavy for their size. The fruit should be firm to touch but slightly gives in when squeezed gently.
Mango-flavored Jelly - to double up and intensify the mango flavor of this dessert.
Tapioca Pearls- adding these soft and chewy tiny pearls makes it more fun to eat! You may also use the regular-sized tapioca if unavailable.
Nata de Coco - also known as coconut gel. This Filipino delicacy is made by fermenting coconut water until it solidifies and turns gelatinous and translucent. It is also commonly used in local desserts like Halo-Halo and Fruit Salad.
Sweet Cream Sauce - I used a mixture of condensed milk and all-purpose cream to make a creamy sauce for this dessert. When tossed in together in the cream sauce, the juice from the fresh mangoes would seep out and saturate it! So delicious!
Foxy Tips in making Mango Jelly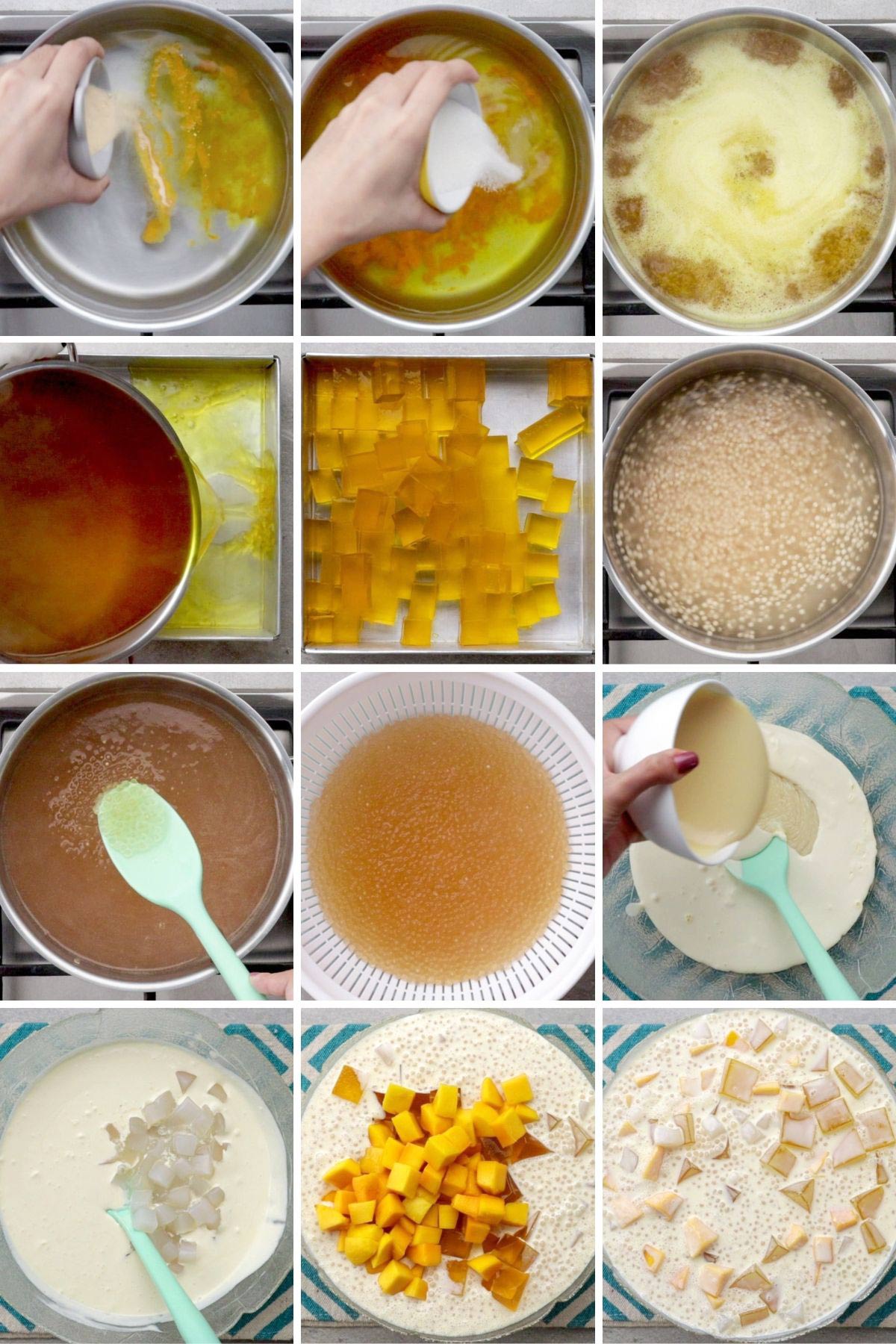 If you cannot find mango-flavored jelly powder, you can use a clear, unflavored jelly powder mixed in mango nectar/juice and water instead. The measurements are in the recipe notes below.
Always read and follow the package direction of the jelly powder you are using as each brand requires different amount of liquid.
You will know when the tapioca pearls are cooked when they are completely translucent. After cooking, make sure to submerge them in water, so they do not stick together.
Use room temperature milk and cream. This will make it easier for you to blend them together!
For a more intense mango flavor, you may add another ripe mango, purée it and add it in the sweetened cream mixture.
You can make this mango jelly recipe vegan-friendly by using agar-agar or agar powder instead of gelatin and dairy-free condensed milk and cream options.
Serving and Storing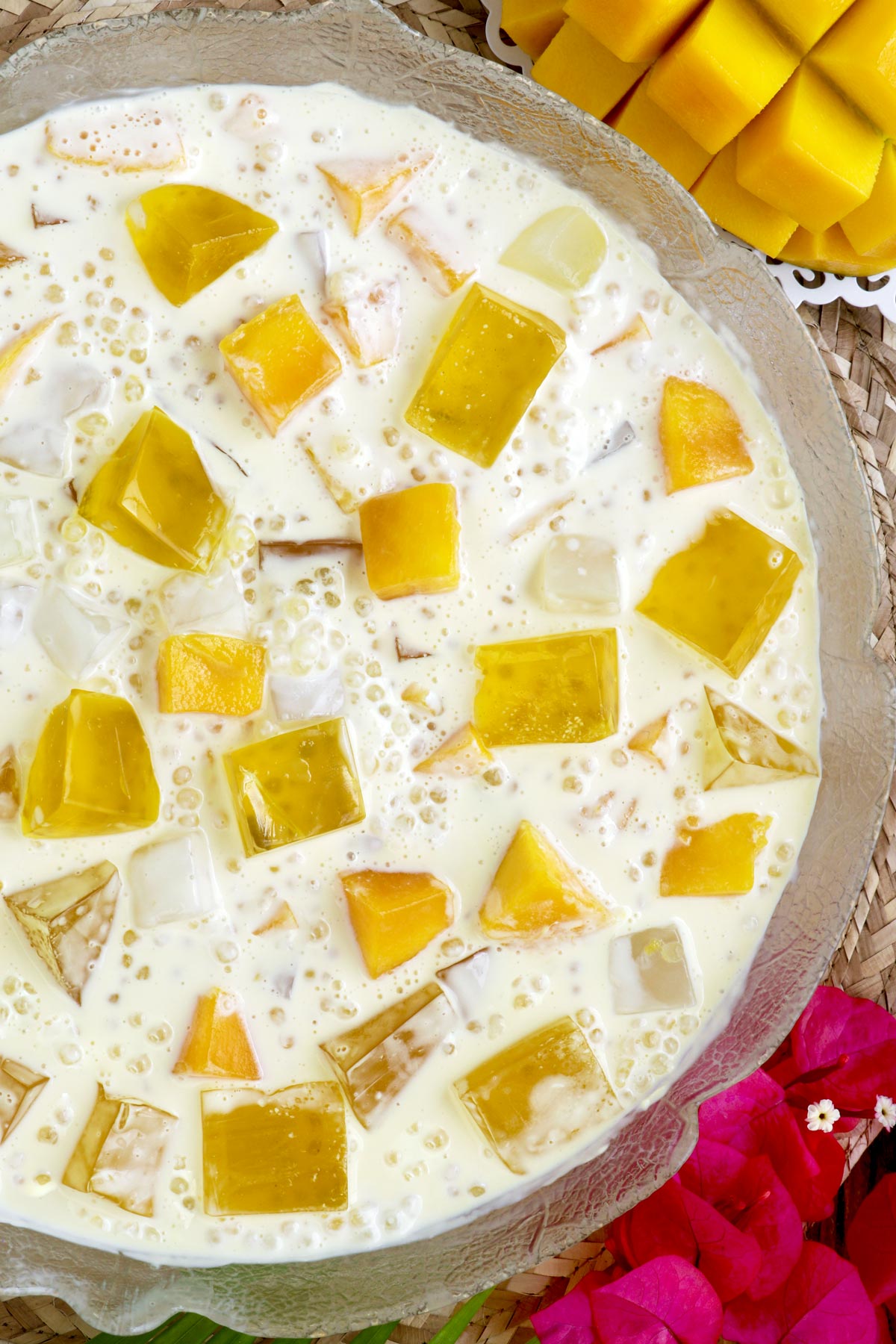 Mango Jelly is best served chilled. Refrigerate it for at least an hour or place it in the freezer for about 20 minutes before serving.
You can store Mango Jelly in the fridge for up to 3 to 5 days, kept in an airtight container.
To avoid the risk of spoilage, do not leave it out at room temperature for longer than two hours.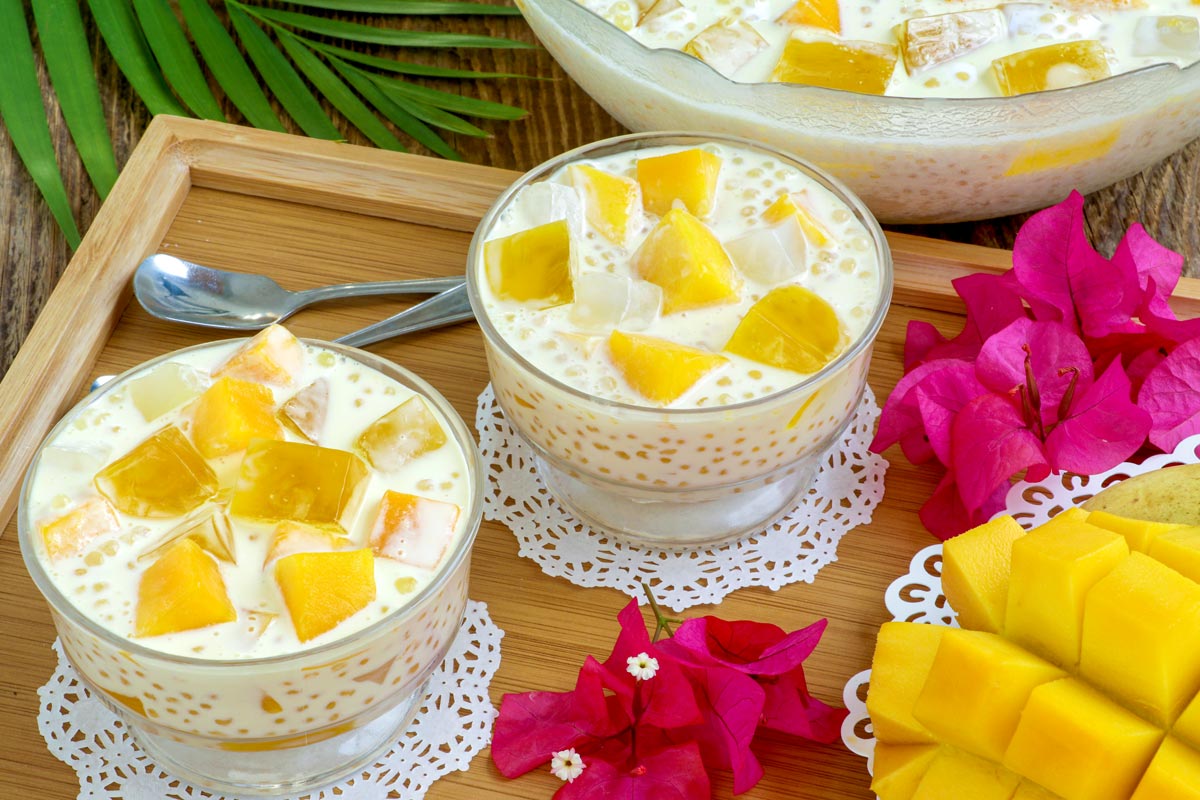 Printable Recipe
Mango Jelly Recipe
Refreshing and creamy Mango Jelly is a mouthwatering medley of sweet mango cubes and mango-infused jellies in a sweetened cream mixture made extra special with chewy nata de coco and tapioca pearls!
Ingredients
1

pouch

mango-flavored jelly powder

gulaman/agar jelly powder - (25g)

5

cups

water

5

tablespoons

white sugar

1

cup

tapioca pearls

uncooked

4

cups

water

for cooking tapioca

1

can

sweetened condensed milk

300ml

2

packs

all-purpose cream

250ml per pack, unchilled

2

jars

nata de coco

340g each (coconut gel), drained

2

big

ripe mangoes

cut into cubes and chilled
Instructions
1 pouch mango-flavored jelly powder,

5 cups water,

5 tablespoons white sugar

Add 5 cups of water to a pot. Sprinkle the jelly powder over it and add the sugar and mix until the jelly powder is dissolved. Heat over medium-high until it starts to boil. Transfer to a square or rectangle pan or molds, liquid should not be more than an inch high. Let it cool down to set. Cut into cubes once set.

4 cups water,

1 cup tapioca pearls

In a pot, bring 4 cups of water to a rolling boil over high heat. Add the tapioca pearls and cover. Lower heat to medium and let it cook for 15 minutes or until the core is no longer visible.

Drain using a strainer or colander. Place the tapioca pearls (in a strainer/colander) in a bowl with water to prevent them from sticking together until ready to use. Just remove it from the water and let it drain before using.

1 can sweetened condensed milk,

2 packs all-purpose cream,

2 jars nata de coco,

2 big ripe mangoes

In a large bowl, mix all-purpose cream and condensed milk until well blended. Add the nata de coco and tapioca pearls then mix. Lastly, add the mango jelly cubes and ripe mangoes and gently fold.

Cover and chill before serving.
Notes
Alternative for mango jelly:
2 cups mango nectar/juice
1 pouch clear unflavored jelly powder
3 cups tap water
sugar - adjust as needed
Nutrition
Calories:
174
kcal
Carbohydrates:
35
g
Protein:
3
g
Fat:
3
g
Saturated Fat:
2
g
Polyunsaturated Fat:
0.1
g
Monounsaturated Fat:
1
g
Cholesterol:
11
mg
Sodium:
52
mg
Potassium:
124
mg
Fiber:
0.1
g
Sugar:
23
g
Vitamin A:
92
IU
Vitamin C:
1
mg
Calcium:
102
mg
Iron:
0.3
mg