This popular Thai dessert of Mango Sticky Rice is made of creamy glutinous rice paired with sweet ripe mangoes, then drizzled with a yummy coconut sauce! A filling summer dessert made with 6 ingredients only.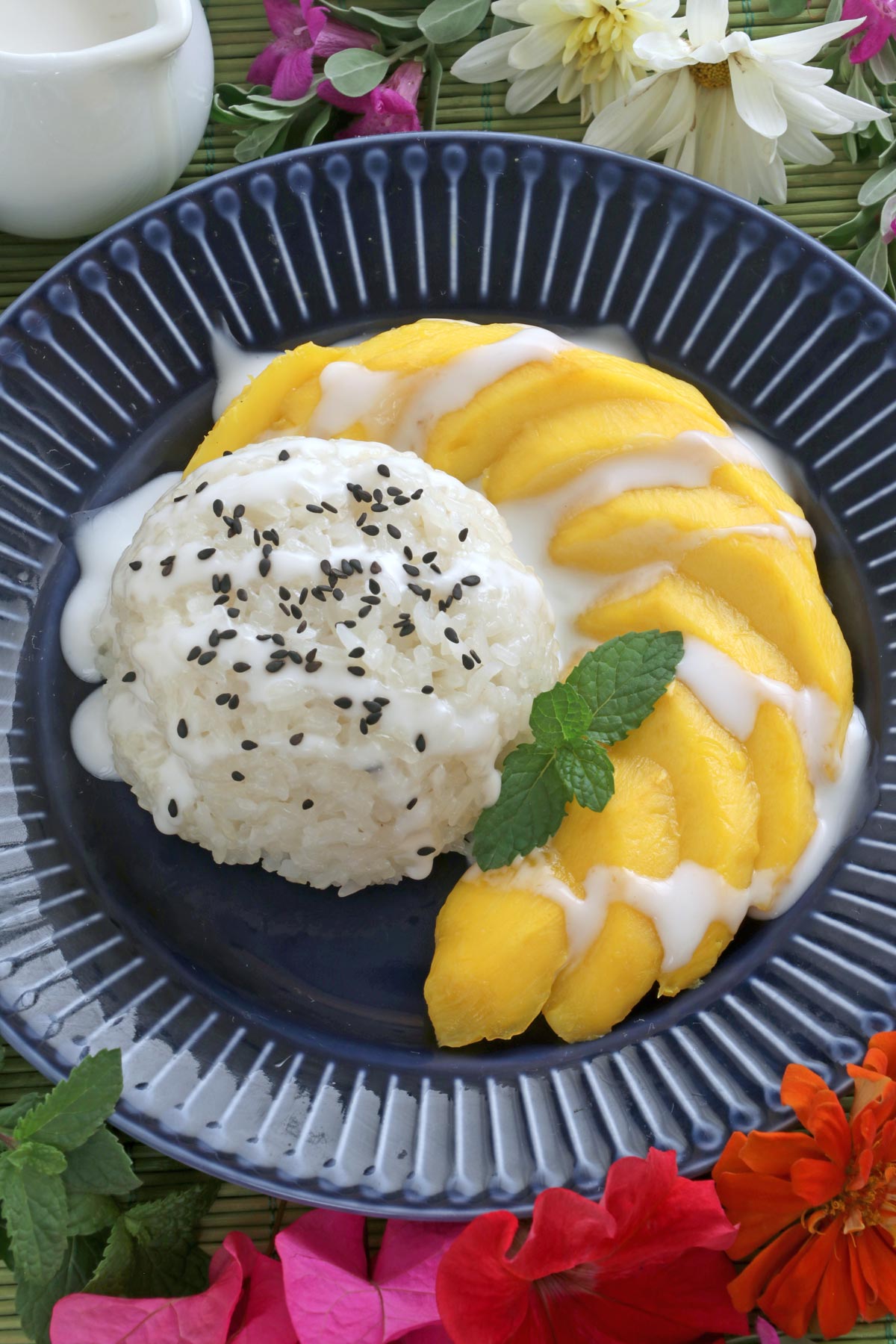 They say that a trip to Thailand is not complete without trying out this Asian delicacy. I've been there a few times and have tried a lot of their local food like Gaw Haw Bai Toey or Pandan Chicken, Pad Thai, and this one too! I love them all so I thought I'd try my hand in making them. This dessert is lusciously creamy, sweet, and super refreshing!
Jump to:
What is Thai Sticky Rice with Mango?
This delicious sticky rice pudding originated in Thailand but has different versions all over Southeast Asia. Called Khao niaow ma muang locally. Khao niaow means sticky rice while ma muang means mango. Usually served during summertime when sun-ripened mangoes are in abundance.
It is made by mixing glutinous rice in a sweetened coconut cream then serving it with slices of ripe mangoes. It is usually topped with a thick coconut sauce. In this recipe, I added a sprinkling of black sesame seeds, but others also use white sesame seeds, coconut flakes, or the more traditional, crispy yellow mung beans.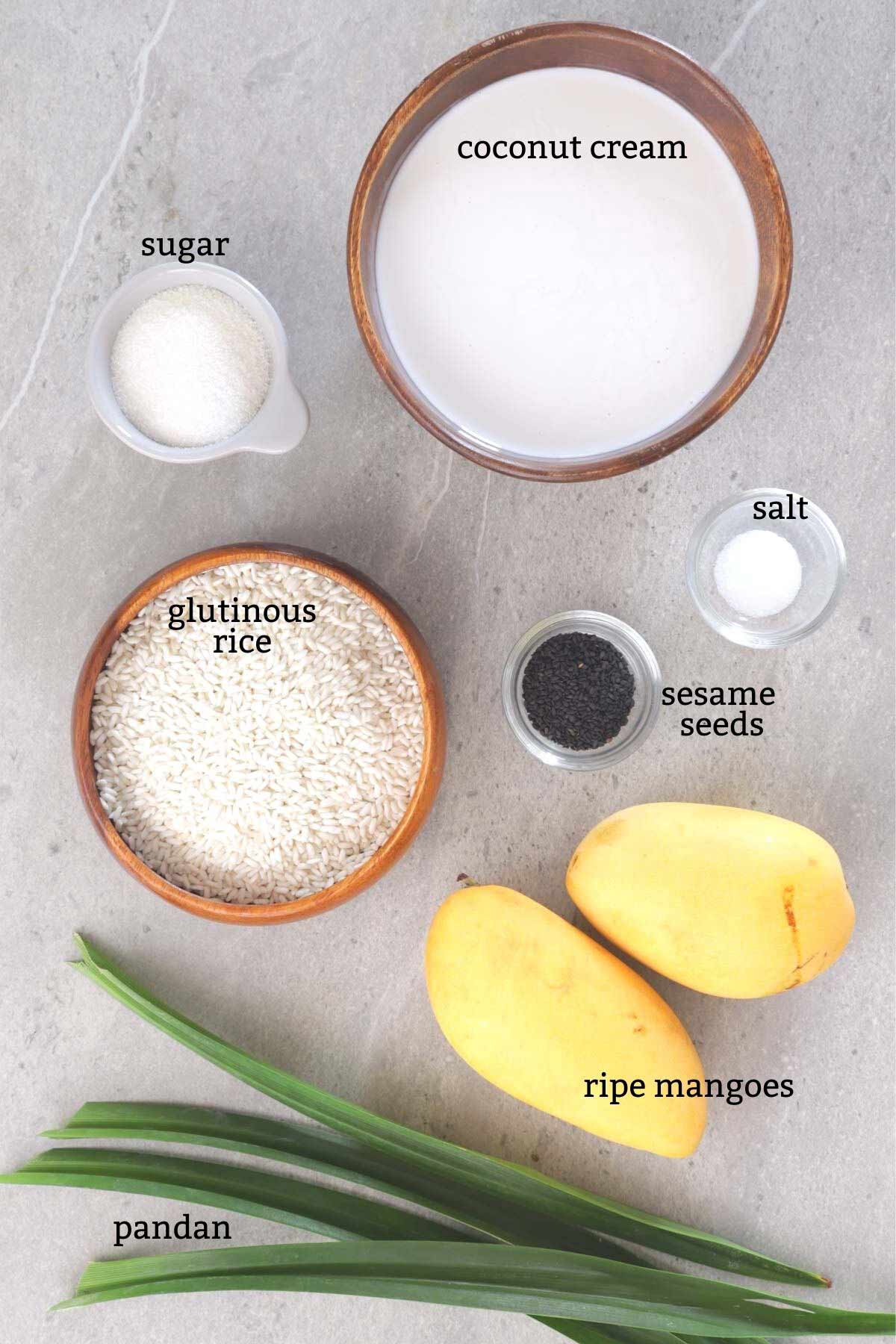 Proper Way to Cook Sticky Rice
Preparing and cooking sticky rice or glutinous rice is quite different from how we usually cook our daily white rice. Thais prefer the soak and steam technique to maintain the shape of the rice grains and achieve that firm and chewy texture.
Here are things to remember:
Rinse and lightly rub the rice grains together to scrape and flush off excess starch. Do this until the water becomes clear and not milky in color.
Soak the grains for a minimum of an hour to overnight. This is important as it will soften the exterior of the grains, and will ensure that it is cooked through when steamed.
The longer you soak, the more flavorful it'll be. It will also cut down the steaming time.
Line your steamer with either cheesecloth or muslin cloth, or something sturdy enough to withstand the steam and will allow you to pull the cooked rice easily out of the steamer basket.
Fluff the cooked rice using a spoon. This is to make sure they do not lump together. Also, you can dip the spoon in water first as the rice will be super sticky.
Make sure to add the sweetened coconut mixture as soon as you can. Cooked sticky rice loses moisture and hardens quickly. If you need time, make sure to cover the bowl with cling wrap first and place it in a warm spot.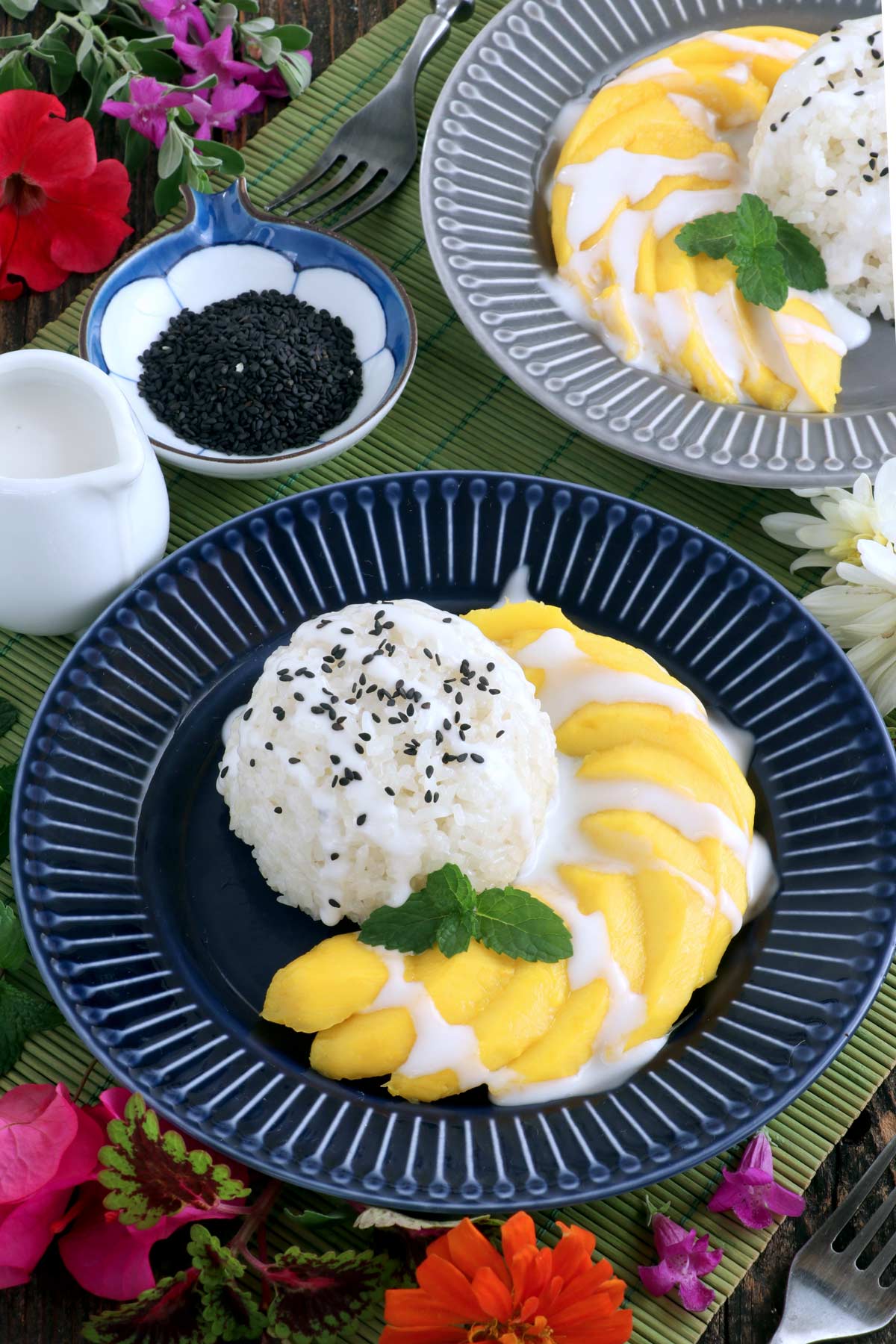 Storing and Reheating Leftover
Place the coconut sauce and sticky rice in separate airtight containers and store in the refrigerator for 2 days. Reheat in microwave for about 30 seconds to a minute. But you can heat it longer if you want to serve it hot. Be careful though, the rice might turn hard and dry if heated long.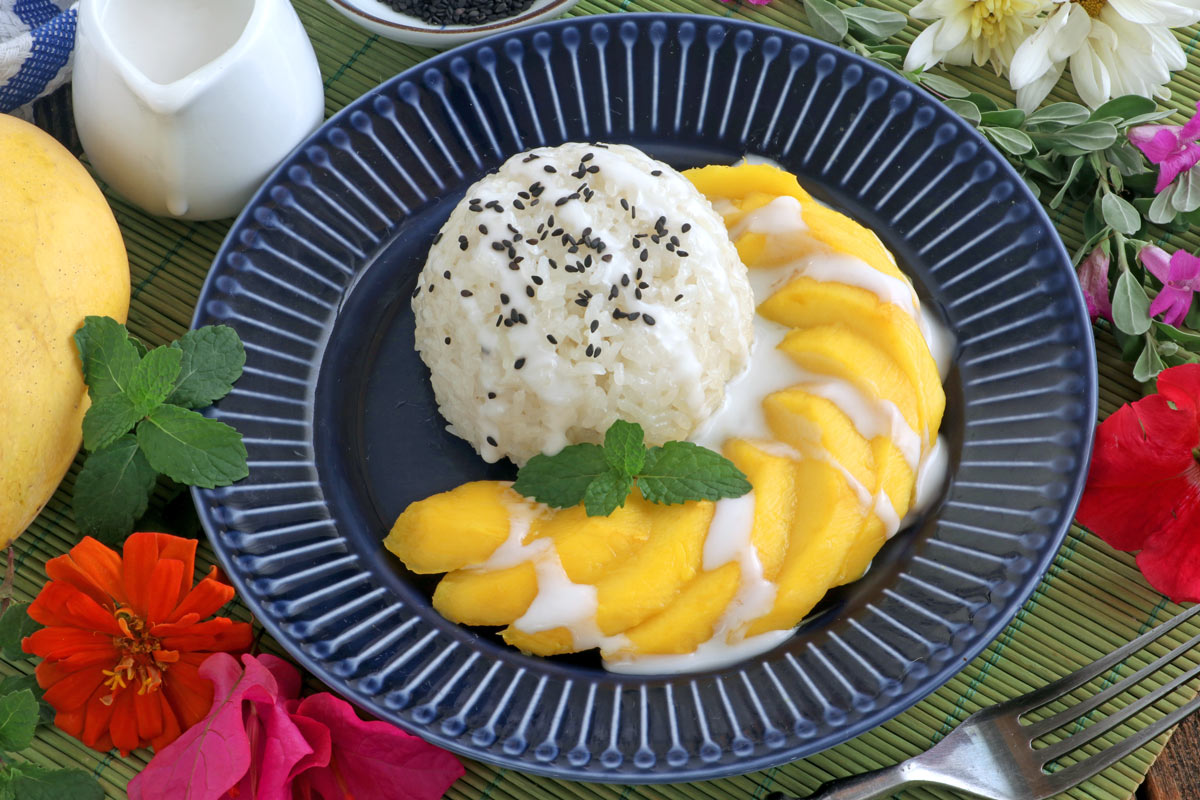 Printable Recipe
Thai Sticky Rice with Mango (Khao Niaow Ma Muang)
This popular Thai dessert of Mango Sticky Rice is made of creamy glutinous rice paired with sweet ripe mangoes, then drizzled with a yummy coconut sauce! A filling summer dessert made with 6 ingredients only.
Ingredients
1

cup

glutinous rice

1

pieces

pandan leaves

-cut into 3 inch pieces optional

1

can

Coconut cream

(400ml)

¼

cup

granulated sugar

½

teaspoon

salt

1-2

pieces

ripe mangoes

Roasted sesame seeds

-for toppings

½

teaspoon

cornstarch

- dissolved in 1 teaspoonof water
Instructions
Rinse and drain glutinous rice in tap water several times until water becomes clear, to remove starch. Transfer to a bowl and soak in enough water for at least an hour or overnight.

Drain the water and transfer the rice in a steamer basket lined with a cheese or muslin cloth. Add 4 pieces of pandan leaves. Place the steamer basket over the pot with boiling water. Steam for 15-20 minutes or until rice becomes translucent and cooked. Remove pandan leaves and transfer rice to a large bowl and fluff it several times using a spoon so they will not lump together. Cover and rest for 5 minutes.

Meanwhile, in a large pot or deep pan, combine coconut milk, sugar and salt. Bring to a gentle simmer over medium heat. Turn off the heat once it simmers and sugar is completely dissolved. Remove from the stove. Take ¼ cup of coconut cream and set aside for toppings.

Pour half of the remaining hot coconut milk to the bowl of still steaming hot rice and gently toss until well combined. Gradually add more of coconut milk to the rice and stir. Do it gently to prevent rice from becoming mushy. You might need to use all the remaining coconut milk or not, the target is to have a grainy but slightly wet and sticky porridge texture. Remember that the hot rice will continue to absorb the liquid as it cools down. Cover the bowl with plastic wrap so the top will not dry out.

Return the reserved ¼ cup of coconut cream to the saucepan and add the cornstarch slurry. Cook over low heat stirring constantly until it thickens a bit. Remove pan from heat and transfer the sauce to a bowl or milk pourer for serving later.

As the rice cools down, peel the mango/es. Cut the flesh from the pit on both sides and cut them in cubes or slices.

Assembly: Fill a small cup with sticky rice and invert it into a plate or bowl. Add slices of mangoes on the side. Pour some coconut cream sauce on top of the rice and mango slices or serve it in a saucer as a dip. Sprinkle with some roasted sesame seeds
Nutrition
Calories:
587
kcal
Carbohydrates:
66
g
Protein:
7
g
Fat:
35
g
Saturated Fat:
31
g
Polyunsaturated Fat:
1
g
Monounsaturated Fat:
2
g
Sodium:
303
mg
Potassium:
432
mg
Fiber:
4
g
Sugar:
19
g
Vitamin A:
446
IU
Vitamin C:
18
mg
Calcium:
21
mg
Iron:
3
mg
FAQs
Is it better consumed warm or chilled?
Mango sticky rice is best consumed right away or within few hours of being cooked. Warm sticky rice is chewier and has the best texture. The texture won't be the same once it's cold but it still is delicious.
Is it gluten-free?
Yes, this dish is 100% gluten-free. The term glutinous describes the sticky and gooey texture of the rice, not pertaining to high gluten content.
Is it vegan?
Absolutely, all the ingredients used for this recipe are plant-based.
I do not have pandan leaves, what can I use?
The pandan leaves are optional, and you can just kip them. However, they lend a unique aroma and taste to the dish. Take note, the more mature the leaf and the darker the color, the deeper the flavor.
More sticky rice desserts