A delicious blend of sweet, warm, and robust flavors brimming with tons of health benefits! Golden Milk is a traditional Ayurvedic drink that is so easy to make using simple ingredients and spices. If you are looking for a plant-based, nutritious drink that is both affordable and tasty, then this is a definite must-try!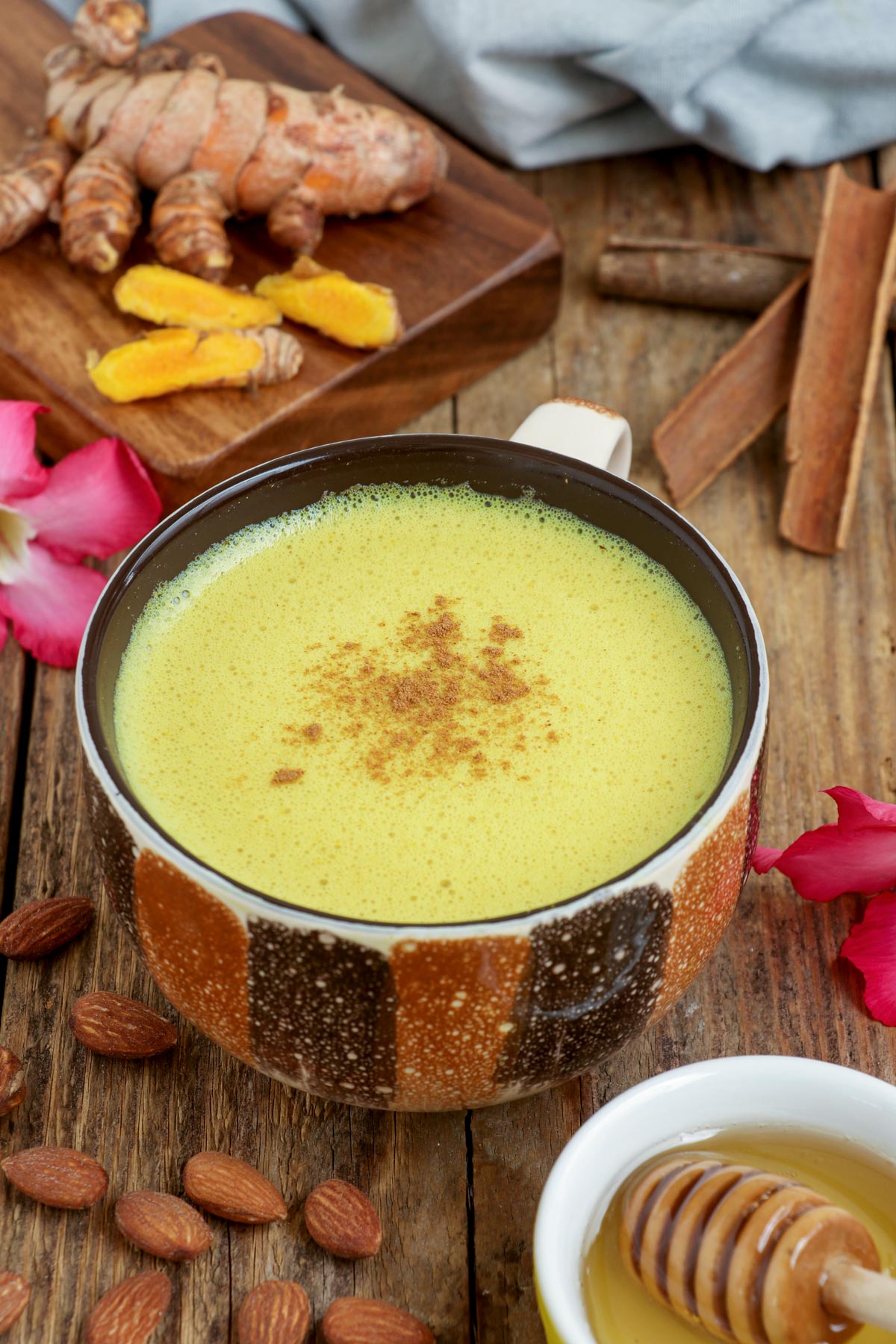 After making Honey Lemon Ginger Tea, we received a lot of positive and great responses because of its obvious health benefits and refreshing taste. Now, I want to share an equally healthy and yummy drink - the Golden Milk. This milk and spice-based drink is the perfect way to cap off your hectic and tiring day!
What is Golden Milk?
Golden Milk is a time-honored Ayurvedic drink from India. Ayurvedic medicine practices an alternative approach to healing and focuses on holistic curative systems. This drink is also called Turmeric Latte as the key ingredient is turmeric, which gives it a yellow or gold hue.
This concoction is a simple combination of milk, several spices, sweetener, and of course, turmeric, which is known for its anti-inflammatory and antioxidant properties. The resulting drink is spicy, warming, and infinitely soothing. So not only are you getting a delicious beverage, you are making your body better and healthier by drinking this!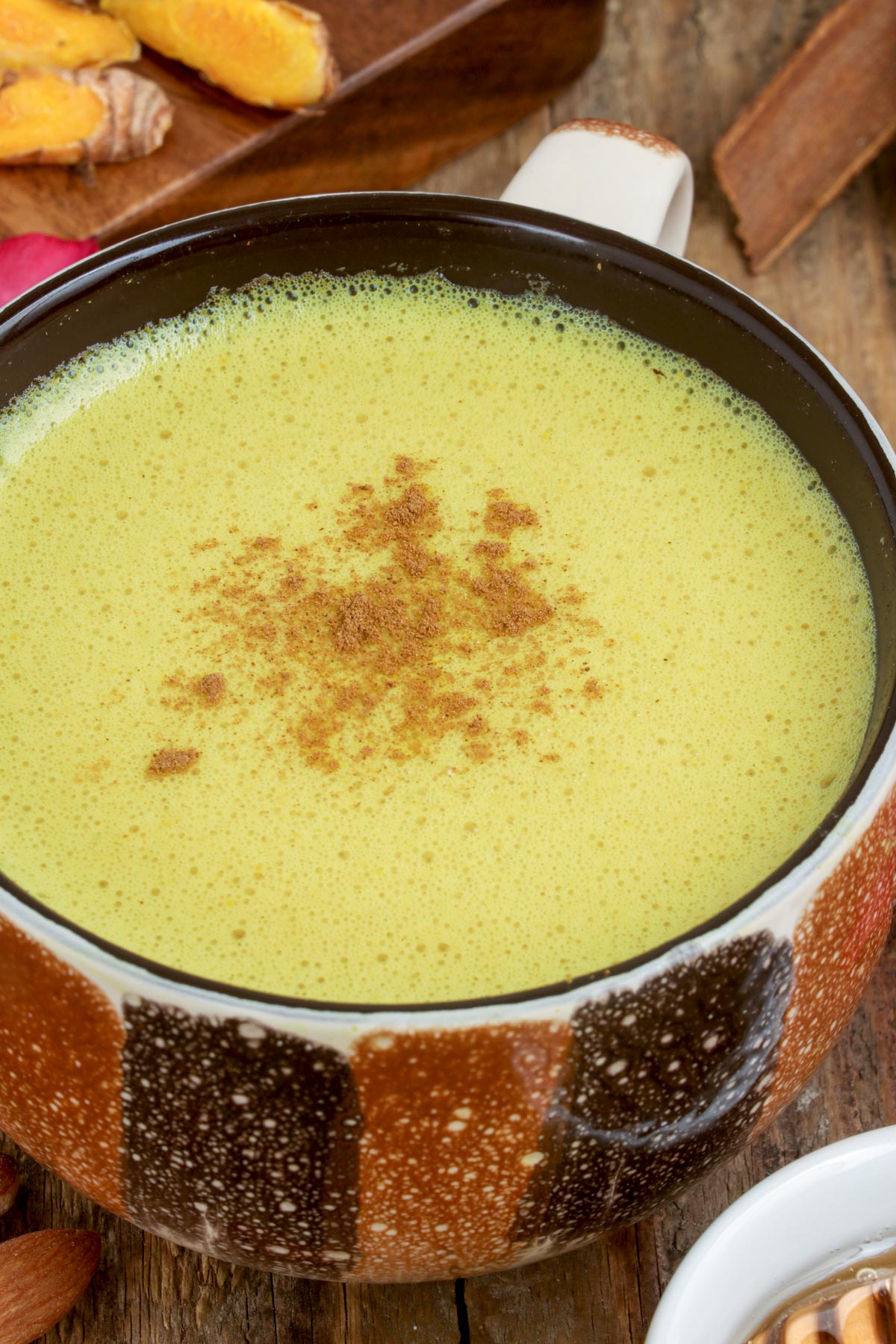 Benefits of Golden Milk
Aside from turmeric, ginger and cinnamon also have anti-inflammatory properties that may help reduce joint pain and of course, inflammation.
In addition to having antioxidant properties, Golden milk also has antibacterial, antifungal, and antiviral properties that can help fight and prevent infections. It also helps boost immune system.
Other benefits include improved brain health and function, reduced risk of heart disease, and aids with digestive processes.
What You'll Need
Here are the ingredients you need to make this ancient milk mixture. Each ingredient contributes to the total nutrition profile of this recipe.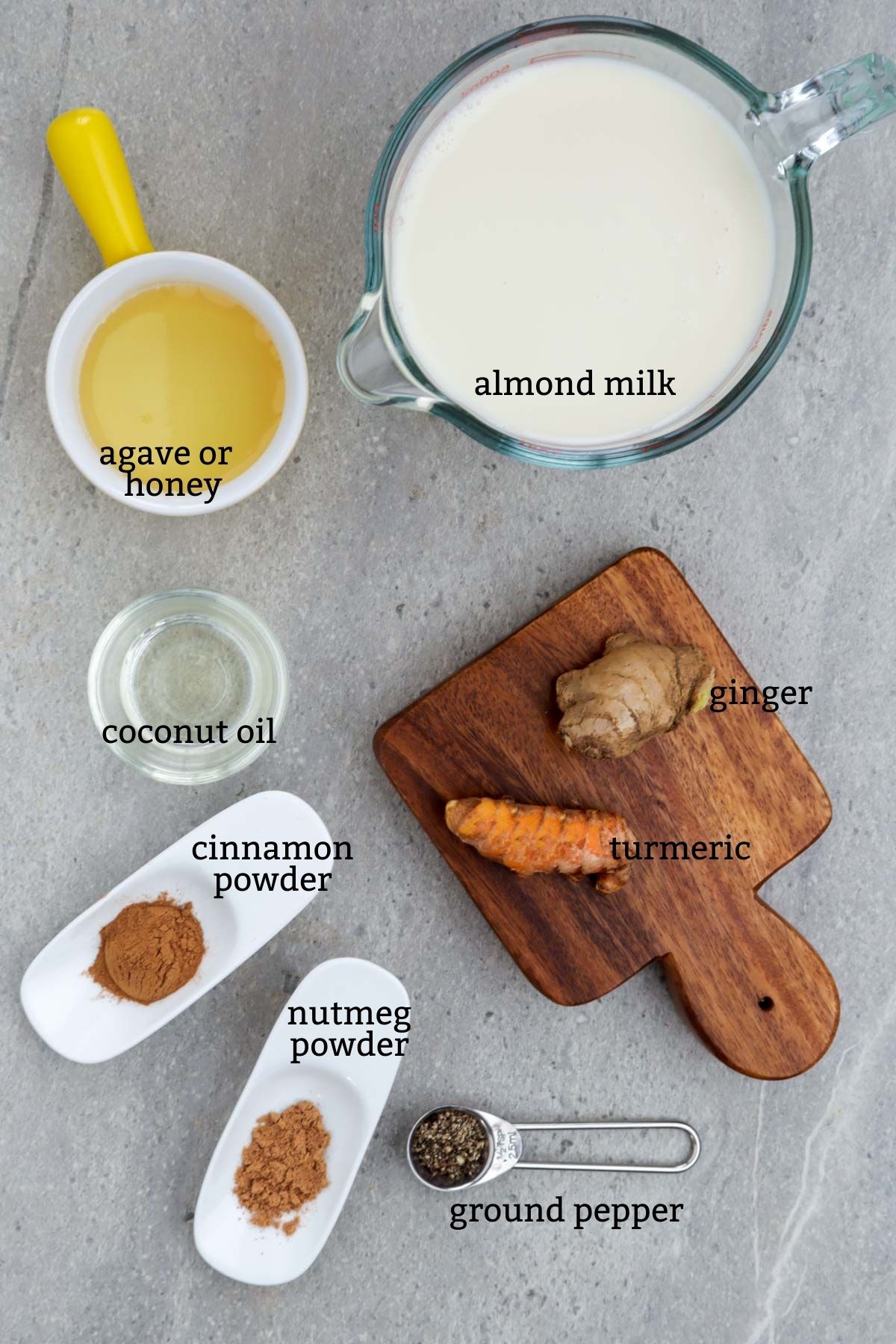 Almond Milk – I like using this milk because it tastes awesome and is low in saturated fat and cholesterol. However, feel free to use any type of milk you have, dairy or non-dairy.
Fresh turmeric- If unavailable, you can use 1 tablespoon of turmeric powder instead. I prefer using fresh because the flavor is way better, and you get more nutrients.
Ginger- A close relative of turmeric, it contains gingerol, a powerful anti-inflammatory, and antioxidant plant compound. You can swap this with 1 tablespoon of ginger powder.
Fresh ground pepper- adds a hint of fieriness to the drink. This is an essential element of the drink as it helps our body absorb turmeric better.
Cinnamon powder- this sweet and woody spice makes the drink smell and taste so good! It contains a substance called cinnamaldehyde, making it one of the healthiest spices in the world.
Nutmeg powder- this spice is known for its warm, nutty taste and several health benefits, such as fighting heart disease and improving blood sugar levels.
Agave or Honey – this is optional, but it adds a rich sweetness to an otherwise spice-potent drink. These all-natural sweeteners are much healthier than sugar.
Coconut oil- gives the drink more body. This healthy oil helps boost skin and hair health and has great anti-microbial properties.
Variations and Add-ons
There are many ways to make this delicious, hearty Golden Milk. Here are a few other ingredients you may consider using:
Other vegan milk options are soy and oat milk. Dairy-milk options are fresh cow's or goat's milk.
You may use other spices like cardamom, star anise, or cloves.
You can also add ginseng to help boost your immune system and fight fatigue!
Add a dash of vanilla to give your Golden Milk a delicate flavor and aroma.
FAQs for Golden Milk
Is it OK to drink Golden Milk every day?
It is all right to drink golden milk daily, but limit your consumption to one serving a day. Too much of the good thing is also not good!
Will it cure my illnesses?
Though it has health benefits, it is not in any way a replacement for medicine, so please make sure that you also consult your doctor before taking it if you have existing medical conditions.
Is it safe for everyone?
It is generally safe to consume as long as you do not have allergies to any of the ingredients. It is not recommended for certain conditions like pregnancy, diabetes, and gallbladder problems.
When should I drink it?
You can enjoy it any time of the day, but it is best to enjoy it an hour before bedtime to let your body absorb its magic!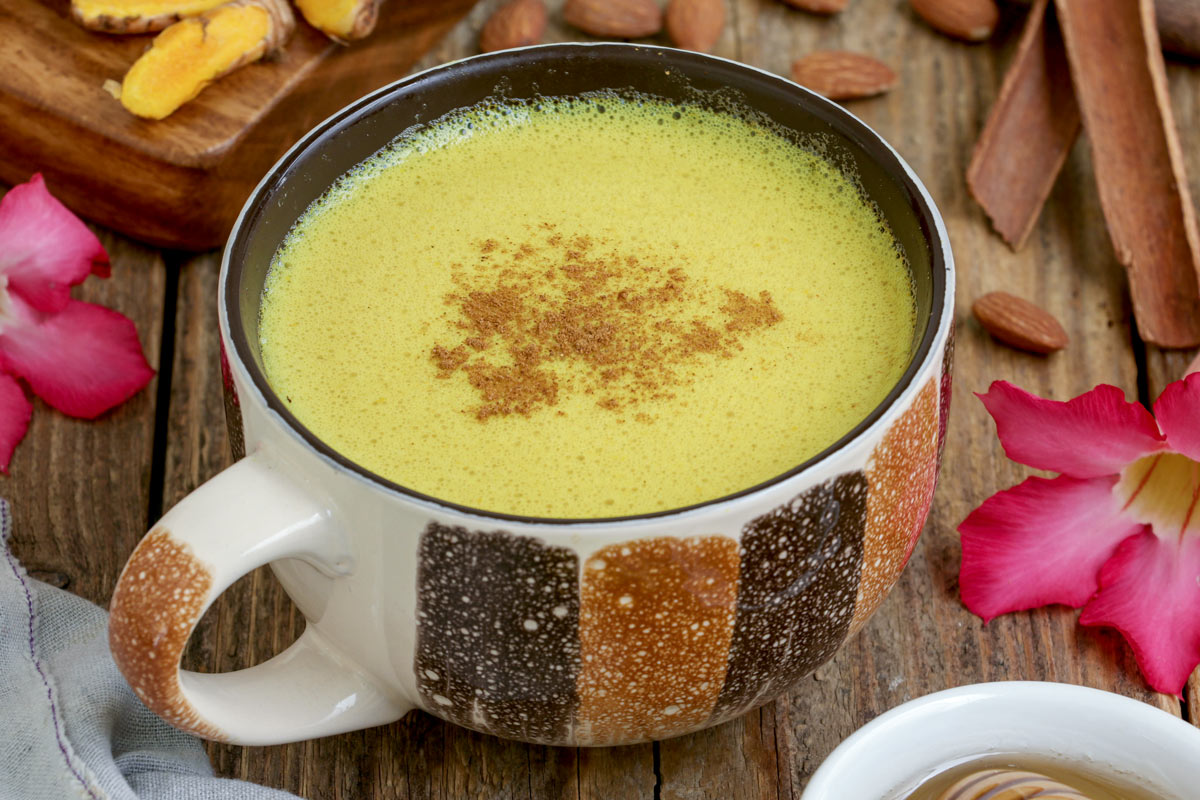 How To Serve & Store Your Golden Milk
Enjoy your Golden Milk either as a hot soothing drink or an ice-cold refreshing drink. You can top it with cinnamon powder if desired.
Storing Golden Milk is a breeze. Simply let it cool, then transfer into a clean sealed container and refrigerate for up to 3-5 days.
Printable Recipe
Golden Milk Recipe
A delicious blend of sweet, warm, and robust flavors brimming with tons of health benefits! Golden Milk is a traditional Ayurvedic drink is both affordable and tasty, then this is a definite must-try!
Ingredients
2

cups

almond milk

2-

inch

turmeric

or 1 Tablespoon powder

2-

inch

ginger

or 1 Tablespoon powder

½

teaspoon

fresh ground pepper

1

teaspoon

cinnamon powder

1

Tablespoon

coconut oil

pinch

of nutmeg powder

2

Tablespoon

agave

or honey (optional)
Instructions
2 cups almond milk,

2- inch turmeric,

2- inch ginger,

½ teaspoon fresh ground pepper,

1 teaspoon cinnamon powder,

1 Tablespoon coconut oil,

pinch of nutmeg powder,

2 Tablespoon agave

Mix all ingredients in a blender and blend until smooth and no more lumps exist.

Run the mixture in a sieve to remove bits and pieces.

To warm, put the golden milk in a pot and bring to a boil then immediately lower the heat and bring to a gentle simmer for 2 minutes.

You may also use a milk frother for a thicker, frothier consistency.

Pour into mugs and enjoy!
Nutrition
Calories:
174
kcal
Carbohydrates:
20
g
Protein:
2
g
Fat:
10
g
Saturated Fat:
6
g
Polyunsaturated Fat:
2
g
Monounsaturated Fat:
2
g
Sodium:
345
mg
Potassium:
44
mg
Fiber:
2
g
Sugar:
15
g
Vitamin A:
6
IU
Vitamin C:
1
mg
Calcium:
331
mg
Iron:
1
mg
More Healthy Drinks for You