A truly wonderful and refreshing drink from hand-pressed ripe mangoes, lychees and dalandan with a kick.
On our 7th year anniversary, Armin and I celebrated it with...what else... food. Lunch buffet, movie and then followed by a (supposedly) scrumptious dinner. I've written more about it here.
Not everything went as planned, does it ever? But it was still a wonderful day well-spent just the two of us.
One thing that came out as a winner from that evening was definitely the "Mango Delight Chee" I ordered at TGI Friday's. One sip and I was in love all over again.
With its sweet and refreshing taste from fresh fruits and the touch of tanginess from dalandan, it was soooo good!
I am really not a fan of alcoholic drinks. I would be maybe, if not for the (possible) reaction when I drink alcohol. Don't really want to risk getting swollen lips and throat, but a few sips now and then is ok.
But since the nice lady bartender was paying attention when I said I would love to try it but with lesser alcohol because of my booze intolerance. The result was the most delicious sling cocktail I ever had.
So I decided I would make it for our family Christmas Eve dinner. It was a great hit of course and I made it alcohol-free so the kids could enjoy it as well.
Good thing the menu included the main ingredients used in making their drinks. One of them is simple syrup. I"m pretty sure they meant the bottled one used by bars in making cocktails. But you can easily make one from scratch as I did to save you some bucks.
How to make Simple Syrup
There is really nothing much to it. Just combine equal amounts of water and sugar and heat the mixture until dissolved
For this recipe you will need:
Place it in a saucepan over medium. Bring to a simmer, do not boil. Once it starts to simmer sugar should be dissolved at this point, remove from heat and let it cool down.
This will make a bit more than 1 cup of simple sugar. You can adjust the sweetness of your sling and add more if needed. If not, you may store the excess in the fridge for future use.
What is dalandan?
Dalandan is a local Philippine citrus fruit. The Philippine orange some may say. But it has a shiny deep green skin even when ripe and usually smaller than oranges.
They are sour and sweet at the same time but becomes sweeter as they ripen. There is another but very similar kind of local green orange called dalanghita. Even locals get confused which is which because they look and taste almost exactly the same.
If dalandan or dalanghita is not available, you may replace it with orange. Not quite the same though.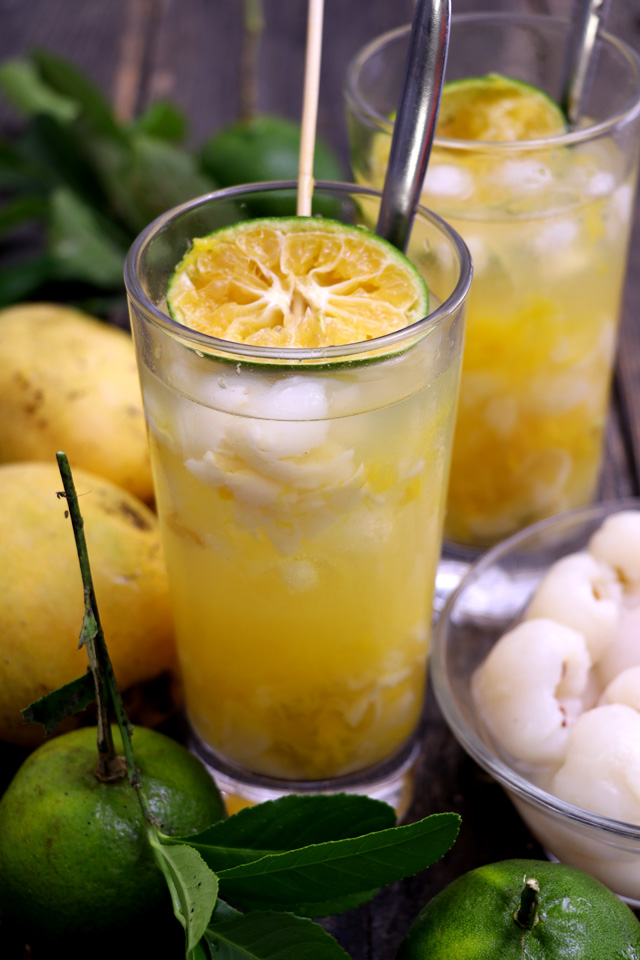 Printable Recipe
Hand Pressed Mango Lychee and Dalandan Sling
A truly wonderful and refreshing drink for special occasions from hand-pressed ripe mangoes and lychees and dalandan with a kick.
Ingredients
1

can (567g)

canned Lychee

- with syrup

1

big

ripe mango (or 2 small ones)

3

pieces

dalandan

1

cup

simple syrup

3

cups

cold water

150

ml

gin

- optional or adjust as preferred

ice cubes
Instructions
Drain the lychee and transfer to a pitcher. Set the syrup from the can aside. It will be added later.

Press the lychees several using a muddler or whatever you can use to press the fruits, like a long wooden spoon. Press just until the juices come out from the fruits but still fleshy.

Cut unpeeled mango on each side just past the seed. Scoop the flesh using a spoon and add to the pressed lychee. Muddle several times just to extract the juices.

Cut the dalandan into half and squeeze the juices directly into the pitcher. Do not throw away the peels. It will be added back later.

Pour in the gin, simple syrup, the syrup from the lychee and water. Mix well. Add the dalandan peels and mix again.

Add some ice cubes on a tall glass and pour in the mango lychee dalandan sling to fill it. Serve with a long spoon to scoop the fruits.
Notes
You may use oranges to replace dalandan.
Nutrition
Calories:
209
kcal
Carbohydrates:
41
g
Protein:
0
g
Fat:
0
g
Saturated Fat:
0
g
Cholesterol:
0
mg
Sodium:
39
mg
Potassium:
35
mg
Sugar:
41
g
Vitamin C:
0.2
mg
Calcium:
11
mg
Iron:
2
mg