This Honey Lemon Ginger Tea will help give your immune system a boost during the colds and flu season. Sweet, tangy, and bursting with fresh flavors. It is quick and easy to make, delicious, and super healthy to boot!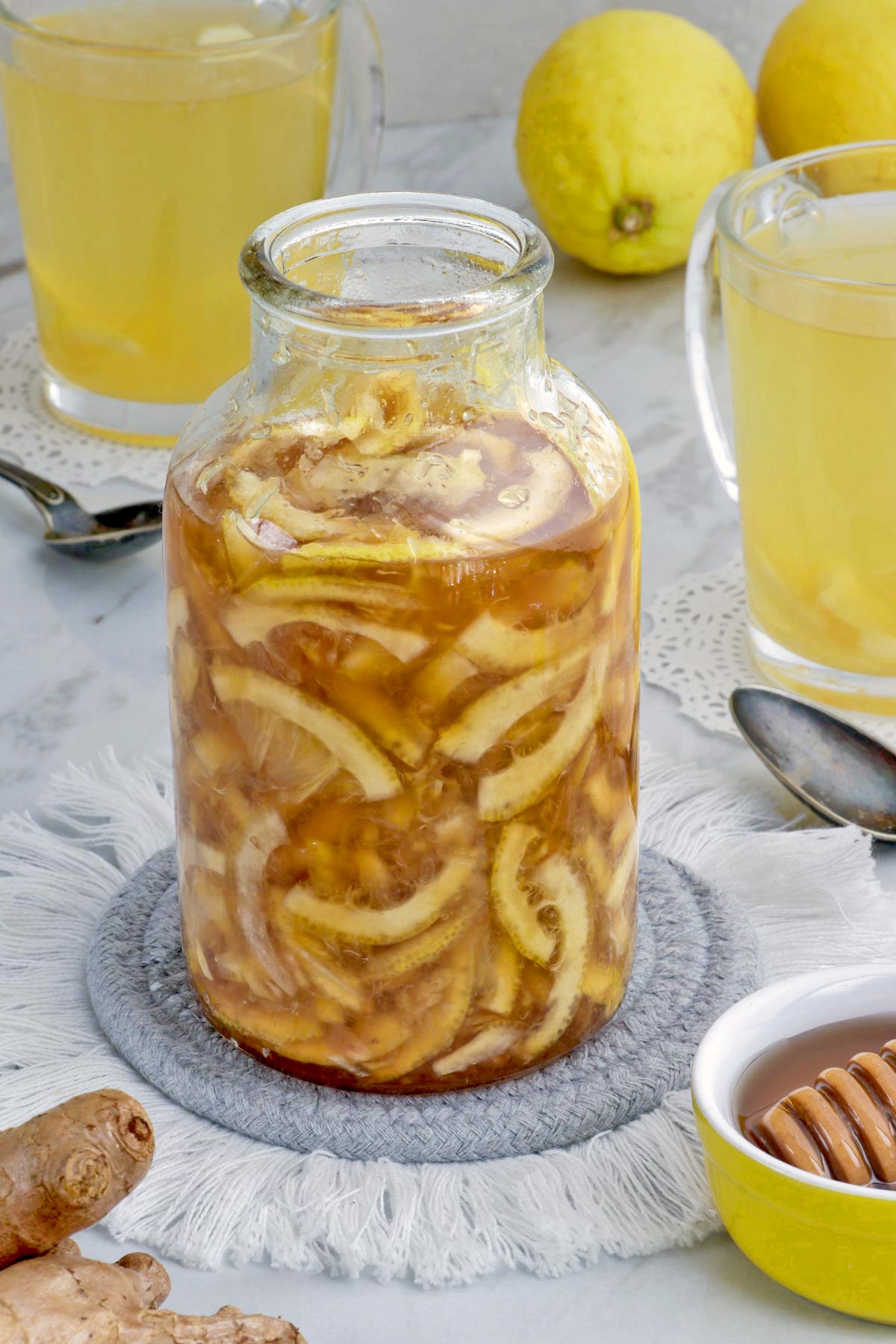 Honey Lemon Ginger Tea is a gentle and soothing herbal infusion of grated ginger and fresh lemon with honey as a natural sweetener. It is a healthy and invigorating drink that is often consumed to alleviate flu or cold symptoms, or as a delicious warm drink during those cold winter days. This revitalizing tea has a relaxing and calming effect and boosts the immune system as well.
Why drink Honey Lemon Ginger tea?
Lemon, ginger, and honey each have their own natural health and medicinal benefits. Lemon contains a high amount of vitamin C and provides strong digestive enzymes. Ginger has components that lower blood sugar levels and boost immunity. While honey is a good source of antioxidants, helps soothe a sore throat, and is a natural antibacterial agent.
With these 3 natural ingredients combined, this tea is a powerhouse of vitamins and minerals that help promote a strong immune system and also provide other health benefits.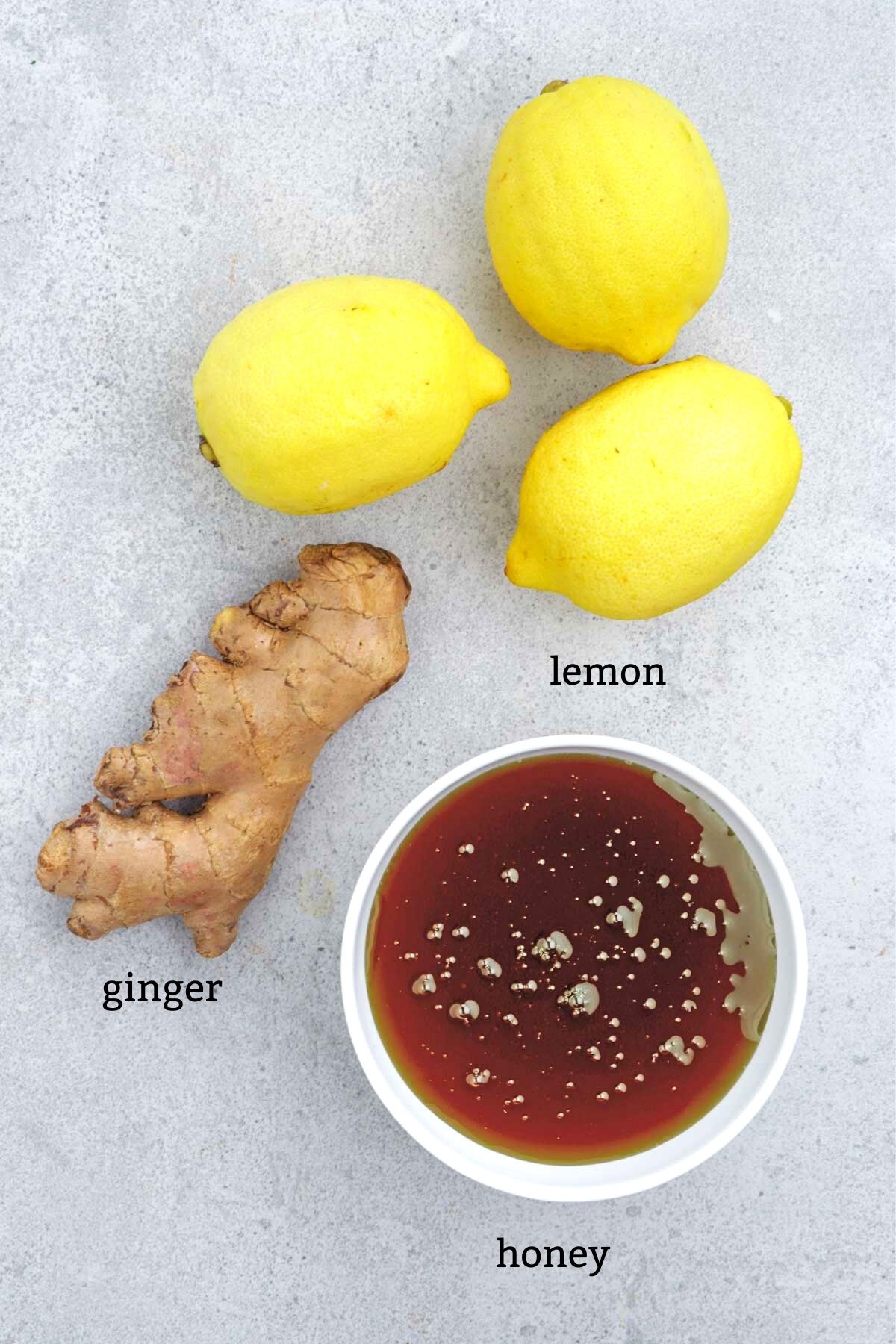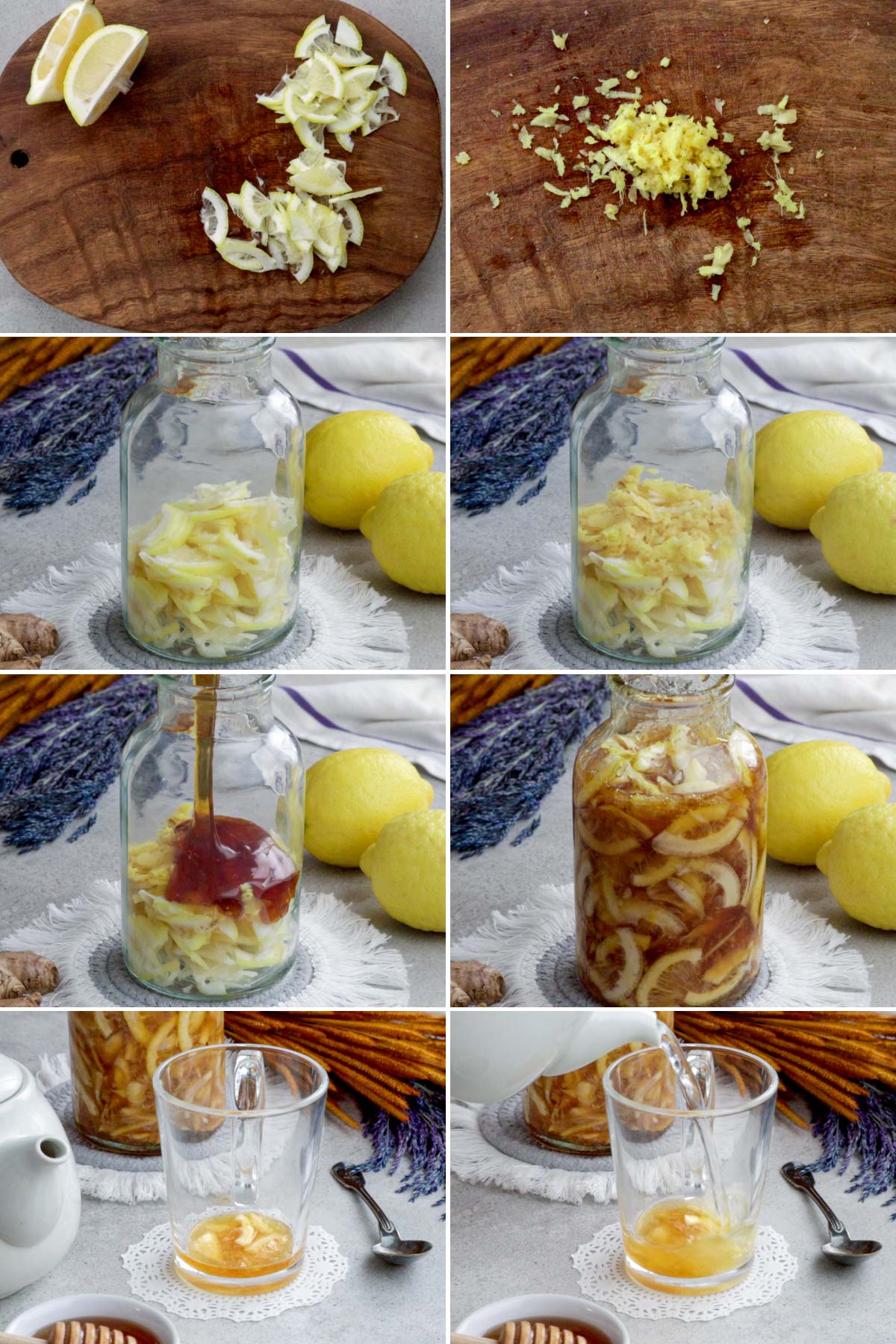 Health Benefits
Both ginger and lemon have compounds that help digestion. This tea calms and soothes minor stomach aches brought about by indigestion and may also help relive constipation.
A cup of this ginger lemon tea may help loosen congestion from your sinuses and also soothe a sore throat. Although this tea may not cure your colds or flu, it gives you temporary relief and slightly ease these symptoms.
This tea also helps keep nausea and vomiting at bay from morning sickness, motion sickness or even effects of chemotherapy. Ginger and lemon infusion is generally considered safe during pregnancy. Since each pregnancy is different, ask for your doctor's advise if you want to try this recipe.
Honey Lemon Ginger Tea also help fight inflammation as all of the ingredients used have anti-inflammatory properties.
Drinking this tea could also help lower blood sugar and manage diabetes, reduces the risk of heart disease and also lowers the risk of stroke.
Having said these benefits, there may also be possible unwanted effects if you are drinking this ginger lemon tea on a regular basis or excessively. It may interfere with some medications, disturb sleep, or cause an upset stomach for some people. Remember that overconsumption of anything, no matter how healthy, is bad for your health. Seek professional advice if you have any concerns.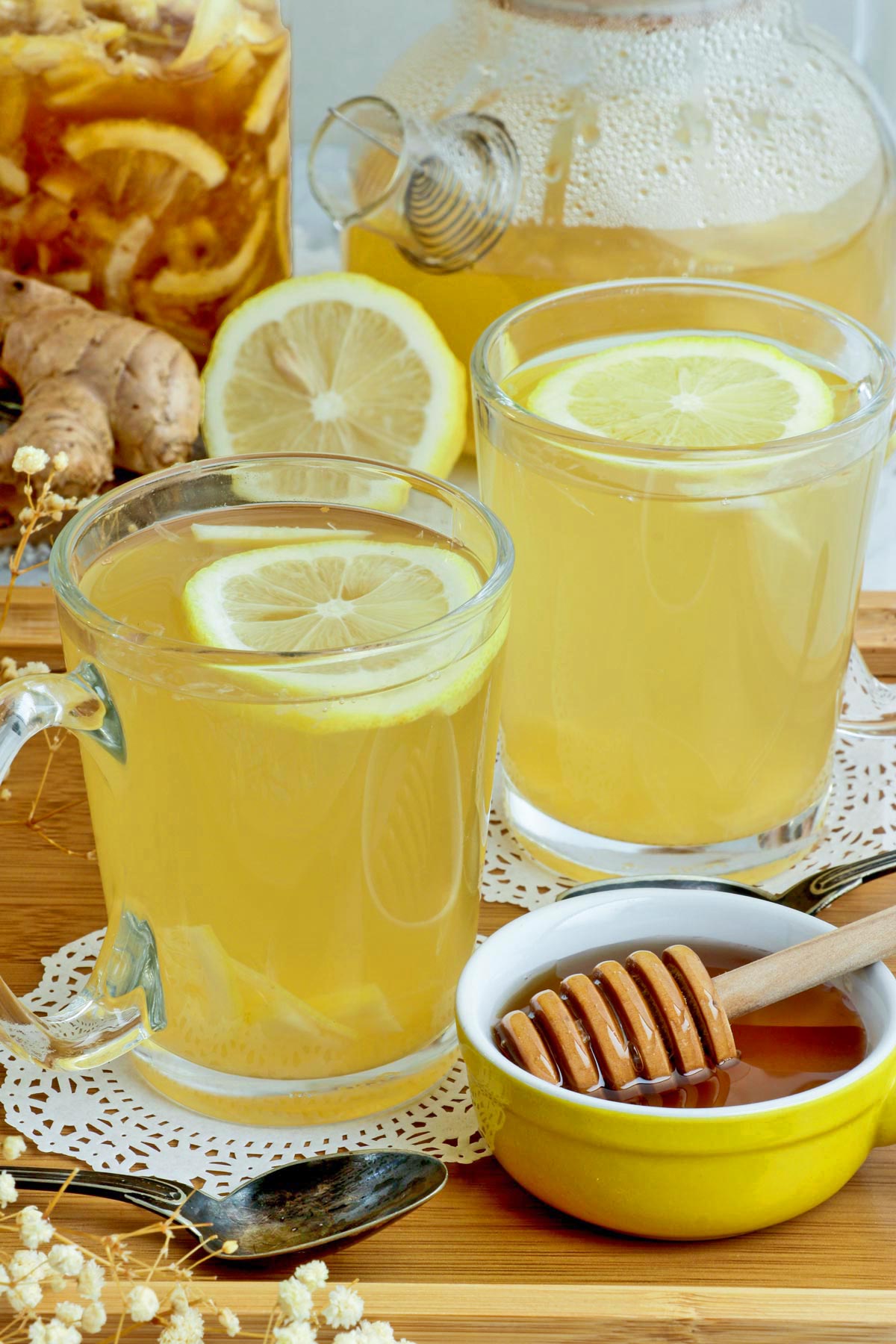 How to Serve and Store
You may enjoy this Honey Lemon Ginger Tea any time of the day. Drink it in the morning to start your day, charge up your metabolism, or prevent nausea. Or drink it before bedtime to help you relax before sleeping.
Make sure that the jar is sterile before placing the honey ginger lemon mixture. Place sealed jar in the fridge, if properly stored, it will last for up to one month.
Additional Tips
Use organic lemons that are not sprayed with chemicals or insecticides as much as possible. If not sure, blanch the lemons in hot water then transfer to ice bath and brush the skin to remove dirt and wax, if any.
Pure honey is more expensive but is, of coarse, the best. There are different way to know if your honey is unadulterated. Pure honey does not easily dissolve in water. Another way to test it is by placinf some drops of it on a piece of paper. If it is pure it will not leave a wet mark but a diluted one would.
Use the edge od a spoon to scrape the skin off the ginger for easy peeling.
You can also use or add different citrus fruits available, like calamansi, lime, citron, orange, and kumquat.
Printable Recipe
Honey Lemon Ginger Tea
This Honey Lemon Ginger Tea will help give your immune system a boost during the colds and flu season. Sweet, tangy, and bursting with fresh flavors. It is quick and easy to make, delicious, and super healthy to boot!
Ingredients
1

cup

honey

3

pieces

lemons

3

tablespoon

fresh ginger
Instructions
Place the lemons in a colander, pour boiling water over them to remove wax. Then transfer to a bowl of cold or room temperature water and rinse while scrubbing the outer skin. Using a clean kitchen towel, dry the lemons.

Cut the lemons into quarters, lengthwise. Remove the seeds. Now slice the lemon (with skin) as thin as possible. Set aside.

3 tablespoon fresh ginger

Peel the ginger by using the edge of a spoon to scrape away the skin. Rinse and pat dry. Cut into very small cubes or use a coarse grater (grater with a bit bigger holes) to grate the ginger.

3 pieces lemons,

3 tablespoon fresh ginger,

1 cup honey

Place a half of the lemon and ginger in the jar and pour half of the honey over them and stir to mix. Add the remaining lemon, ginger and honey and mix again.

Seal the jar and let it sit in the fridge at least overnight for the flavors to infuse.

Before using, give the jar a good shake or stir, as the honey may sit at the bottom of the jar. Add a spoonful of the mixture to a cup and add boiling water.
Nutrition
Calories:
75
kcal
Carbohydrates:
21
g
Protein:
1
g
Fat:
1
g
Saturated Fat:
1
g
Polyunsaturated Fat:
1
g
Monounsaturated Fat:
1
g
Sodium:
1
mg
Potassium:
45
mg
Fiber:
1
g
Sugar:
19
g
Vitamin A:
4
IU
Vitamin C:
11
mg
Calcium:
7
mg
Iron:
1
mg
More Healthy Drinks