Make this nutritious and delicious lemongrass and ginger Juice as a refreshing drink on a hot summer day or as an immune-boosting beverage on rainy days. This homemade juice is made of simple, wholesome ingredients but is loaded with vitamins, nutrients, and antioxidants.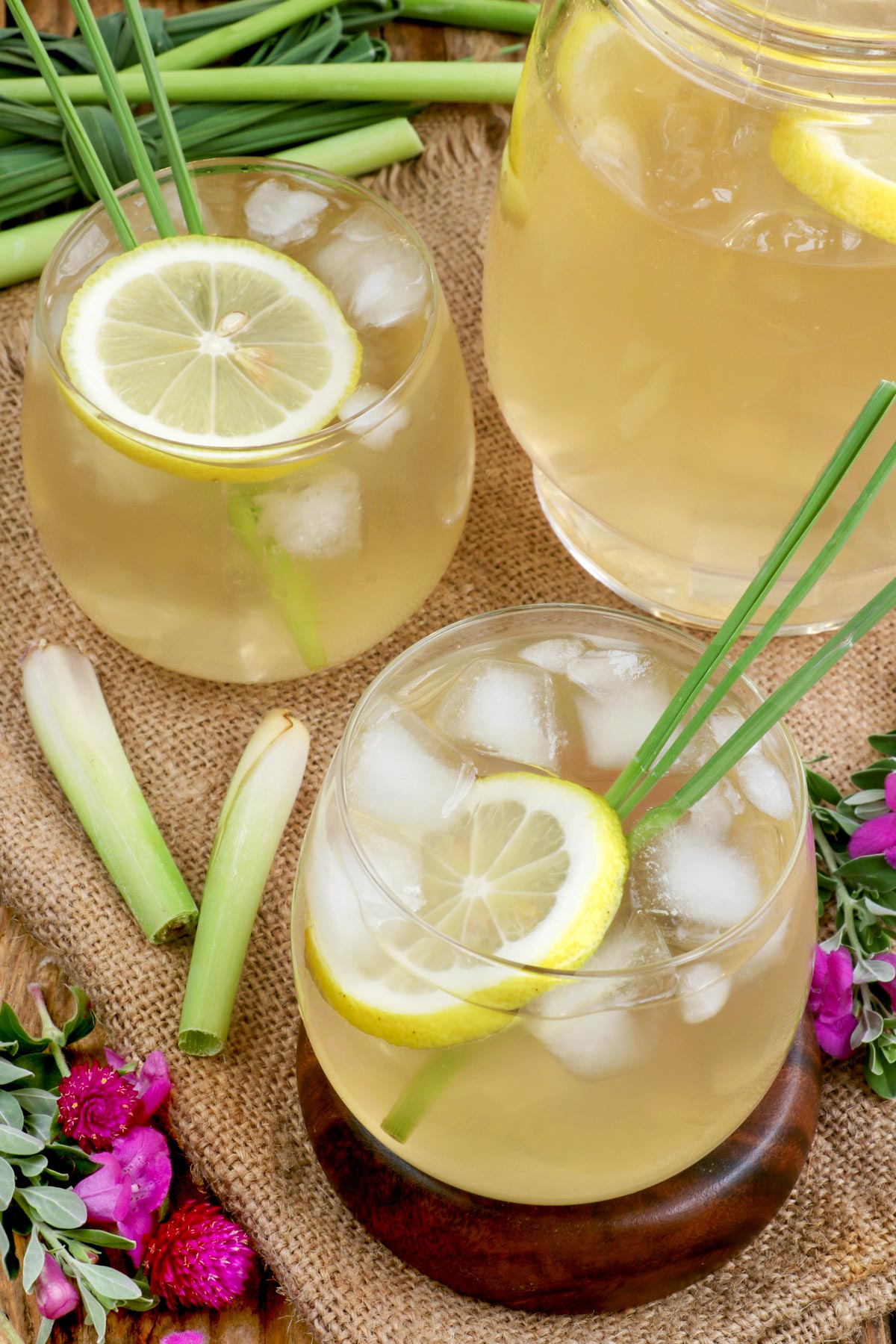 With the flu season upon us, strengthening our immune systems has never been more important. And there is no better way to do so than by using fresh fruits and vegetables! They are naturally imbued with everything our bodies require to fight off those nasty viruses. Homemade drinks like Honey Lemon Ginger Tea and Golden Milk are prime examples of how natural is the best way to go.
This lemongrass and ginger juice is just as healthy and easy to make. With the citrusy flavor of lemongrass, the zesty zing of ginger, and the sweetness of sugar, this thirst-quenching drink will definitely tickle your tastebuds and senses. You don't even need a juicer to make this drink; all you need is a pot and a sieve.
How healthy is this drink?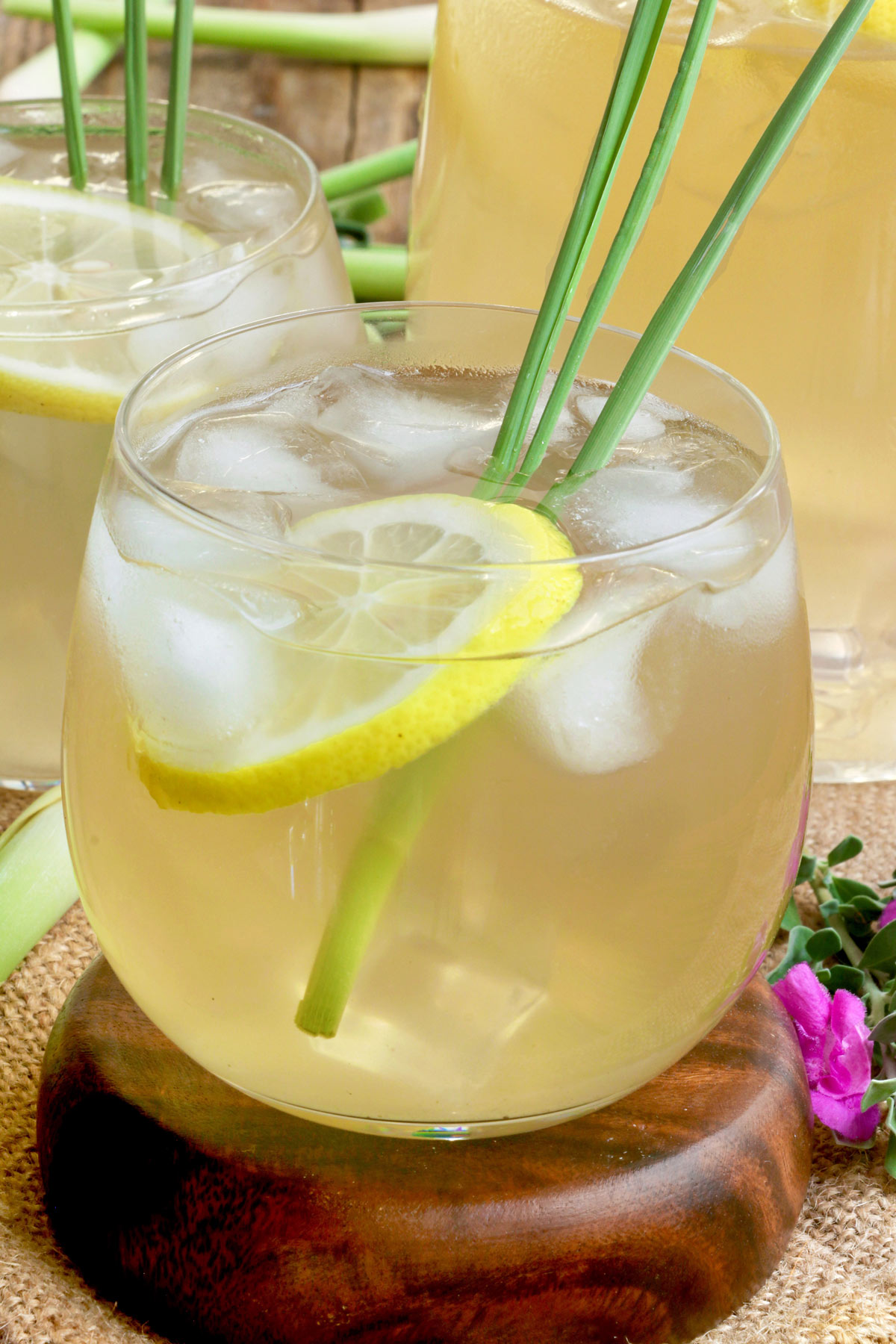 Lemongrass is a common ingredient in Asian dishes and beverages because of its citrusy flavor and health benefits. It is a natural remedy for digestive issues, insomnia, and cramps. It is said to help lower cholesterol, regulate blood pressure and promote weight loss. On the other hand, ginger is one of the healthiest spices, with potent antioxidant and anti-inflammatory properties. Adding fresh lemon boosts the vitamin C content, making it a super healthy drink!
Ingredients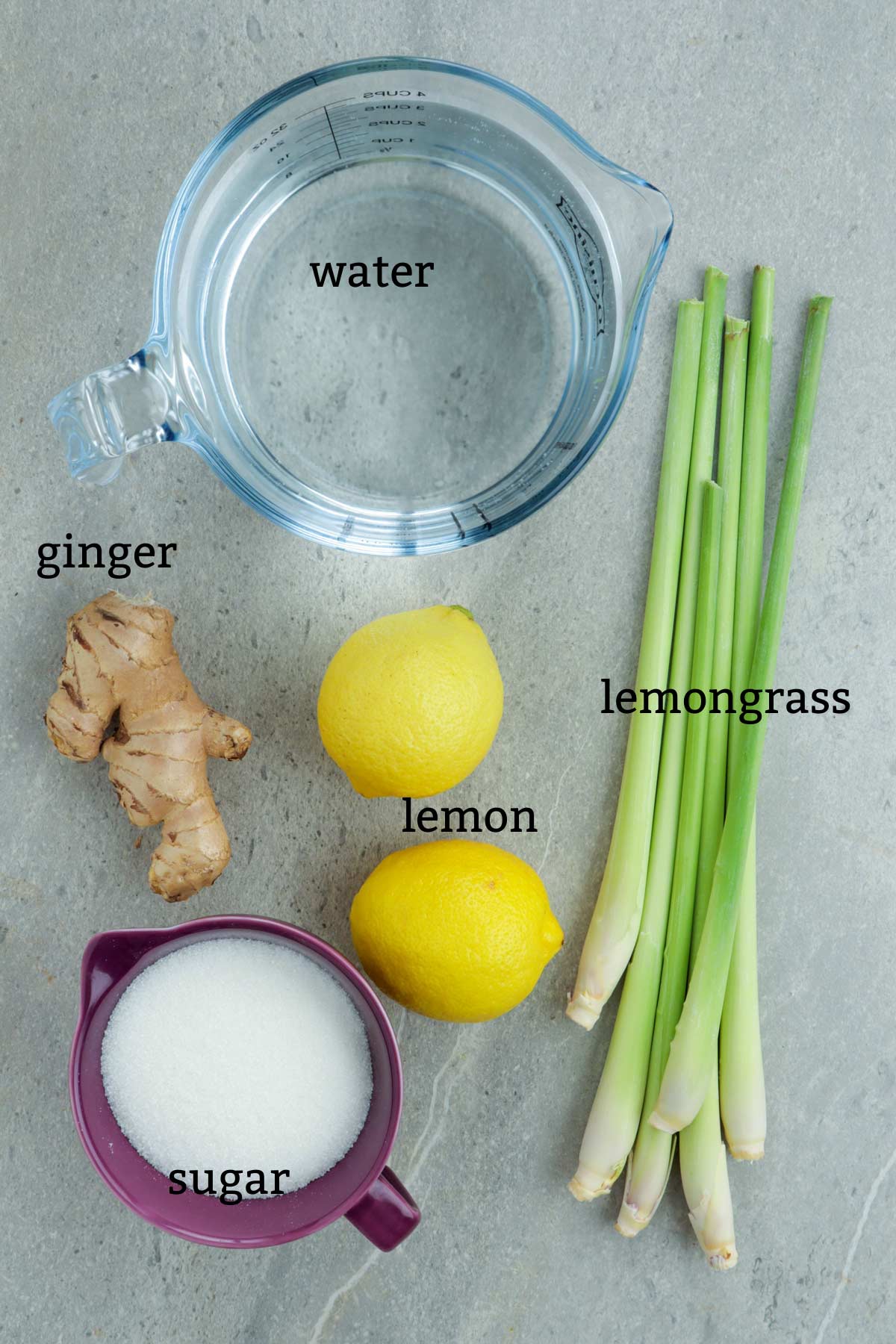 Lemongrass- I used the stalks with the green leaf parts removed. Aside from having the same citrusy taste as lemons, it also has a minty undertone that makes it unique.
Ginger- adds a warm and mildly spicy taste that is so soothing!
Lemon- this is optional, but it adds a refreshing tanginess to the drink. You can also use lime or calamansi.
Sugar- you may also use honey, maple syrup, or stevia as alternatives for sugar.
Water
Cooking Tips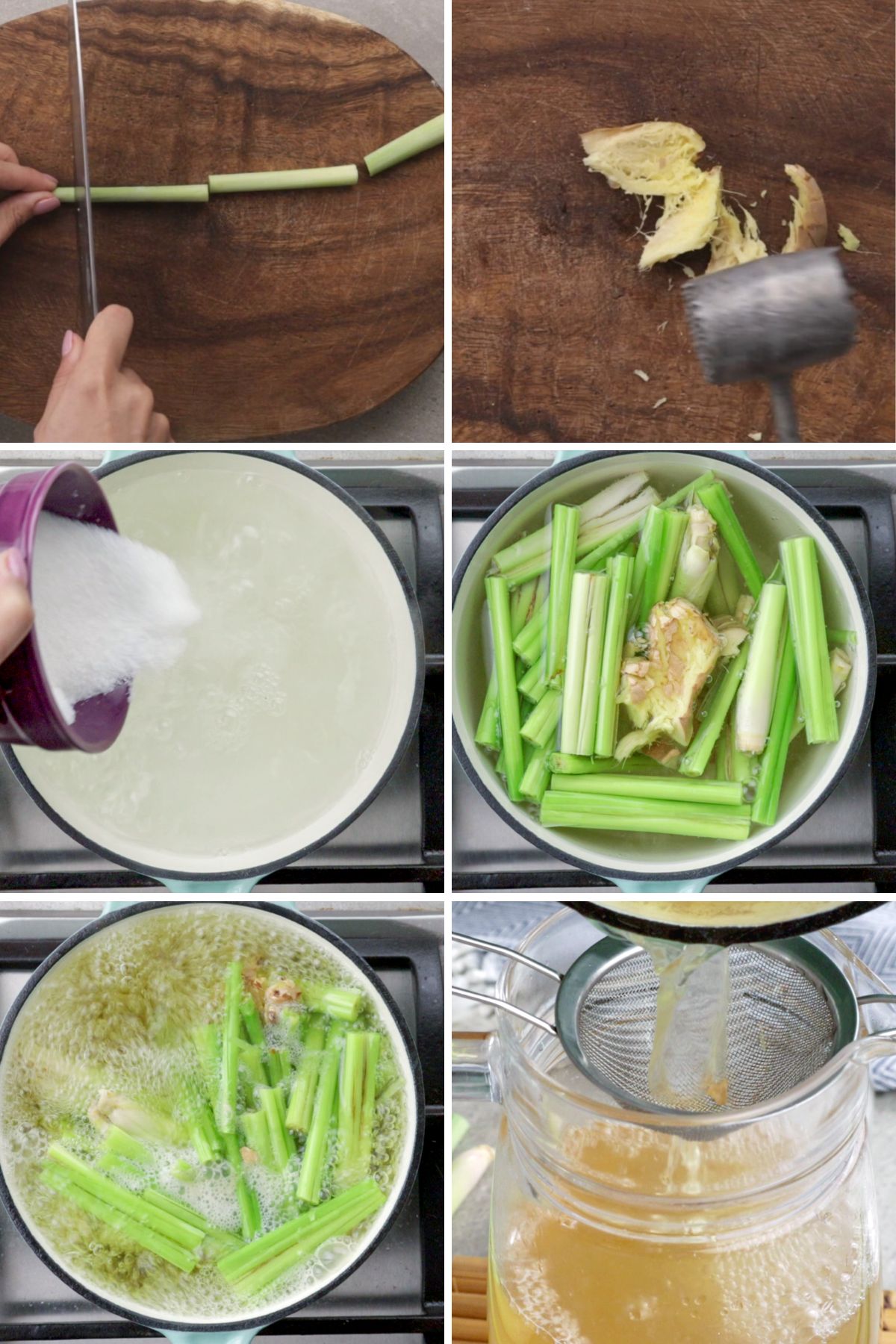 Lightly crush the lemongrass stalks and ginger using a kitchen mallet or the side of the knife before boiling them. This will help release their aroma and make it easier for the juices to be extracted when boiled.
You do not need to peel off the skin of the ginger but remember to wash it thoroughly. Use a brush to make sure you reach in between the crevices.
You can garnish your juice with mint leaves and lemon slices when serving for added flavors and a nicer presentation.
Try these other Refreshing Drinks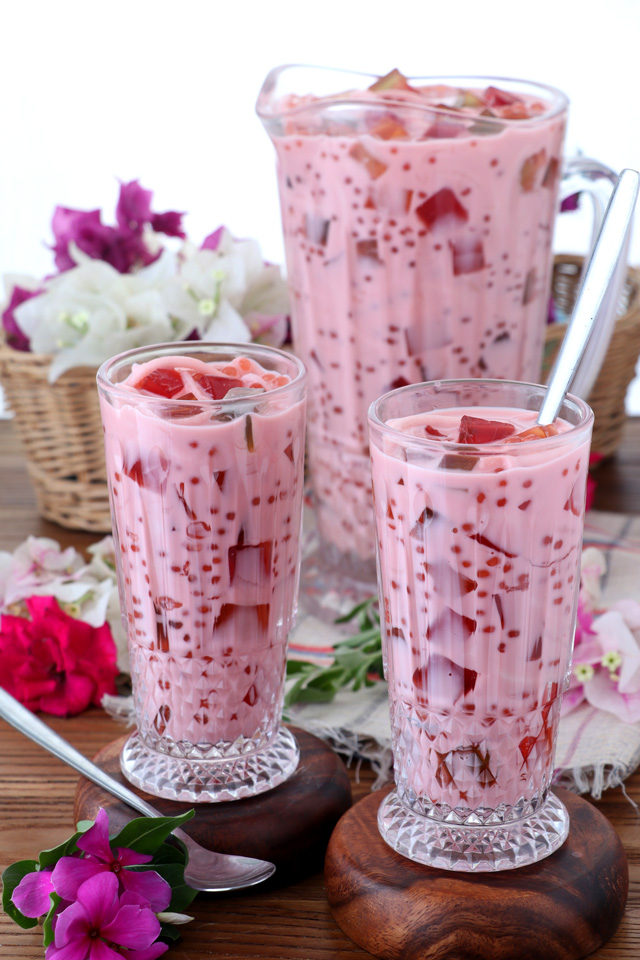 Serving and Storing
This juice is best served chilled or over ice for a refreshing drink.
You can also serve this hot in a tea-like manner if you prefer. Especially when feeling under the weather and if you need a soothing and restorative drink.
Transfer the juice to a lidded pitcher and keep it in the refrigerator for up to three days. If you want to keep your lemongrass and ginger juice longer, pour them over ice cube trays. You may use them anytime you need a refreshing drink!
Printable Recipe
Lemongrass and Ginger Juice Recipe
Make this nutritious and delicious lemongrass and ginger juice as a refreshing drink on a hot summer day or as an immune-boosting beverage on rainy days. Made from simple ingredients but loaded with vitamins, nutrients, and antioxidants.
Ingredients
6

cups

water

1

cup

sugar

(adjust amount as preferred)

6

stalks

lemongrass

leaf parts removed

2

thumbs

thumbs ginger

cut into 2

lemon slices

optional
Instructions
Cut the lemongrass stalks into 3-inch long pieces. Using a mallet or the side of a heavy knife, lightly crush the stalks.

Lightly crush the ginger pieces as well, using the side of a knife or mallet.

6 cups water,

1 cup sugar

In a medium saucepan, bring 6 cups of water to a boil over medium heat. Add the sugar and stir to dissolve.

Add the lemongrass and ginger and boil for 5 minutes. Then lower heat to low and simmer for another 5 minutes.

Let it cool down to room temperature.

Transfer to a pitcher while passing it through a strainer.

Serve with lots of ice and a slice of lemon slices.
Nutrition
Calories:
151
kcal
Carbohydrates:
39
g
Protein:
0.3
g
Fat:
0.2
g
Saturated Fat:
0.02
g
Polyunsaturated Fat:
0.02
g
Monounsaturated Fat:
0.01
g
Sodium:
14
mg
Potassium:
111
mg
Fiber:
0.01
g
Sugar:
35
g
Vitamin A:
1
IU
Vitamin C:
0.4
mg
Calcium:
18
mg
Iron:
1
mg