This easy-to-make homemade Tamarind Juice has the perfect blend of sweetness and tanginess with numerous health benefits! You only need 3 ingredients and a pot to enjoy this refreshing and invigorating drink.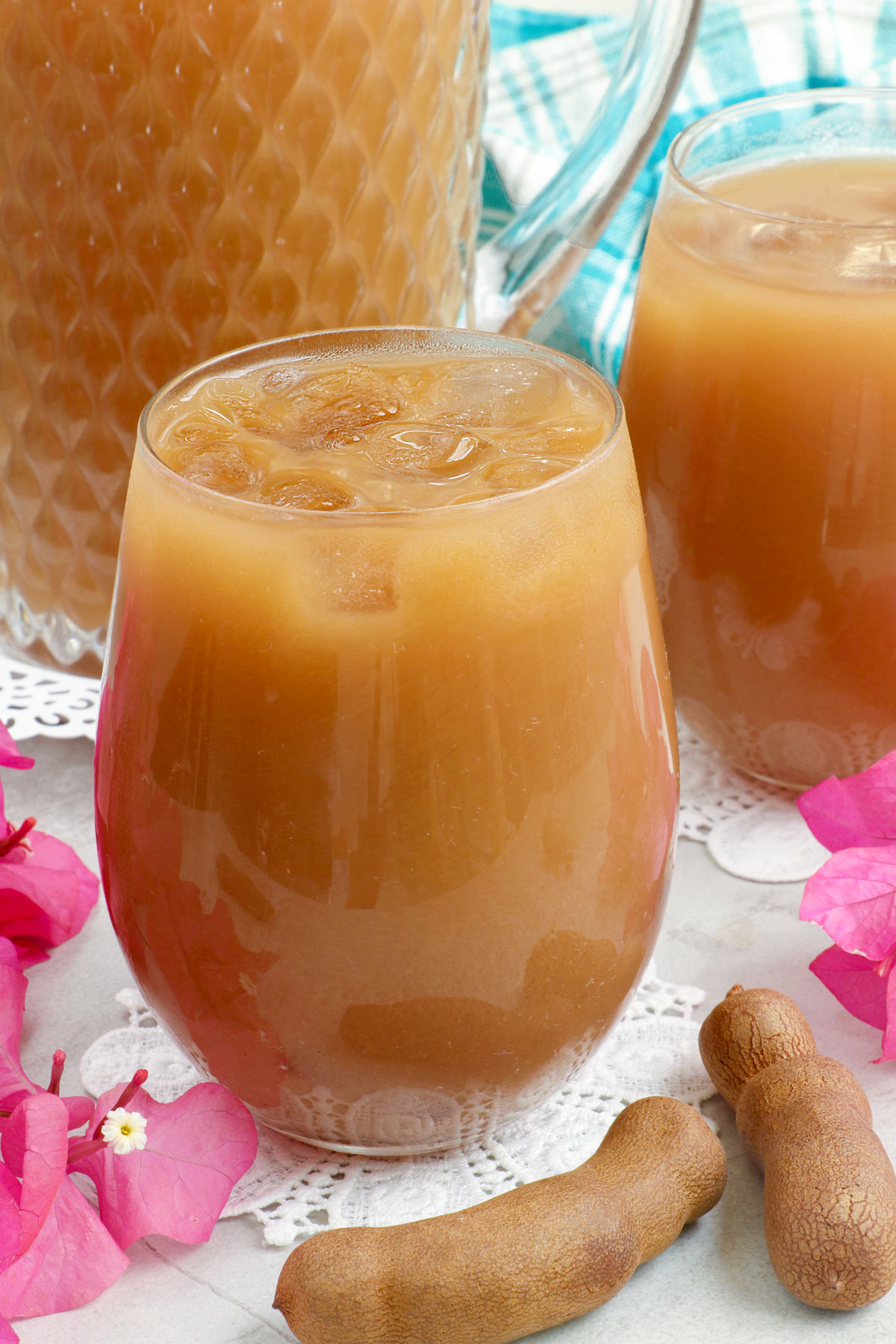 Tamarind pods, or "sampalok," in Tagalog, are common tropical fruits often used in Filipino cuisine. These bean-like brown pods may not look much, but in their unripe form, they make excellent souring agents for dishes such as Sinampalukang Manok, Sinigang na Baboy, and Sinigang na Salmon. Once ripe, they can be turned into tamarind candies, chutneys, jams, and of course, this refreshing Tamarind Juice drink.
What does Tamarind taste like?
The taste of tamarind depends on how ripe it is when you use it. It ranges from extremely sour to super sweet and is unlike any other fruit you have ever tried! If it is still young, it is light green with a firm texture and is sour. That is why it is an excellent alternative to dishes that use lime, calamansi, and vinegar. When fully ripened, the flesh turns brown, sticky, and mushy. It tastes sweet and earthy with a hint of tartness.
Ingredients
Tamarind pods- It's very important to use mature, ripe pods. If the tamarind pods are still green, store them in a warm, dry place until they turn a deep brown color. The riper, the better.
Brown sugar- gives the juice a caramel-like taste. You can also use syrups like agave, maple, or honey if you prefer.
Water- you will need to prepare water for boiling and cold water to make the juice.
Useful Tips
If fresh tamarind pods are unavailable or you're not up to deshelling tamarind pods, you may also use tamarind blocks or tamarind paste sold in jars.
Adjust the amount of brown sugar or syrup depending on the natural sweetness of the tamarind.
If you like an extra punch of tartness, you can squeeze some lime or calamansi juice into the mix.
Give your juice a more festive flavor by adding a stick of cinnamon. Let it steep for a bit, and it would add a nice spicy-sweet woody flavor.
Other Refreshing Drinks You Might Like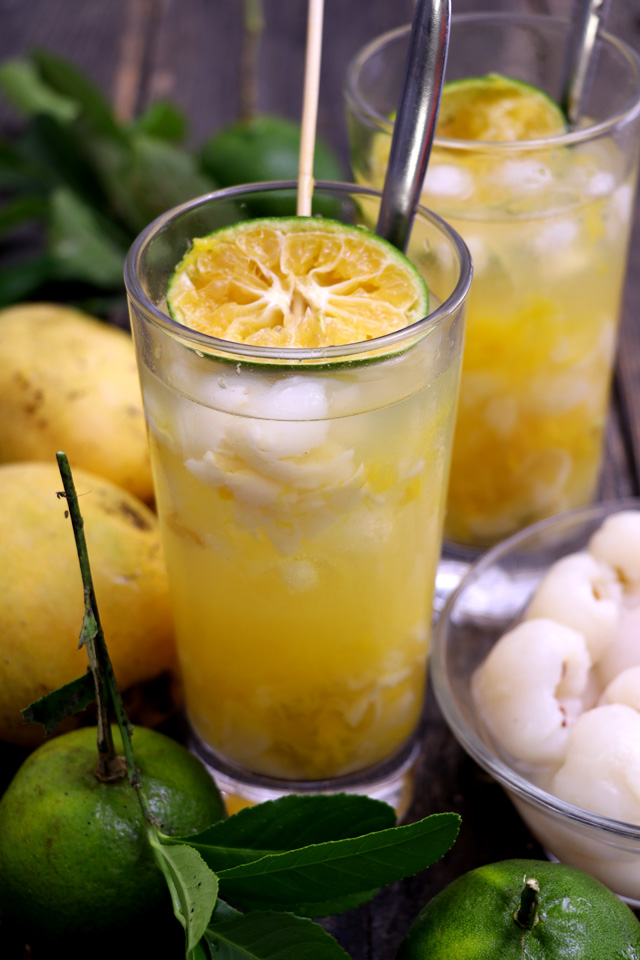 Serving and Storing
Tamarind Juice is best served and enjoyed over ice or chilled. Stir the tamarind juice before serving because the pulpy concentrate tends to settle at the bottom after a while.
If you are making this ahead of time, do not add ice, as it will water the juice down. Place Tamarind Juice in an airtight jar and refrigerate for up to 5-6 days.
Printable Recipe
Tamarind Juice Recipe
This easy-to-make homemade Tamarind Juice has the perfect blend of sweetness and tanginess with numerous health benefits! You only need 3 ingredients and a pot to enjoy this refreshing and invigorating drink.
Ingredients
1

pound

sweet tamarind pods

4

cups

water for boiling

4

cups

cold water

¾

cup

brown sugar

or use syrup like agave, maple, or honey
Instructions
1 pound sweet tamarind pods

Deshell the ripe tamarind pods and remove the veins.

4 cups water for boiling,

¾ cup brown sugar

In a pot, bring 4 cups of water to a simmer over medium-low heat. Add the brown sugar and tamarind to the pot. Let it simmer for 5 minutes, stirring from time to time to dissolve the sugar.

Remove the pot from heat and let it sit for another 30 minutes or longer. (Check the time when it is already soft) This will soften the pulp so that extraction will be easier.

Using a potato masher or a wooden spoon, gently mash the tamarind to release the pulp. It will turn brown and will thicken.

Place a wide sieve over a wide bowl and pour the mixture over it. The bottom half (or more) of the sieve should be submerged in the hot liquid. Again, use the back of a wooden spoon or masher to separate the seeds from the pulp.

When you can see that most of the seeds are showing (without skin), lift the sieve and pour some of the cold water over it to wash down the remaining pulp.

Transfer the pulp to a pitcher and add the remaining cold water.
Nutrition
Calories:
218
kcal
Carbohydrates:
57
g
Protein:
2
g
Fat:
0.3
g
Saturated Fat:
0.2
g
Polyunsaturated Fat:
0.03
g
Monounsaturated Fat:
0.1
g
Sodium:
34
mg
Potassium:
385
mg
Fiber:
3
g
Sugar:
43
g
Vitamin A:
17
IU
Vitamin C:
2
mg
Calcium:
68
mg
Iron:
2
mg
Frequently Asked Questions
Is it healthy?
Tamarind juice is not only a refreshing drink, but it also has a lot of benefits to your health! It is fiber-rich, nutrient-dense, and full of vitamins. It can boost your immune system, help lower your insulin levels, and even aid with healthy weight loss since it detoxifies and improves your metabolism.
Can I drink it hot?
Yes, you certainly can! If an ice-cold glass is perfect for summer, a hot cup of tamarind juice will keep you warm and comfy on cold, rainy days.