Dinuguan is made with pork blood that gives it its characteristic dark color. Don't let its somber appearance fool you though, this unique and boldly-flavored dish is nothing but bloody delicious! Simmered in vinegar, and flavored with chilis and other seasonings for a mildly spicy, tangy, and uniquely flavored pork stew!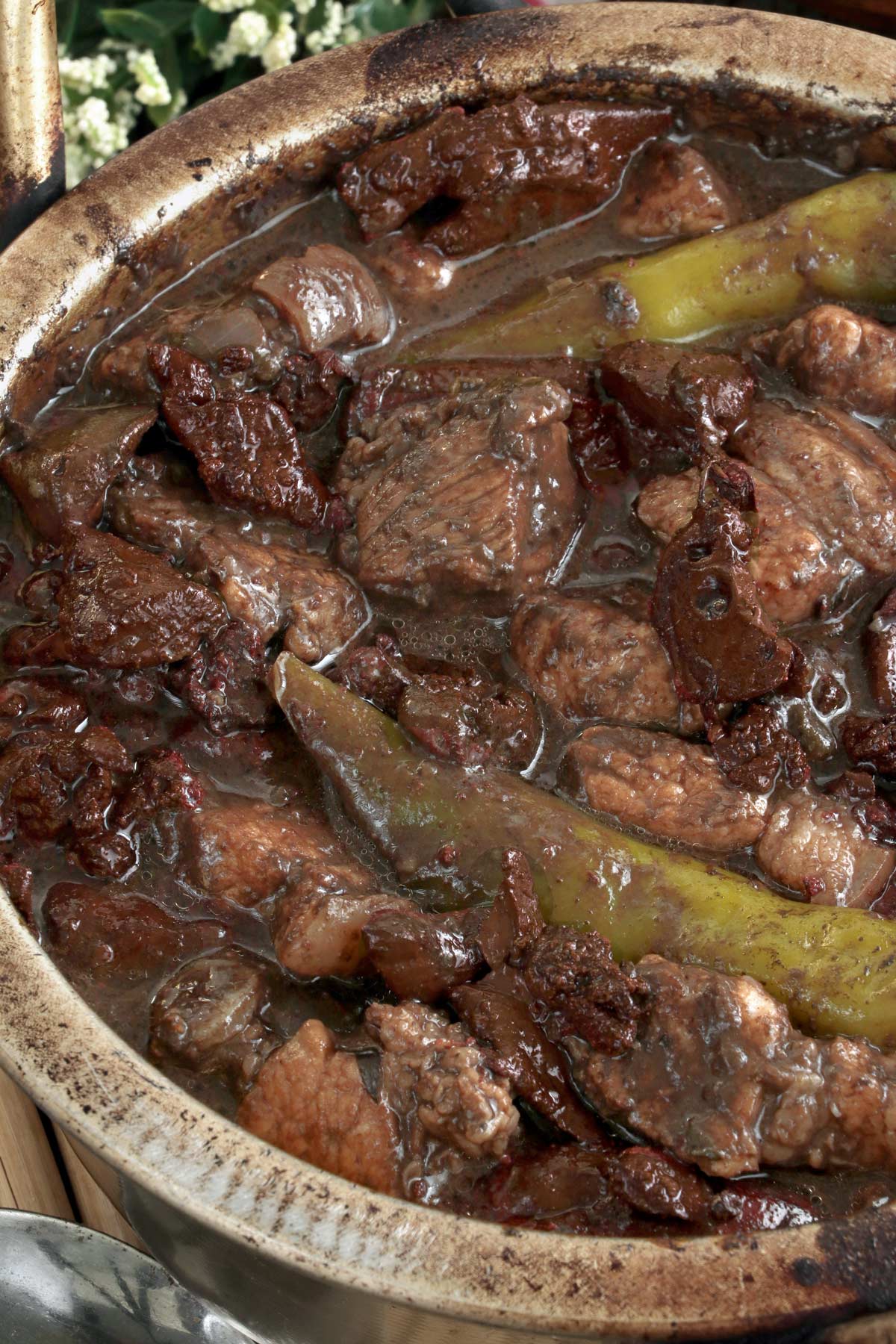 Jump to:
Blood-based viands is not singular to Filipino cuisine as there are a lot of different countries that also have their own dish using this ingredient on their sausages, soups, and stews. But Dinuguan, the Filipino version of pork blood stew is very popular and well-received in different parts of the country.
What is Dinuguan?
Dinuguan is a classic Filipino pork stew and the name has its root from the word 'dugo' which is Tagalog for blood, so basically, it means cooked with blood. It is also sometimes called "chocolate meat" or "blood pudding" and 'Dugo-dugo' to Cebuanos.
In Pampanga, we call it "Tid-tad", meaning 'chopped into small pieces'. This is because the pork offals that are usually used are cut into small bits and pieces before they are added to the stew.
As like any viand it is usually enjoyed with steamed white rice but it is a known fact that the perfect pair for Dinuguan is Puto, a Filipino steamed rice cake.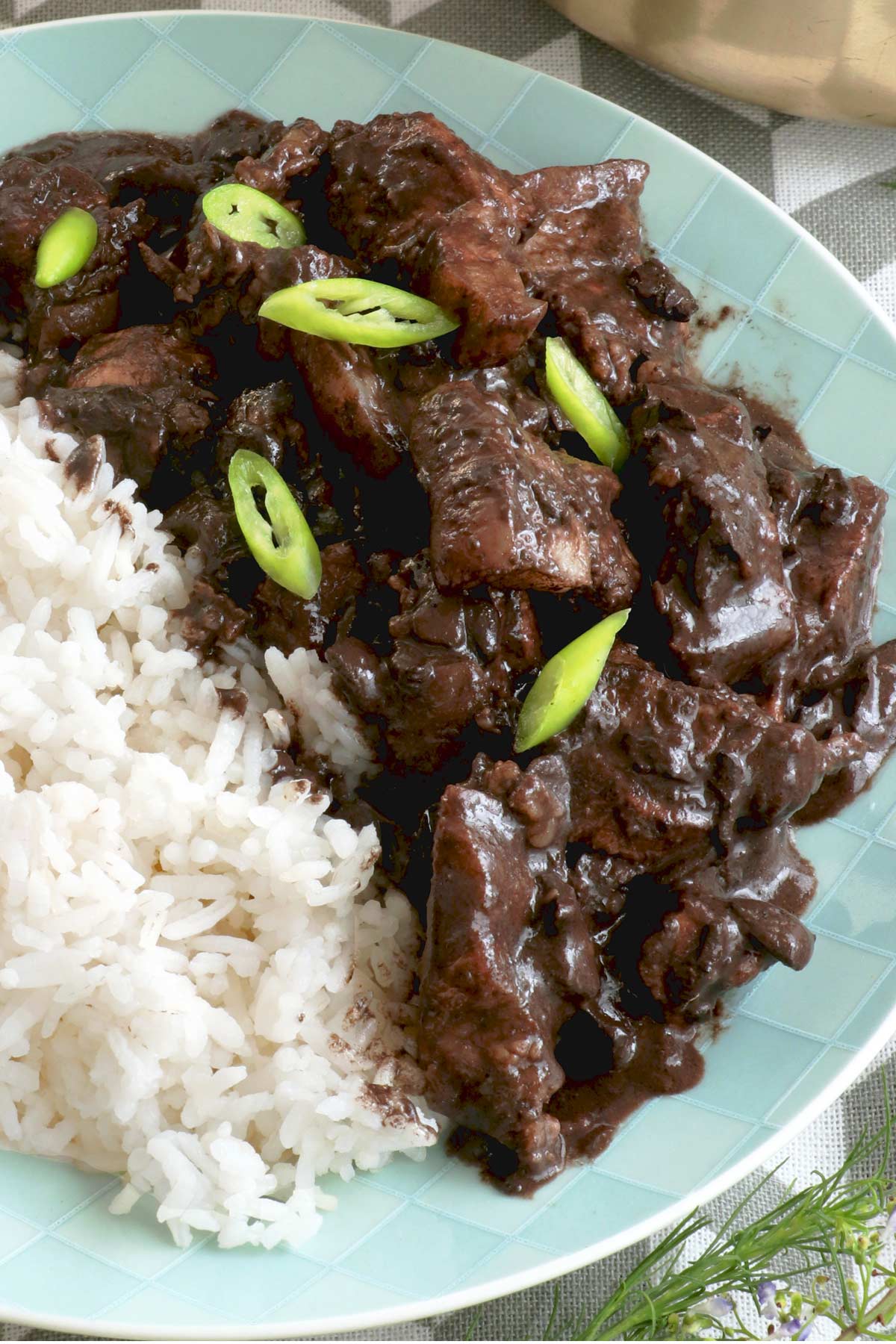 What is in it and how is it made?
This dish is traditionally cooked alongside a whole pork lechon. Since the innards of the pig to be roasted are removed and the blood is drained, so they make Dinuguan out of that.
It is made by sauteeing different cuts of pork and offal like intestines, lungs, kidneys, and heart with aromatics such as garlic and onion. It is then simmered in blood and vinegar mixture until it turns into a flavorsome stew. Long green chili peppers are added to give it a nice zing!
For those who are not into offals but still want to try making it, you can still make it and use regular cuts of pork. Pork belly is a popular choice and that is what I used for this recipe.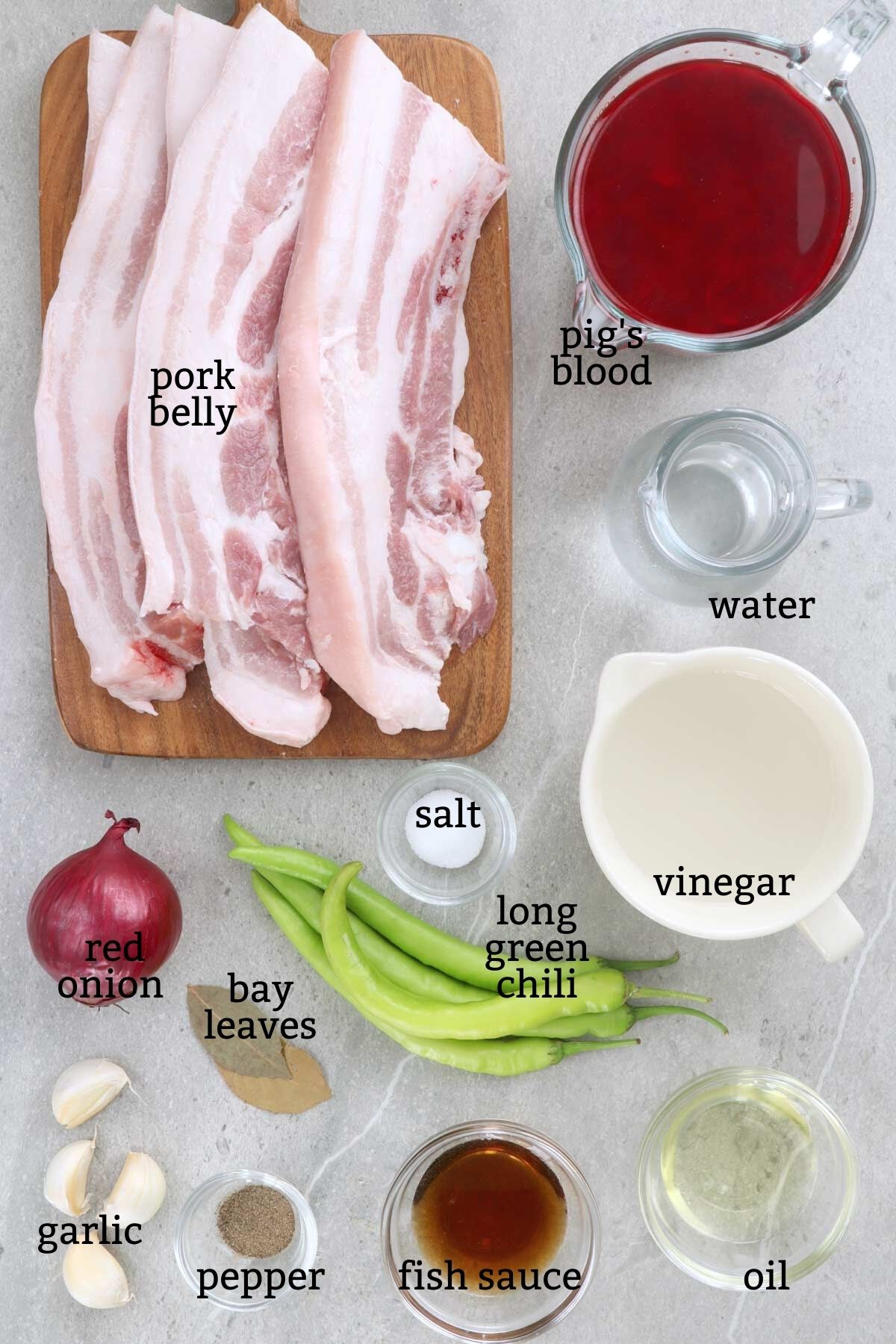 Foxy Tips for you!
I recommend using pork belly for this recipe. But feel free to use other boneless cuts like pork shoulder or pork butt. Just make sure there is enough fat on the meat for flavor. You can also use beef and chicken meat if you prefer.
Do not stir once the vinegar mixture has been added. Let it cook undisturbed until the acid burns off. Otherwise, your Dinuguan will turn too sour.
The pork blood will congeal naturally once added. Depending on how you like it, you should stir continuously to avoid forming large clumps. Or let them form chunky bits first before stirring.
How do you store leftovers?
The shelf life of Dinuguan can hold up longer as compared to other viands due to vinegar. Vinegar is a great component in preserving food and preventing spoilage. So, if you have any leftovers, place them in an airtight container and put them in the fridge for days.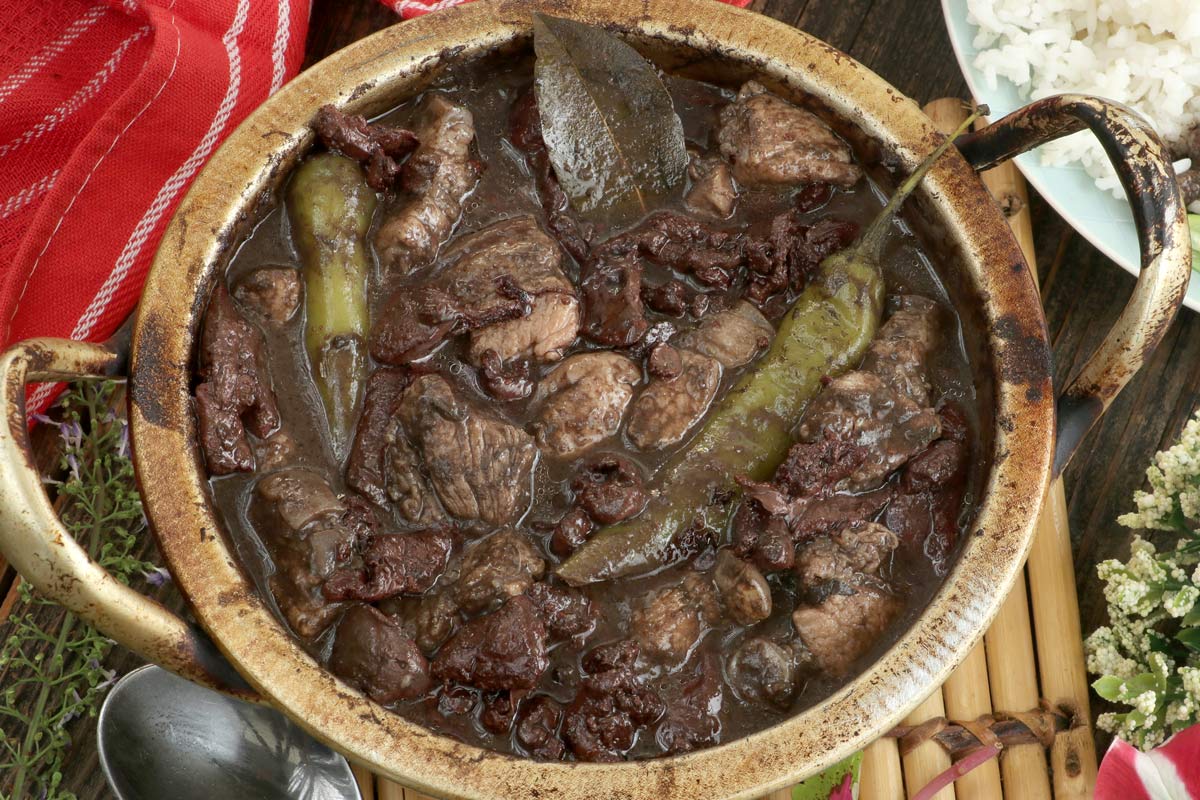 Printable Recipe
Dinuguan
Dinuguan is made with pork blood that gives it its characteristic dark color. Don't let its somber appearance fool you though, this unique and boldly-flavored dish is nothing but bloody delicious!
Ingredients
2

cups

pig blood

1

cup

vinegar

½ for mixing with pig's blood, ½ for cooking

2

tablespoon

oil

4

cloves

garlic

minced

1

big

red onion

chopped

2

pounds

pork belly

, cut into bitesize

2

tablespoon

fish sauce

½

tablespoon

salt

½

tablespoon

pepper

2

pcs

bay leaves

1

cup

water

4-6

pieces

green long chili
Instructions
Mix ½ cup vinegar with pig's blood. Set aside.

In a large pot over medium heat, saute onion and garlic in oil until limp and aromatic.

Add pork belly and cook until fat is rendered. Add fish sauce, bay leaves, then season with salt and pepper.

Add vinegar and simmer for 2 minutes without stirring.

Pour in the blood with vinegar. Stir continuously to prevent clumping. Simmer for 5 minutes.

Add water and the green long chili peppers. Bring to a boil then cover the pot with lid and lower heat to low. Cook until pork is tender.

Once pork is tender, remove the lid and let it simmer for a few minutes to thicken the sauce to desired consistency.

Turn the heat off and transfer to serving bowls.
Nutrition
Calories:
841
kcal
Carbohydrates:
1
g
Protein:
15
g
Fat:
85
g
Saturated Fat:
30
g
Polyunsaturated Fat:
10
g
Monounsaturated Fat:
40
g
Trans Fat:
1
g
Cholesterol:
109
mg
Sodium:
1119
mg
Potassium:
315
mg
Fiber:
1
g
Sugar:
1
g
Vitamin A:
39
IU
Vitamin C:
1
mg
Calcium:
23
mg
Iron:
1
mg
More Filipino Favorite Dishes