Batsui or the Kapampangan Batchoy Soup is a hearty soup made from pork meat, kidney, and spleen cooked in ginger broth and flavored with chili leaves.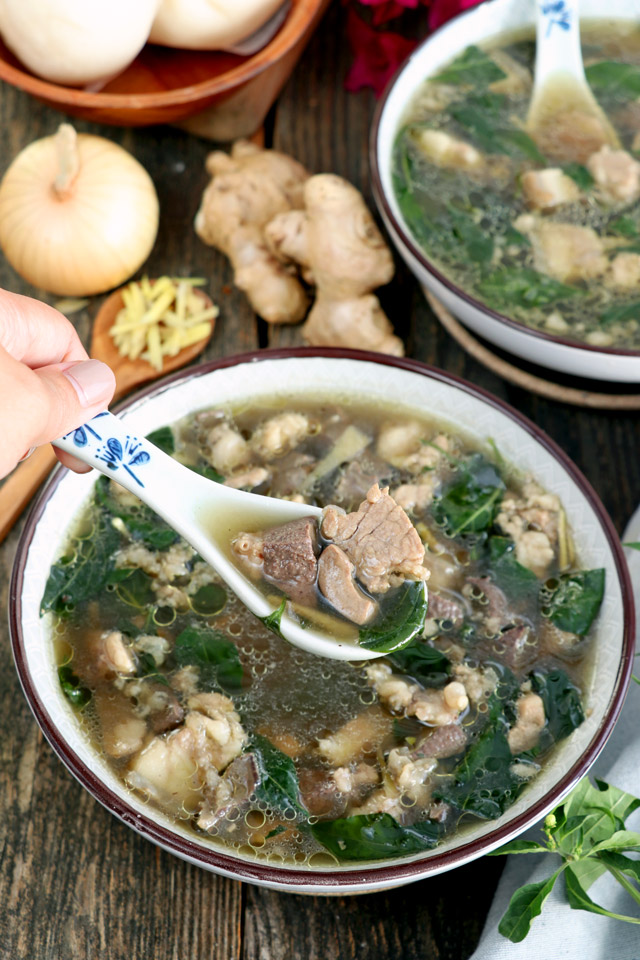 This is another soup from my childhood that is forever carved in my heart. My Mama used to cook this often while we were still small kids. It has been a while since she made this special soup so I thought I would refresh all our memories and make it for the family.
I have been having a difficult time translating the ingredients my Mama gave me. The truth is, she was the one who bought the meat and innards from the local wet market at the same time I made Kilayin. I asked her the favor of getting them for me because if left to my own devices, I am afraid I will get the wrong parts or mix them up.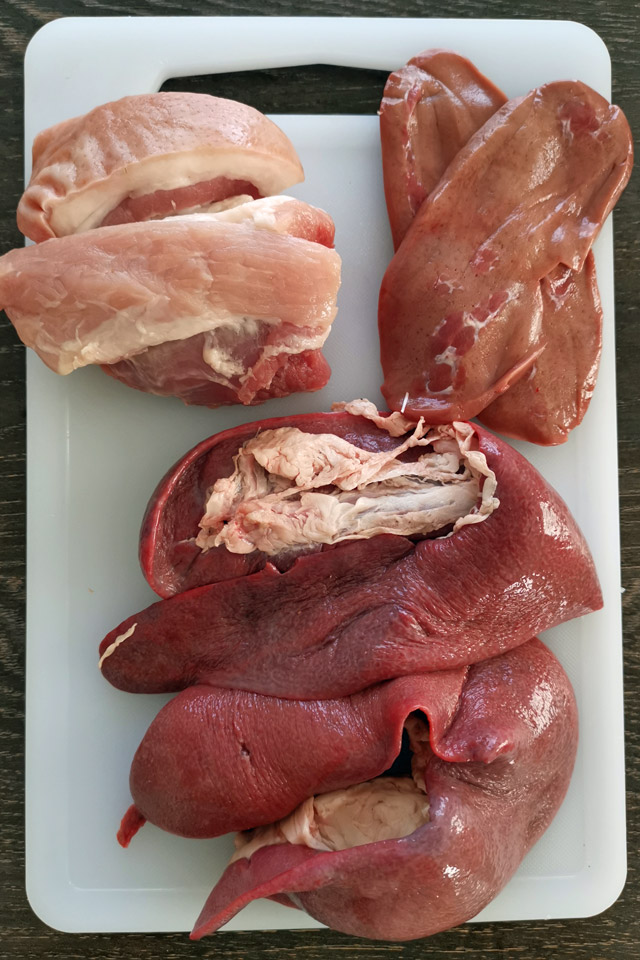 When I asked her which is which, she told me that the long red pieces (at the bottom in the above photo) that look similar to the liver are the "Kundilat". When I looked it up, it refers to: pancreas.
But I am pretty sure it looks a lot like the pork spleen when I searched for the images online. To make my state of confusion worse, most Chinese recipes I found on the internet also call it pork pancreas. So does a video of a renowned Kapampangan cook, Mrs. Wong-Galang.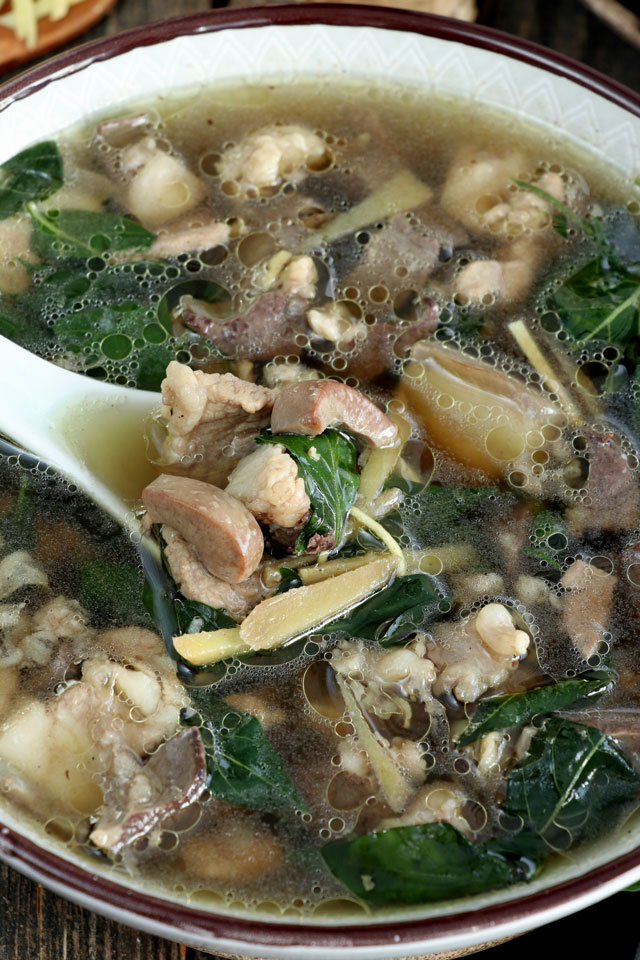 So I asked Armin to help me figure it out and the solution we had was to check it in German. What we found out is that the pork spleen translates to 'Schwein Milz' in German. That alone convinced me that what I have was indeed the spleen and not pancreas. Because the other name for pork spleen in US markets is 'pork melts'.  And the images matched too. But if you are in Pampanga market, just ask for "Kundilat" as known to the local butchers.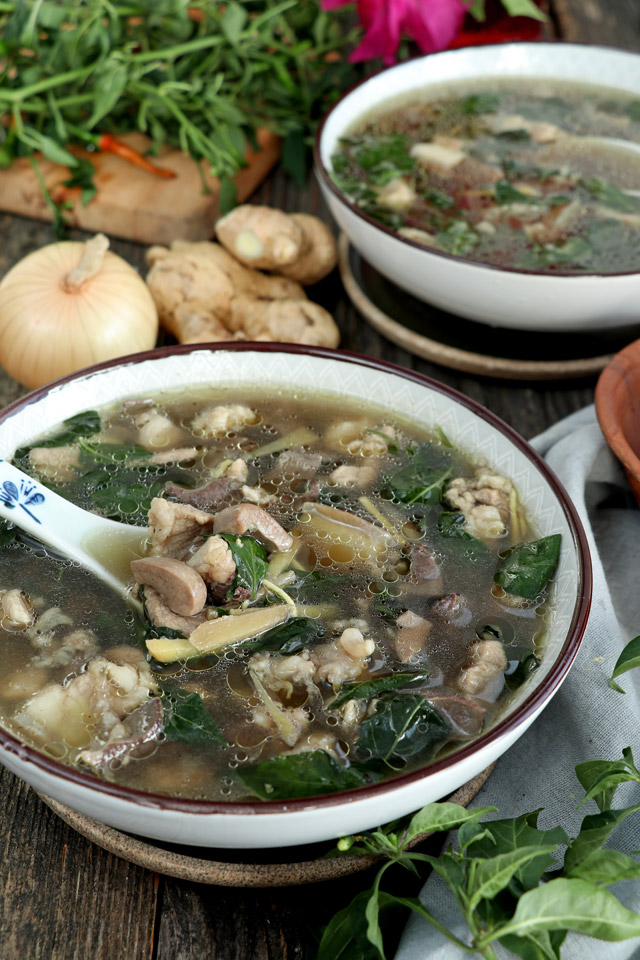 To make things clear, this is not the same as La Paz Batcho. The one that originated from La Paz, Iloilo that has egg noodles in it called Miki. Also different from the Batchoy Tagalog that has pork blood curd and miswa noodles.
It is actually very similar to how you cook Tinola because it also uses ginger and chili leaves. The only difference is the meat we used. But believe me, they taste very different.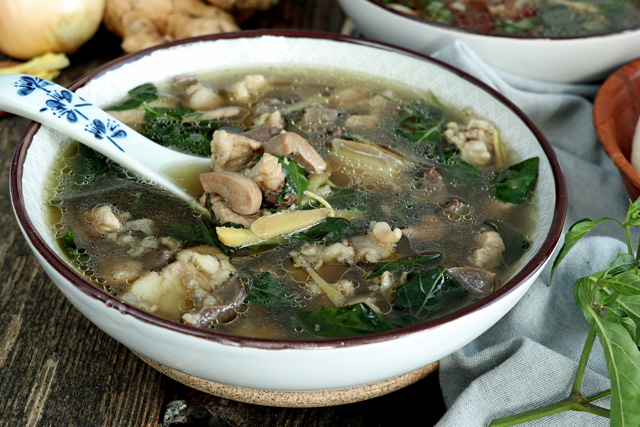 Printable Recipe
Batsui (Kapampangan Batchoy Soup)
Batsui or the Kapampangan Batchoy Soup is a hearty soup made from pork meat, kidney, and spleen cooked in ginger broth and flavored with chili leaves.
Ingredients
2

tablespoons

oil

2-3

thumbs

ginger

- cut into strips

3

cloves

garlic

- minced

1

medium

onion

- chopped

250

grams

lean pork (lomo or pigue/ham)

- cut into small pieces

75

grams

pork kidney

- cut into small strips

3

tablespoons

fish sauce

7

cups

water

250

grams

pork spleen/melts (kundilat or lapay)

- cut into small pieces

½

teaspoon

ground pepper

1

cup

chili leaves
Instructions
In a pot, saute ginger, garlic, and onion in oil over medium heat until limp and aromatic.

Add lean pork and kidney then pour in fish sauce. Let it cook for 5 minutes or until the meat is no longer pink and has absorbed some of the fish sauce.

Add water and bring to boil. Cover the pot with the lid and lower the heat to low. Let it simmer until the lean pork becomes tender, about 30-40 minutes.

Add the pork spleen and simmer for another 10 minutes. Season with ground pepper and add the chili leaves 2-3 minutes before turning off the heat.

Ladle to serving bowls and serve with steaming hot rice.
Notes
If you have difficulty finding pork spleen and kidney, just use liver in an equal amount to the lean pork meat. Not as authentic and tasty as the original recipe but it would also be good.
Nutrition
Calories:
168
kcal
Carbohydrates:
3
g
Protein:
20
g
Fat:
7
g
Saturated Fat:
1
g
Cholesterol:
192
mg
Sodium:
795
mg
Potassium:
367
mg
Fiber:
0
g
Sugar:
1
g
Vitamin A:
9045
IU
Vitamin C:
14
mg
Calcium:
25
mg
Iron:
10.8
mg