This chunky and thick corn chowder is simply amazing. Hearty and flavorful, with crispy bacon pieces and potatoes seasoned with thyme and paprika. Definitely a good way to warm you up and keep you full. 
One of the perks of living in the country...fresh produce. And what could be better than that? Well, free fresh produce, of course!
I got bags full of ears of corn from our very friendly neighbor who also happens to be the overseer of the farm animals of our subdivision owner.
One day, he came over to check on things (and on us I think). I, trying to start a conversation, commented on how fast the corns are growing. He said they planted them to feed the cows but they are actually human-grade corn. Lucky them I said!
We chatted a bit more and then he went on his way. The conversation, totally forgotten, well on my side at least.
Fast-forward to three weeks ago, he came knocking at our door with a bag full of corns. Then again two times more the following days.
Yikes! I promise I was not hinting on anything or fishing for free goods. But I am not complaining either ?.
What to do when you have a lot of corn on hand?
Of course, I gave some of them to my parents and sisters. My mama made 'Suam Mais' with her share. It is a Filipino corn soup cooked using white corn that is native to the Philippines.
I still have loads of them so some I simply boiled. Then brushed with butter and sprinkled with a little salt. Perfect snack and sides already.
And some of them I used to make this delicious corn chowder that I found at The Chunky Chef. It is a thick corn soup with potatoes and bacon. It was soooo good.
She used yellow sweet corn but I find that our native white corn is more ideal since it produces a creamy and sticky consistency that is perfect for this kind of thick soup. No additional thickener needed.
How to make corn chowder?
It only took me about 10 minutes to cook this, 15 minutes including prep time. That is how quick and easy this recipe is. Here are the basic steps:
Slice the corn kernels off the cob.
Brown the bacon pieces in oil then remove.
Saute garlic and onion in butter and remaining oil.
Add the corn and potato cubes and seasoning and pour in water. Bring to a simmer and cook until corn and potatoes are done.
Use an immersion blender (or a regular blender) to blend half of the soup.
Add cream, bacon and chives and heat through.
   Additional Tips for a delicious Corn Chowder
If using yellow corn, you may need to thicken the soup by adding ¼ cup flour to the melted butter before adding the corn and potatoes.
This corn chowder is already good as it is but you can add chopped chives or parsley for additional flavor.
You can also use frozen vegetables in addition to corn and potatoes. You may also use frozen corn for this recipe.
If you have leftovers, transfer it to containers and store in the fridge for up to 3 days.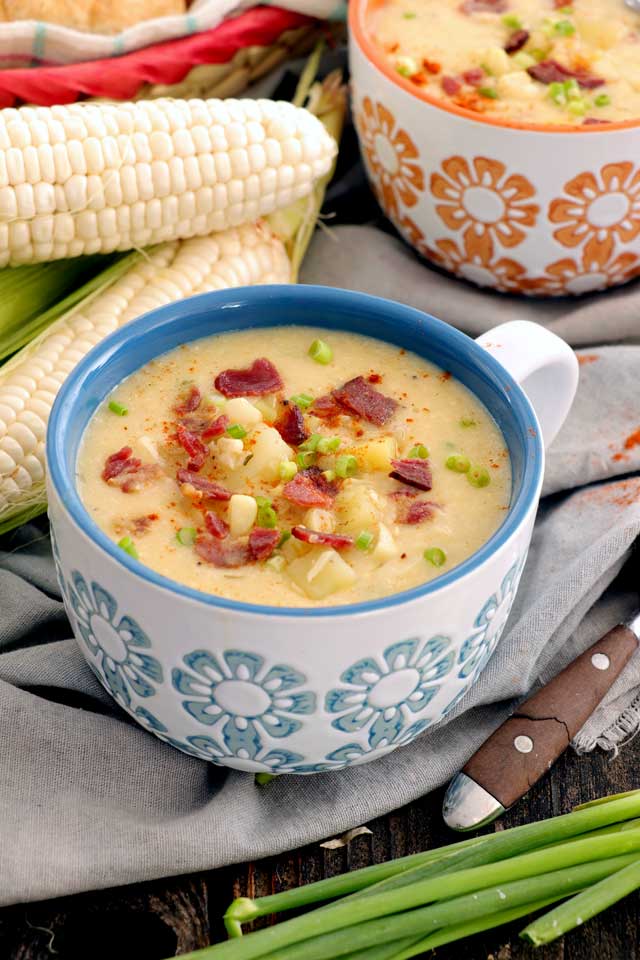 Other thick soup you can enjoy:
Printable Recipe
Corn Chowder with Potatoes and Bacon
Simply amazing chunky Corn Chowder. Hearty with crispy bacon pieces and potatoes and flavor-rich from thyme and paprika. Definitely, a good and delicious way to warm you up and keep you full.
Ingredients
1

tablespoon

oil

½

cup

bacon

- cut into pieces

2

tablespoons

butter

2

cloves

garlic

- minced

1

medium

onion

- chopped

6

ears

corn

4

medium

potatoes

- peeled and cut into half-inch cubes

4

cups

water

¼

teaspoon

dried thyme

¼

teaspoon

paprika powder

1

teaspoon

salt

½

teaspoon

fresh ground pepper

1

cup

table cream

½

cup

chives

- chopped (optional)
Instructions
Place corn on a plate or a cutting board while holding it up on one side. Slice the corn kernels off the cob using a knife. Then take a spoon or use the back of the knife to scrape the remaining pulp from the cob. Set this aside.

Heat oil in a pot over medium heat. Add bacon pieces and fry until browned and crisp. Remove the pieces using a slotted spoon and transfer in a small bowl. Set aside.

In the same pot with oil, add butter and melt. Add garlic and onions and cook until limp an aromatic.

Add potatoes and corn kernels and stir. Pour in water and season with paprika, thyme, salt, and pepper. Bring to a simmer.

Once potatoes are cooked, turn the heat off. Take out about 2 cups of the solids using a slotted spoon and transfer into a bowl.

Using an immersion blender, blend the remaining corn and potatoes into a smooth puree.

Turn heat on to low and pour in the cream and bring to a simmer. Add back the corn and potato chunks. Toss in the bacon and chives and cook until heat through.

Serve in bowls while still warm.
Nutrition
Calories:
295
kcal
Carbohydrates:
21
g
Protein:
5
g
Fat:
22
g
Saturated Fat:
12
g
Cholesterol:
66
mg
Sodium:
475
mg
Potassium:
653
mg
Fiber:
4
g
Sugar:
1
g
Vitamin A:
885
IU
Vitamin C:
20
mg
Calcium:
82
mg
Iron:
4.8
mg