Try or copycat version of Yellow Cab's Charlie Chan pasta. A fusion of Western and Asian flavors in one delicious dish! It is so easy to prepare and ready in less than an hour.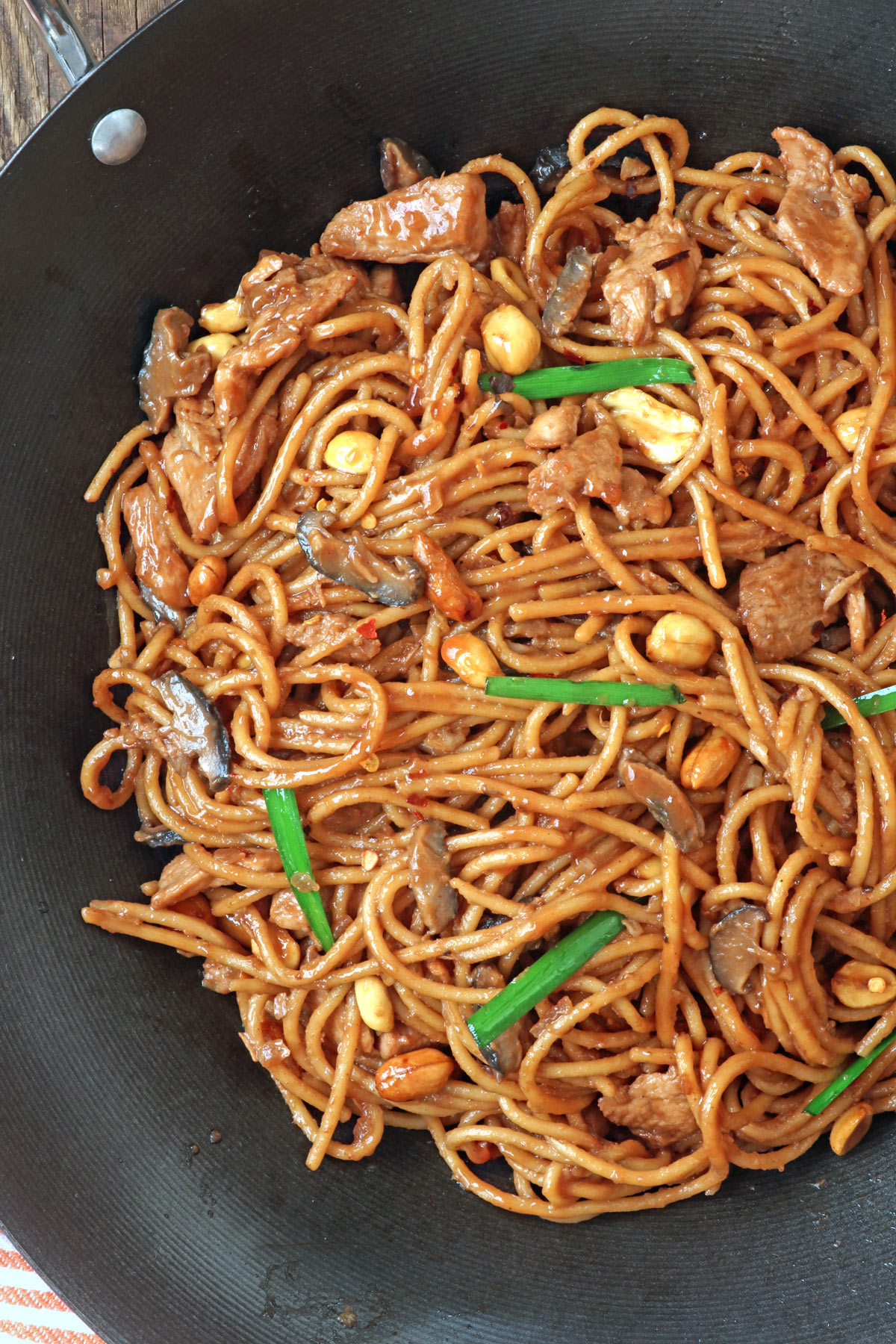 I love the challenge of recreating popular restaurant dishes. I can make and eat them whenever the craving strikes; without having to leave the house. Some of my recipe copycats are: Mojo Potatoes, Swedish Meatballs, and Choco Butternut Donuts, and they all turned out fantastic! So today, I am going to share yet another well-known dish. This time, it's Charlie Chan Pasta!
What is Charlie Chan Pasta?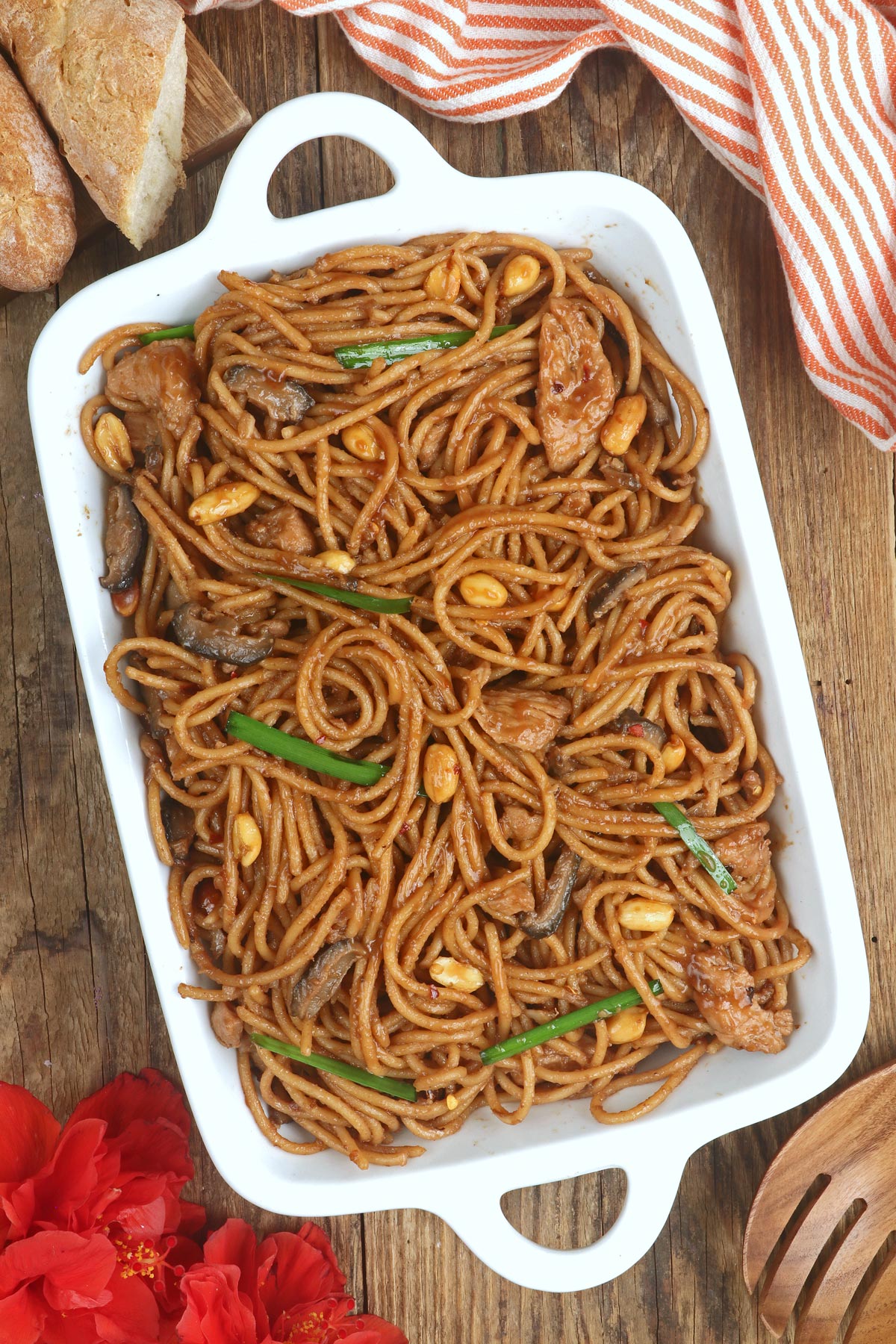 According to regular patrons of Yellow Cab Pizza, Charlie Chan Pasta is one of the best on their menu. This pasta dish is one-of-a-kind, not only because of its name but also because of its flavors and elements. Featuring stir-fried spaghetti noodles in a sticky sweet, savory, and spicy oriental sauce with chicken, shiitake mushrooms, and peanuts. The Charlie Chan pasta is the ideal blend of spicy, salty, and sweet flavors. It's incredibly easy to make and perfect for a quick weekday lunch or dinner fix or to satisfy an unexpected craving.
This dish bears the name of a fictitious Chinese-American police detective in mystery novels and films. However, how this fictional character is related to pasta remains a mystery.
Ingredients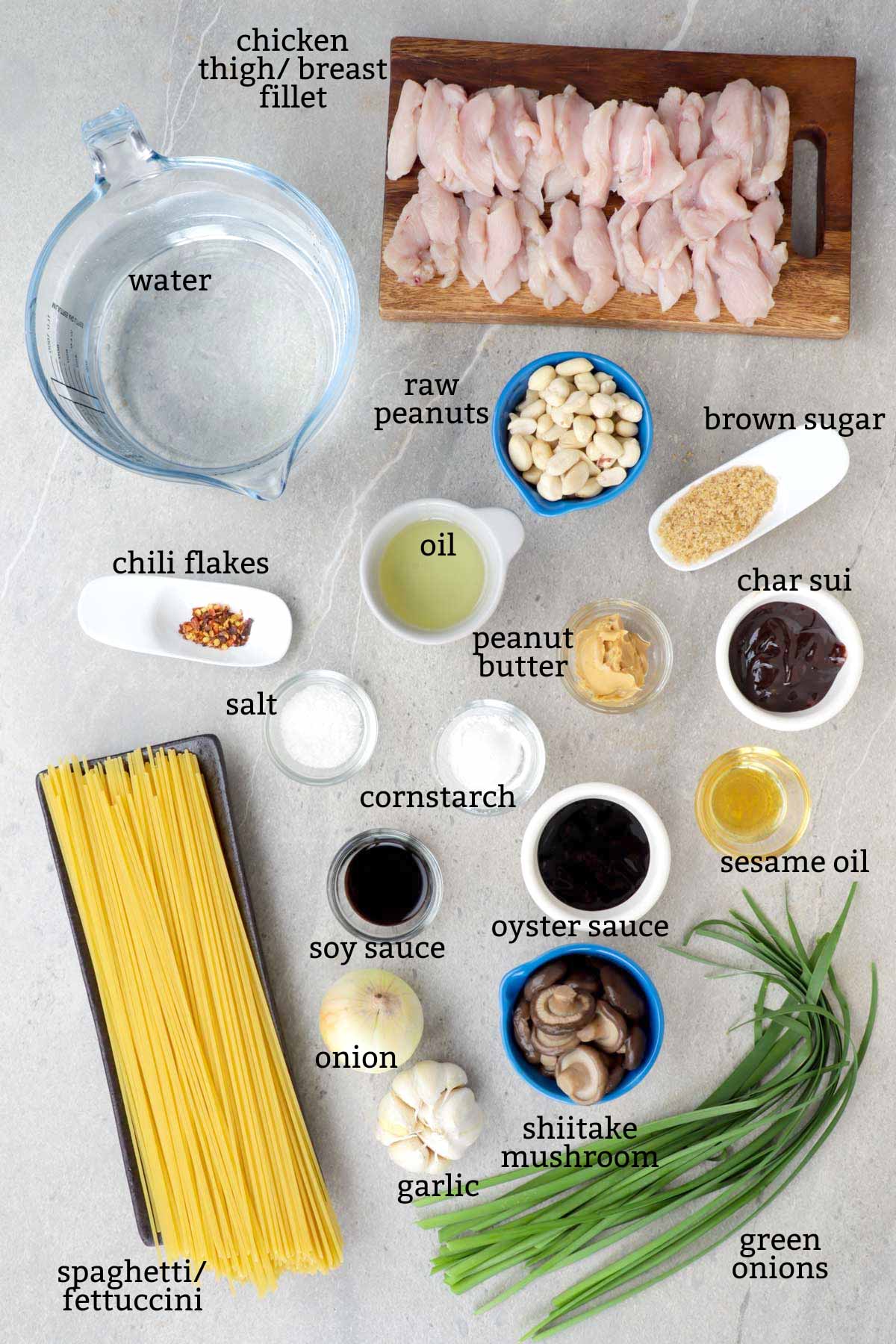 Chicken fillet - you can use filleted chicken thighs or breasts in this recipe. Chicken thighs are tender and flavorful, while chicken breasts are leaner and have lower fat content.
Soy Sauce - it gives an umami flavor and adds depth to the dish. It also gives it an enticing brown color.
Cornstarch - is a thickening agent for the sauce.
Spaghetti noodles - you may also use linguine, fettuccine, or any long pasta noodle you prefer.
Peanuts -add a nutty flavor and crunch to the dish. You can use cashew nuts as an alternative.
Shiitake Mushrooms - add an earthy, smoky flavor to the dish. It also has a rich, buttery texture when cooked. You may also use button or cremini mushrooms.
Chili flakes - add a bit of heat and smokiness to the sauce. You may adjust the amount of chili flakes according to your liking.
Oyster sauce - boosts the umami flavor of the dish.
Char siu sauce - adds a sweet and salty contrast with a hint of spice flavor to the Charlie Chan pasta. If you can't find Char Siu sauce, hoisin sauce is a good substitute.
Sesame Oil - it has a delicious nutty flavor and aroma.
Peanut butter - amplifies the sweet and salty flavors of the dish without adding more sugar or salt.
Cooking Tips in making Charlie Chan Pasta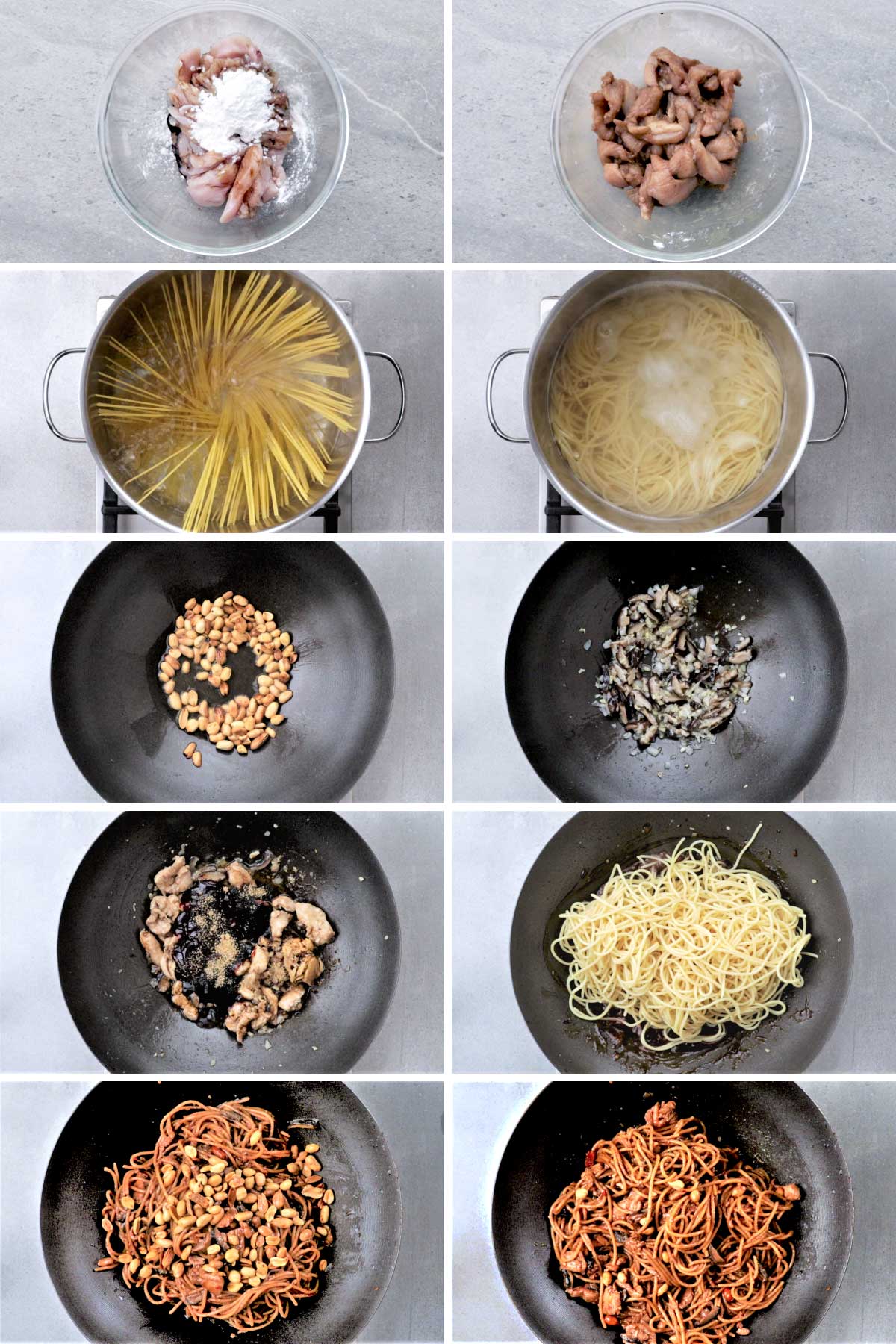 Make sure the water is boiling before adding your noodles. Regularly stir the noodles while cooking to prevent them from clumping or sticking together.
Cook the pasta according to the packaging instructions. Make sure that it is almost al dente.
Drizzle a little oil on the cooked pasta if they're too sticky.
You can use either fresh or dried shiitake mushrooms when making this dish. If using dried shiitake mushrooms, soak them in warm water for a few minutes to rehydrate before using them.
To make this dish vegan, you may omit the chicken or replace it with tofu and use vegan oyster sauce.
Serving and Storing Notes
Enjoy your Charlie Chan Pasta while still warm with breadsticks, a slice of garlic bread, or even pizza.
Keep leftovers in airtight containers and store them in the fridge for 2-3 days. However, it is still important to check it thoroughly to make sure there are no signs of spoilage before consuming it.
To reheat in the microwave, place the leftover pasta in a microwave-safe container or bowl and add some water. Microwave for about 30-60 seconds, stir and pop it in the microwave again until heated.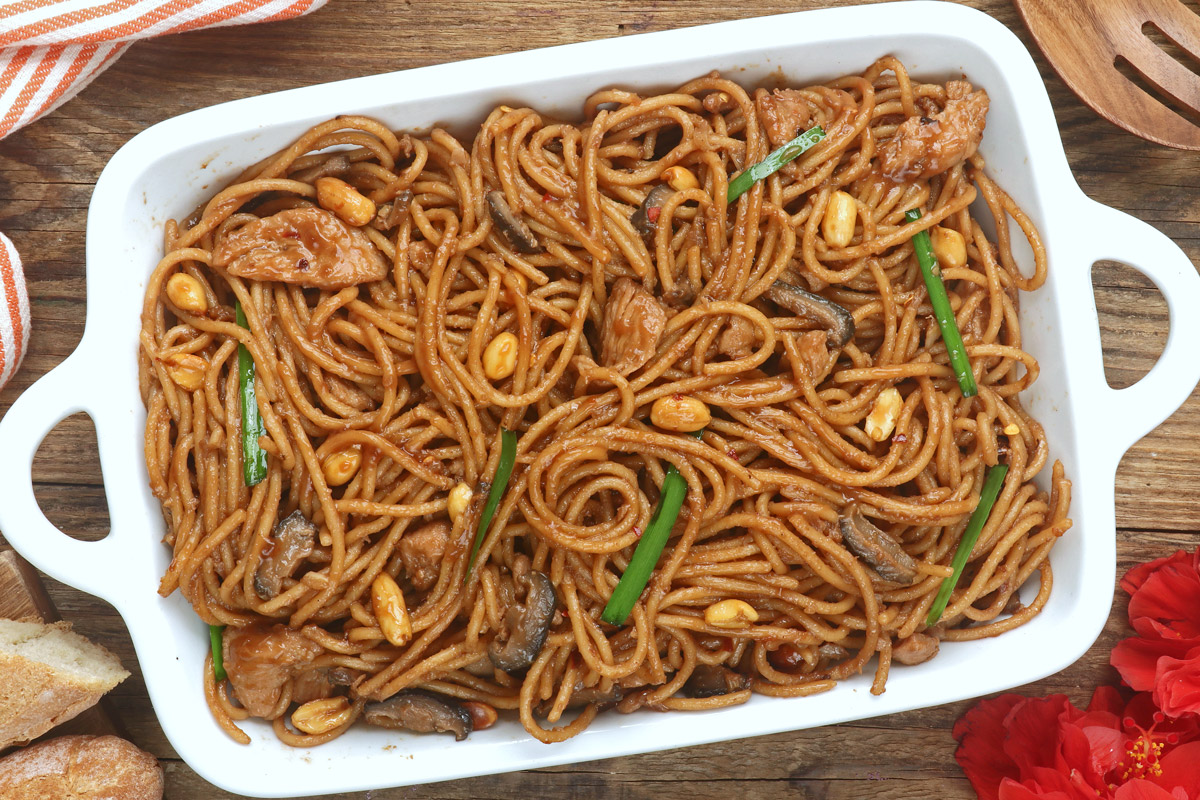 Printable Recipe
Charlie Chan (Yellow Cab) Recipe
Try or copycat version of Yellow Cab's Charlie Chan pasta. A fusion of Western and Asian flavors in one delicious dish! It is so easy to prepare and ready in less than an hour.
Ingredients
½

pound

chicken breast or thigh fillet

cut into strips

1

tablespoon

soy sauce

1

tablespoon

cornstarch

9

ounces

spaghetti

uncooked

8

cups

water

1

tablespoon

salt

3-4

tablespoons

vegetable oil

½

cup

raw peanuts

1

medium

onion

chopped finely

3

tablespoon

garlic

minced finely

½

cup

shiitake mushrooms

(if using dry shiitake, hydrate it in water first.) cut into thin strips
SAUCE
½ - 1

teaspoon

chili flakes

adjust to preference

¼

cup

oyster sauce

¼

cup

Char Siu sauce

(Lee Kum Kee)

2

tablespoons

peanut butter

1

tablespoon

soy sauce

1

tablespoon

sesame oil

1

tablespoon

brown sugar

optional

green onions

cut into 2-inch lengths
Instructions
½ pound chicken breast or thigh fillet,

1 tablespoon soy sauce,

1 tablespoon cornstarch

In a bowl, combine the chicken, soy sauce and cornstarch. Mix well. Set aside until ready to use.

9 ounces spaghetti,

8 cups water,

1 tablespoon salt

Bring 8 cups of water into a rolling boil over high heat. Add salt. Add the spaghetti noodles and cook until almost al dente. Reserve ½ cup of the pasta water and discard the rest. (drizzle some oil to the pasta if they are too sticky).

3-4 tablespoons vegetable oil,

½ cup raw peanuts

In a wok or large pan, heat oil over medium heat. Add the peanuts and cook, stirring regularly until they turn golden brown. Using a slotted spoon, remove the peanuts from the oil and transfer them in a bowl. Set it aside for later.

1 medium onion,

3 tablespoon garlic,

½ cup shiitake mushrooms

In the same pan, sauté onions and garlic until limp and aromatic. Add the mushrooms and cook for half a minute. Add the chicken pieces and stir-fry until cooked through and slightly charred.

½ - 1 teaspoon chili flakes,

¼ cup oyster sauce,

¼ cup Char Siu sauce,

2 tablespoons peanut butter,

1 tablespoon soy sauce,

1 tablespoon sesame oil,

1 tablespoon brown sugar

Add the rest of the ingredients for the sauce to the pan and stir until it forms a thick sauce. Add some (¼ - ½ cup) pasta water to deglaze.

Add the cooked pasta and toss to cover it with sauce cook for a minute or two to let the pasta cook until al dente and absorb the flavors of the sauce. Turn the heat off. Add back the roasted peanuts and toss again.

Transfer to serving pan or plates. Garnish with chopped green onions.
Nutrition
Calories:
378
kcal
Carbohydrates:
31
g
Protein:
23
g
Fat:
20
g
Saturated Fat:
3
g
Polyunsaturated Fat:
5
g
Monounsaturated Fat:
9
g
Trans Fat:
0.01
g
Cholesterol:
37
mg
Sodium:
3439
mg
Potassium:
791
mg
Fiber:
5
g
Sugar:
14
g
Vitamin A:
521
IU
Vitamin C:
9
mg
Calcium:
79
mg
Iron:
2
mg