Enjoy this delicious and creamy Prawn Pasta in less than 20 minutes! Perfect for busy weeknights when you need a quick and easy dish to satisfy your appetite. This recipe is simple but delivers big flavors. Fancy enough to impress on a date night or intimate family celebrations.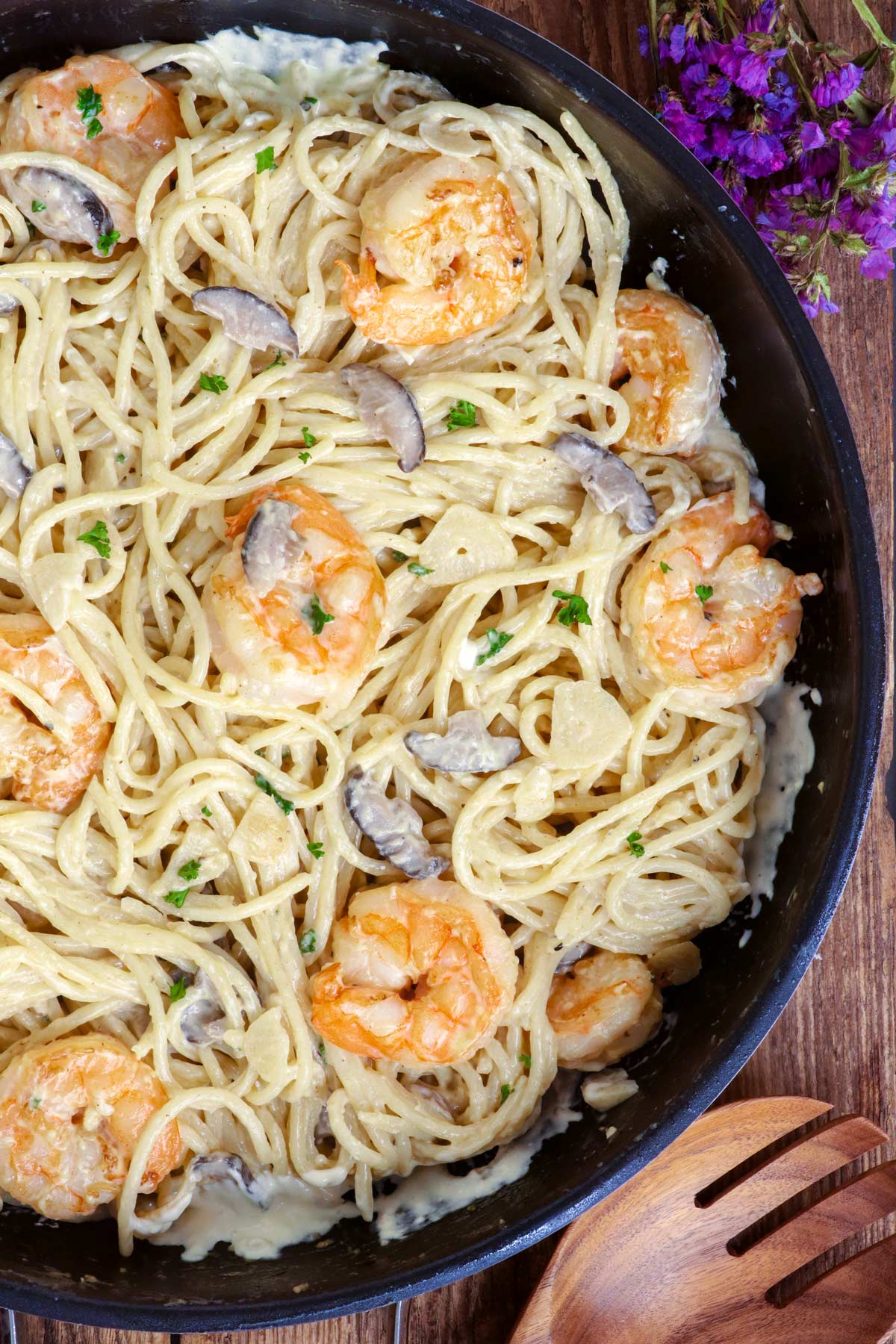 Pasta can be a go-to dish when you need something quick that fills the tummy and your tastebuds happy! Some of my quick and easy pasta recipes like Pasta Puttanesca with Spicy Tuna, Creamy Carbonara, and Pesto Pasta with Tuna have saved the day more times than I can remember!
Quick and Easy Creamy Prawn Pasta
This recipe might be a little fancier than my usual, but it is not difficult to make at all! The most you have to do is peel and devein the shrimp if you get them fresh. But you can get this done with lesser effort if you buy them shelled and deveined, as I did. And in just a few minutes, you'll have a creamy, garlicky pasta dish with plump prawns and meaty mushrooms on your plate!
Ingredient Notes
Pasta- Spaghetti, fettuccine, or linguine are best used for this recipe. But you may use any pasta you prefer or have.
Olive oil for added flavor, but you can also use avocado oil, sunflower oil or vegetable oil.
Unsalted butter- this will give the sauce a richer flavor and smoother consistency. If you only have salted butter, you can still use it but omit the salt in this recipe.
Raw frozen prawns- should be thawed, shelled, and deveined. Use small to medium-sized ones if possible. They are easier to cook and eat with the pasta.
Garlic- This pasta recipe is not the same without the savory punch that sautéed garlic brings. Feel free to use as much as you like.
Shiitake mushroom- you can use other mushrooms like cremini, oyster, champignon, or button mushrooms.
Heavy cream - is the base of the creamy sauce! You can also use all-purpose cream, if unavailable.
Reserved pasta water- this starchy liquid will flavor and help thicken the sauce.
Parmesan cheese- adds a deep savory flavor to the dish and of course, everything is better with cheese!
Parsley- for garnishing and added flavor
Cooking Tips
Follow package instructions for al dente cooking when boiling the pasta. If your noodles are too sticky after cooking, sprinkle them with a bit of oil and toss.
Do not overcook the shrimp, or they will turn tough and rubbery. Cook until they turn a light shade of pink and immediately remove from heat.
Use room temperature cream, and do not let the sauce mixture come to a boil else it might curdle and you won't have the smooth and silky texture.
If you like it with a bit of heat, garnish with some red chili flakes before serving, or add chili powder to the sauce mix.
Adding veggies like spinach, tomatoes, kale, asparagus, or broccoli it does not only make it healthier but extends the serving as well.
How to Serve and Store
Serve Creamy Shrimp Pasta while still warm with a slice of garlic bread or bruschetta on the side.
Store leftovers in an airtight container and keep them in the refrigerator. Since the sauce has already been mixed with the pasta it is best consumed within 3 days.
Before reheating leftover creamy prawn pasta take it out from the fridge and bring it to room temperature.
For microwave heating, place leftovers (one serving at a time) in a microwave-oven safe dish and add a tablespoon of water or milk. Heat for about 2 minutes, stirring every 30-40 seconds.
For the stovetop heating, add leftover pasta to the pan over low heat and add 2 tablespoons of water or milk (per portion of pasta) and stir regularly until the sauce returns to its smooth and creamy texture.
If storing the sauce separately, keep it in a container with a lid and keep it in the refrigerator for up to 7 days.
Printable Recipe
Creamy Prawn Pasta Recipe
Enjoy this delicious and creamy Prawn Pasta in less than 20 minutes! Perfect for busy weeknights when you need a quick and easy dish to satisfy your appetite. This recipe delivers big flavors and is fancy enough to impress on a date night or intimate family celebrations.
Ingredients
8

ounces

spaghetti or fettuccine

uncooked

8

cups

water

1

tablespoon

salt

1

tablespoon

olive oil

2

tablespoon

unsalted butter

250

grams

raw frozen prawns

thawed, shelled and deveined

4

cloves

garlic

sliced thinly

½

cup

shiitake mushroom

sliced thinly

250

ml

heavy cream

or all-purpose cream

¼ -½

cup

pasta water

¼

cup

parmesan cheese

grated

1

tablespoon

parsley

chopped

Salt and pepper to taste
Instructions
8 cups water,

1 tablespoon salt,

8 ounces spaghetti or fettuccine

Bring 8 cups of water into a rolling boil over high heat. Add salt. Add the spaghetti noodles and cook until al dente. Reserve ½ cup of the pasta water and discard the rest. (drizzle some oil to the pasta if they are too sticky).

1 tablespoon olive oil,

2 tablespoon unsalted butter,

250 grams raw frozen prawns,

Salt and pepper to taste

In a large skillet, heat oil and butter over medium heat. Add the prawns in a single layer. Sprinkle some salt and pepper over the prawns and cook turning it once until both sides are cooked, about 2 minutes each side. Remove from heat to a bowl so not to overcook.

4 cloves garlic,

½ cup shiitake mushroom,

¼ -½ cup pasta water

Add the garlic and saute just antil soft and aromatic. Stir in the shiitake mushrooms and cook for a minute. Add ¼ -½ cup pasta water and simmer for a minute or two.

250 ml heavy cream,

¼ cup parmesan cheese

Pour in the heavy cream and add the grated parmesan. Bring to a gentle simmer but do not let it boil.

Turn off the heat and add the cooked pasta and prawns. Add the chopped parsley and toss until noodles are fully coated with sauce.

Transfer to serving plates and sprinkle with more grated parmesan and parsley as desired.
Nutrition
Calories:
600
kcal
Carbohydrates:
47
g
Protein:
25
g
Fat:
35
g
Saturated Fat:
20
g
Polyunsaturated Fat:
2
g
Monounsaturated Fat:
10
g
Trans Fat:
1
g
Cholesterol:
191
mg
Sodium:
2000
mg
Potassium:
468
mg
Fiber:
3
g
Sugar:
4
g
Vitamin A:
1239
IU
Vitamin C:
3
mg
Calcium:
197
mg
Iron:
1
mg