Make these Choco Butternut Donuts at home and enjoy this childhood classic without using an oven. They are the perfect sweet treats that kids and adults will surely enjoy!
I love donuts as much as the next person (or maybe more😋) and I love that there are so many new trendy variations from the many new donut shops that have popped up in recent years. Still, from time to time, I find myself craving for Dunkin Donuts's chocobutternut munchkins. Maybe because these goodies have been part of my childhood memories and bring about a touch of nostalgia in every bite. After trying my hand at making my version of Bavarian Cream Donuts, I am sharing my take on their classic all-time crowd favorite, Choco Butternut!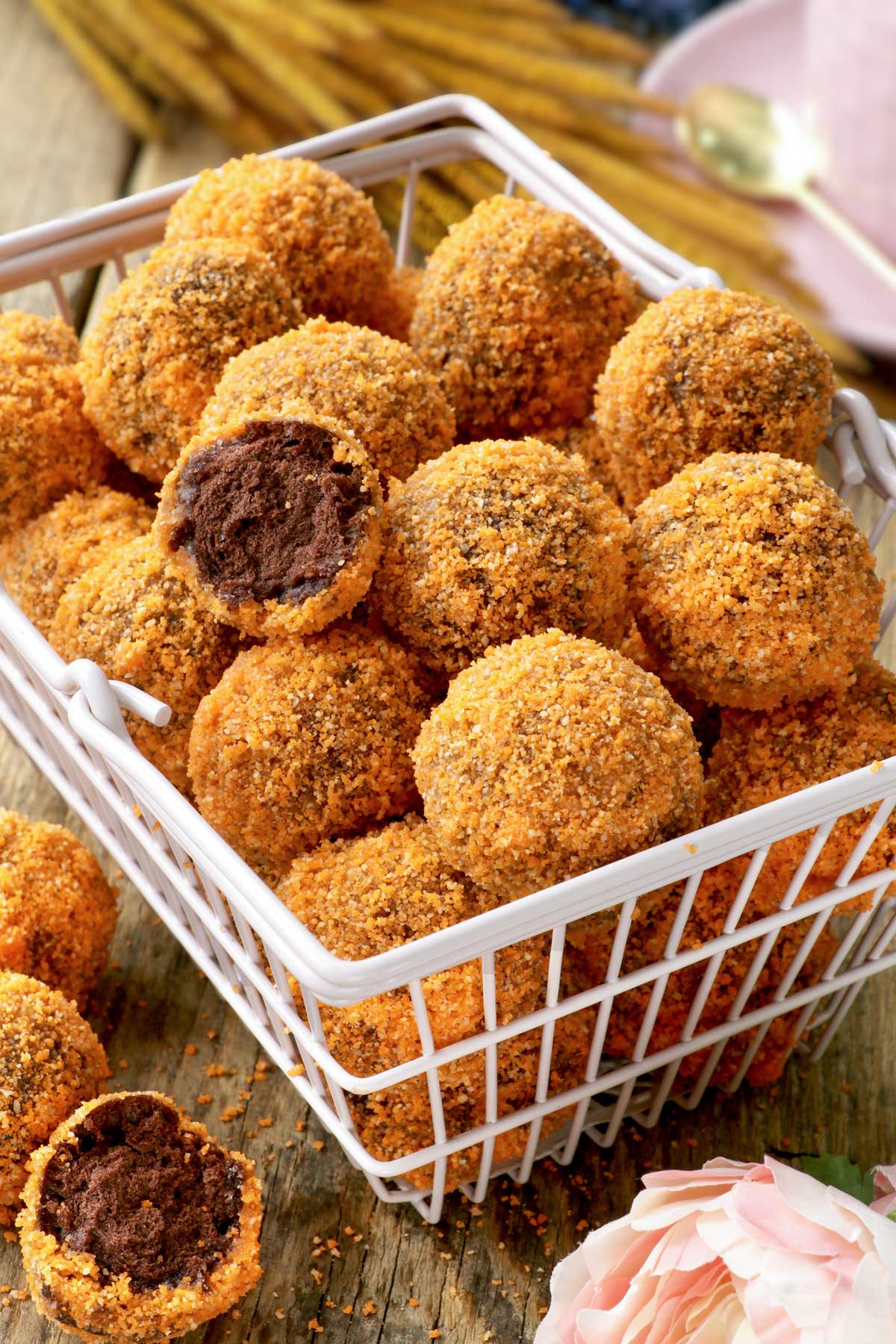 What are Choco Butternut Munchkins?
These bite-sized morsels are actually doughnut holes. They are originally made from the dough removed from the center of ring donuts, thus the name. Though most of us know them as munchkins or timbits, these are, in fact, branded terms from popular coffee shops.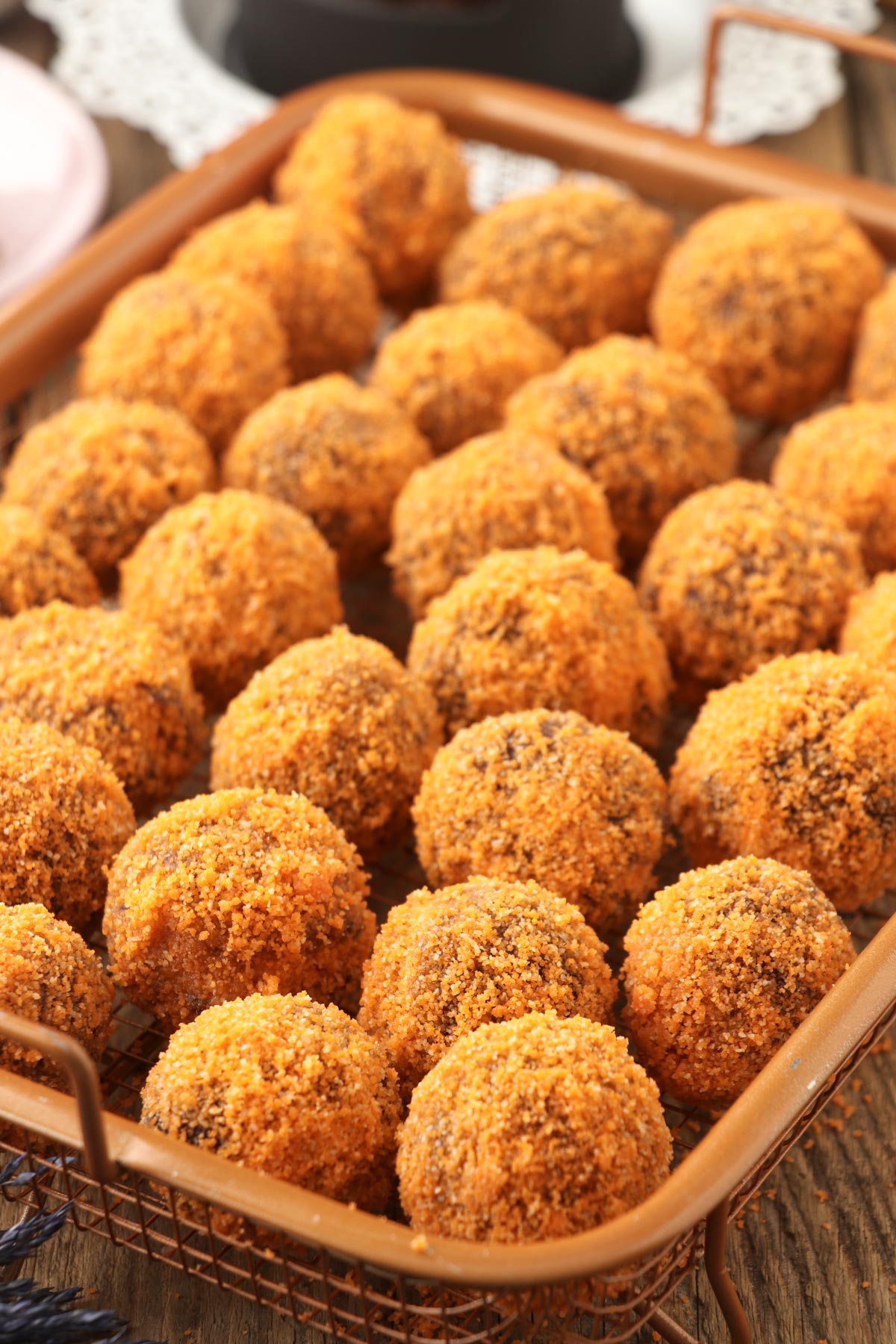 Since this is a no-bake recipe, you just need a deep frying pan to make them at home! These adorable bite-sized goodies have three yummy layers - the chocolate balls, the vanilla glaze, and the butternut streusel.
Ingredients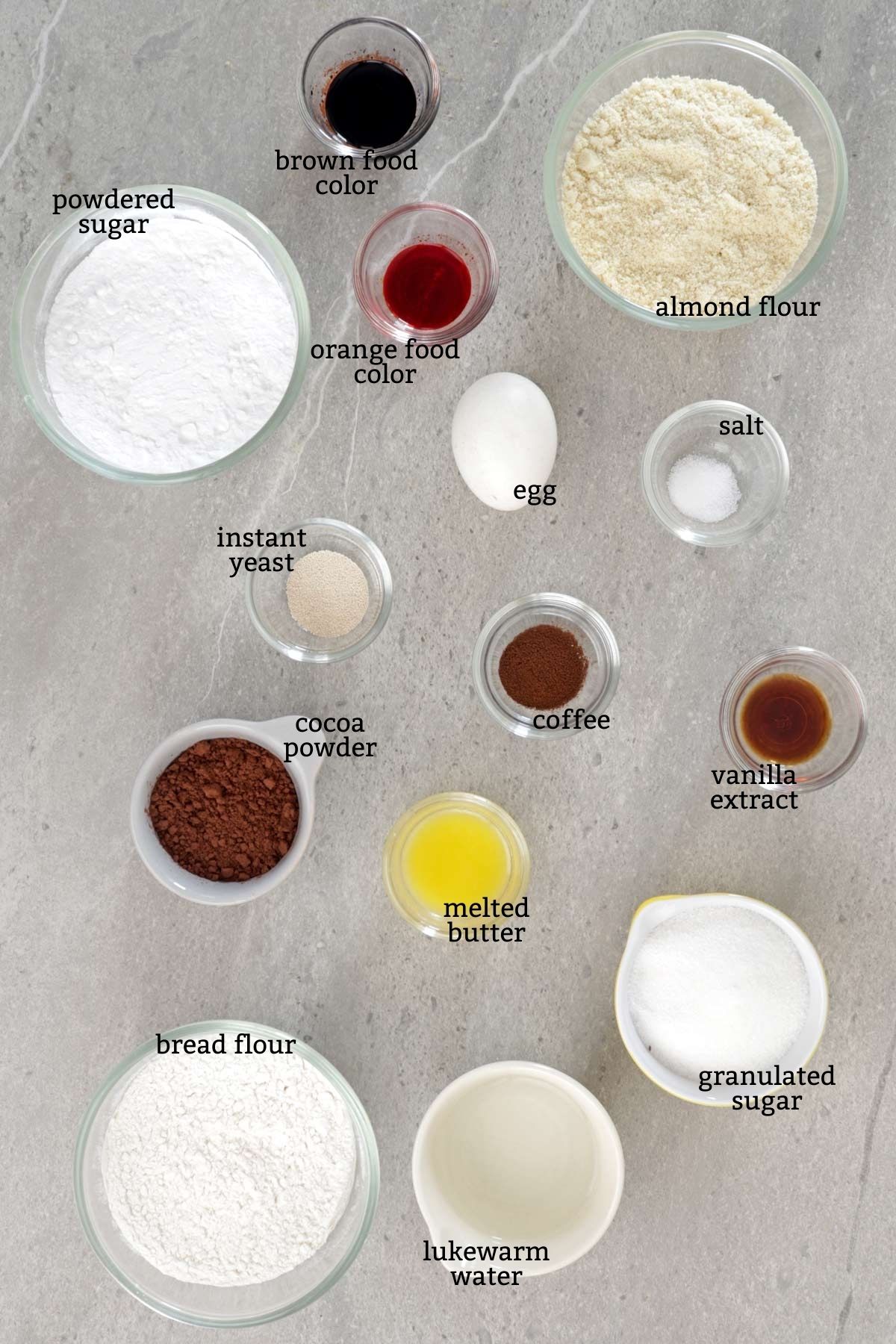 Chocolate Dough
Bread flour- I find that using this type of flour is best as it gives the donuts a good and firm structure but is still soft to the bite.
Dutch-process cocoa powder has deeper and richer color than natural cocoa. If unavailable, you may also use natural unsweetened cocoa powder.
Instant yeast- If unavailable, you may also use active dry yeast.
Unsalted butter- make sure it is melted or softened and not cold. If you are using salted butter, omit the salt in the recipe.
Egg is used to bind the ingredients together. Make sure the egg is at room temperature before using.
Granulated sugar
Strong coffee- is added to enhance the chocolate flavor giving the munchkins a richer taste.
Salt - enhances and balances the flavors
Vanilla extract for flavor
Brown food color for a deeper chocolate color. You can omit this.
Vegetable oil- for frying.
Glaze
Powdered sugar also called icing sugar or confectioner's sugar.
Water
Vanilla extract
Butternut Streusel
Almond flour -you may use desiccated coconut as a substitute, however, it will give the streusel a different texture and taste but should still be delicious.
Powdered sugar is used instead of granulated one for a silkier, no-grit texture.
Salt
Margarine- you can also use butter as an alternative.
Orange food color - this is optional but gives it the "authentic" look.
Cooking Tips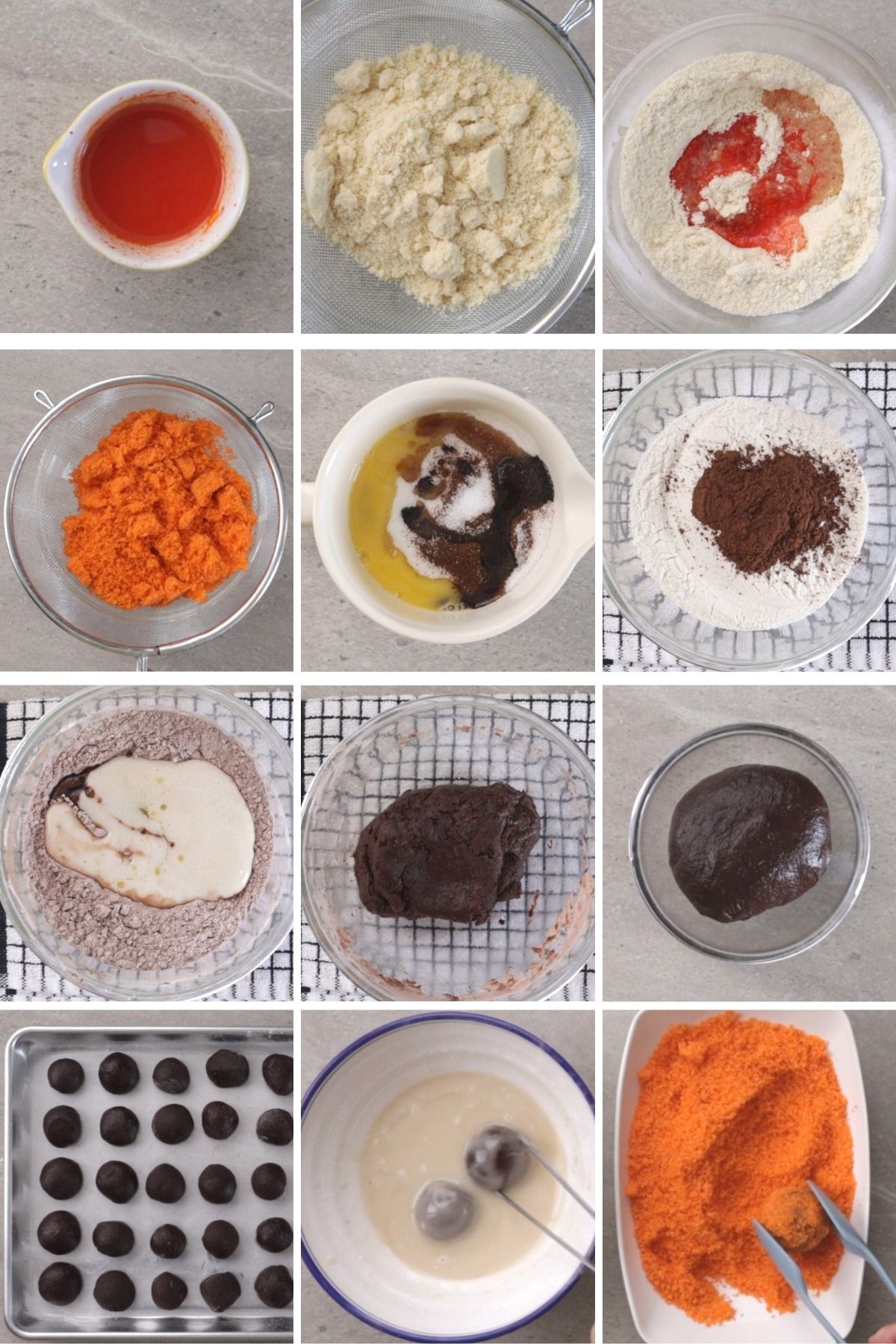 If using active dry yeast, do not forget to "proof" it before using.
This recipe calls for melted butter to make it easier to knead and make a smooth dough.
The dough will be sticky, which is normal. It will firm up and become elastic as you knead it. Lightly grease your hands with oil to keep the dough from sticking to them.
Turn the balls around a few times as they fry for even cooking and to get that perfect round shape.
Let the chocolate balls cool down before coating them with the vanilla glaze. If they are still hot, it will absorb the glaze and make them soggy.
The streusel will clump together once the melted butter is added, this is normal. Just run it through a sieve for finer crumbs. Also, make sure to cover it and place it in a cool, dry place so it will not moisten as you wait for the chocolate balls to cool down.
I used the orange food dye to mimic the bright color of these goodies. However, it is entirely optional and will not affect the taste or texture of the streusel. You can also use a different color if preferred.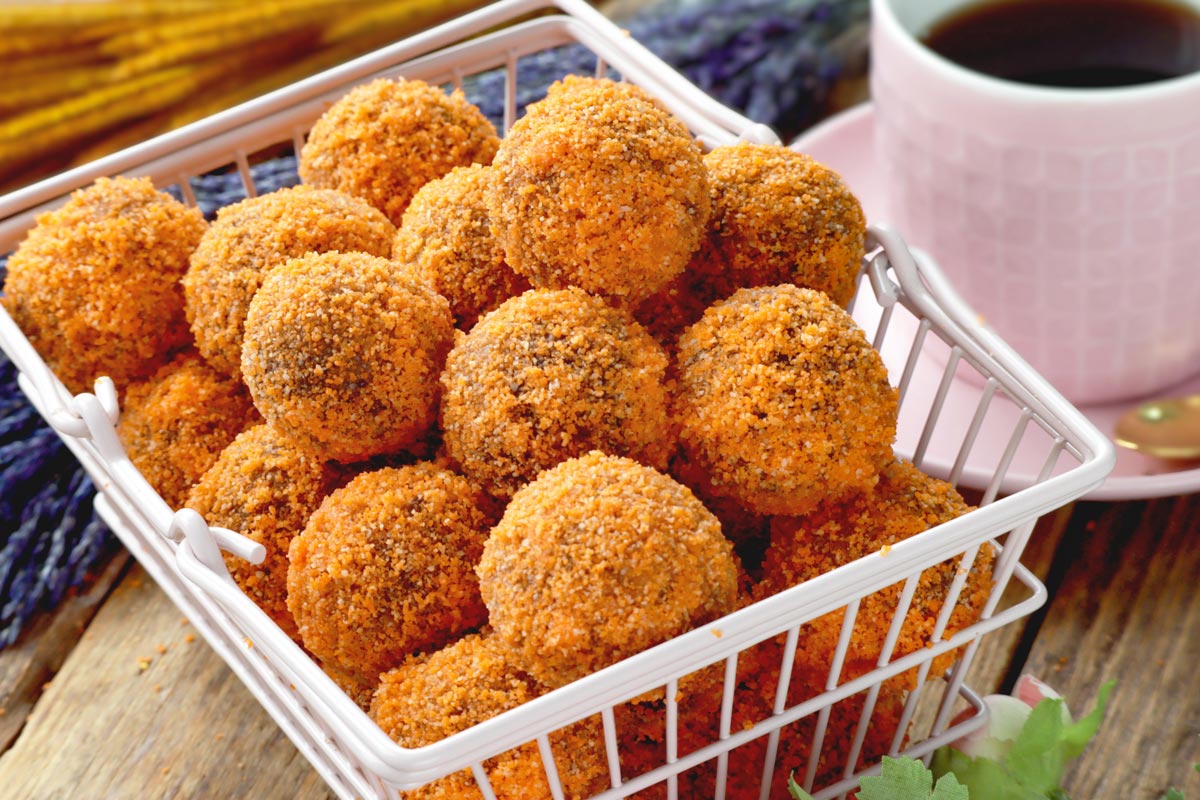 Printable Recipe
Choco Butternut Donut Balls Recipe
Make these Choco Butternut Donuts at home and enjoy this childhood classic without using an oven. They are the perfect sweet treats that kids and adults will surely enjoy!
Ingredients
DRY INGREDIENTS:
1.5

cup

bread flour

3

Tablespoons

Dutch-process cocoa powder

1

teaspoon

instant yeast

4

Tablespoons

lukewarm water

1

Tablespoon

unsalted butter

melted

1

small

egg

½

cup

granulated sugar

1

teaspoon

strong coffee

¼

teaspoon

salt

1

teaspoon

vanilla extract

1

teaspoon

brown food color

vegetable oil

for frying
BUTTERNUT STREUSEL:
1

cup

almond flour

others use desiccated coconut

¼

cup

powdered sugar

⅛

teaspoon

salt

¼

cup

margarine or butter

melted

Orange food color
Instructions
Make the streusel:
1 cup almond flour,

¼ cup powdered sugar,

⅛ teaspoon salt

Sift the almond flour and powdered sugar into a bowl. Add salt and stir until combined.

¼ cup margarine or butter,

Orange food color

In a small bowl, combine melted margarine or butter and a few drops of orange food color. Mix to incorporate, it should be a bit darker orange.

Pour the melted butter into the almond flour and mix until well combined and no more white crumbs appear.
For the Donut Balls:
1 teaspoon instant yeast,

4 Tablespoons lukewarm water

In a small bowl, sprinkle yeast in the lukewarm water and stir.

1 small egg,

½ cup granulated sugar,

1 teaspoon strong coffee,

¼ teaspoon salt,

1 teaspoon vanilla extract,

1 teaspoon brown food color

In another small bowl, add egg, sugar, coffee, salt, brown food color, and vanilla extract. Mix together to moisten dry ingredients

1.5 cup bread flour,

3 Tablespoons Dutch-process cocoa powder,

1 Tablespoon unsalted butter

Combine bread flour and cocoa powder in a mixing bowl. Add the yeast, egg mixture, and melted butter and stir with a wooden bowl to form a dough.

Grease your hands and the surface with some oil and knead the dough until smooth and elastic. Add more oil if too sticky.

Form the dough into a ball and cut it into quarters. Roll each part into a log and cut the dough into 6 equal parts, and shape these into balls. Place the balls on a plate or baking sheet then cover with a tea towel and let it rise for an hour.

In a small pot or deep pan, heat about 3 inches of oil over medium heat. Fry 4-5 balls at a time for about 2-3 minutes turning them 2-3 times in between with a fork or wooden stick.

Using a spider ladle or slotted spoon, remove the balls from the oil and transfer them to an oil dripping rack to remove excess oil.

1 cup powdered sugar,

3 Tablespoons water,

1 teaspoon vanilla extract

While the balls are cooling down, prepare the glaze. In a shallow wide bowl, mix together powdered sugar and water until it forms a glaze. Add vanilla extract and stir until incorporated.

Once the balls have cooled down, place 3-4 balls in the bowl with glaze and turn them around to fully coat. Take a ball and roll it on the orange streusel, pressing lightly to generously cover all sides.

Transfer coated balls into a tray or plate. You may also double coat with glaze and streusel if you like.
Nutrition
Serving:
1
piece
Calories:
97
kcal
Carbohydrates:
14
g
Protein:
2
g
Fat:
4
g
Saturated Fat:
1
g
Polyunsaturated Fat:
1
g
Monounsaturated Fat:
1
g
Trans Fat:
1
g
Cholesterol:
5
mg
Sodium:
48
mg
Potassium:
20
mg
Fiber:
1
g
Sugar:
8
g
Vitamin A:
85
IU
Vitamin C:
1
mg
Calcium:
11
mg
Iron:
1
mg