This Swedish Meatball recipe is one of those recipes that you simply must try. Meaty and juicy meatballs smothered in delectable creamy gravy sauce.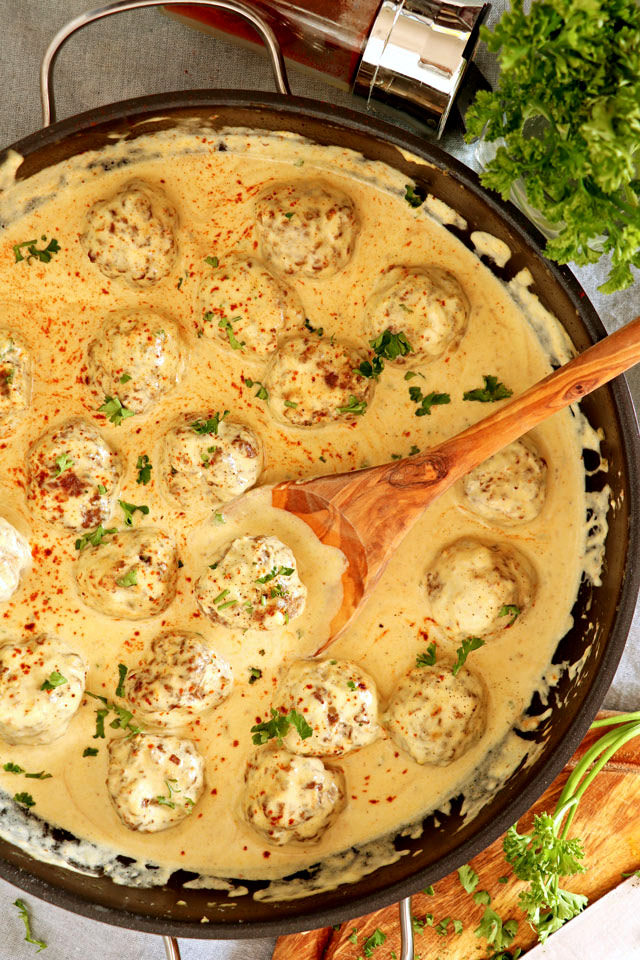 Presumably, these Swedish meatballs are the most popular Swedish dish known around the globe made so by being the signature dish of IKEA's restaurants.
IKEA...the land of my dreams. Yes, I am a (big) fan albeit to Armin's detriment as he hates shopping! Ok to be fair, he hates spending hours shopping! Which tends to be unavoidable once I am inside.
I like their affordable pieces of furniture of Scandinavian design: simple, minimalist and functional. But what I really love are the nifty kitchen (and other) products they have.
My super large wooden chopping board, this glass bowl you see below (I have three of them) and the jars (lots of them in different sizes) too, are just some of the stuff I've collected over the years.
The only thing I do not like about going to IKEA is that it is never without a lot of people. People who are there not only to shop but also to dine and enjoy the Swedish food.
My days spent inside IKEA may be over, well for now at least until the one in Manila is finished (in 2020 so I've heard). Good thing though that I have this Swedish Meatball recipe to remind me of those days.
But for those of you who only go to IKEA for their famous meatballs or to those who are curious to try Swedish Meatballs, you can now enjoy it without going through the labyrinth that is the IKEA or having the usual long queues in their restaurants. Enjoy them at the comfort of your own home.
The Swedish Meatballs is just one of the many foods offered in IKEA, albeit, it is their most renowned dish and the one that a lot of food bloggers and websites write about.
It could be the simplicity of this dish that is satisfying at the same time. I am pretty sure everyone knows how to make meatballs and each one has their own favorite recipe. But I think it is the creamy gravy sauce that makes it unique.
It actually gave me a whole new take on meatballs. I think I've said it many times how Armin loves meatballs. Now, here is another way to serve them and  I love that you can serve it simply with pasta or with rice or mashed potatoes. The crazy thing about it is that it is all done under 30 minutes.
Printable Recipe
Easy Swedish Meatball Recipe
Meaty and juicy meatballs smothered in delectable creamy gravy sauce. These Swedish Meatballs are ready in less than 30 minutes.

Ingredients
MEATBALLS
1

pound

ground beef

¼

cup

panko breadcrumbs

1

tablespoon

parsley

- chopped

1

medium

onion

- chopped

1

teaspoon

garlic powder

¼

teaspoon

ground pepper

½

tablespoon

salt

1

medium

egg
Instructions
Combine all ingredients for the meatballs in a bowl and mix until completely blended. Then roll into 20 meatballs or each about the size of a golf ball.

In a skillet, heat 5 tablespoons of oil over medium heat. Add the meatballs and cook turning continuously until brown on each side and cooked throughout. Transfer to a plate and cover.

In the same skillet with the leftover oil and drippings, add the flour and cook while stirring from time to time for a minute or until brown. Slowly stir in water and cream while constantly stirring. Add the chicken broth cube, dijon mustard and soy sauce. Season with salt if needed and bring to a simmer.

Add back the cooked meatballs and let it simmer for another minute or two or until gravy sauce has thickened.

Serve with rice or pasta noodles or mashed potatoes. You may sprinkle some chopped parsley and paprika powder on top for garnishing.
Nutrition
Calories:
719
kcal
Carbohydrates:
12
g
Protein:
24
g
Fat:
63
g
Saturated Fat:
24
g
Cholesterol:
203
mg
Sodium:
1384
mg
Potassium:
415
mg
Fiber:
0
g
Sugar:
1
g
Vitamin A:
1020
IU
Vitamin C:
3.7
mg
Calcium:
78
mg
Iron:
3
mg