This Pesto Pasta with Tuna is so simple yet so tasty! It is one great way to use canned tuna and turn it into a delectable meal in no time at all.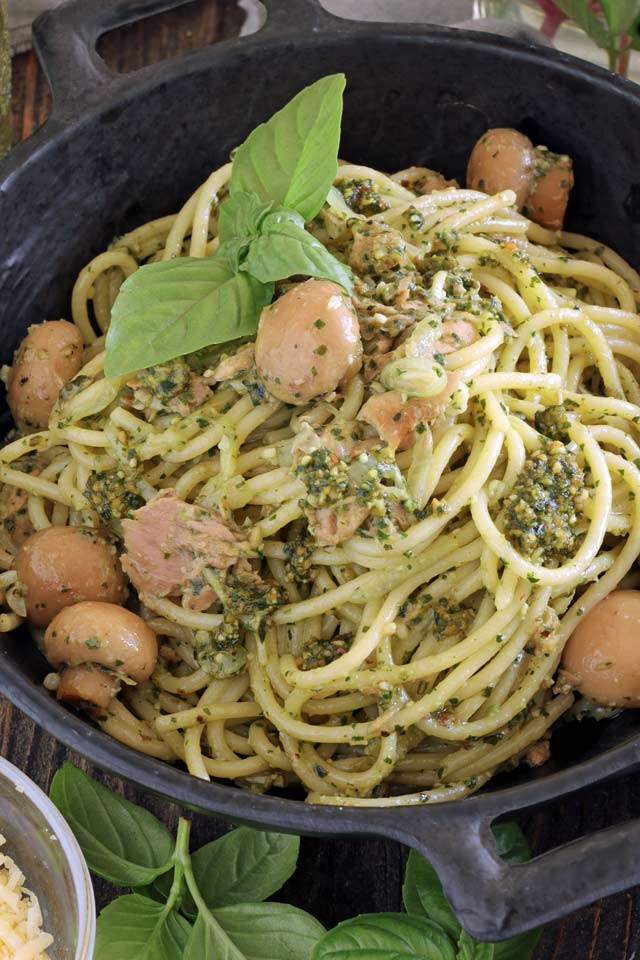 I've been making this simple pesto pasta with tuna for my family for ages and they seem to never get tired of it. My sister, Glenda, even made a variation, Spicy Pesto Tuna Pasta. Well, she simply uses the spicy canned tuna instead of the regular one.
It is one of my go-to dish for last-minute dinner plans. Like when you forgot you invited someone over for lunch or dinner and are totally unprepared for it.  Believe me, they will never know. Especially when they get to try this simple yet restaurant-worthy pasta dish.
Of course, simple pasta tossed in pesto sauce is good in itself. But adding tuna brings in a whole new level of flavor. I also usually add some slices of mushrooms which give the dish some added texture and volume.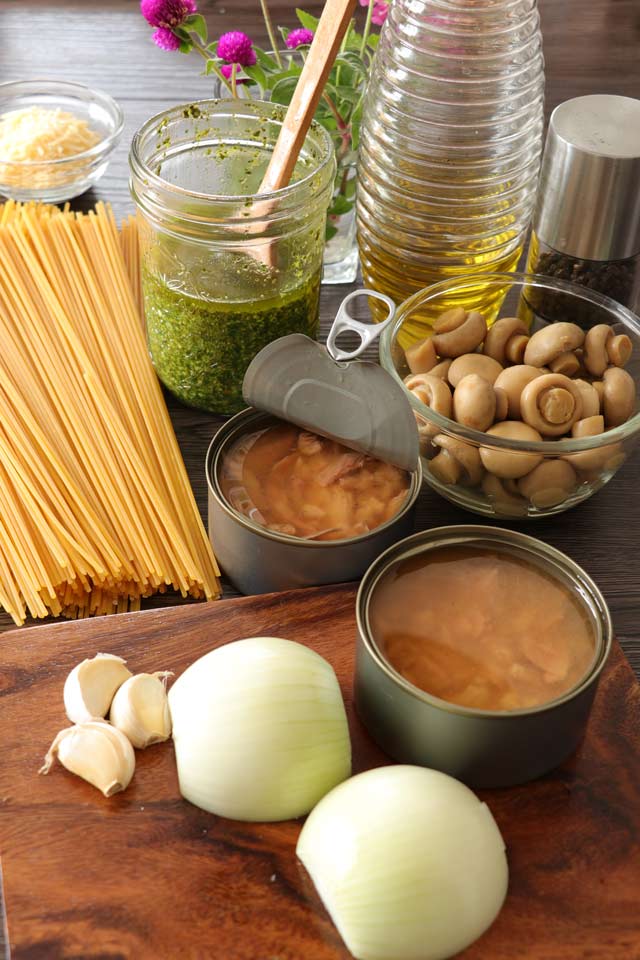 What Pasta goes best with Pesto?
There is really no rights or wrongs when it comes to pairing a cut of pasta to a type of sauce. As long as you like it, then go for it! However, there is a reason why they differ in shapes and sizes.  Some cuts are best for certain kinds of sauces. The thicker or larger shapes do better with richer or more robust sauces. The thinner ones would be perfect for light, cream or oil-based sauces.
Pesto sauce, which is oil-based, is best paired with:
Linguine and Linguine Fini.
Spaghetti, being the most versatile of all, pairs with most any kind of sauces.
Fusilli and Penne work also well with all the nooks and crannies for the sauce to cling to.
Farfalle or bow-tie
Tips for making great Pesto Pasta with Tuna
Don't cook the pasta all the way through when boiling. You will be adding the pasta at the end after cooking the sauce. It is better to boil the pasta just until almost done with a little bite left to it. It will continue to cook in the remaining heat so it can absorb some of the sauce.
You can use Pesto from the jar but freshly made Basil Pesto is the best.
Use canned tuna in oil. It is more flavorful than the one in water or brine.
 You can also use the spicy canned tuna, or just add some bits of chili flakes to spice things up a little.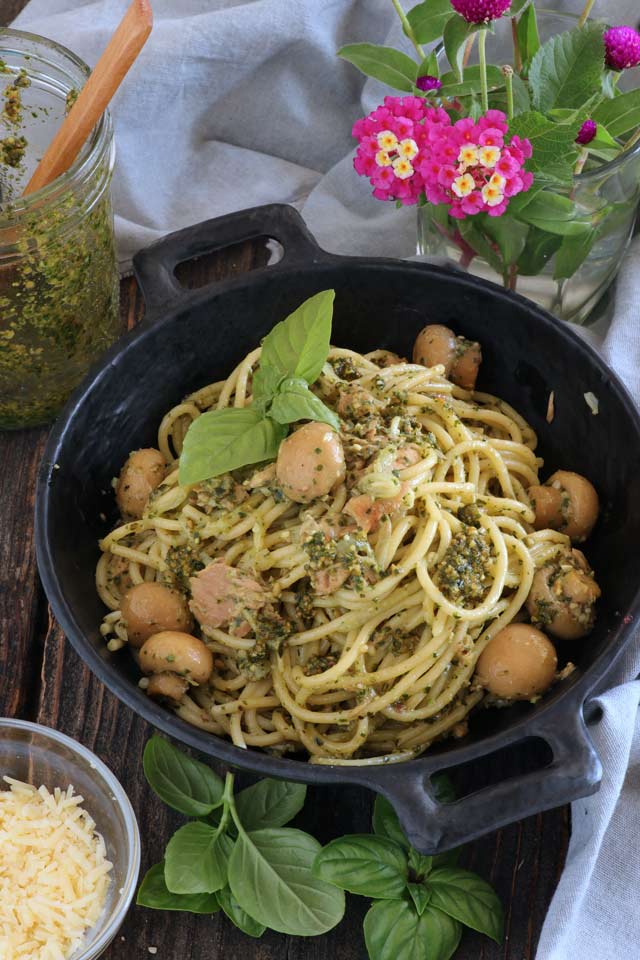 Other Pesto Recipes to try:
Printable Recipe
Pesto Pasta with Tuna
This Pesto Tuna Pasta is so simple yet so tasty! It is one great way to use canned tuna and turn it into a delectable meal in no time at all.
Ingredients
14

oz

dry spaghetti

2

tablespoons

olive oil

1

big

onion

- sliced thinly

3

cloves

garlic

- minced

2

cans (7oz)

tuna in oil

- or 1 12 oz can

1

can (425g)

mushroom

- drained

1

cup

basil pesto sauce

¼

teaspoon

ground pepper

salt

¼

cup

Parmesan cheese
Instructions
Cook spaghetti noodles as per package instruction just until al dente. Drain water and set aside.

Meanwhile, in a large skillet over medium heat, add olive oil. Saute onion and garlic until translucent and aromatic.

Pour in canned tuna including the oil. Stir and cook for 2 minutes. Add the mushrooms and cook for another 2 minutes.

Add basil pesto sauce and season with salt and ground pepper as needed. Cook for another minute and turn the heat off.

Add cooked pasta into the skillet and toss until noodle strands are completely covered with pesto sauce.

Sprinkle with shredded parmesan and serve.
Nutrition
Calories:
466
kcal
Carbohydrates:
53
g
Protein:
12
g
Fat:
22
g
Saturated Fat:
4
g
Cholesterol:
6
mg
Sodium:
458
mg
Potassium:
153
mg
Fiber:
2
g
Sugar:
3
g
Vitamin A:
865
IU
Vitamin C:
0.5
mg
Calcium:
132
mg
Iron:
1.1
mg