There's nothing quite like succulent beef paired with crunchy, mildly sweet bell peppers! This simple Pepper Steak recipe is a great one-pan-dish for days when you need easy but delicious food.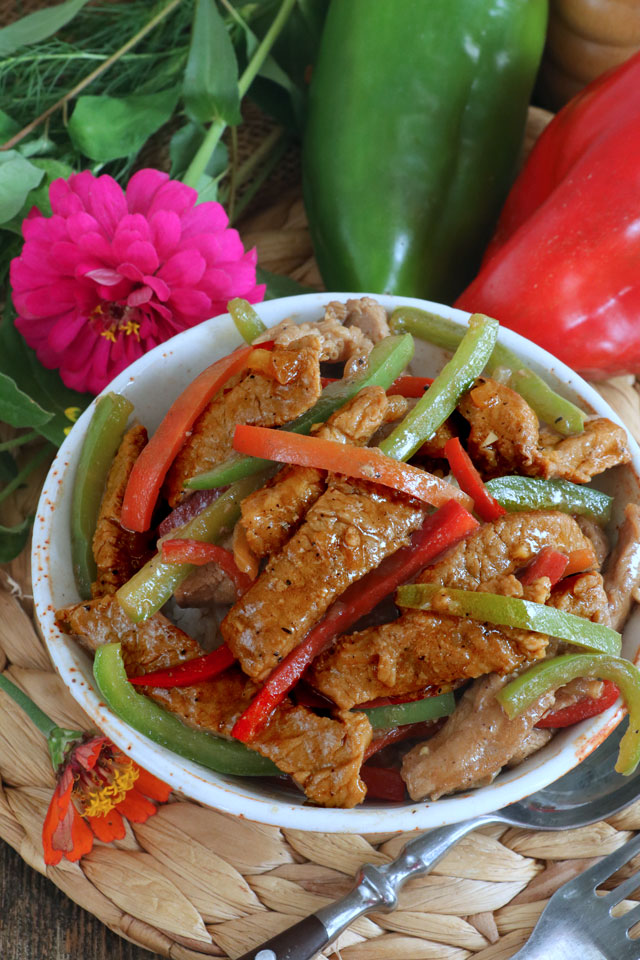 A quick look at bell peppers
Did you know that bell peppers are fruits, not vegetables? They are actually classified as berries! Seems strange, right? We always see them in the vegetable section in groceries and markets. Though they are scientifically considered fruits, in the culinary world, they are often treated and cooked like a vegetable.
They definitely add to the overall visual appeal of the dish due to their vibrant and sharp colors. But more than just making your dish look appetizing, each color have their own taste palette that elevates the dish even more. They also add more texture to the dish, which is equally important!
The red, orange, and yellow ones have sweet and fruity tones. While the green and purple ones have fresher and slightly tart flavors. It's all about the maturity level of the berries. The green bell peppers are harvested early and are just basically the less ripe version of the other colors. Red being the ripest is the most nutritious while green bell peppers are crispier than most.
Now about the beef...
For this recipe, you can use the tender cuts of beef like ribeye, strip, flat iron, or flank steak. However, if you can get your hands on a good quality sirloin or tenderloin, the better. They take less time to cook as they are very tender. It's also important to cut them into thin slices so the flavor from the slurry gets absorbed quicker.
Foxy tips for a perfect Pepper Steak
[ticon icon="exclamation-circle"] Cooking beef can be tricky sometimes. Even if you get a prime cut which can be expensive, you could ruin them if you do not know how to cook them. The way to keep these cuts of beef tender and juicy is to cook it very quickly over high heat. Never overcook them or they might become dry and chewy.
[ticon icon="exclamation-circle"] Slice the beef against the grain. If this is the first time you heard of this, it simply means to slice the beef perpendicular to the direction of the meat fiber. Doing it this way makes it easier to chew the beef once cooked.
[ticon icon="exclamation-circle"] For easier slicing, you can freeze the meat until it is firm but not rock-hard
[ticon icon="exclamation-circle"] Bell peppers can be eaten raw, so cook them just enough for their flavors to be released but still retain their crispiness and vibrancy.
WANT MORE RECIPES? Subscribe to our newsletter and follow us on Facebook, Pinterest and Instagram for all of the latest updates.
Simple Pepper Steak Recipe
There's nothing quite like succulent beef paired with these crunchy and mildly sweet bell peppers! This Beef and Pepper recipe is a great one-pan-dish for days when you need easy but delicious food.
Print
Rate
INGREDIENTS
1

tablespoon

cornstarch

¼

teaspoon

salt

¼

teaspoon

ground pepper

1

pound

beef tenderloin or sirloin

-

cut into thin slices

2

tablespoons

oil

2-3

cloves

garlic

-

- minced

1

small

onion

-

- coarsely chopped

1

big

red bell pepper

-

- cored, seeded and cut into strips

1

big

green bell pepper

-

- cored, seeded and cut into strips

2

tablespoons

butter

salt and pepper

-

to taste
INSTRUCTIONS
In a bowl, mix together the cornstarch, salt and, pepper. Add the beef slices coating each slice with the cornstarch mix.

In a large pan or wok, heat oil over medium-high heat. Saute garlic and onion until tender and aromatic. Add the bell peppers and cook for 2-3 minutes or just until half cooked. Remove from the pan and set aside.

Turn heat to high. Add butter and the beef strips. Cook for 2-3 minutes just until slightly browned. Do not overcook to keep the meat tender and juicy.

Meanwhile, in a small bowl, mix together water, soy sauce, and 1 teaspoon cornstarch to make a slurry. Pour the mixture to the beef and add back the bell peppers.

Season with salt and pepper as needed. Cook for another minute or so but do not overcook and bell peppers should still be a bit crisp.

Remove from heat and serve on top of rice immediately.
VIDEO
Nutrition Facts
Simple Pepper Steak Recipe
Amount Per Serving
Calories 450
Calories from Fat 333
% Daily Value*
Fat 37g57%
Cholesterol 94mg31%
Sodium 1007mg42%
Potassium 399mg11%
Carbohydrates 5g2%
Protein 22g44%
Vitamin A 175IU4%
Vitamin C 2mg2%
Calcium 17mg2%
Iron 3mg17%
* Percent Daily Values are based on a 2000 calorie diet.
Tried this recipe?
Tell us how it went. Tag us at @foxyfolksy or leave a comment and rating below.
This recipe was originally published in April 2015. Updated in September 2020 to include new photos, more tips, and a recipe video.