Whip up your very own bavarian donut with a soft and pillowy exterior and vanilla-cream filling that is an absolute delight! These Bavarian Cream Doughnuts are delicious as a dessert or an all-day snack.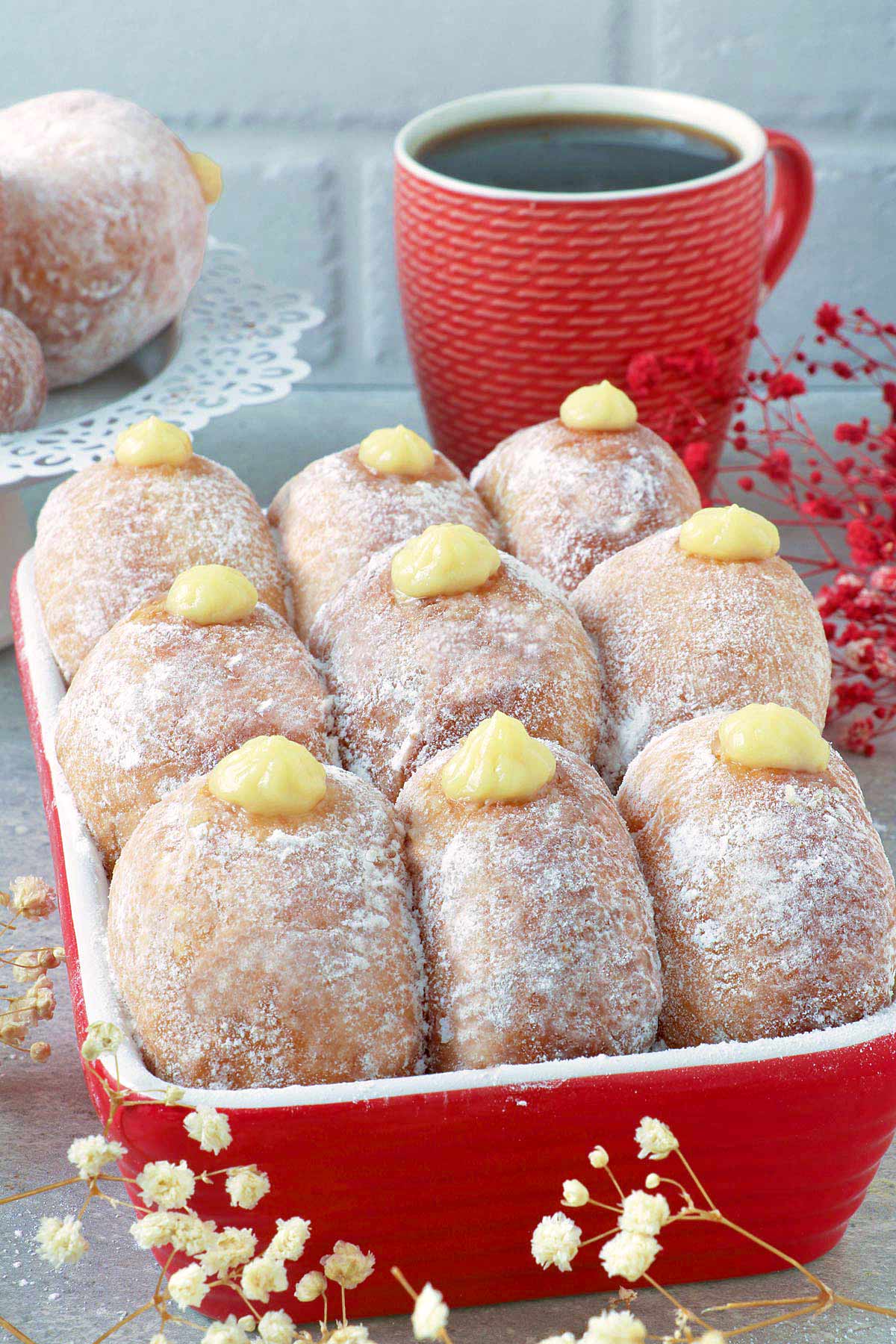 Jump to:
What is a Bavarian donut?
Bavarian donut is a type of a filled doughnut that is made with soft, puffy fried dough with vanilla pastry cream filling and then coated with powdered sugar. The classic German dessert called "Bayrische Creme" or Bavarian cream is actually more like Panna Cotta, made of milk, egg, sugar, cream, and thickened with gelatin and usually molded.
For this recipe we used a simplified vanilla pastry cream . It is so simple that you can easily make it in the comfort of your own home. Kids and adults alike would surely love these homemade treats. It is a delicious dessert or snack, perfect with a hot cup of coffee.
Bavarian Cream Donut vs Boston Cream Donut
While both are made with a yeast-based dough, the bavarian filling is more solid in texture, and the Boston cream filling takes on a creamy texture. Also, Bavarian donuts are coated with powdered sugar while Boston cream donuts are glazed with chocolate frosting.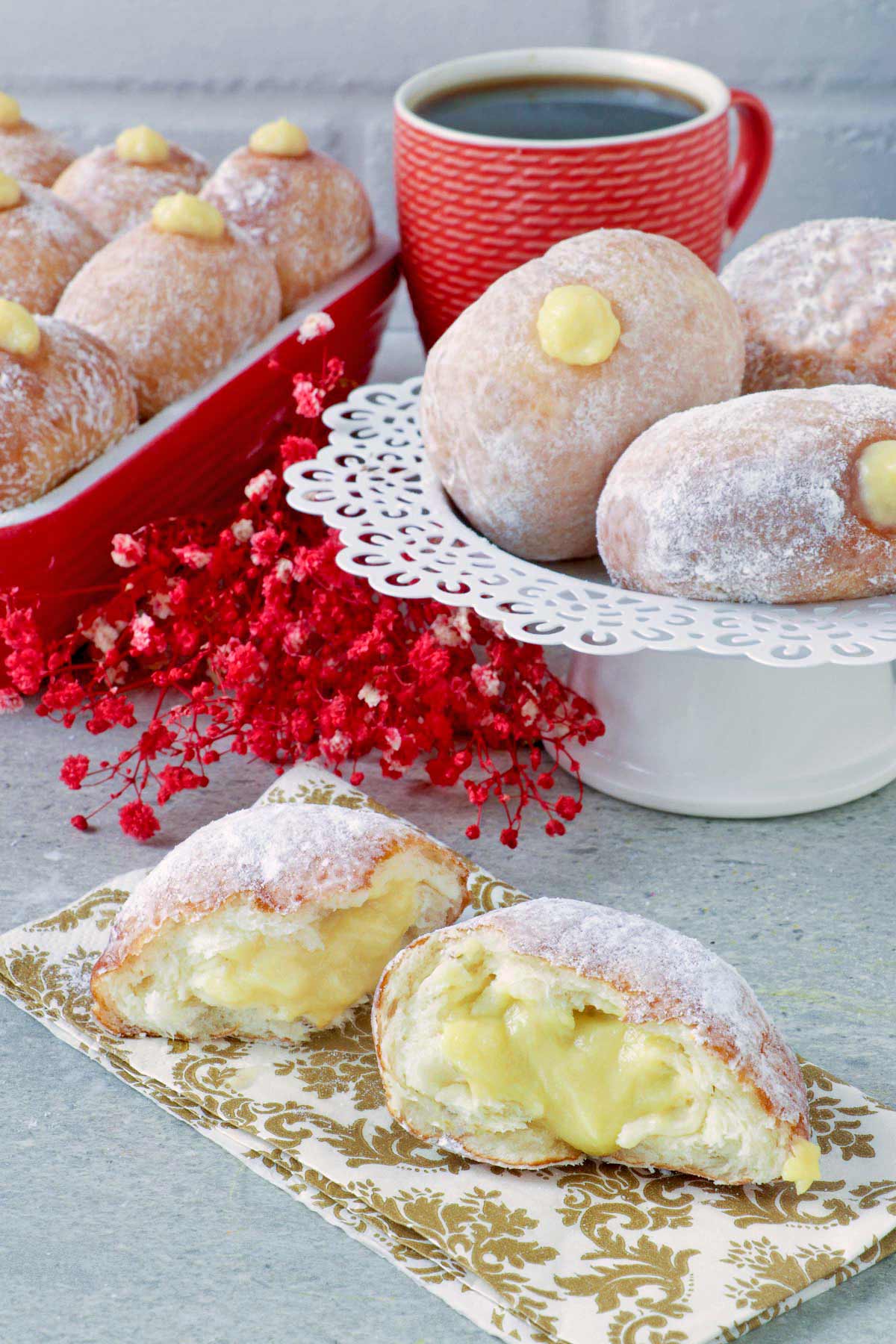 What You'll Need
All-purpose flour or plain flour
White sugar
Salt
Milk - make sure the milk is lukewarm to activate the yeast.
Instant dry yeast does not need to be proofed before adding to the flour. Alternatively, you can use active dry yeast but make sure to proof it first. Yeast should also be at room temperature before use.
Powdered Sugar for coating but if you're out of powdered sugar, you can also use caster sugar.
Cornstarch is optional but since I do not like is used to thicken and stabilize the cream filling.
Egg yolks- Separate the yolks from the whites while the eggs are still cold as they are firmer and less likely to break. Use eggs that are fresh as possible.
Vanilla Extract or you can also use vanilla bean.
Oil - use oils with a high smoking point like canola or corn oil. You can also use peanut or vegetable oil.
Making it without a doughnut cutter
Typically doughnuts are made using a doughnut cutter to form the rings or disks of dough. You can also do this but we opted to use flatted balls of dough.
When you use a cutter, there are the doughs left in between the disks that you do not want to waste. They are usually kneaded and rolled together again to make more donuts. But then the dough gets overkneaded that it pulls back when rolled and will not rise so well anymore.
To avoid this, just divide the dough into smaller pieces depending on how big you want the doughnuts to be. Then shape them into balls and then press to flatten.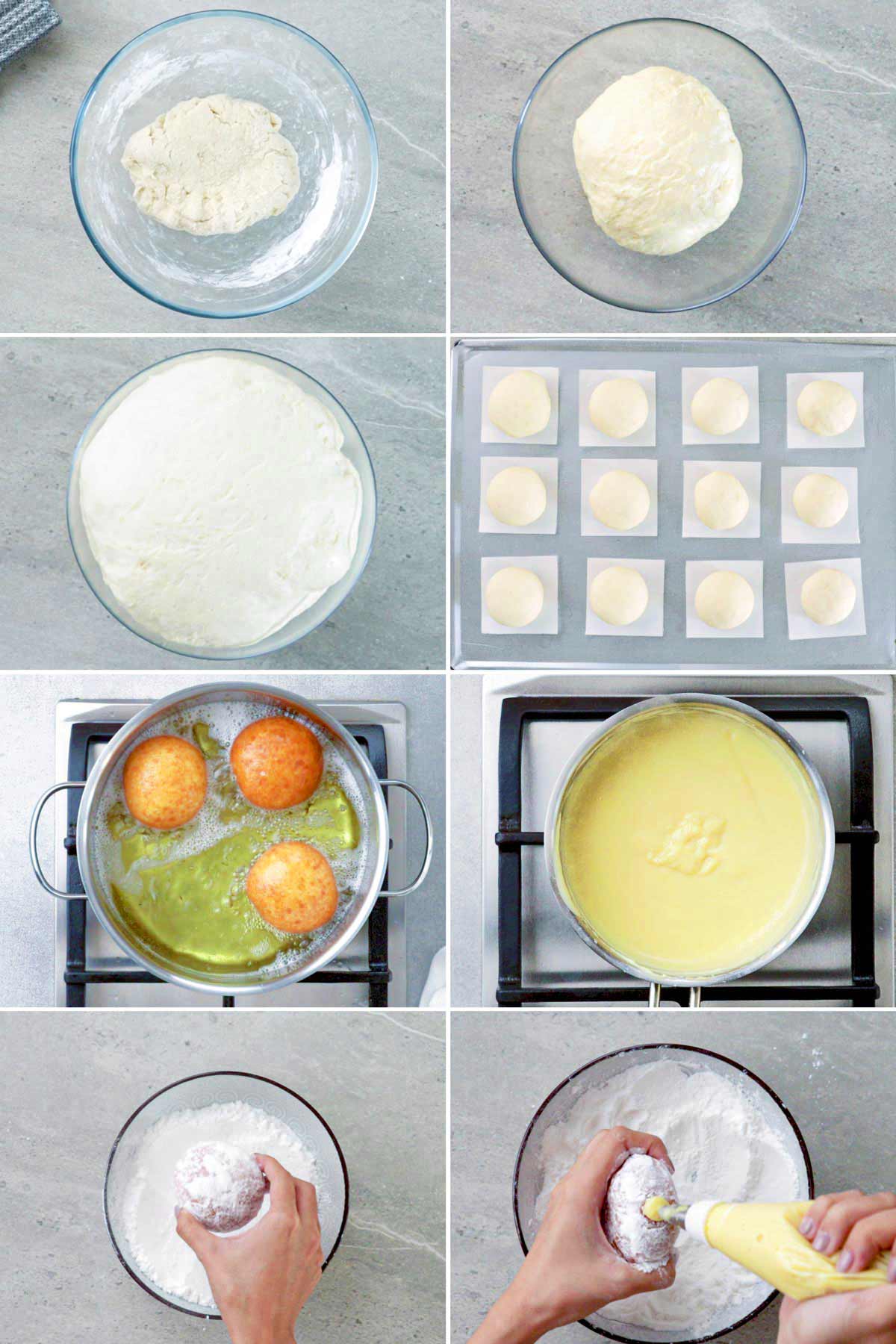 Tips for puffy fried doughnuts
After forming the doughnuts, arrange pieces of small wax or parchment papers on a baking sheet and place a piece of flattened dough on top of each. Make sure you leave enough space in between so they will not stick together as they rise.
Cover the doughs to let them rise the second time. When it is time to fry, gently lift or slide the paper into the hot oil. As the dough fries, the paper will dislodge easily from the dough and you can just remove it.
This way, the well-risen dough does not deflate from the handling while transferring it to the oil.
How to store and reheat?
Place doughnuts in a container with a tight-fitting lid and keep them in the refrigerator for up to 3 days.
To reheat, place the doughnuts on a microwave-safe plate and heat them on high for about 20-30 seconds.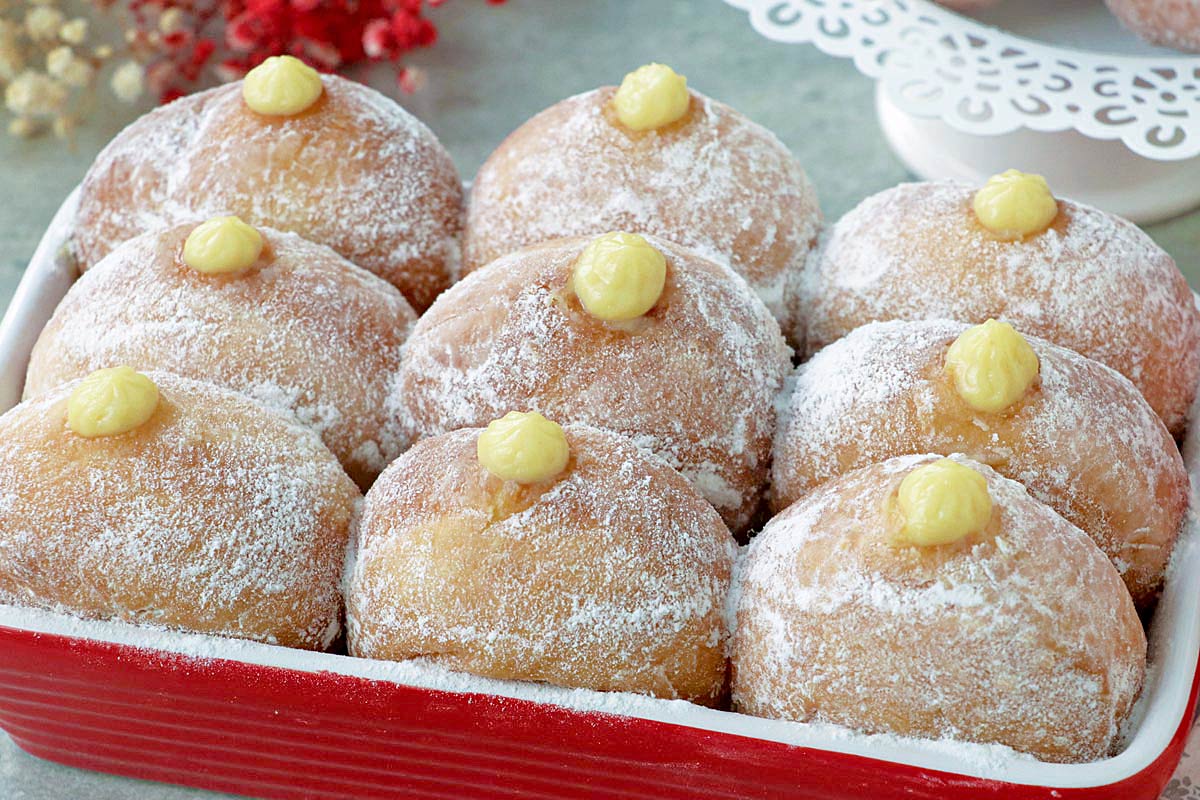 Printable Recipe
Bavarian Cream Donuts
Whip up your very own bavarian-filled donut and skip a trip to your favorite donut shop or bakery. With a soft and pillowy exterior and vanilla-custard filling, it is an absolute delight! These Bavarian Cream Doughnuts are delicious as a dessert or an all-day snack.
Ingredients
3

cups

all purpose flour

¼

cup

white sugar

½

teaspoon

salt

1

cup

milk

lukewarm

1

egg

beaten

2

tablespoon

butter

melted

2

teaspoon

instant dry yeast

2

cups

corn oil or canola oil for frying

½

cup

powdered sugar

¼

cup

cornstarch

optional
Instructions
In a big bowl, mix together flour, sugar, and salt. Make a well in the middle.

Pour in milk, beaten egg and melted butter into the well. Add the instant dry yeast to the liquid pool and stir using a wooden spoon within the well just to hydrate the yeast a bit.

From inside the well, stir outward to mix the dry ingredients to the wet ingredients until a sticky dough forms. Tip the dough on a floured surface and knead until it becomes smooth and elastic, about 8-12 minutes.

Form the dough into a ball and lightly coat with oil. Place it in a bowl and cover with a kitchen towel or plastic wrap and place it in a warm area and let it rise until it doubles in size. Depending how warm it is, it could take 30 minutes to an hour. Meanwhile, cut 16 pieces of 3x3-inch parchment or wax paper.

Punch down the dough and transfer to a lightly floured surface. Divide the dough into 16 equal pieces. Cover the pieces with a damp kitchen towel or plastic wrap so they will not dry out.

Form each piece into a smooth ball then place on a parchment paper. Lightly press it to flatten just a bit. Repeat with the rest of the dough. Cover with a kitchen towel and let them rise again to almost double.

Start to heat the oil in a wide pan over medium heat (160°C-170°C). Oil must be at least 1 ½ -2 inch deep. Fry in 3-4 batches, so it will not be overcrowded. Slide a piece of dough with parchment paper into the oil using a flat spatula or bench scraper. Fry until the bottom part is light golden brown then flip them over, and cook until the color of both sides evens out, around 3-5 minutes per batch. Just remove the parchment paper once it detaches from the dough or after turning it over.

Remove from oil using a strainer spoon and transfer to a baking sheet lined with paper towels. Let them cool down enough to handle.

In a wide bowl, run powdered sugar and cornstarch through a sieve. Set aside.
TO MAKE CREAM FILLING
Warm milk in a saucepan over medium heat until it starts to simmer but do not let it boil. Once it starts to simmer, turn the heat off.

In a bowl, combine sugar and cornstarch and mix. Then add the egg yolks and beat with a whisk until it becomes smooth and lighter in color.

Add ¼ cup of the hot milk and whisk, then, another and whisk again until. Then add the egg mixture to the rest of the hot milk in the saucepan and turn on the heat again to medium. Cook while whisking regularly until it becomes a thick smooth paste. Turn heat off and add the butter and whisk until completely it turns shiny. Add the vanilla extract and mix.

Let it cool down and then transfer to a piping bag with a piping tip.

Roll the fried doughnut in powdered sugar mixture. Then insert a chopstick from the side through the middle going all the way to the three-quarters of the doughnut. Wiggle it inside on the way out to create a cavity for the filling to fill in.

Pipe enough cream filling to fill the cavity created.

Transfer to a serving tray and enjoy.
Nutrition
Calories:
236
kcal
Carbohydrates:
41
g
Protein:
6
g
Fat:
5
g
Saturated Fat:
3
g
Polyunsaturated Fat:
1
g
Monounsaturated Fat:
2
g
Trans Fat:
1
g
Cholesterol:
69
mg
Sodium:
121
mg
Potassium:
117
mg
Fiber:
1
g
Sugar:
19
g
Vitamin A:
229
IU
Vitamin C:
1
mg
Calcium:
68
mg
Iron:
1
mg