If ever there is a cake that is truly Filipino inspired, it would be this! Puto Cake is a bigger, softer, and lighter version of Puto topped with salted eggs and cheese.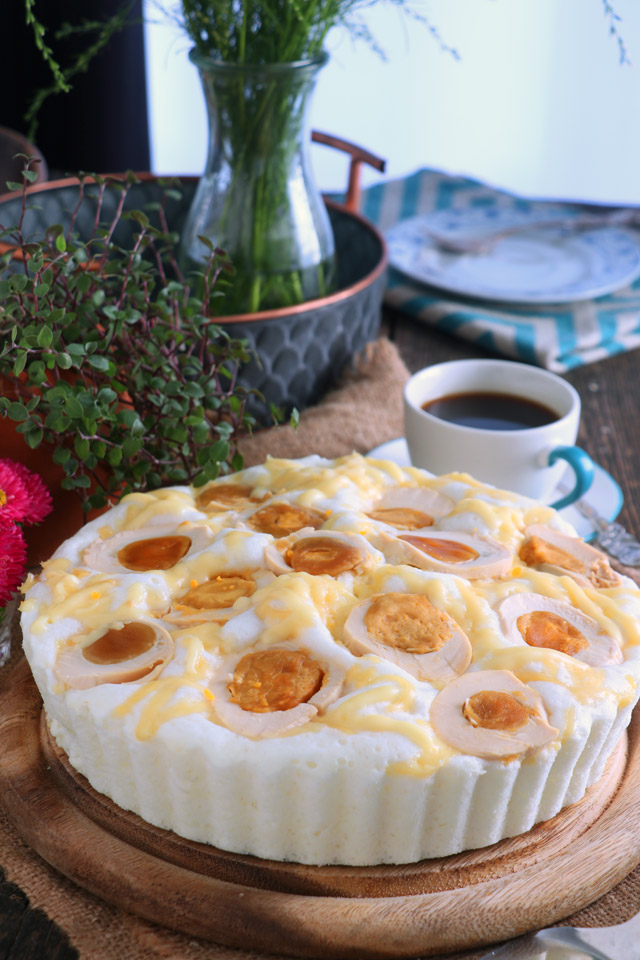 This was such a hit with my family when I shared it with them that it was literally gone after a few minutes only! It was so good, my Papa actually requested this for his birthday cake foregoing the usual ones.
What is it?
Puto Cake is basically a softer, fluffier, and more sizable variation of the traditional steamed rice cake. The taste and texture is literally a cross between a puto and a chiffon cake.
Each bite gives off that mildly sweet flavor from the cake combined with the saltiness and creaminess coming from the salted egg and cheese toppings. It is truly a feast for your senses!
Like regular puto, it is commonly paired with a number of savory dishes, most notably, Dinuguan. Personally, pairing it with Pancit Canton or Pancit Bihon reminds me of the numerous birthday parties and fiestas that I have attended in my childhood.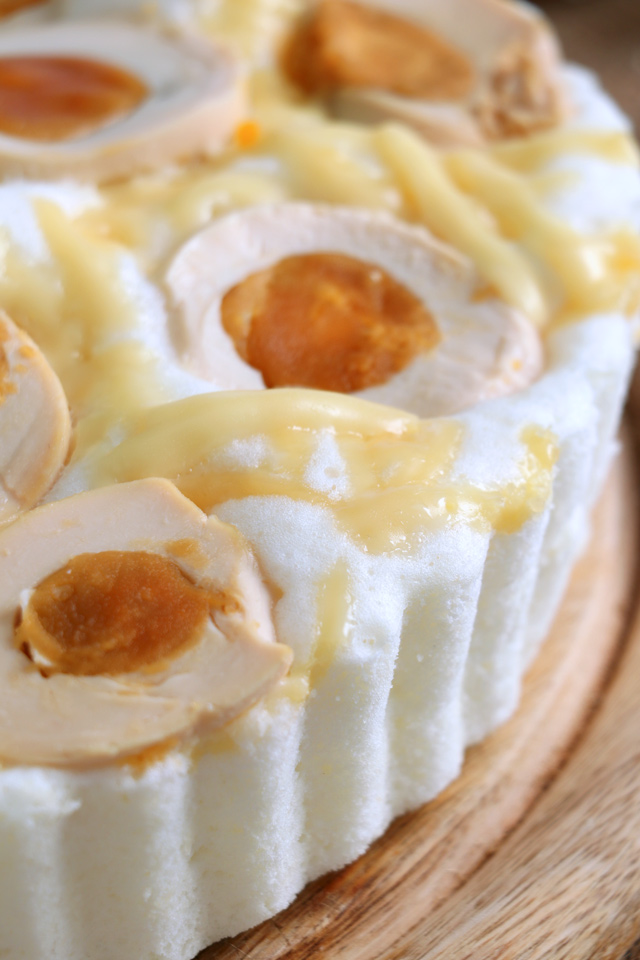 Puto vs Puto Cake
The main differences between a regular Puto and Puto Cake would be their size and texture.
Obviously, puto cake is bigger as you can use either a baking pan or llanera, while the traditional puto uses cupcake like moldings.
Traditional Puto uses "galapong", a slightly fermented rice dough but nowadays, it is much easier to use either rice flour or all-purpose flour. On the other hand, Puto Cake uses cake flour which makes it fluffier and softer, bringing it to that light and airy texture.
This variation also involves making meringue, bringing in another layer of softness and fluffiness to this already soft puto.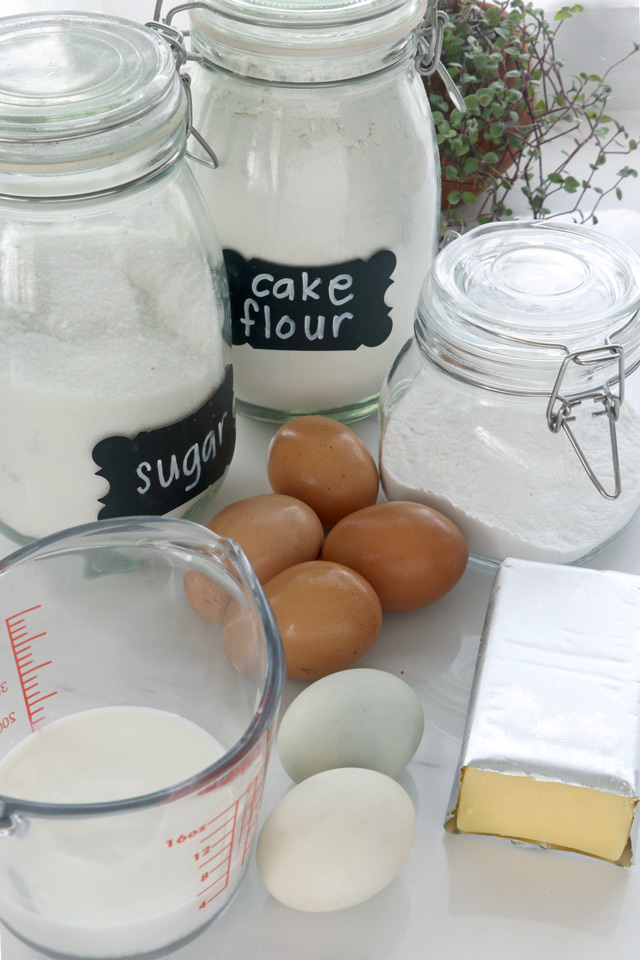 Foxy Tips for you!
This recipe uses a baking pan, however, you can opt to use llanera if you want a smaller sized cake. I advise using parchment paper if using a baking pan, so the Puto does not stick to it.
If you are using a regular metal steamer, make sure to wrap the lid with cheesecloth to prevent the moisture from the steam from dripping on your batter. No need to do this if you are using a bamboo steamer, as the bamboo will absorb the moisture.
It is important to use very low heat when steaming puto to prevent it from forming a dome. Also start with room temperature water. As the temperature slowly rises so will the cake. If the pan heats up too early then the sides will cook and set earlier than the center, thus creating a dome.
To check for doneness, you can use the ever-reliable toothpick test! For those who are not yet familiar with what this is, simply poke a hole in your Puto Cake using a toothpick then slide it out. If it comes out clean, then your Puto Cake is ready to be devoured!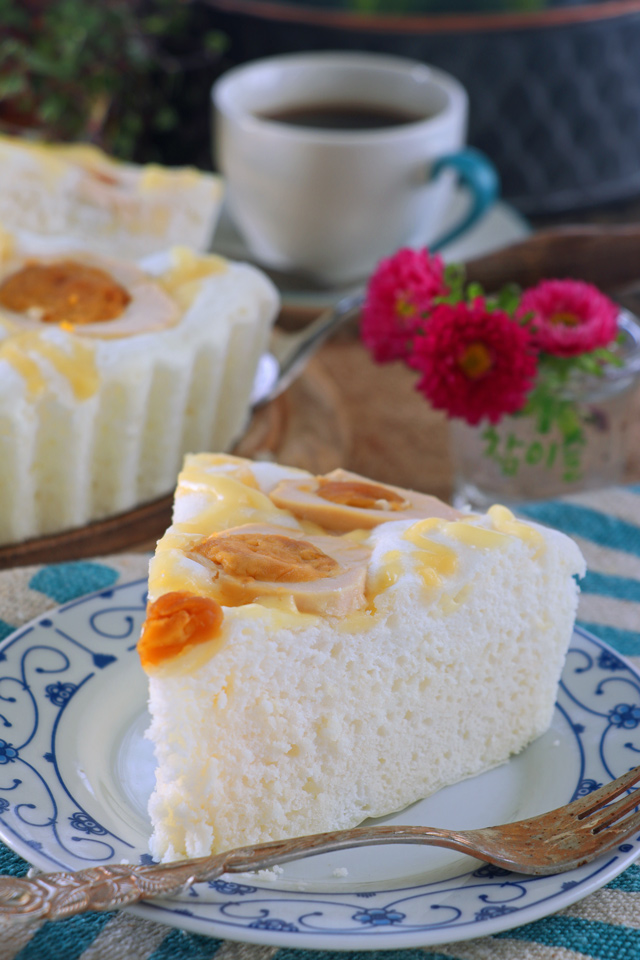 If you still can't get enough of Puto after this big batch, try making these as well: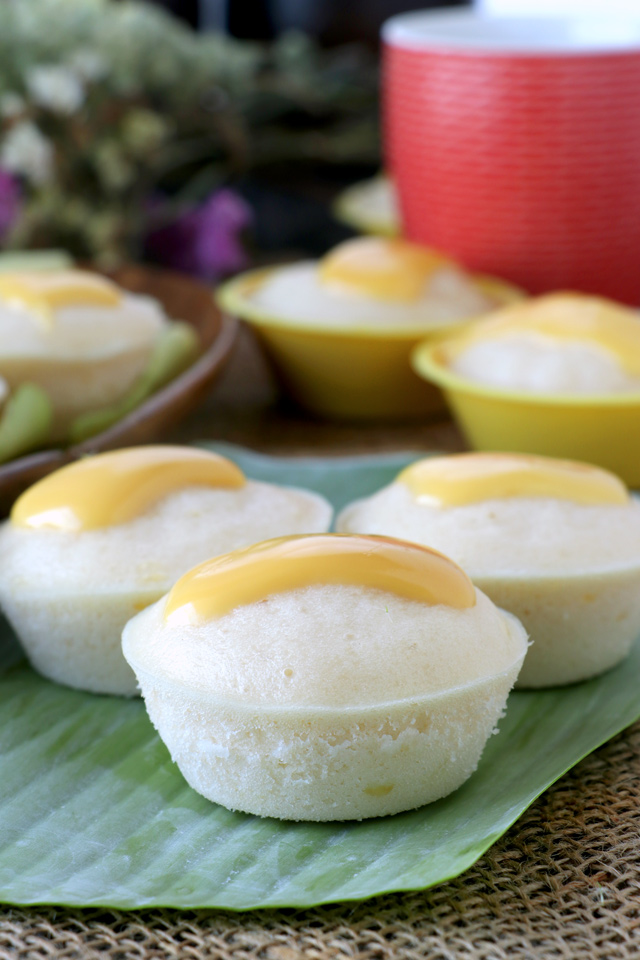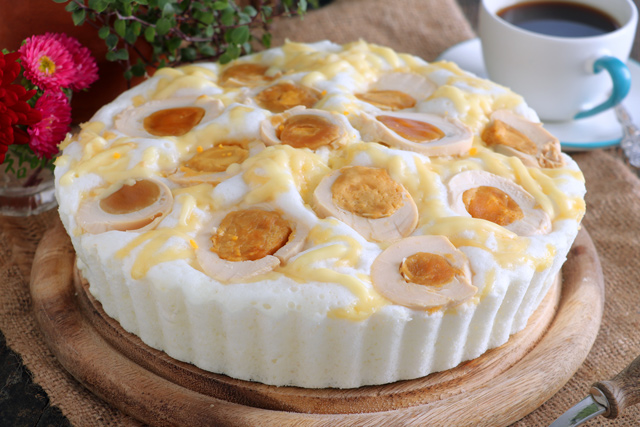 Printable Recipe
Puto Cake
If ever there is a cake that is truly Filipino inspired, it would be this! Puto Cake is a bigger, softer, and lighter version of Puto topped with salted eggs and cheese.
Ingredients
BATTER
1 ½

cup

cake flour

2

teaspoon

baking powder

¼

cup

granulated white sugar

⅔

cup

fresh milk

- or a bit more
Meringue
4

medium

egg white

¼

cup

granulated white sugar

1

teaspoon

cream of tartar

optional
Toppings
2

pieces

salted egg

each cut into thin slices

½

cup

cheese

grated
Instructions
Line the bottom of an 8 or 9-inch round springform or removable bottom pan with parchment paper.

Sift the cake flour, ¼ cup sugar, and baking powder in a big bowl. Set aside.

In a separate big bowl, beat the egg whites at low speed until it becomes bubbly. Add cream of tartar, if using. Continue to beat at low speed until it turns foamy.

While beating, still at low speed, gradually add ¼ cup of sugar. Once all sugar is added, increase speed to medium and beat until medium/firm peaks are formed. Set aside.

Back to the other bowl, add the milk to the dry ingredients and mix well until it reaches a pancake-like consistency. You may need to adjust the amount of milk to achieve this.

Take ¼ of the meringue and add it to the batter. Whisk to lighten the batter so it will not deflate the meringue. Add the rest of the meringue in two to three batches, carefully folding each batch into the batter until well blended. Do not over-fold of the meringue will deflate.

Fill the prepared pan with the batter. Add half of the grated cheese then place it in a steamer basket. Cover with the lid.

Fill the bottom of the steamer with tap water. Place the steamer basket with the batter on top. Turn the heat on and bring the water to a very gentle simmer over very low heat. Steam for 10 minutes.

Remove the lid and add more grated cheese on top. Arrange slices of salted egg as desired. Steam for another 5-10 minutes or until an inserted toothpick comes out clean. Turn off the heat and let it rest and cool down a bit.

Remove from pan and transfer to a serving plate.
Nutrition
Calories:
184
kcal
Carbohydrates:
31
g
Protein:
7
g
Fat:
3
g
Saturated Fat:
2
g
Cholesterol:
10
mg
Sodium:
80
mg
Potassium:
245
mg
Fiber:
1
g
Sugar:
14
g
Vitamin A:
104
IU
Calcium:
121
mg
Iron:
1
mg