Soft as clouds and delicately sweet! This Molotof recipe is, beyond a shadow of a doubt, one of the easiest and simplest baked desserts out there! Make it using only 3 simple ingredients- egg whites, water, and sugar! I bet you can do it right now!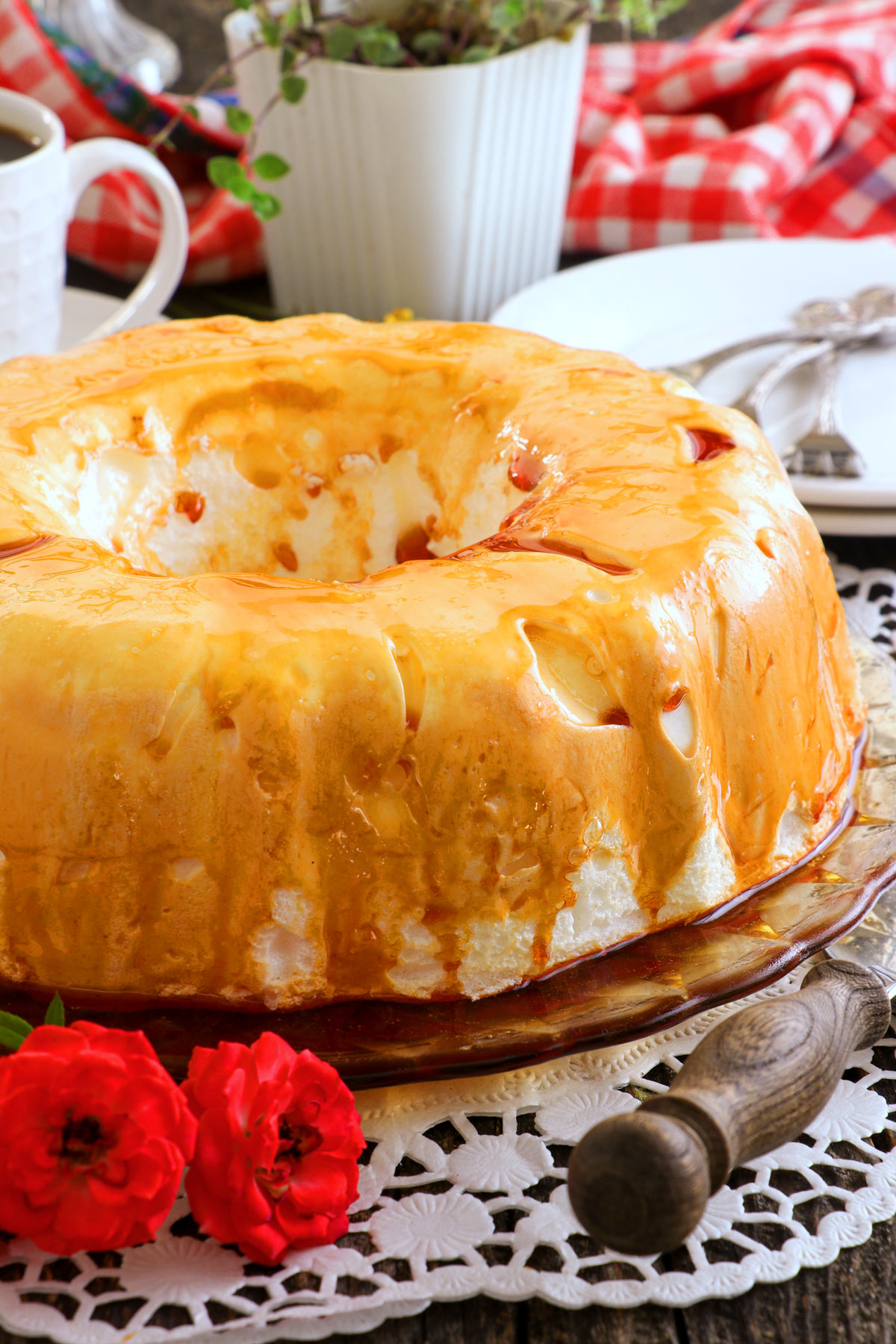 Jump to:
Soft, light, and airy meringue cake slathered with rich caramel syrup! This recipe includes an amazing lemon sauce topping to give that perfect sweet-tangy flavor combination that you will adore!
What is Molotof?
It is a Portuguese dessert also known as Molotof Flan or Pudding, Egg White Pudding, Cloud Cake, or Egg White Cake. It is a meringue-based dessert lined with caramel syrup baked in a water bath. Cooked the same way as Leche Flan, but instead of a custard mixture, you will use meringue. The texture is the same as Brazo de Mercedes minus the custard filling.
Making the meringue puding gave me a lot of eggyolks unused. So I decided to make a yummy lemon sauce adopted from my Lemon Torte recipe. I just love how it instantly elevated this dessert from a simple fluffy sweet cake to a two-toned delightful treat! You can skip the lemon and make Dolce de Ovos instead which is also a common topping for Molotof.
Why make it?
Aside from the obvious reasons, this recipe also comes in very handy when you have some extra eggs white after making a batch of Egg Tarts or Leche Flan or other recipes that call for egg yolks only! If you can't use the egg white right away, I have a great tip on how to make sure you store it for future use here!
Foxy Tips when Making Mofotof
I recommend using a glass or metal bowl when making the meringue. Refrain from using plastic bowls as they can absorb the fat and grease that will hinder or reduce volume when beating the egg whites.
When making the meringue, add the sugar gradually and scatter evenly instead of just dumping them on the egg white mix so you do not deflate the bubbles.
To avoid meringue from deflating after baking, use low to medium speed only when beating until it is silky and shiny. Do not over-beat it.
Always make sure to use a dry and clean bowl and beaters before making your meringue. Any spot of oil or water can prevent stiff peaks from forming.
Use room temperature egg whites. If you are using refrigerated eggs, pull them out at least an hour before using the whites for a better result.
After resting, heat the base of the bundt pan to soften any hardened caramel to make it easier to dislodge it.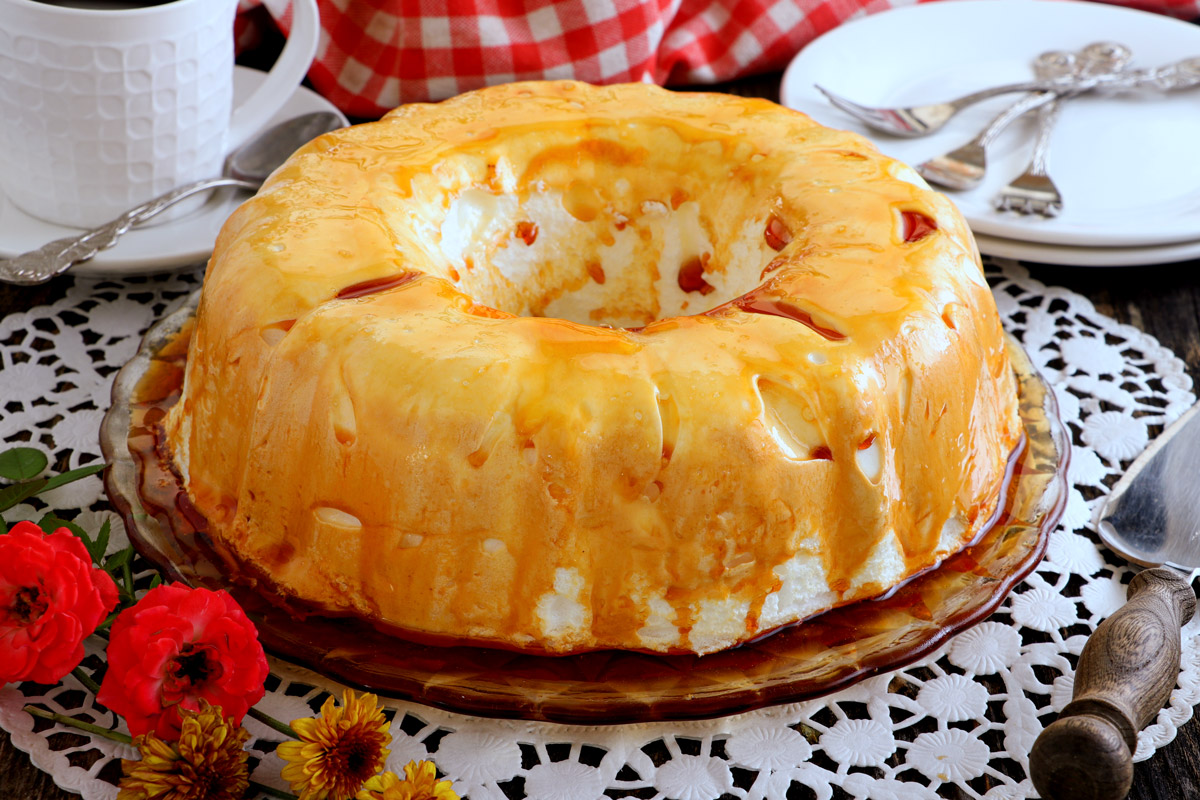 Printable Recipe
Molotof Portuguese Pudding (Cloud Cake)
Soft as clouds and delicately sweet! This Molotof recipe is, beyond a shadow of a doubt, one of the easiest and simplest baked desserts out there! It is made using only 3 simple ingredients- egg whites, water, and sugar! I bet you can make one right now!
Ingredients
CARAMEL SAUCE
1

cup

sugar

2

tablespoon

water
MERINGUE
8

large

Eggs- separate the whites from yolk

1

cup

sugar
OPTIONAL TOPPING:
½

cup

sugar

½

cup

water

8

pieces

egg yolks

slightly beaten

¼

cup

lemon juice

1

teaspoon

grated lemon peel
Instructions
Preheat oven to 180°C/350°F.

To make the caramel syrup, add 1 cup sugar and 2 tablespoon water in a small pan and melt over medium low heat until it turns into liquid. Continue to cook until it turns amber brown while tilting the pan around to prevent it from burning.

Transfer content into a bundt pan. Tilt the pan sideways and turn to cover the bottom of the pan with the sugar caramel. Set aside.

Make meringue. In a large bowl, beat egg white at low speed until soft peaks. Add sugar in 1 tablespoon additions while beating continuously.

Once all sugar is added, increase speed to medium and beat until stiff peaks form.

Transfer the meringue to the bundt pan, tapping it to the counter from time to time to level it.Once the pan is filled, tap or bang it against the counter to release trapped air and to level.

Place the bundt pan on a larger pan or dish and fill that outer pan with hot water halfway up the bundt pan.

Bake in the preheated oven for 15 minutes. Turn off the oven and leave to cool for another 15 minutes. Take out of the oven and water bath and let it cool down for 10 minutes.

OPTIONAL STEP: Heat base of the pan on the stove to loosen any hardened caramel.

Invert in a serving plate.
OPTIONAL TOPPING:
In a saucepan, bring ½ cup of water and ½ cup sugar to a simmer until sugar is melted completely. Bring heat to low and add egg yolks. Cook until it thickens. Turn heat off and add lemon juice and lemon zest and mix.
Nutrition
Calories:
278
kcal
Carbohydrates:
67
g
Protein:
4
g
Fat:
1
g
Saturated Fat:
1
g
Cholesterol:
11
mg
Sodium:
57
mg
Potassium:
65
mg
Fiber:
1
g
Sugar:
66
g
Vitamin A:
15
IU
Vitamin C:
3
mg
Calcium:
6
mg
Iron:
1
mg
More dessert recipes to try