Top off your celebrations with this divine Ube Cake! Soft and fluffy cake with a smooth, ube-flavored cream cheese frosting and covered with velvety ube-flavored crumbs. Festivities would surely be livelier and more colorful with this on your table.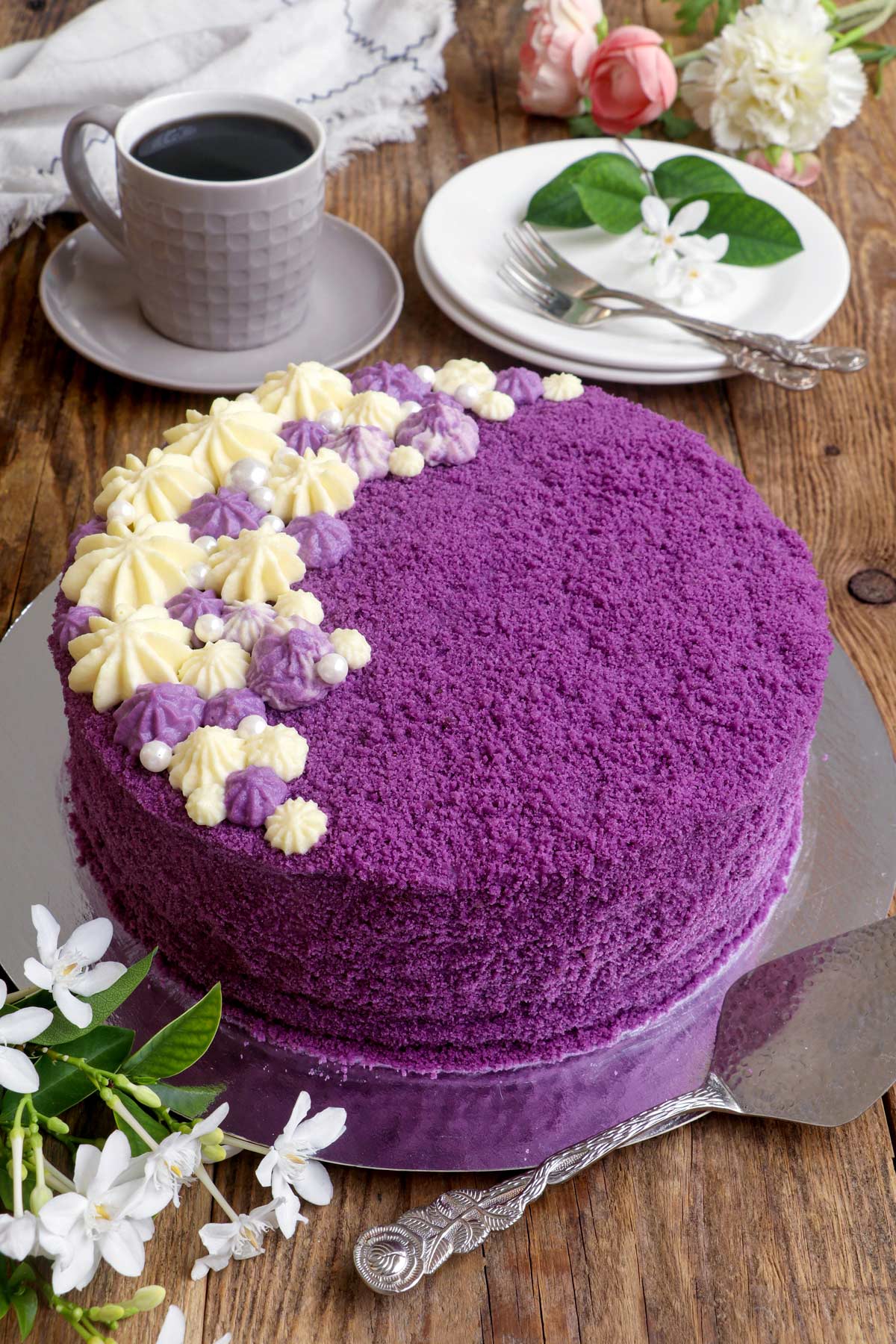 Ube, also known as purple yam or greater yam, is a starchy tuber vegetable known for its vivid violet to bright lavender color. It has a mildly sweet, nutty flavor and an appealing hue, making it a popular ingredient in delicious treats such as  Ube Biko, Sapin sapin, Ube Ice Cream, and this amazing recipe, Ube Cake.
What is an Ube Cake?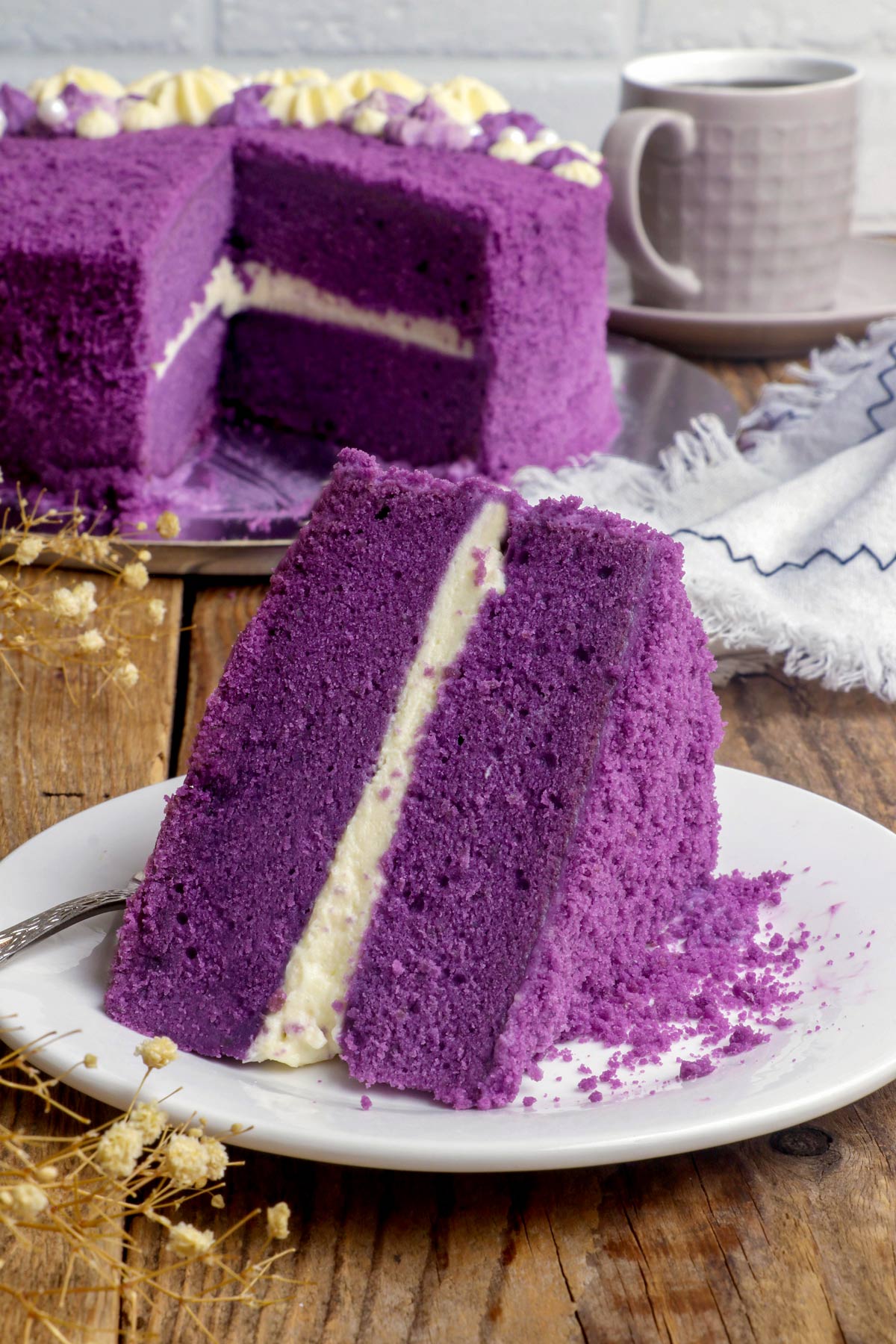 Personally, I think there is no other cake that can represent the Philippines better than Ube Cake. With its vibrant color and unique taste, yet requiring very simple ingredients, it is indeed very apt. It is popularly sold in bakeshops in different shapes and sizes. The traditional bein a round cake, but it is also sold in the form of Swiss-roll and even cupcakes!
About this Ube Cake
Although it is commonly made as a chiffon cake or sponge cake that is flavored with ube flavor, I opted not to follow the norm to make Ube cake. I used my tried and tested basic cake batter in this recipe, which I have used in my Ube Lamington recipe. I also added ube jam or ube halaya for a more natural flavor. I tried to add as much as I can while retaining the fluffiness of the cake and without making the cake too dense. The additional Ube extract has to do the rest.
I highly recommend this cake for a beginner baker or those who do not have so much experience frosting a cake but want to make one that looks elegant.
More Ube-Flavored Treats For you!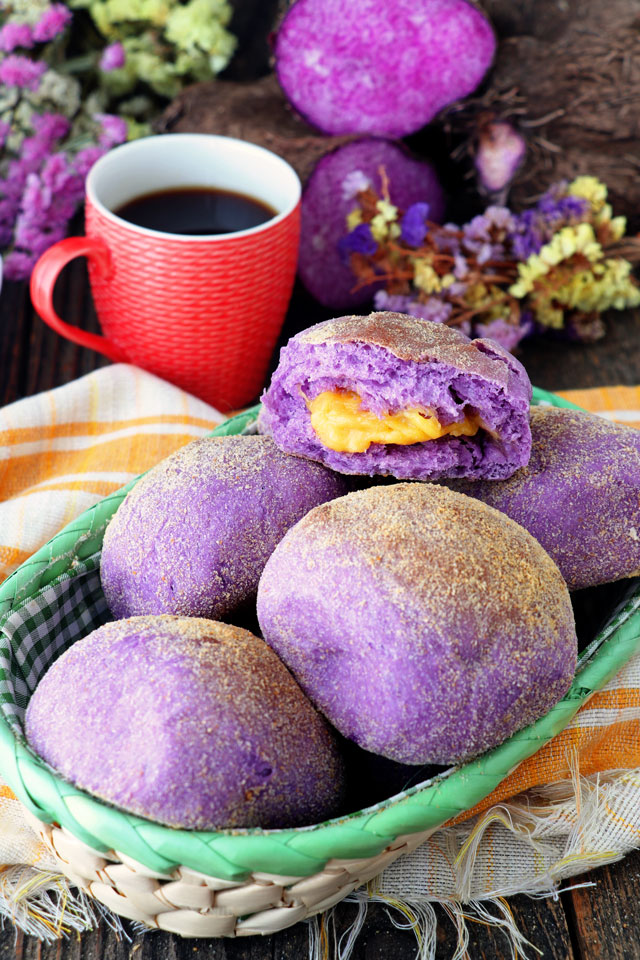 Ingredients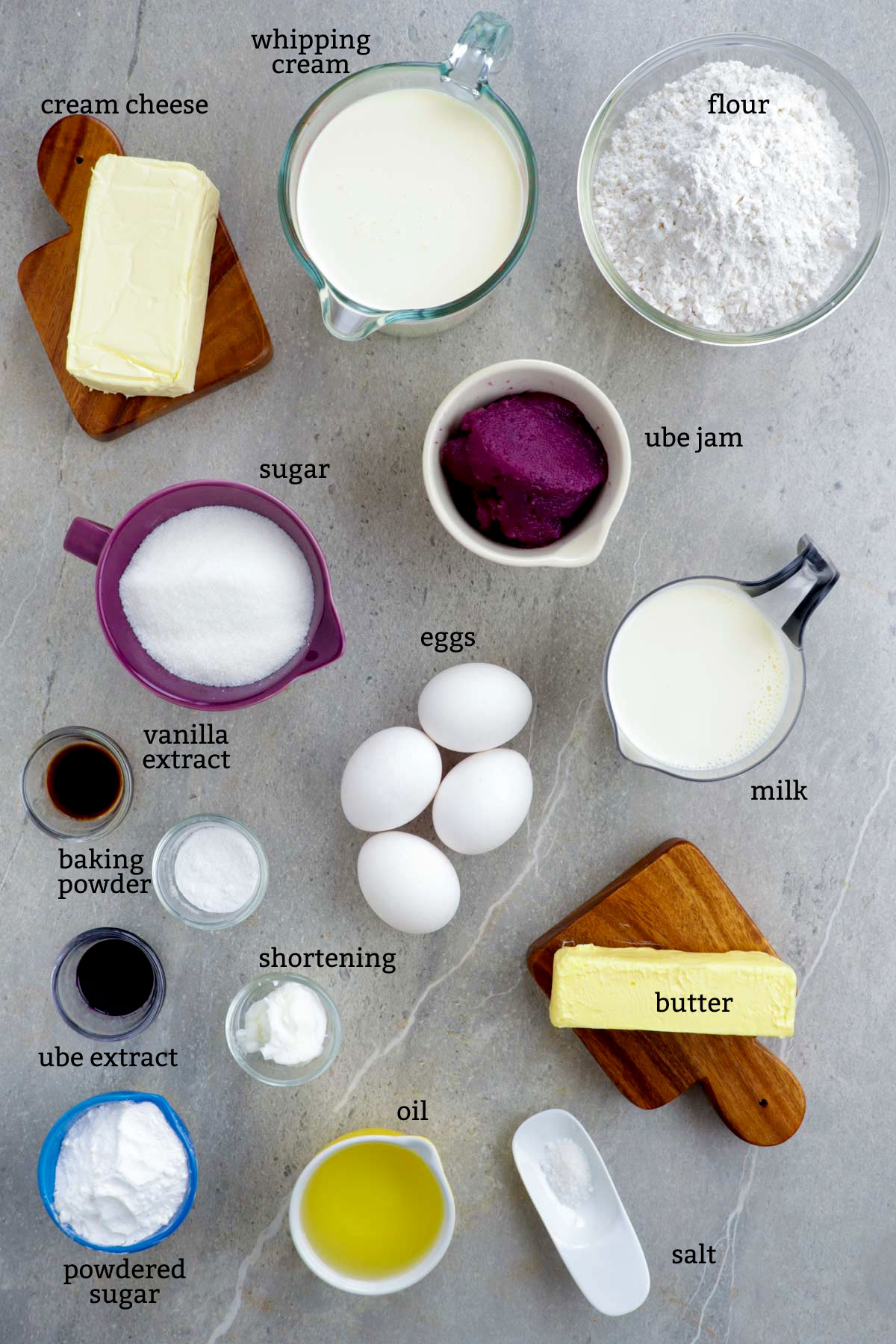 Lard, oil, and flour- the combination of these three ingredients make the perfect pan-release grease. It makes sure that not even a crumb is left in the pan when removing or releasing the cake.
For the Cake Batter:
Butter - makes the cake light and fluffy and adds a buttery flavor.
Vegetable/coconut oil - keeps the cake moist and soft. It also helps the cake rise higher.
Sugar - not only does it provide sweetness and flavor to the cake, but it also helps retain moisture.
Eggs - provide structure, leavening, and richness to the cake.
Vanilla Extract- it imparts a sweet, earthy richness and enhances the other flavors in the cake.
Ube Extract/Color - adds deeper ube flavor and color.
All-purpose Flour- also known as plain flour, is the most common type of flour. Unbleached all-purpose flour is best used for this recipe. If unavailable, you may also use cake flour.
Baking powder - as the leavening agent.
Salt - balances the sweetness of the cake.
Ube Halaya or Jam - a famous dessert or snack from the Philippines made from boiled and mashed purple yam. If unavailable, you may also use ube powder.
For the Frosting:
Cream cheese -  adds a creamy and tangy flavor and allows the frosting to hold its shape better.
Powdered sugar - also called confectioners' sugar. I used this because it dissolves easily and makes a smooth frosting. Alternatively, you may use caster sugar.
Whipping/heavy cream - adds volume to the frosting.
Tips for baking a decadent Ube Cake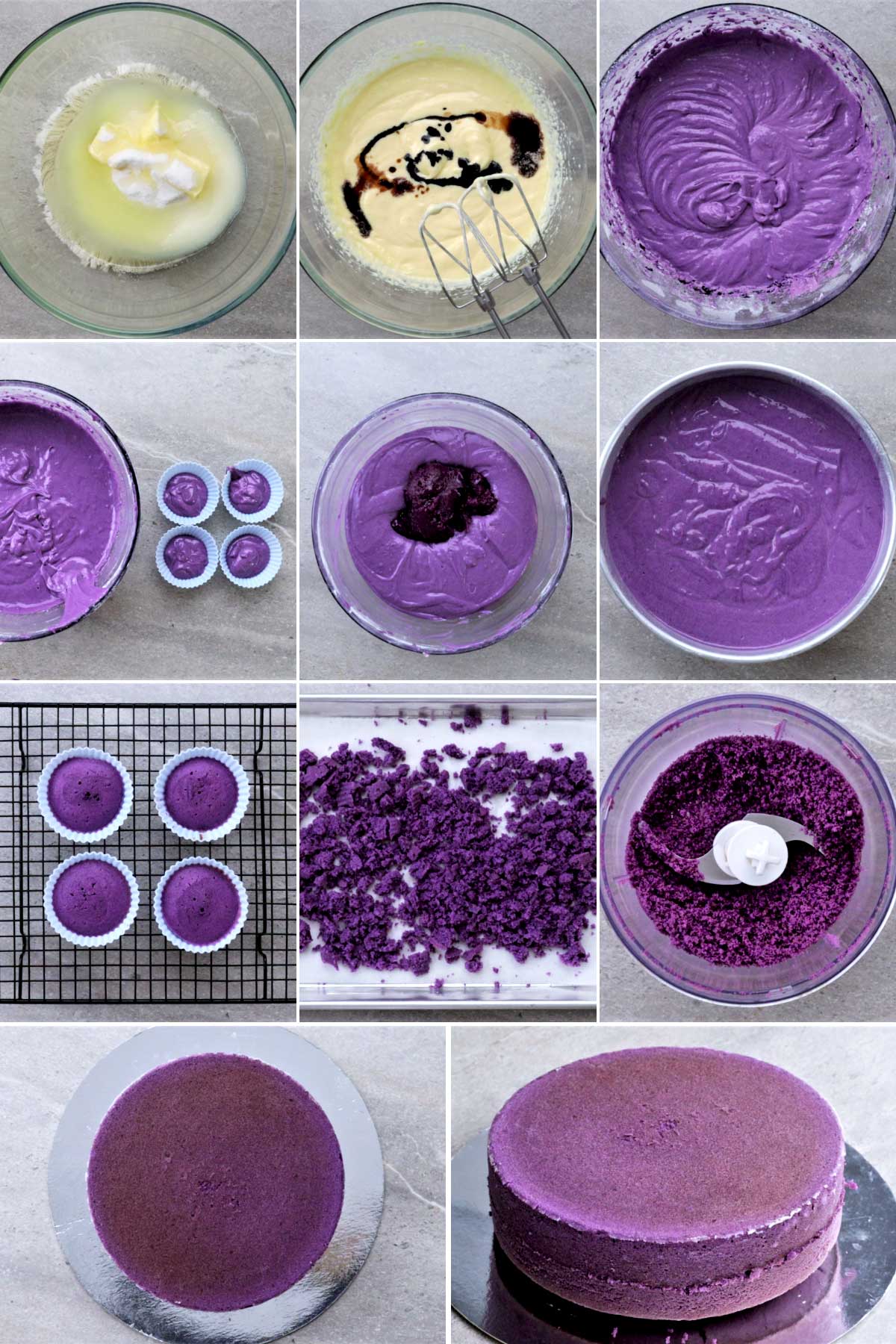 Do not skip using the pan-release grease to make the removal of the cake easier. It also makes a perfectly shaped cake.
Make sure to use room-temperature ingredients when baking. Not only do they blend easily, but they also create a smooth batter.
Overmixing the batter will result in a dense and tough cake rather than a light and fluffy one.
If you plan on using fresh purple yams, boil and mash them before adding them to the cake. I recommend running it through a food processor or blender to prevent lumps in your batter.
Insert a toothpick into the center of the cake to see if it is fully baked. If it comes out clean of sticky batter, it's ready to go.
Make sure your cake has properly cooled or chilled before applying the frosting, lest the frosting won't stay put and the cake may crumble.
Bottled purple yam jams and powders are easily available in Asian stores and supermarkets. If you can't get your hands on some ube jam or powder, you may just use the ube extract.
If you like, you may add macapuno strings to the white cream cheese filling/frosting of your cake. It adds texture and a delicious tropical flavor to your cake.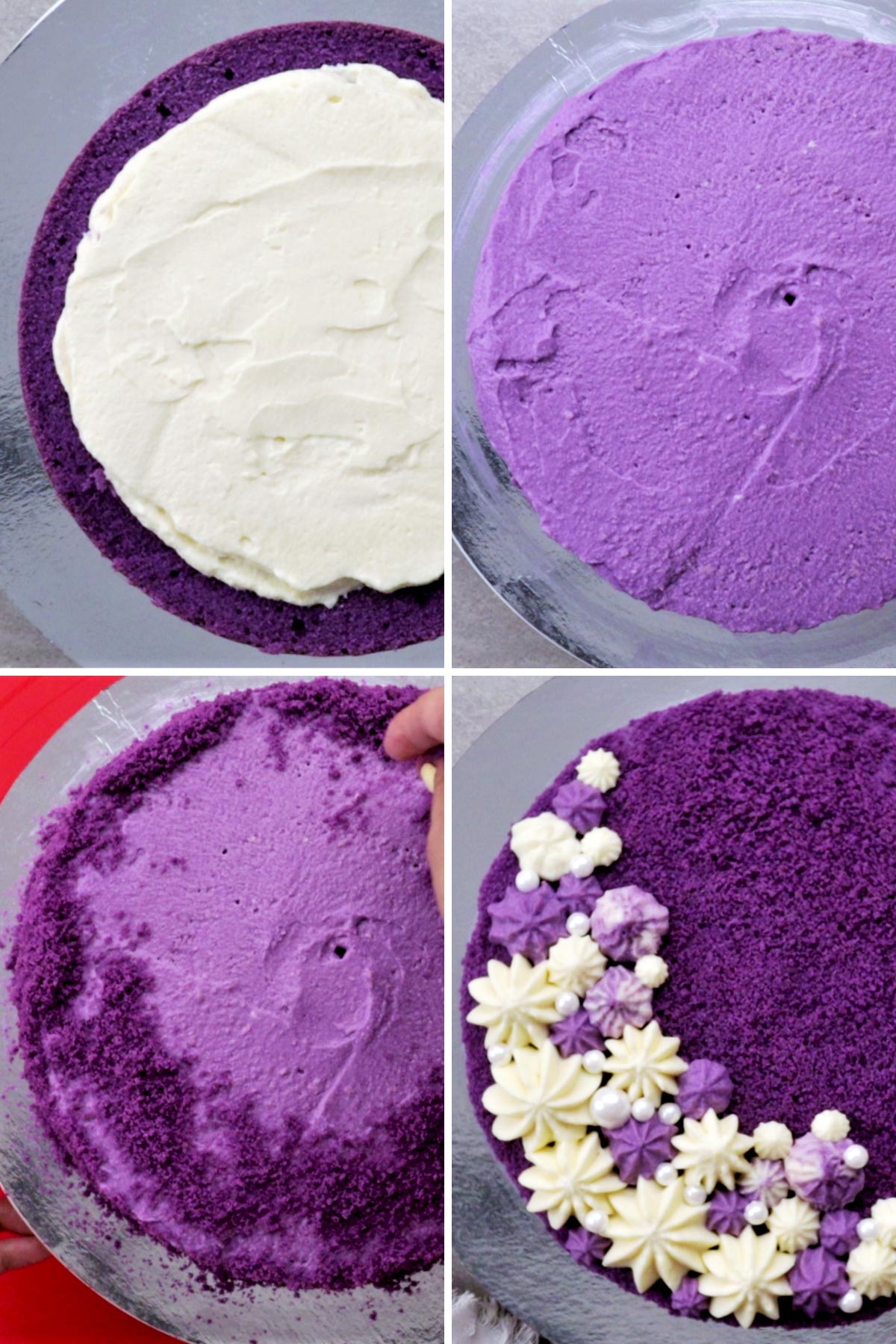 Serving and Storage of Ube Cake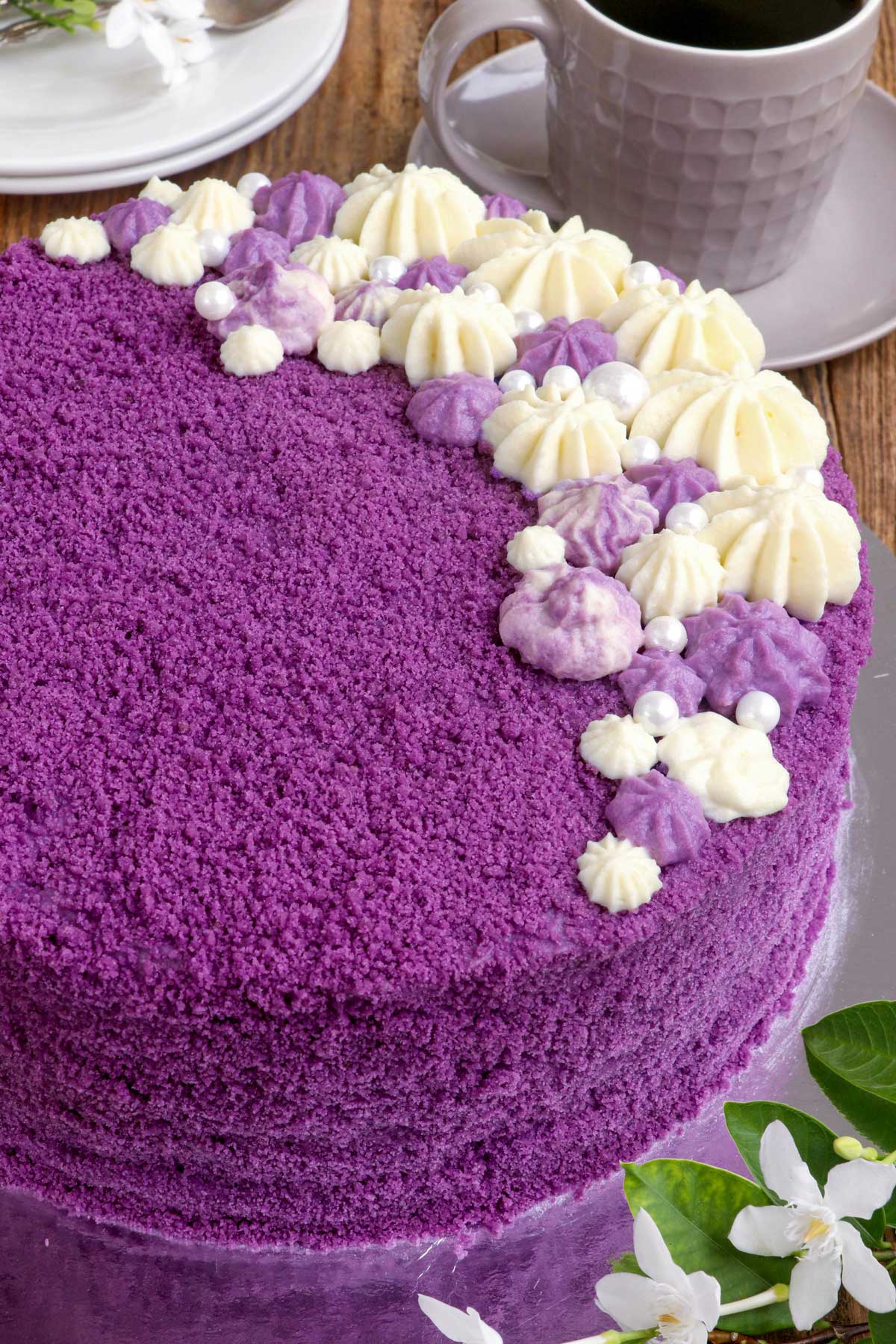 You can enjoy the Ube Cake immediately or chill it for about 20-30 minutes for a firmer cake and frosting. Serve it for dessert or an afternoon snack with a cup of hot coffee or tea.
Since the frosting is with cream cheese and whipped cream, it may not be left in a room that is too warm for too long or it could melt; however, it should be able to handle room temperature for some hours.
Keep leftovers in an airtight container and keep them in the refrigerator for up to 3-5 days. This cake can also be frozen.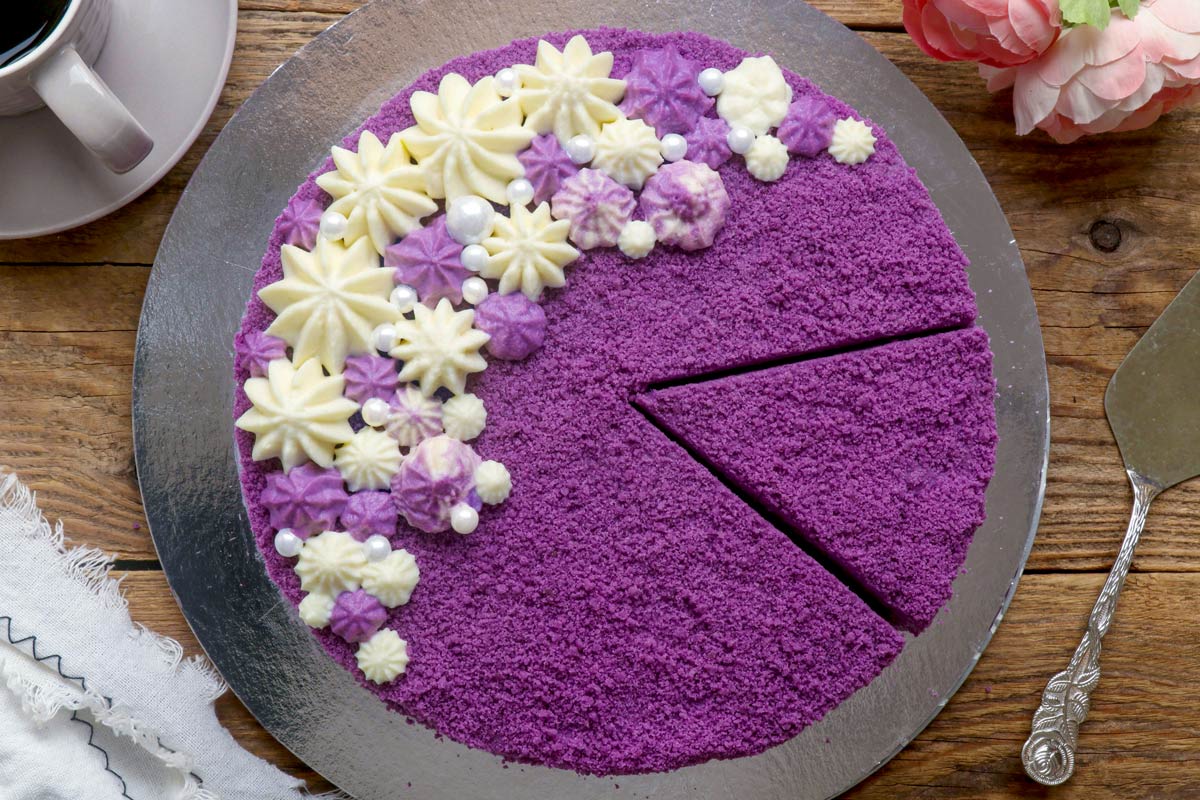 Printable Recipe
Ube Cake Recipe
Top off your celebrations with this heavenly Ube Cake! Soft and fluffy cake blanketed with a velvety tangy, ube-flavored cream cheese frosting and covered with ube-flavored crumbs. Festivities would surely be livelier and more colorful with this on your table.
Ingredients
PAN RELEASE GREASE:
2

tablespoons

lard or shortening

2

tablespoons

oil

2

tablespoons

flour
CAKE BATTER:
½

cup

butter

softened at room temperature

½

cup

vegetable or coconut oil

1

cup

sugar

4

medium

eggs

at room temperature

2

teaspoons

vanilla extract

2

teaspoons

Ube extract/food color

adjust if needed

3

cups

all-purpose flour

3

teaspoons

baking powder

½

teaspoon

salt

1

cup

milk

¾ to 1

cup

ube halaya or jam
FROSTING:
1

pack

200g cream cheese

½

cup

powdered sugar

2

cups

whipping/heavy cream

1

teaspoon

vanilla extract

Drops of ube extract/color
Instructions
2 tablespoons lard or shortening,

2 tablespoons oil,

2 tablespoons flour

Make a pan release grease by combining the ingredients in a small bowl and mix using a whisk or fork until smooth. Grease the bottom and sides of an 8-inch (20 cm) round cake pan that is at least 3-inch high or use 2 pans.

Preheat your oven to 300° F/150°C (conventional settings or no fan).

½ cup butter,

½ cup vegetable or coconut oil,

1 cup sugar

In a mixing bowl, cream butter, oil, and sugar with an electric mixer until light and fluffy (about 2-3 minutes).

4 medium eggs,

2 teaspoons vanilla extract,

2 teaspoons Ube extract/food color

Add the eggs one at a time, mixing them just until well blended after every addition. Then add the vanilla extract and ube food color or extract and mix.

3 cups all-purpose flour,

3 teaspoons baking powder,

½ teaspoon salt,

1 cup milk

Sift in the flour, baking powder, and salt. (Do not mix yet). Pour in the milk on top of the dry ingredients and beat on medium-low speed just until combined. Do not overmix.

¾ to 1 cup ube halaya or jam

Take about ½ cup of the batter and divide into 2 muffin molds lined with cupcake liners. You can also use and small baking dish or mold. Add ube jam to the remaining batter and beat until combined.

Pour the remaining batter into the prepared pan and spread evenly. If using 2 pans then divide the batter equally. Tap the sides and bottom with your hand to let trapped air out, if any.

Bake for 50 mins-1 hour in the preheated oven or until a toothpick inserted in the center comes out clean. If using 2 pans, it might be done in 20-30 minutes. The cupcakes will be done in 20-25 minutes. You can bake them together and just take out the cupcakes 20-25 minutes in.

Let the cupcakes cool down a bit. Remove the liners and break it into chunks or crumbs using your hand. Then spread it on a baking sheet lined with parchment paper.

Once cake is done, remove it from the oven and let it cool in the pan for about 10 minutes before completely removing it from the pan to a cooling rack. Now, put the sheet of crumbs and bake for 15 minutes. Take it out and let it cool down completely. Transfer to a food processor/blender and pulse several times to turn it into fine crumbs.

Once the cake has cooled down enough, cut the cake horizontally in half if using a single pan. Let it cook down completely. Refrigerate if you are in a hurry.
PREPARE THE FROSTING
1 pack,

½ cup powdered sugar,

2 cups whipping/heavy cream,

1 teaspoon vanilla extract

Place the cream cheese and powdered sugar in a large bowl and beat on medium speed until smooth. Turn the mixer down to medium-low speed and pour the heavy cream down the side of the bowl in a very slow and steady stream, stopping every now and then to scrape the bottom and sides of the bowl with a silicone spatula. When all the cream has been added, turn the mixer up to medium-high and whip until the frosting holds stiff peaks. Fold in the vanilla extract, if using, and mix using a spatula.

Take 1 ½ to 2 cups of the frosting and transfer it into a piping bag fitted with a large open star tip.

Drops of ube extract/color

Add some drops of ube flavor/color in the remaining frosting and mix just until blended, it does not have to be completely blended or you might risk over-beating the cream and it will turn into butter. Transfer to a piping bag with a wide, flat tip.
ASSEMBLY
Place the cake plate or cake board, if using, on a cake turntable. Pipe a bit of the purple frosting in the middle to keep the cake glued in position.

Place the top part of the cake, top-side-down, on the center of the plate. Fill it with half of the white frosting from the middle going out. Then place the other half of the cake on top of it, with the nicer, and more even cut side up.

Now, take the ube frosting and cover the sides by piping from the bottom going up while turning the cake around. Cover the top as well. It does not have to be perfect. Take a spatula and smoothen the frosting all over the cake.

Take the cake crumbs and cover the cake completely.

Pipe some rosettes on top from the remaining frosting.
Nutrition
Calories:
765
kcal
Carbohydrates:
81
g
Protein:
12
g
Fat:
45
g
Saturated Fat:
24
g
Polyunsaturated Fat:
4
g
Monounsaturated Fat:
13
g
Trans Fat:
1
g
Cholesterol:
187
mg
Sodium:
308
mg
Potassium:
363
mg
Fiber:
2
g
Sugar:
38
g
Vitamin A:
1479
IU
Vitamin C:
0.4
mg
Calcium:
172
mg
Iron:
3
mg