Ube Champorado is as good as our favorite original chocolate version with a twist! For all the Ube lovers out there! Ideal for breakfast/snack or as dessert!
Everything is about Ube these days.  Ube Ice cream, cakes and desserts and all that, right!? But these are actually old news in the Filipino cuisine. Although the Ube Halaya (Ube Jam) remains to be undefeated as the best thing you can make with Ube, new recipes are being developed all the time.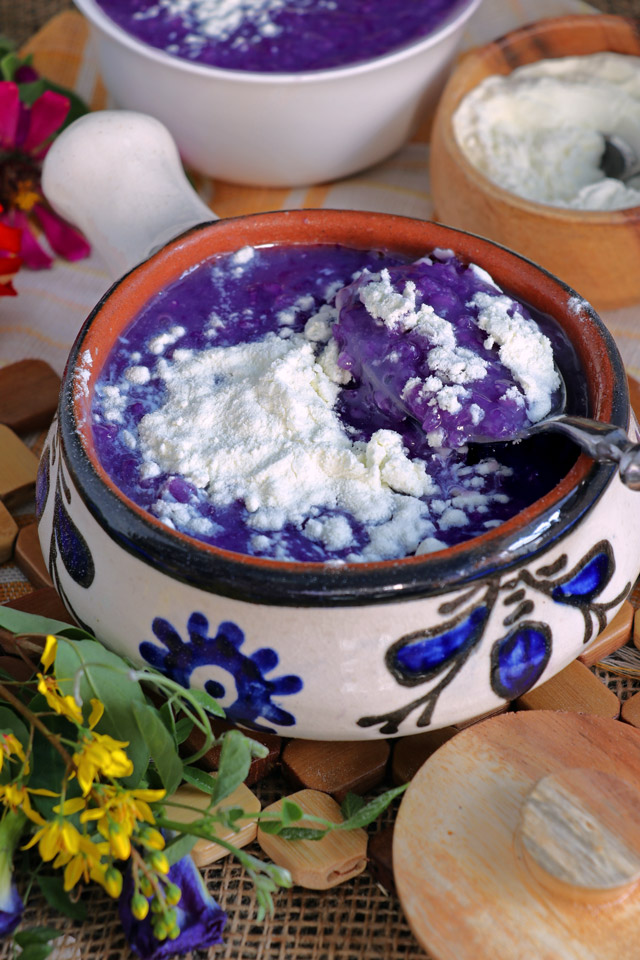 This snack or dessert, however, is not new at all. Champorado is a sweet rice porridge usually eaten as breakfast in the Philippines. It is normally made with glutinous rice and cocoa powder then drizzled with milk. This, however, is not your typical Champorado. It is flavored with Ube(purple yam) and dusted with powdered milk.
We first had a taste of this treat at our favorite local restaurant. They serve it still warm which is very nice and the powdered milk topping is my personal favorite part of it.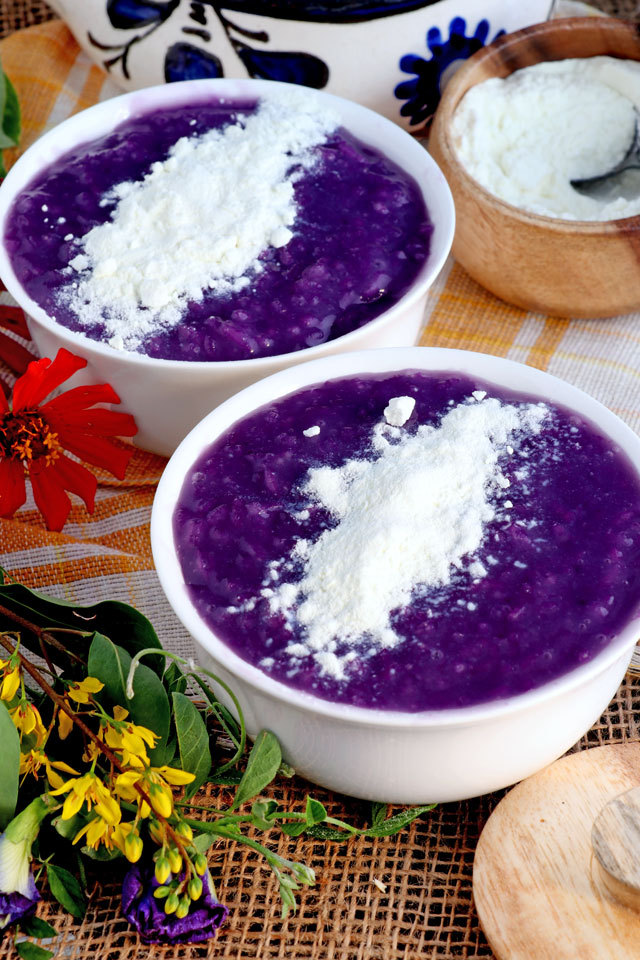 So when I came across this Ube powder in a baking supplies store, this dessert came instantly to mind. I mean, sure we can probably get and use raw Ube tubers. But Champorado is such an easy and no-fuss recipe and it should stay that way. Having to work with fresh Ube will totally ruin that aspect of Champorado for me.
Now I am glad that I tried it! Preparing this Ube variation is nothing much different from the original chocolate version. It is done in no time and I am surprised how good the powdered Ube tasted. I actually used it to make Ube jam and gave some to my mama. She thought it was from fresh tubers.
So for those who is having a difficult time getting their hands on fresh or raw Ube, consider using the powder version.
Printable Recipe
Ube Champorado (Purple Yam Sweet Rice Porridge)
This is not your typical Champorado. It is flavored with Ube(purple yam) and dusted with powdered milk. Perfect for breakfast/snack or as dessert.


Instructions
In a pot over high heat, bring 3 cups of water to boil. Add the glutinous rice and let it cook for 5 minutes, stirring from time to time.

Dissolve ube powder in 1 cup warm water. Pour this mixture into the pot and continue to cook until it gets thicker. Turn heat to medium-low. Add the sugar and stir occasionally to prevent the rice from sticking at the bottom of the pot. Add more water if it gets too thick and the rice is not yet done.

Remove from heat once the glutinous rice is done and the desired consistency is achieved. Note, however, that the glutinous rice will continue to expand and absorb the liquid even after cooking.

Serve Ube Champorado in bowls while still warm dusted with powdered milk on top.
Nutrition
Calories:
376
kcal
Carbohydrates:
83
g
Protein:
5
g
Fat:
2
g
Saturated Fat:
1
g
Cholesterol:
7
mg
Sodium:
46
mg
Potassium:
288
mg
Fiber:
2
g
Sugar:
40
g
Vitamin A:
95
IU
Vitamin C:
3.9
mg
Calcium:
84
mg
Iron:
0.8
mg