Two of the most loved Filipino dessert in one! Puto Flan (or Leche Puto) is a combo of Leche Flan and Puto! Get this easy recipe and try it now!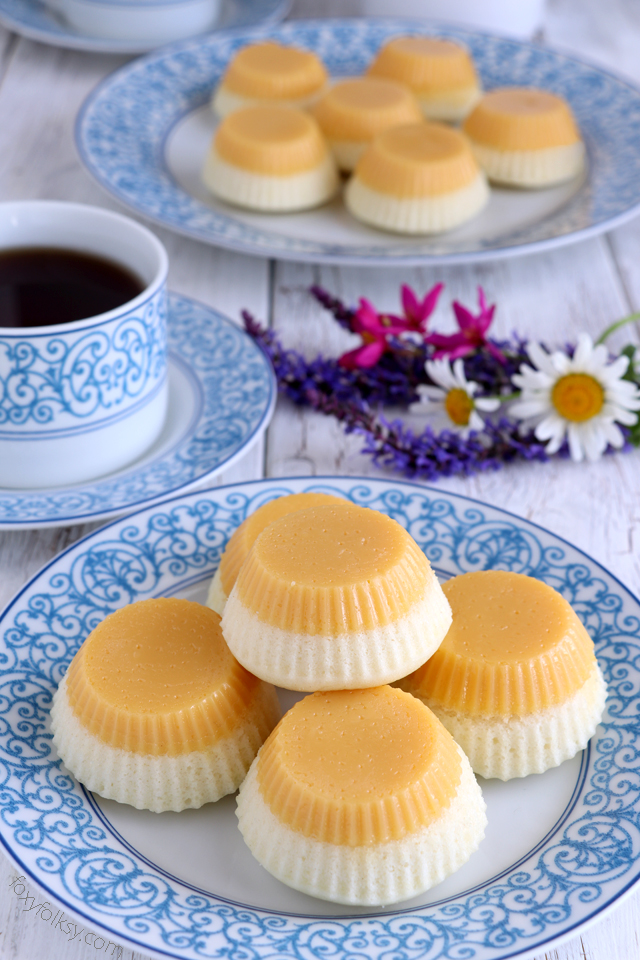 I've made Leche Flan and Puto before but this is actually the first time I made Puto Flan. Whoever thought of combining these two Filipino treats is a genius!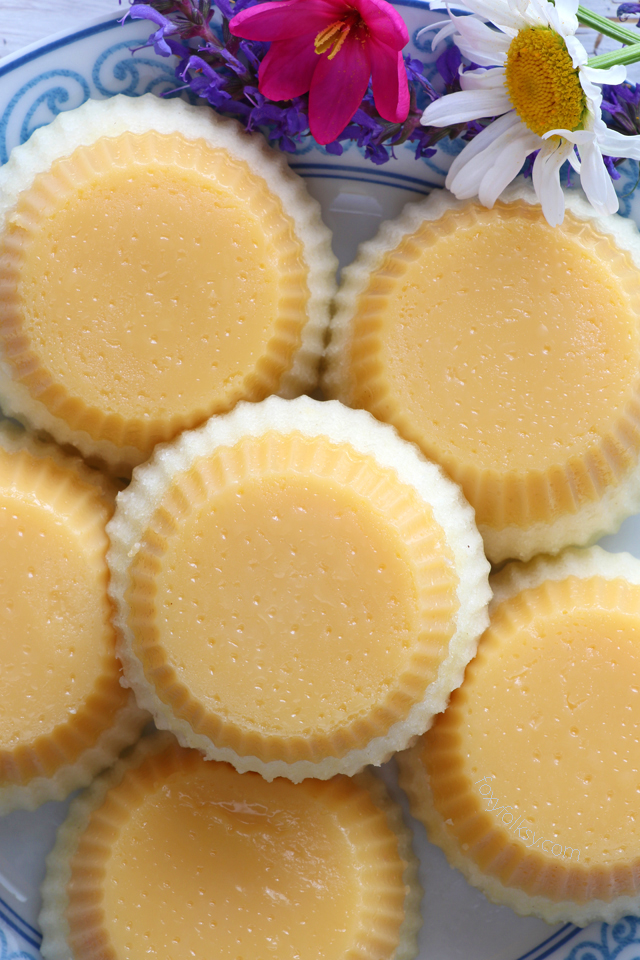 I used a totally different recipe for the Puto from the one I posted before for Puto Cheese and procedure is also very different. The Puto batter is made only with egg whites instead of using whole eggs. It is beaten to soft peaks before adding the other ingredients.  
The result is whiter and lighter Puto. If you are asking why I chose to do this, the answer is simple...if you've been reading some of my old posts, you should know that I am very practical and doesn't like to waste what can still be used. Since I used the egg yolks for the custard, so I just used the egg whites for the Puto.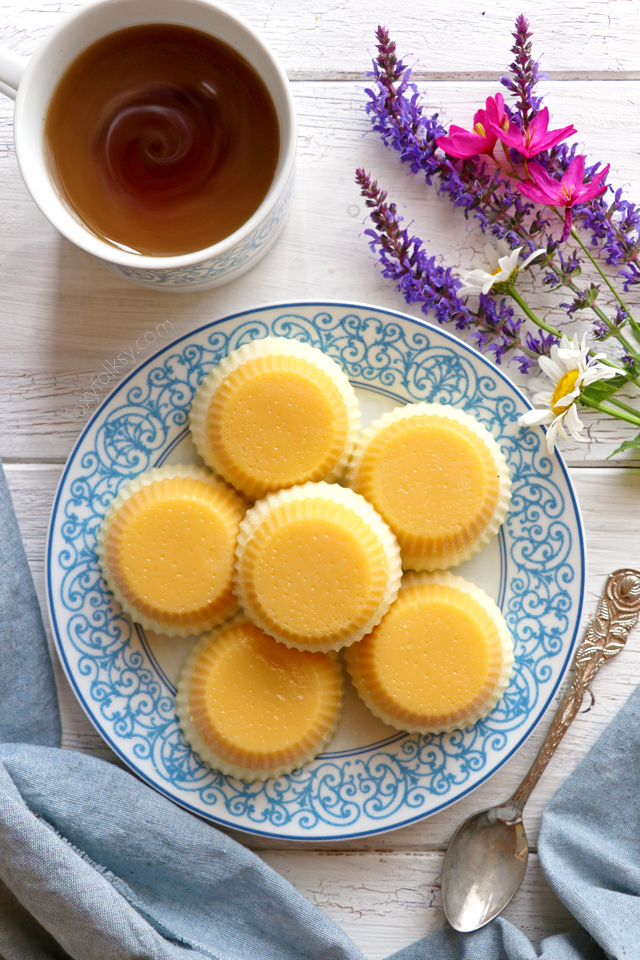 Another tip! Although I am pretty sure most people know this already, just in case you don't, it is really a good idea to place a cloth (cheesecloth or clean kitchen towel) on top of the steamer before putting on the steamer cover/lid or also in between steamer layers if using one.
This will collect the steam and prevent water droplets falling on your custard and Puto while steaming. You wouldn't like to have soggy and cratered Puto Flans now, would you?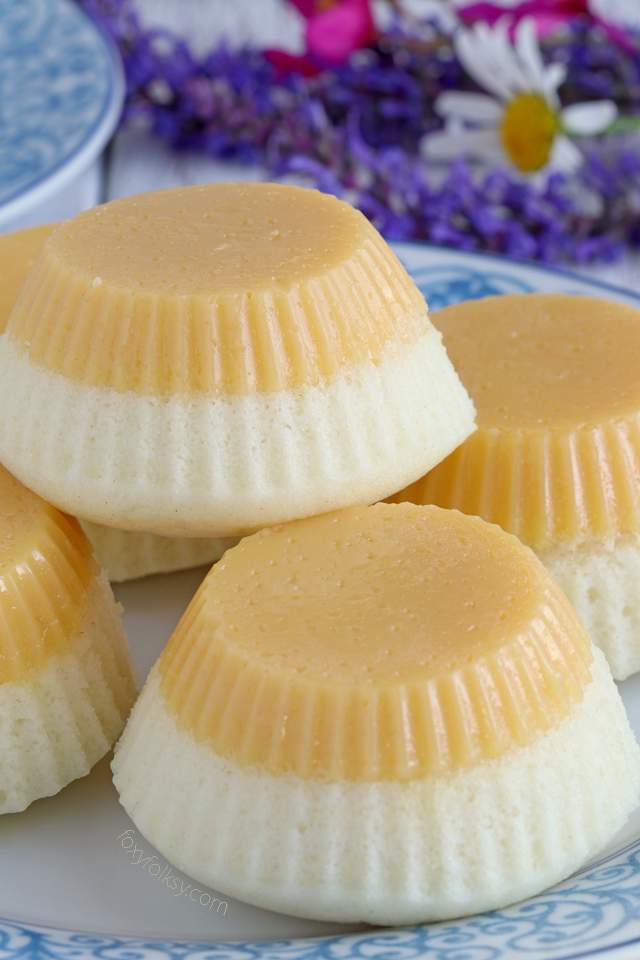 Printable Recipe
Puto flan
Two loved Filipino dessert in one! Puto Flan is a combo of Leche Flan and Puto! Get the recipe now!
Ingredients
butter

- melted, for greasing the molds
PUTO BATTER
2

egg whites

½

cup

fresh milk

1

cup

all-purpose flour

½

cup

sugar

½

tablespoon

baking powder
Instructions
Brush the molds with some melted butter.

In a bowl, whisk together the egg yolks, sweetened condensed milk, and vanilla extract until well combined.

Fill in about a third of each mold with the custard mixture. Steam for 5 minutes.

Meanwhile, prepare the Puto batter. First, beat the egg whites with an electric mixer until soft peak forms. Then add the fresh milk while continuously beating. Add the flour, sugar and baking powder and beat for another minute or two.

Pour some Puto batter on top of the steamed custard to fill about ¾ of the mold. Steam for another 10-12 minutes or until an inserted toothpick comes out clean.

Let them cool down a bit before removing from the molds.
Nutrition
Calories:
163
kcal
Carbohydrates:
27
g
Protein:
4
g
Fat:
3
g
Saturated Fat:
1
g
Cholesterol:
72
mg
Sodium:
40
mg
Potassium:
160
mg
Fiber:
0
g
Sugar:
19
g
Vitamin A:
155
IU
Vitamin C:
0.5
mg
Calcium:
97
mg
Iron:
0.7
mg