This Minatamis na Saging basically requires only 3 ingredients, plantain or cooking bananas, brown sugar, and water. The tapioca pearls and milk is but an added bonus to make it more special. Try it for an easy, delicious and healthier dessert or snack choice.
This recipe was originally posted in 2015 and updated in 2019 to include new photos.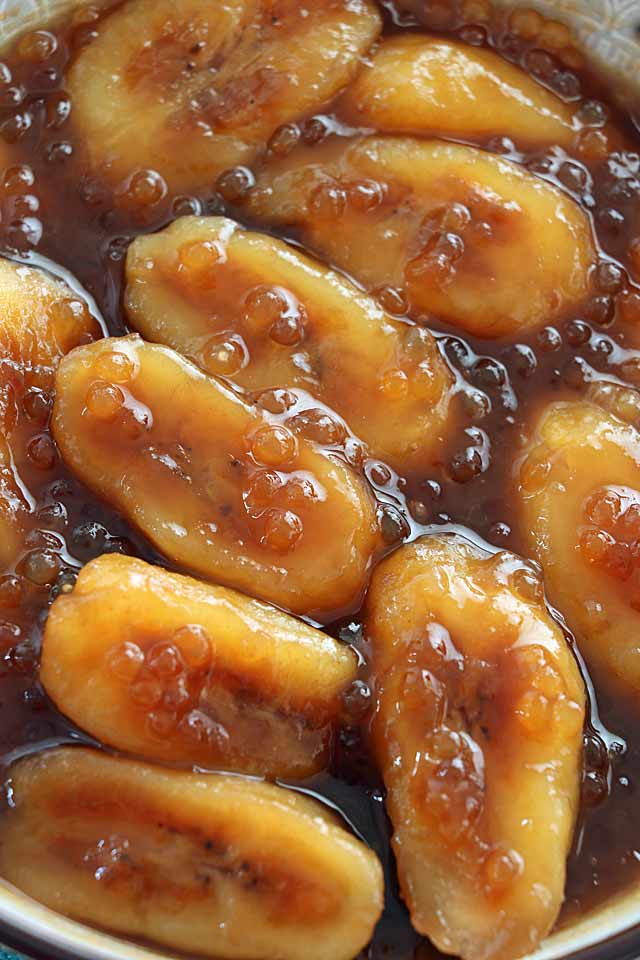 I made a batch of this when my two nephews/godsons, Andrei (9) and Jiro (7), were left to us one afternoon. It was their first time to have Minatamis na Saging. Like most typical kids, their initial reaction was, "no, thank you" when they saw the bananas.
I tried to convince Andrei to simply give it a try,  just a small bite. After some emotional blackmailing, he gave in to his Ninang's request. Once he did, his reluctant face turned into one big smile. Well, convincing Jiro was no biggie after that as he would copy whatever his big brother does. In the end, they finished two servings each.
What is Minatamis na Saging?
A traditional Filipino dessert or snack,'Minatamis na Saging' directly translates to sweetened bananas. It is really easy to prepare using plantain bananas or locally known as Saba, a variety of plantain banana that can be cooked, ripe or unripe. When ripe, can also be eaten raw.
Banana Trivia
Did you know that banana is not a tree but the world's largest herb? It is believed that there are about 1000 varieties of banana all over the world. And if you are feeling down, bananas could help make you feel happier as they contain tryptophan, a type of protein that the body converts into serotonin, known to promote relaxation and improve mood.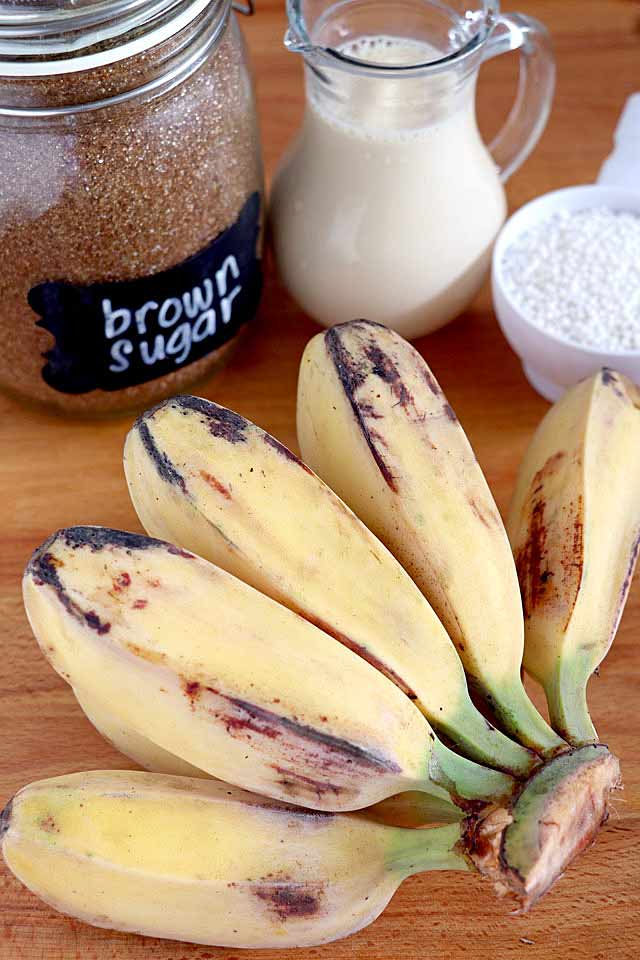 How to cook Minatamis na Saging?
It really is so easy to make. It involves making the caramel syrup by boiling the brown sugar in water. Then add the cut banana pieces and simmer until cooked.
If you are adding tapioca pearls then add it before turning the heat off. I usually also add a little vanilla extract and salt to my caramel syrup. It gives out a nice aroma and just a tiny hint of saltiness.
That is it! Your Minatamis na Saging is ready. You can have it still a bit warm or chilled.
What about the taste?
Saba has a very interesting taste and does not taste like other bananas. It is mildly sweet compared to other varieties that is enhanced by its equally mild tartness. It gets a firmer texture when cooked in syrup and cooled down that is quite surprising for the first-time Saba eaters.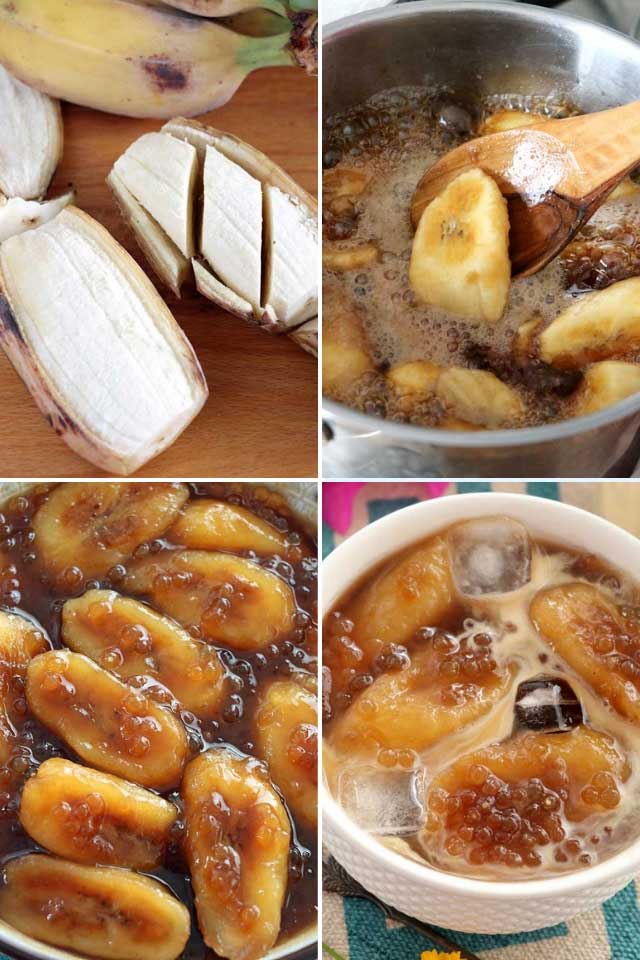 What else can you make from Minatamis na Saging?
I usually enjoy my Minatamis na Saging simply by adding milk and some crushed ice to it. This is what we call Saba con Yelo. You can also try it by adding vanilla ice cream instead.
Make it vegan by replacing the milk with a non-dairy one. Coconut milk sounds good, actually.
It is also a major ingredient to make Halo-Halo, a popular summer dessert in the Philippines.
You can also use it for a pie filling or chop it and make a Turon out of it. Although, I prefer using raw Saba for that.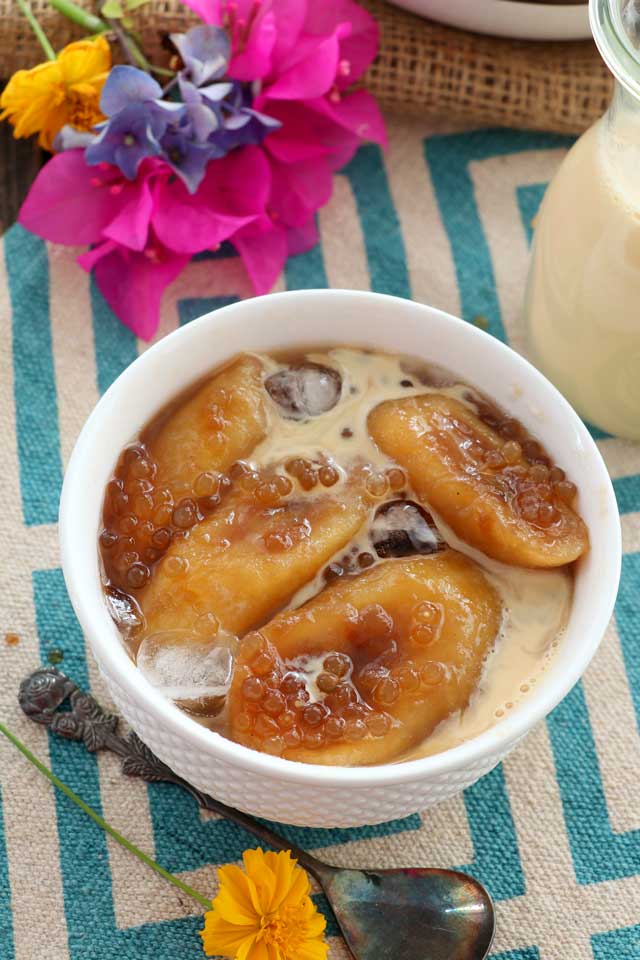 Other healthy Filipino Desserts or Snacks to try: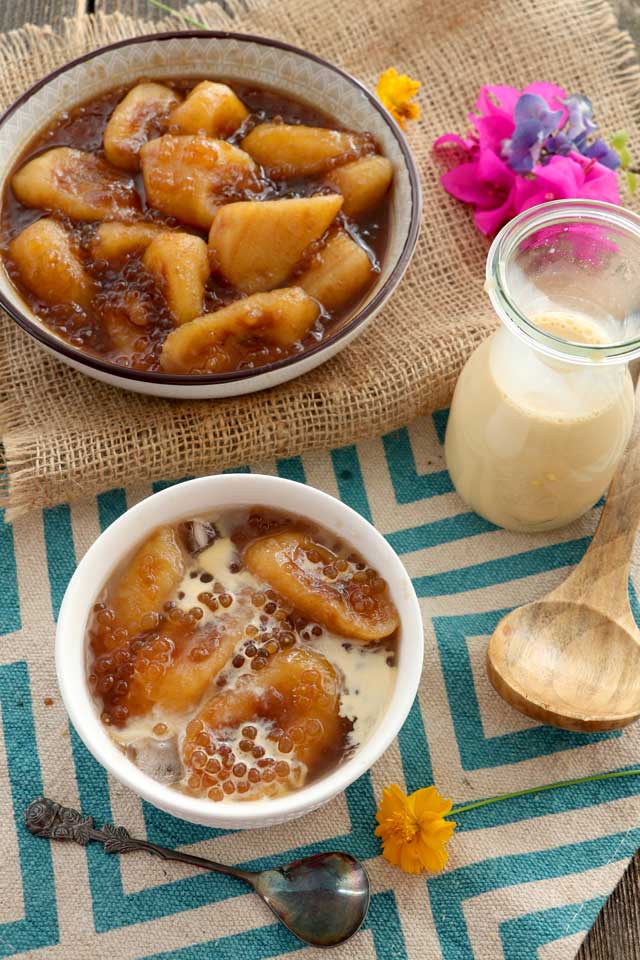 Printable Recipe
Plantain Banana in Syrup (Minatamis na Saging)
This Minatamis na Saging is so easy to make requiring only 3 basic ingredients, plantain banana, brown sugar, and water. It is a delicious and healthier option for dessert or snack that can be made fancier by just adding crushed ice, milk, and tapioca pearls.
Ingredients
6

pieces

plantain banana (Saging na Saba)

- each one cut into 3 parts diagonally

1

cup

brown sugar

1 ½

cup

water

1

teaspoon

vanilla extract

(optional)

¼

teaspoon

salt

(optional)

1

cup

cooked tapioca pearls (sago)

(optional)

1

can

evaporated milk

(optional)
Instructions
In a saucepan, heat water until it boils. Add sugar and salt, stirring continuously until completely dissolved.

Add vanilla extract. Bring to boil then lower heat to medium. Let it simmer for 10 minutes.

Add the plantain bananas and cover. Continue cooking for another 10 minutes until bananas are tender and syrup has thickened.

Add the tapioca pearls before and remove from heat. Let it cool down to room temperature or chill before serving.

Add ice (cubes or crushed) and evaporated milk to each serving.
Nutrition
Calories:
468
kcal
Carbohydrates:
96
g
Protein:
6
g
Fat:
6
g
Saturated Fat:
4
g
Cholesterol:
25
mg
Sodium:
259
mg
Potassium:
341
mg
Fiber:
0
g
Sugar:
63
g
Vitamin A:
210
IU
Vitamin C:
1.7
mg
Calcium:
287
mg
Iron:
1.2
mg