Try this Mini Turon or Turonettes, covered in thin coat of crispy sugar brittle and drizzled with delicious coconut caramel syrup.
Just a few days ago, Armin and I decided to cruise along our new neighborhood. Ok, the truth is, we ran out of rice and for me, being Pinay, this is considered a catastrophe!  So I convinced Armin to go out to search for the nearest store that sells rice.
It was also a chance for us get our bearings and see our new surroundings, right?!
Not so far from our place, we found a small grocery store that also sells some fresh produce, which is great. I was looking around and at the same time making a mental list of what I can get from them in case I run out of stock of something, like rice, which they have at least five different varieties of.
That is when I saw this lovely cluster of cooking bananas or 'Saba' as we call it and they were just so beautiful, with perfect shape, color and all...I knew I have to get them.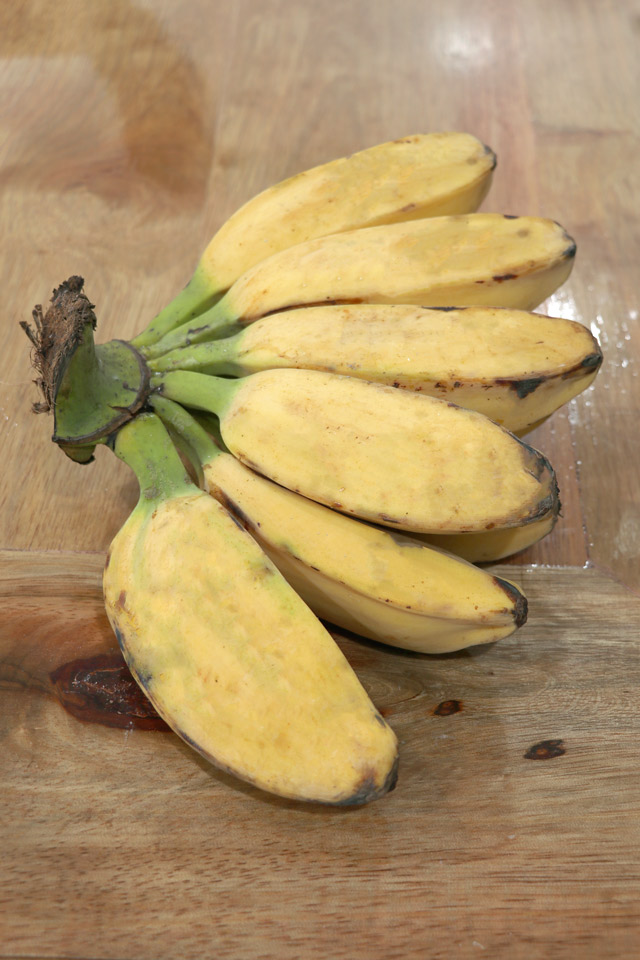 And guess who was happier to see me carrying them back to the car. Armin knew what this means...it's Turon time! He loves them as much as banana-cue and Minatamis na Saging.
This time though, I wanted to make it a little different than what I usually make. I've always wanted to try to make Mini Turon and so I did!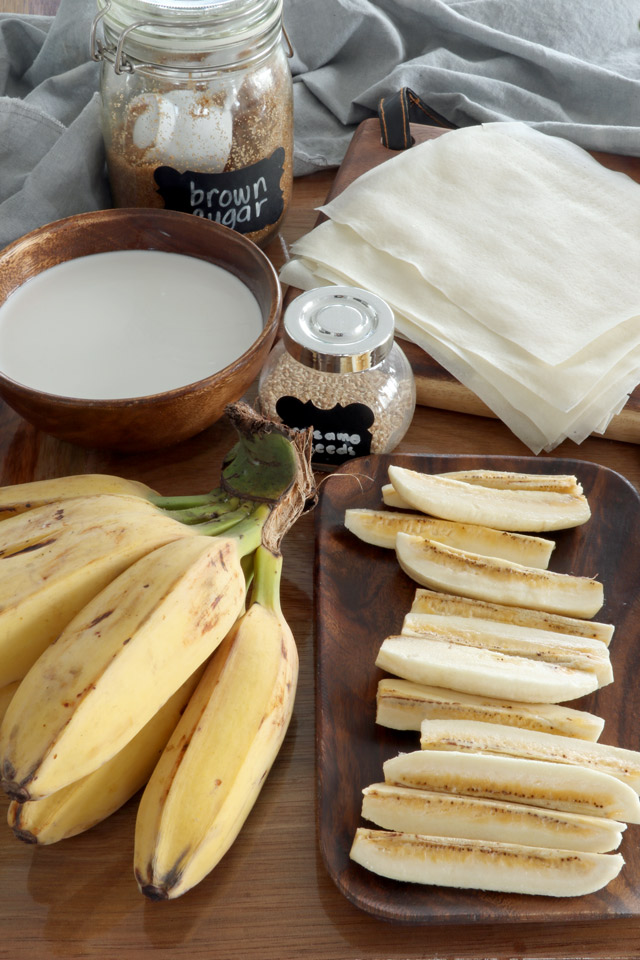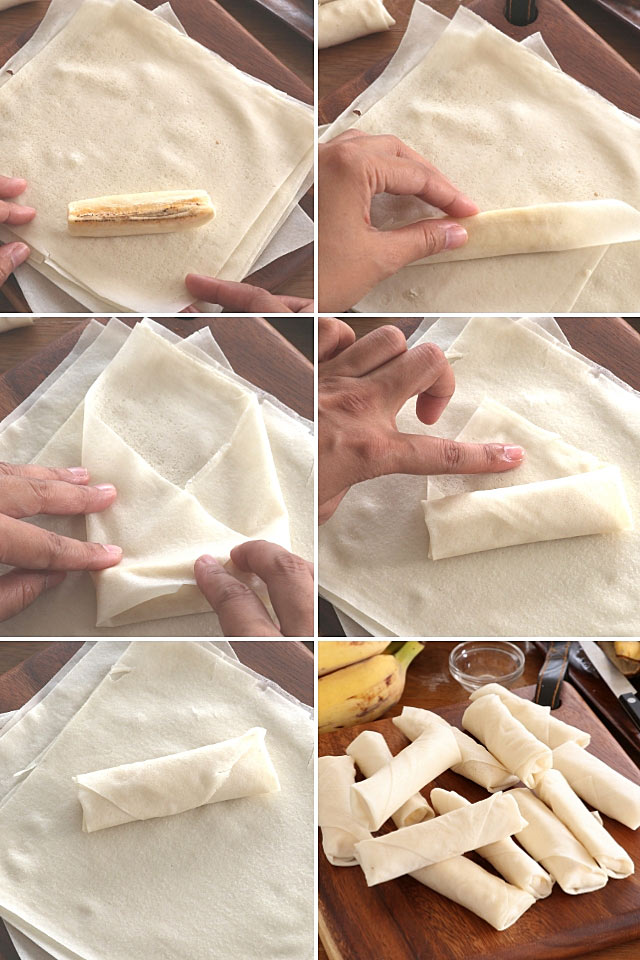 I've seen (and eaten) Mini Turon several times before, served as a dessert on different special occasions.
Imagine that! Our common Turon has stepped up from being an ordinary afternoon snack/street food to being a more glamorous dessert.
So what is the difference? Actually, nothing much aside from them being a miniature version of the usual Turon, so they are less messy to eat and they are also coated in caramelized sugar then sprinkled with sesame seeds.
Others also serve it with ice cream which sounds dreamy, doesn't it?! Imagine it drizzled with coconut caramel as well. Simply heaven!
But since we didn't have ice cream that will have to wait another time. For the meantime, I am quite satisfied with these Mini Turon with the 'Latik' sauce or coconut caramel.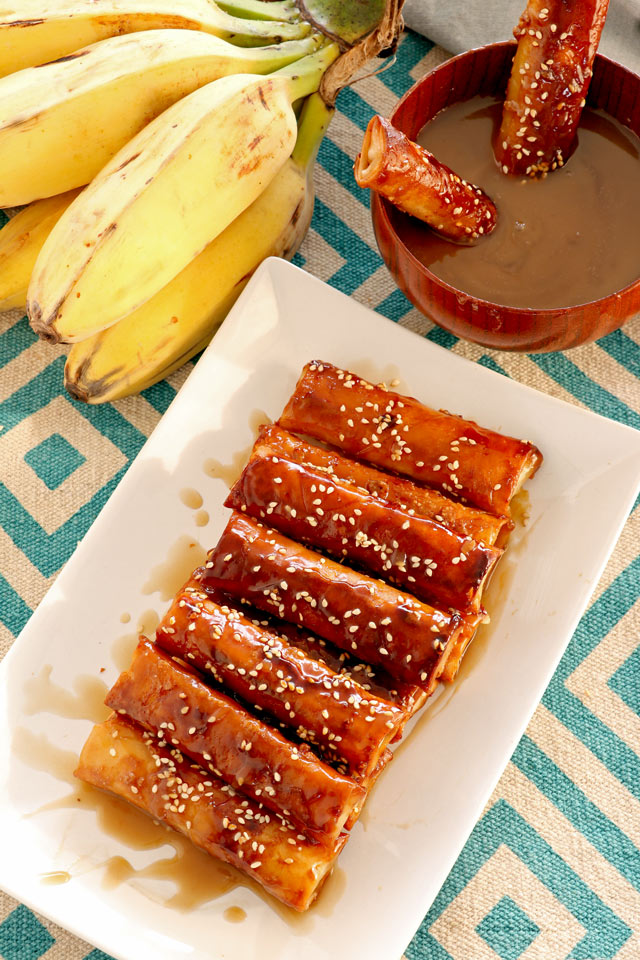 Some of the changes I made is, I skipped dredging the bananas in brown sugar before rolling them since the sugar brittle coating outside plus the Latik sauce dip is enough sweetener.
Making the Latik sauce was so easy! It was harder to keep myself from dipping a spoon (or spoons) into it so I can lick it off. It is absolutely delicious!
I added a little vanilla essence to my Latik Sauce which is entirely optional but I highly recommend it.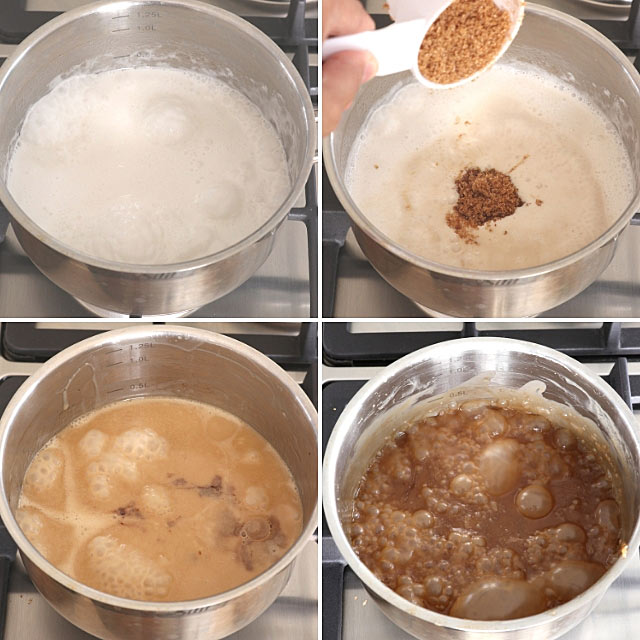 Printable Recipe
Mini Turon with Latik Sauce (Banana Lumpia with Coconut Caramel Sauce)
Try this Mini Turon or Turonettes, covered in thin coat of crisp sugar brittle and drizzled with a delicious coconut caramel syrup.
Ingredients
3

pieces

saba (plantain banana)

12

pieces

small lumpia wrappers

1

cup

oil

- for frying

⅛

cup

butter

3

tablespoons

brown sugar

1

tablespoon

sesame seeds

- optional
Latik Sauce (Coconut Caramel Sauce)
1

cup

coconut cream

⅓

cup

brown sugar

pinch

salt

½

teaspoon

vanilla essence

- optional
Instructions
LATIK SAUCE
In a saucepan over medium heat, bring the coconut cream in a simmer.

Add the brown sugar and salt and stir until completely dissolved. Lower heat to low and continue cooking until it becomes a thick sauce.

Add the vanilla essence if desired. Turn off the heat and transfer Latik Sauce in a dipping bowl. Let it cook down a bit before serving.
MINI TURON
Pull each lumpia wrappers apart and cover with a damp kitchen towel to prevent them from drying out and hardening.

Peel the saba (plantain banana) and cut each, lengthwise, into quarters.

Wrap each piece with a lumpia wrapper. Brush the edges of the wrapper with a little water to make them more pliable and easy to fold and close.

Heat oil in a small pan over medium heat. Once the oil is hot, add the wrapped bananas and cook until all sides are golden or light brown. Remove them from oil.

In the same pan and with at least 2 tablespoon of oil left, melt butter over medium-low heat Add. 3 tablespoons brown sugar and cook until it caramelizes.

Add back the cooked Turon and stir to cover each piece with the caramel. Sprinkle Turon with sesame seeds while the caramelized sugar is still in syrup form. It will harden once it cools down and will create a thin layer of crunchy sugar coating.

Serve the Mini Turon with the Latik Sauce.
Notes
When cooking the Latik Sauce, note that the sauce will continue to thicken even after removing from heat as it cools down. 
If your sauce becomes too thick when cooled, just heat it again and add a little water. 
Nutrition
Calories:
124
kcal
Carbohydrates:
11
g
Protein:
0
g
Fat:
9
g
Saturated Fat:
6
g
Cholesterol:
0
mg
Sodium:
9
mg
Potassium:
80
mg
Fiber:
0
g
Sugar:
8
g
Vitamin C:
0.6
mg
Calcium:
16
mg
Iron:
0.6
mg