You only need 4 ingredients to make this delightful Mango-Pandan dessert. Made from fresh ripe mangoes with pandan-flavored jelly and sweetened with condensed milk.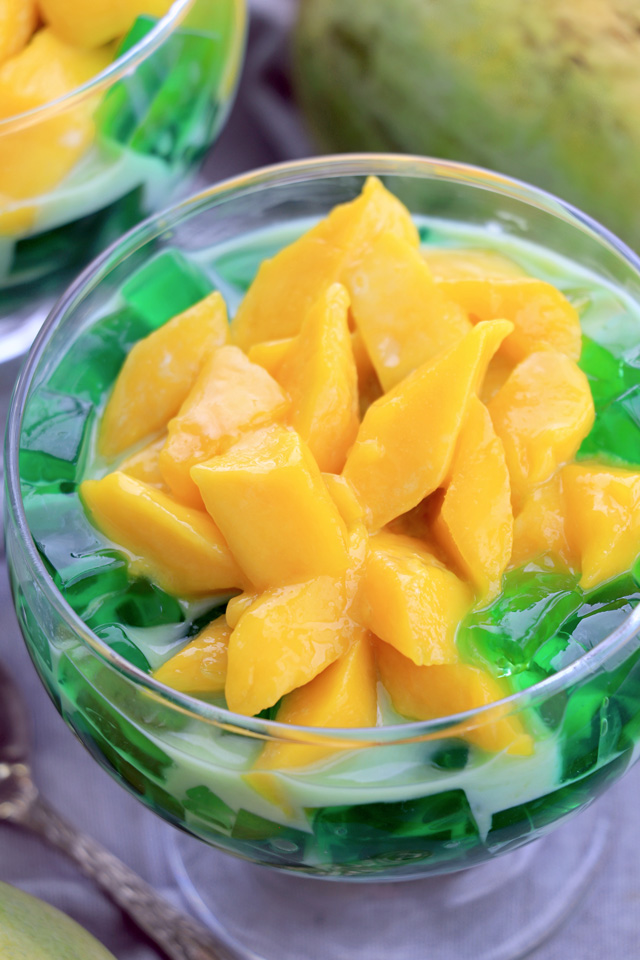 It is mango season now here in the Philippines and we are enjoying fresh ripe and unripe mangoes so much. Armin more, since it was very seldom that he had it in Germany. And it is fun to see how he relish them as he tries different varieties of mangoes for the first time...or even for the 5th time.
I try to explain to him the different kinds. Which one is sweet even while green and which ones will make you pucker. He really digs them, so much that we now have three trees planted around the house.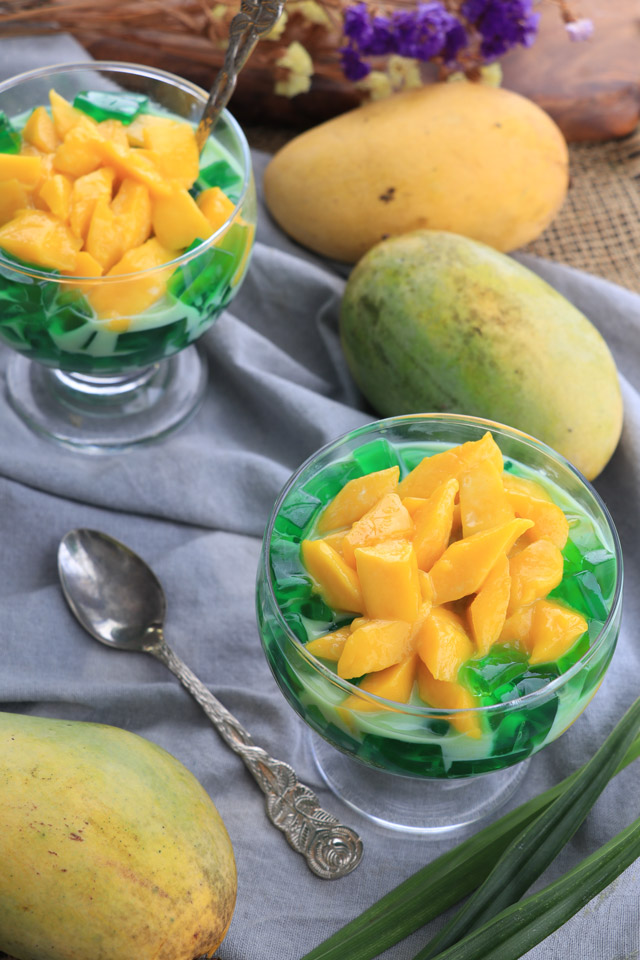 There is actually an oversupply of mangoes going on at the moment. It is supposedly caused by the recent El Niño that resulted in too less rainfall over the season. Yep, that is your silver lining right there. Something beautiful (and delicious) came out from the dry spell some of us experienced in the last months.
So you will probably see a lot more mango recipes here in the following days or weeks.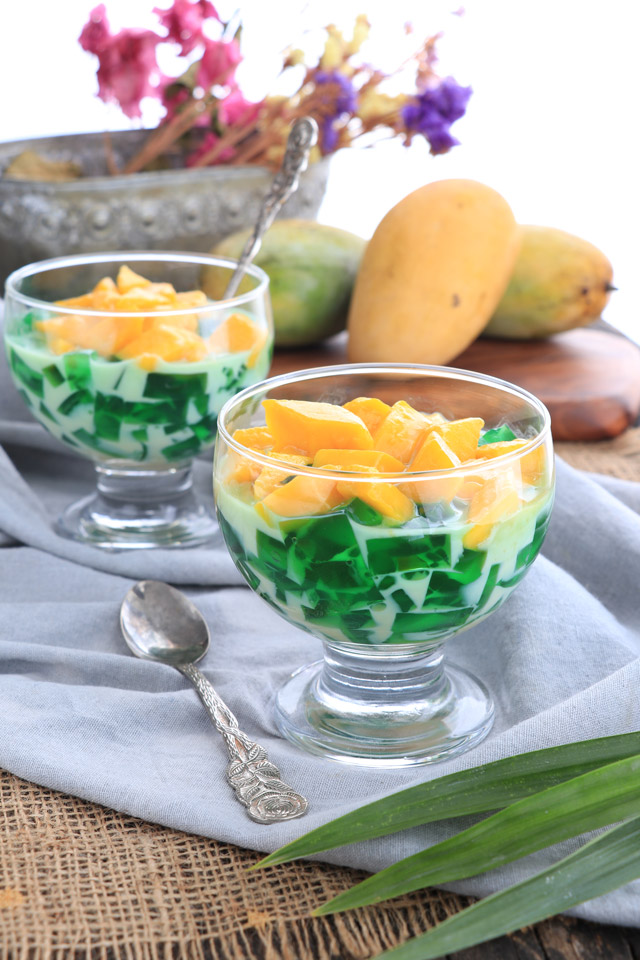 And this Mango Pandan is my very recent favorite dessert. They serve it in a restaurant where Armin and I frequent, Kuya J. Actually, we go there because of their cold desserts.
Their Halo-halo is just awesome! Instead of using simply crushed ice, they use this finely shaved milky ice. Armin would order one of that usually and I will have my Mango-Pandan. But I would get some of his shaved ice and add to mine. Reminds me of the mango snowflake ice we had in Taipei, sans the pandan jelly.
Really need to learn how to make that milky shaved ice...
Try this other Mango Recipes too:
Mango-Pandan Dessert
A simple concoction of ripe mango cubes and pandan-flavored jelly that is sweetened with condensed milk.
Ingredients
5

cups

water

1

pouch

green jelly powder (gulaman)

- Gelatin may also be used (see Note 1)

¾

cup

granulated sugar

1

can (14oz)

sweetened condensed milk

1

teaspoon

pandan flavor

- or use pandan (screwpine) leaves -See Note 2

3

pieces

ripe mangoes
Instructions
In a pot, add water and dissolve the jelly powder or gulaman and the sugar. Mix well. Add the pandan essence and bring it to boil while stirring constantly.

Remove pot from heat once it starts to boil and the jelly powder and sugar are completely dissolved.

Pour into a square pan and let cool to set. You may place it in the fridge to fasten the process. Once ready, cut the gelatin into cubes.

Slice the mangoes on each side, avoiding the pit. Run the tip of the knife through the flesh but not the skin, several times first vertically, then diagonally to create cubes. Take a spoon and scoop the flesh out of the skin. Transfer the mango ci=ubes in a bowl.

Scoop about 2-3 tablespoons of condensed milk on 6 dessert glasses or bowls. Divide the pandan jelly to the six glasses. Do the same with the mangoes.

Chill for at least an hour before serving.
Notes
Note 1. 2 pouches of gelatin powder (Knox) may also be used. 
Note 2. Use 4-5 pandan leaves instead of the liquid pandan flavor. Just add it to the pot of water and jelly powder and boil for several minutes to extract the flavor. 
Note 3.  You may also add tapioca or sago pearls if you like. Or milky shaved ice.
Nutrition
Calories:
98
kcal
Carbohydrates:
25
g
Protein:
1
g
Fat:
1
g
Saturated Fat:
1
g
Cholesterol:
1
mg
Sodium:
11
mg
Sugar:
25
g
Calcium:
6
mg