This luscious purple yam-flavored sticky rice cake topped with a generous layer of creamy custard is perfect for any occasion!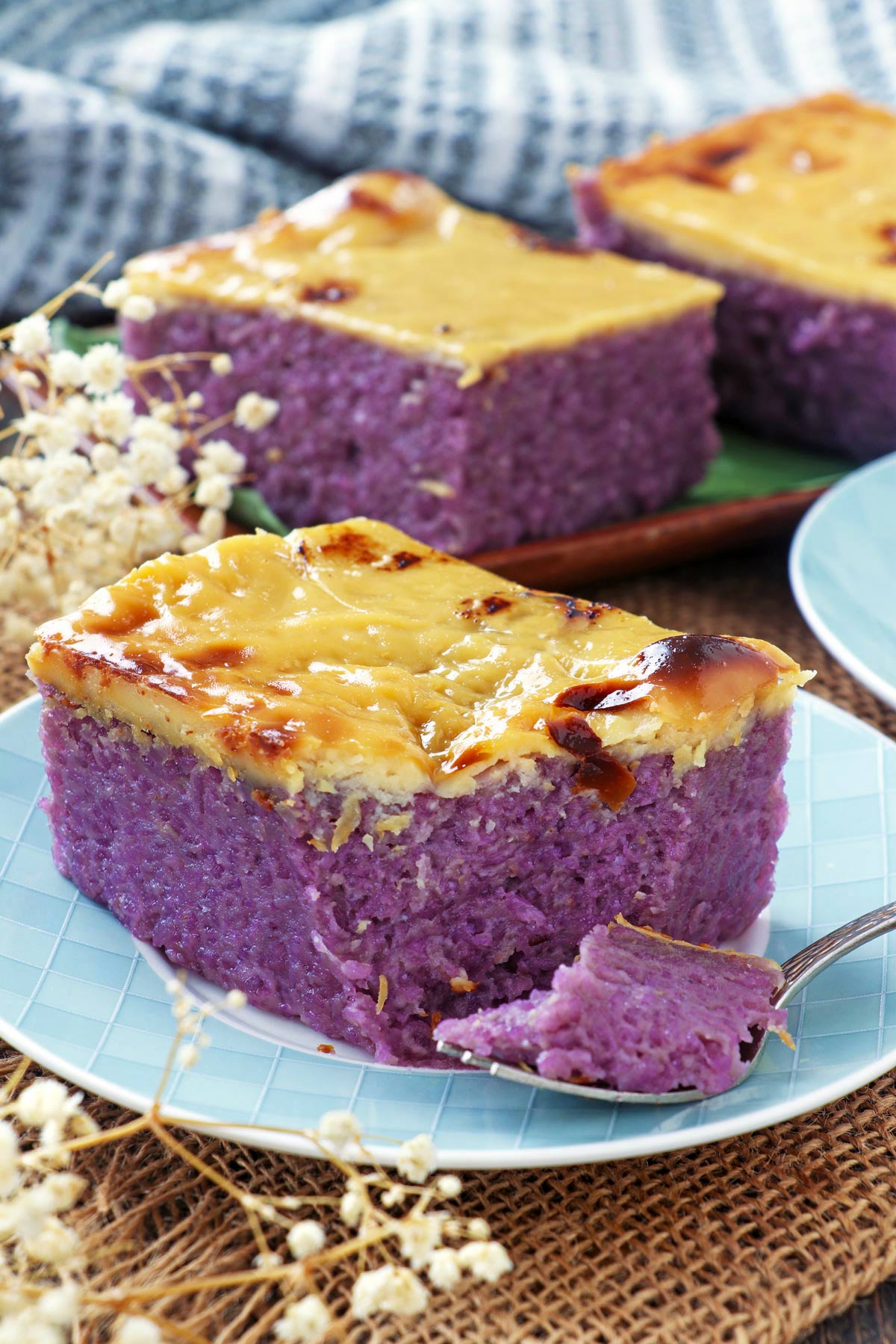 What is Ube Biko?
Ube Biko is a delectable fusion of two popular Filipino treats- Ube Halaya and classic Biko Kalamay.
To know what this Filipino delicacy is, let us first define Biko and Ube Halaya separately. Biko is a sweet Filipino sticky rice cake made of glutinous rice, coconut milk and condensed milk or sugar. While Ube Halaya is a rich purple yam jam made of mashed or pounded Ube mixed with coconut milk and sugar. The fusion of the two gives rise to a delightful purple sweet sticky rice cake called Ube Biko. In this recipe, I topped it with a custard topping to make it even more special!
If you are fond of the classic Biko, you will love this variation as well as my Biko Kalabasa recipe!
Ingredients Used
For the Biko
Glutinous rice – Also known as sticky rice. You cannot use regular rice in this recipe.
Coconut milk – Gives the biko a richer taste and creamier texture.
Water
For the Ube Halaya
Coconut milk and evaporated milk – Makes the mixture thick and creamy
Condensed milk – Adds sweetness to the purple yam puree.
Ube – The star of the dessert!
For the Custard Topping
Egg yolks – are needed to make the custard smoother and aids in making it firmer as it bakes.
Flour – Only a small amount will be required for this recipe. Just enough to thicken the mixture.
Coconut milk
evaporated milk
Condensed milk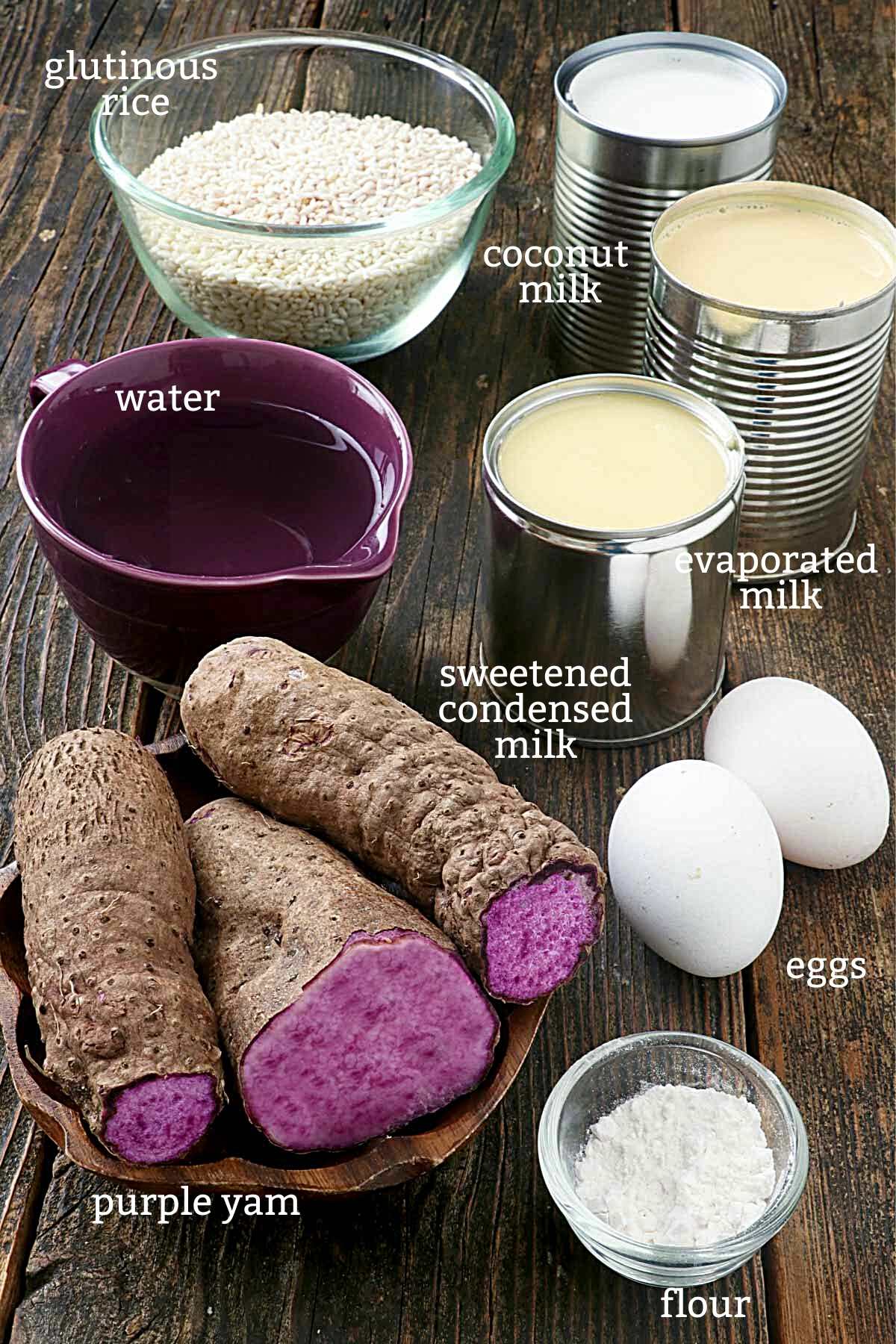 Tips When Making Ube Biko
You might be tempted to just pick purple yam randomly as they can all look the same on the shelf or basket. To make the best Ube Halaya, you have to choose the right ones, though. Check how here. You will also find useful tips on the same link.
If you have ready-made Ube Halaya, you may go ahead and use that instead to lessen your cook time. Or you can also make it in advance as it keeps in the fridge for up to 5 days and can be frozen for a month or two.
Take note that the sticky rice should not be fully cooked when making the biko. It will continue to cook as you bake it.
It's not necessary to constantly stir the sticky rice as it cooks. It's okay to do so, once or a couple of times to prevent the bottom from burning, but don't overdo it. It may result in mushy rice.
You will know when you Ube Biko is done when the custard is bubbly and golden. It is okay to have slightly charred spots.
No Oven? No Problem
A no-bake alternative for those who do not have an oven:
Combine all the ingredients for the custard in a skillet. Cook over medium-low heat, stirring constantly until it thickens to a gravy-consistency. Set Aside.
If you have banana leaves, place a layer or two on a wide skillet or flat pan. Spread the cooked rice with ube evenly over the pan.
Pour the custard over the rice and cover with a lid. Cook on low heat for 15-20 minutes.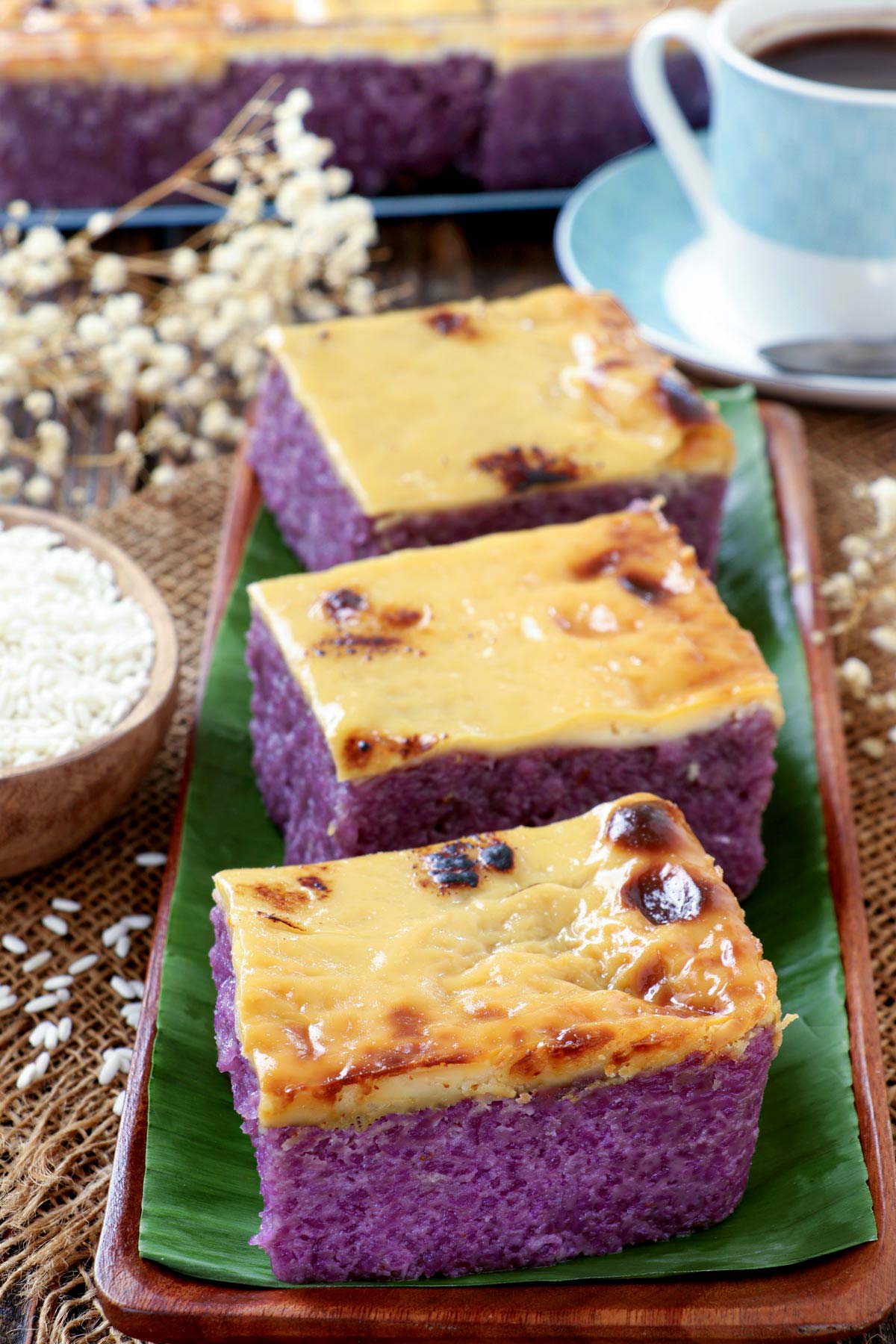 Possible Variations
Instead of a custard topping, you can also use latik, or latik sauce. These are great alternatives if you do not have an oven. Or you can make it simpler by topping it with grated cheese.
You can also make this recipe using ramekins or other oven-safe bowls instead to make single-serving sizes. If you are planning to make some to give away or to bring to a potluck party, make it in a disposable aluminum baking tray.
How to Store and Reheat Ube Biko
Make sure that it has fully cooked before storing. Place it in an airtight container and store for 2-3 days. Others manage to keep it for an entire week, but it won't be as moist and appetizing. You may warm the Biko in the microwave for a few seconds or enjoy it chilled.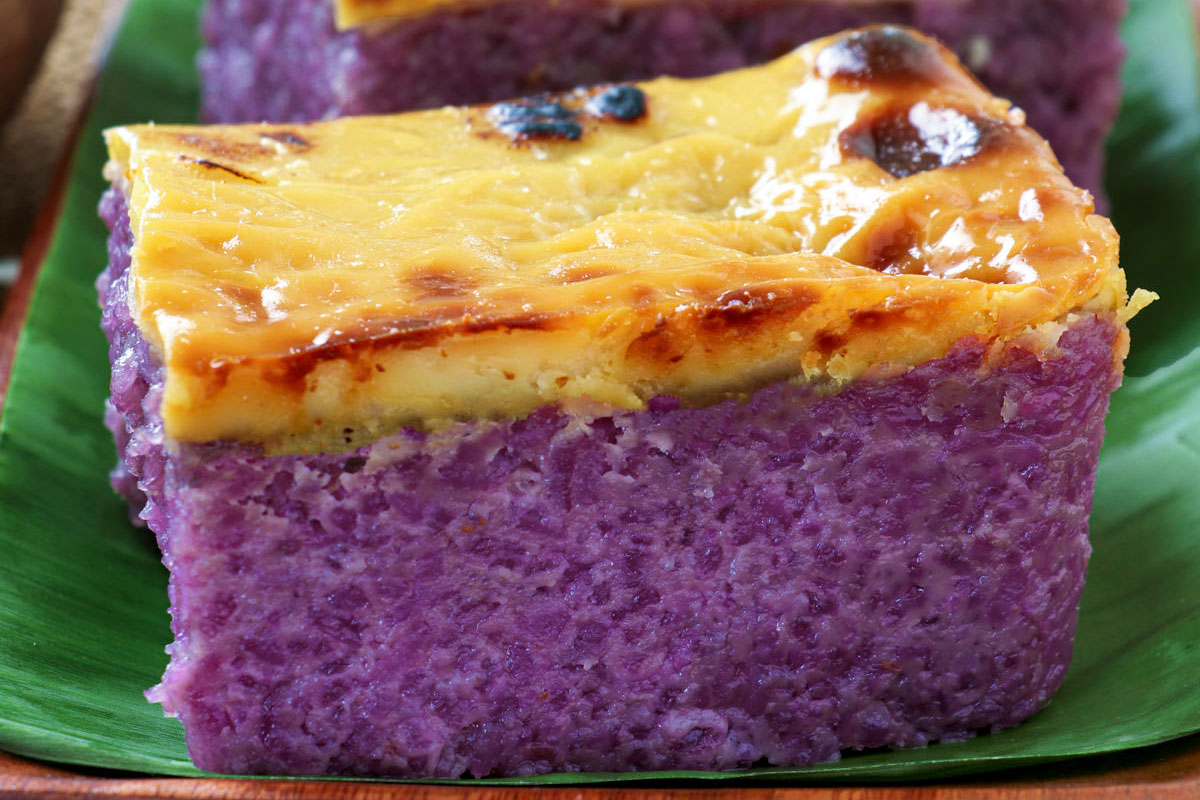 Printable Recipe
Ube Biko with Custard Topping
Ube Biko is a delectable fusion of two favorite Filipino treats- Ube Halaya and Classic Biko Kalamay. This luscious purple yam-flavored sticky rice cake topped with a generous layer of creamy custard is perfect for any occasion!
Ingredients
STICKY RICE:
2

cups

glutinous rice - washed and drained

¾

can

coconut milk

1

cup

water
Instructions
Generously grease an 8x8-inch square pan or baking dish with oil.

¾ can coconut milk,

1 cup water,

2 cups glutinous rice - washed and drained

In a large pot over medium heat, mix together the coconut milk and water. Add the glutinous rice. Bring to a simmer then turn heat to low and cover. Let it cook until all liquids are absorbed. The rice should only be almost cooked at this point.

1 can coconut milk,

¾ can evaporated milk,

2 cups ube

While waiting, make the ube halaya, by putting the ube, coconut milk, and evaporated milk on a large pan or pot and cook over medium heat until fork tender. Use immersion blender or potato masher or wooden fork to mash into a puree.

Add the condensed milk and cook while constantly stirring until thick and smooth.

Add the half-cooked rice to the pan of ube halaya. Gently fold until completely combined. Transfer the rice into the greased pan and spread out evenly.

¼ can condensed milk,

¼ can evaporated milk,

¼ can coconut milk,

2 pieces egg yolks,

1 tablespoon flour

Mix all the ingredients for the custard in a bowl then pour this over the rice and bake at 180C for 15-25 minutes or until custard is cooked and turns golden.
Nutrition
Calories:
352
kcal
Carbohydrates:
23
g
Protein:
15
g
Fat:
23
g
Saturated Fat:
17
g
Polyunsaturated Fat:
1
g
Monounsaturated Fat:
4
g
Cholesterol:
52
mg
Sodium:
108
mg
Potassium:
492
mg
Fiber:
1
g
Sugar:
21
g
Vitamin A:
161
IU
Vitamin C:
2
mg
Calcium:
193
mg
Iron:
3
mg
More Ube Recipes