This simple recipe will show you how to make jiggly and jammy Ramen Egg in the comfort of your own home! It is super easy and requires only a few staple ingredients. Enjoy it as a topping to your ramen or on its own as a snack.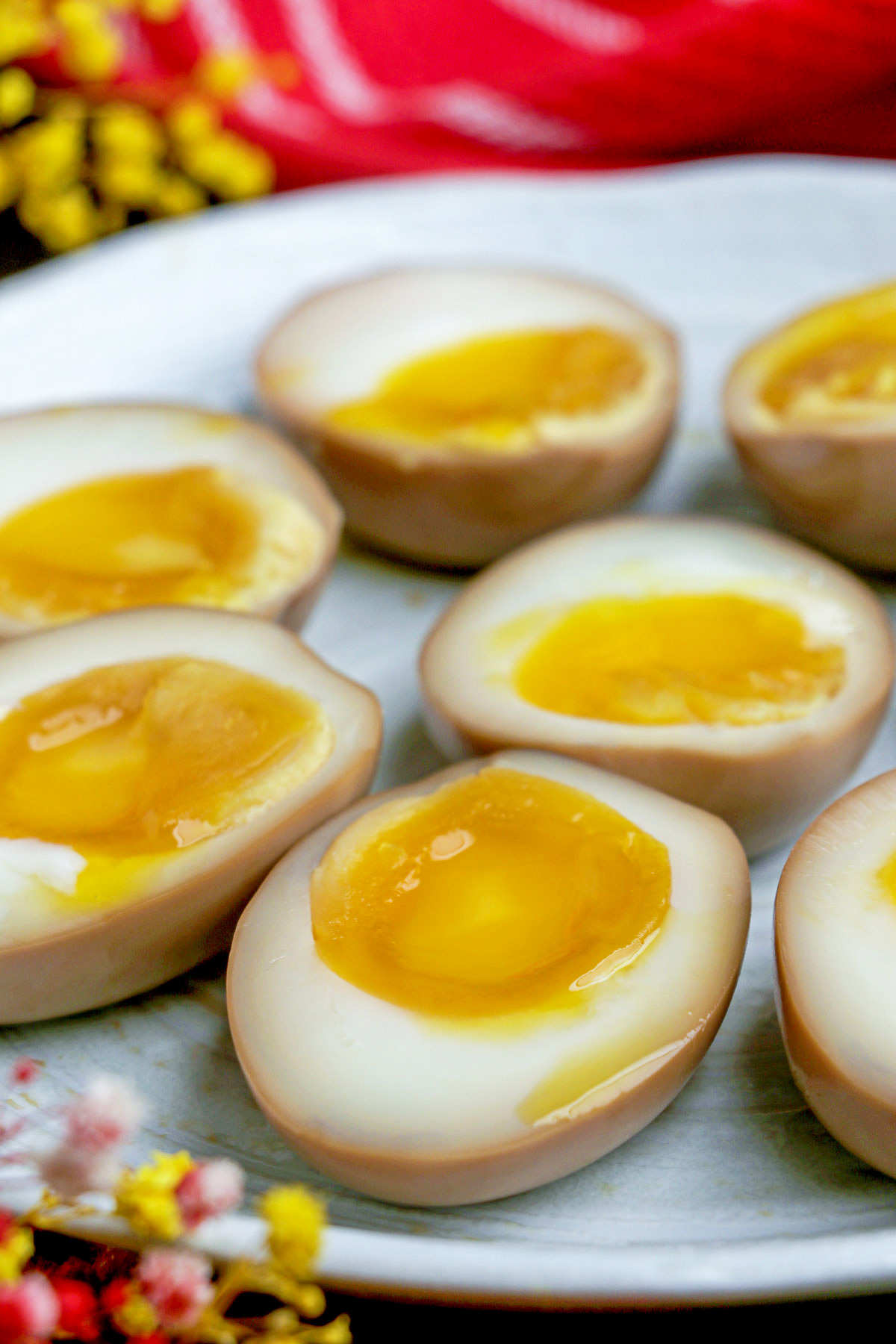 Ramen is one of the most iconic dishes of Japan. It is a combination of silky noodles and richly flavored broth topped with meat and various garnishes. Ramen egg is one of its most notable customary toppings and you really can't fully enjoy a bowl of ramen without it! If you ever wondered how Japanese restaurants make these sweet-savory semi-hard boiled eggs, this is your chance to find out!
What is Ramen Egg?
Also known as Ajitsuke Tamago or Ajitama, Ramen eggs are not your typical, run-off-the-mill boiled eggs. They are made through a careful and precise boiling process to achieve that absolutely soft, almost custard-like yolks. They are then marinated in a soy mixture to achieve that one-of-a-kind egg flavor. It might sound a bit intimidating, but I assure you, as long as you follow this recipe, you will get perfectly soft-boiled, sweet, savory, and umami eggs all the time!
Ingredients in making Ramen Eggs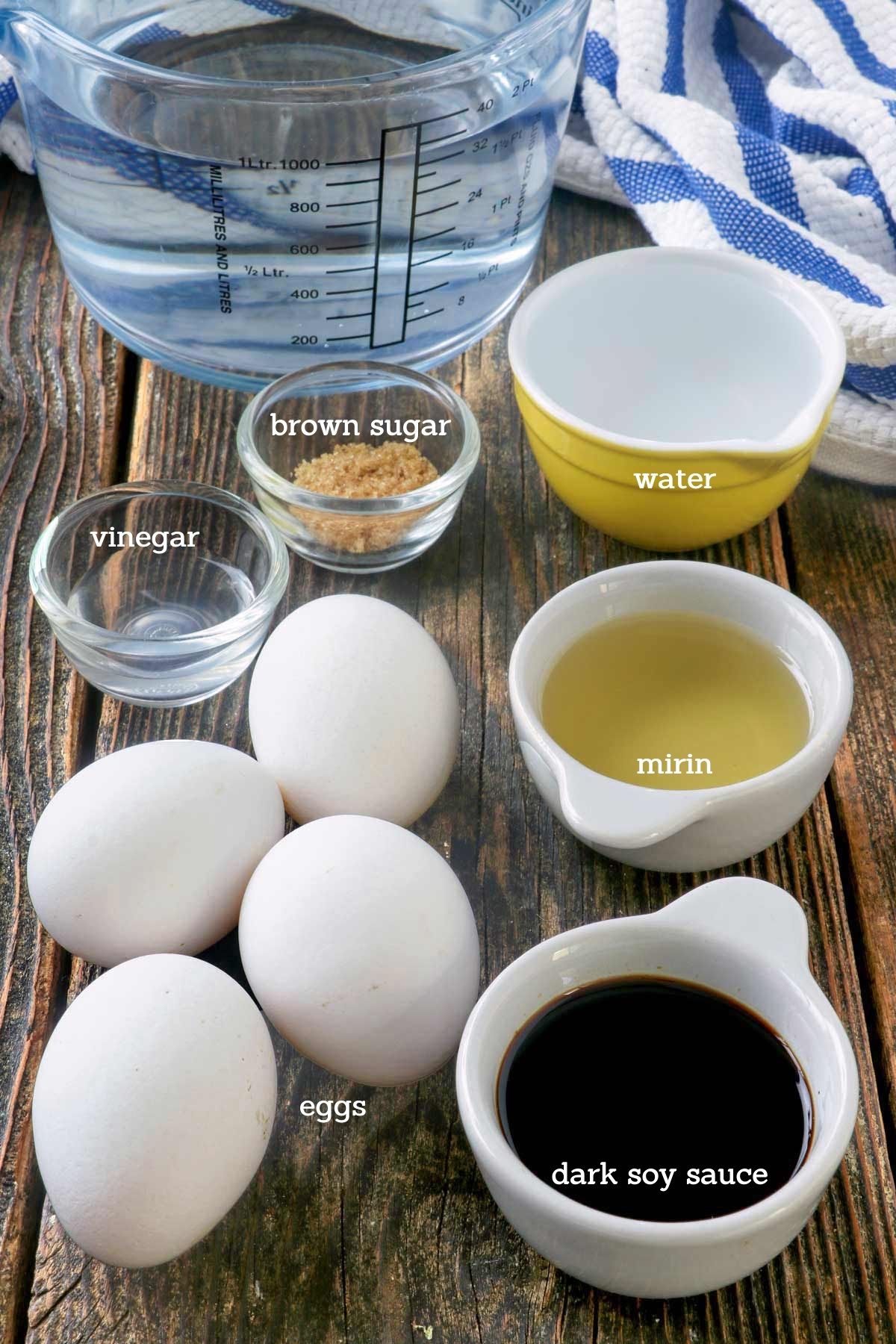 For the soft-boiled eggs:
Eggs- Large eggs work best for this recipe and are ideal for making Ajitsuke Tamago. If you are using smaller ones, adjust the cooking time (see recipe notes).
Vinegar- adding this to the boiling water is a good trick in easy peeling of the eggs. The egg surface will be smooth and compact!
Water- for boiling
For the marinade:
Dark soy sauce- has a richer yet less salty taste and slightly thicker consistency than regular soy sauce. But if not available, regular soy sauce will do.
Mirin - is a typical Japanese cooking wine with a sweet flavor. It is the perfect complement to salty and savory seasonings like soy sauce.
Brown sugar- add sweetness to the marinade.
Water
Cooking Tips
Poke a small hole in the wide or large end of the egg with an egg piercer or a push pin. This is intended to release the trapped air inside the eggs, ensuring they do not crack while boiling. You also get round or full-shaped eggs rather than "flat-top" shaped eggs.
When making ramen eggs, timing is everything! Make sure to use a timer or stopwatch to be as accurate as you can.
Rotating the eggs on the first few minutes of boiling ensures that the yolk remains in the center. An extra step that will make your ramen eggs so much more presentable.
Shocking the boiled eggs in a bowl of iced water is crucial to halter the cooking process and get the right consistency.
I used a ziplock bag to marinate the eggs as it is easier to fully submerge them this way. Make sure to let the air out before sealing. If using a jar, the eggs might float, you may place a blown-up plastic bag on top to fully submerge the eggs.
How to Serve and Store Ramen Eggs
Aside from serving them on Ramen soups, you can also enjoy them as simple snacks. You can also pair them with bread or rice for a hearty breakfast! They also make great toppings for salads and additions to bento boxes.
Keep your ramen eggs refrigerated to maintain their freshness. If you are not planning to consume them yet, keep them whole and place them in an airtight container for 3-4 days.
If you have leftovers that have been halved, wrap them tightly in cling films to retain their moistness and texture.
FAQs in making Ramen Eggs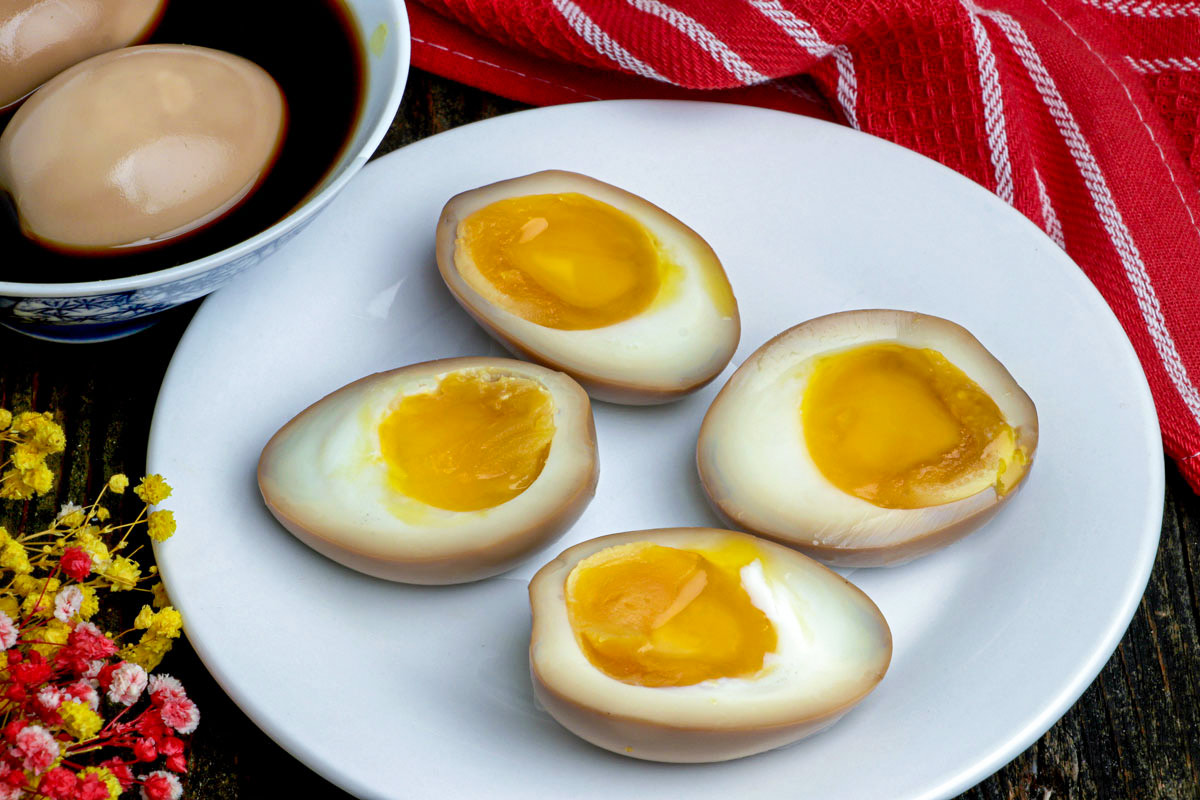 How long do I have to marinate the eggs?
They taste best after two days soaked in the marinade sauce. However, if in a bind, you can start enjoying them after 12 hours only. Take note that the longer you marinate the saltier they become, so try not to soak for more than 4 days.
Do I have to cook the marinade?
Yes, this is highly recommended to allow the sugar to fully dissolve and the flavors to meld well together. If there are sugar crystals in the marinade, they might scar the surface of the eggs.
Can I reuse the marinade to make another batch?
Sure! If you have only used it once within a few days. Make sure to keep it sealed and refrigerated all the time, though.
Can I use duck eggs as an alternative?
Duck Eggs can also be used for this recipe. Just consider that they are much larger than chicken eggs, so make adjustments to the boiling time.
Can I make it spicy?
This marinade uses the basics only. It is up to you if you want to add more spices to amp it up! If you want to make it spicy, add some chili powder to the marinade according to your taste.
Can I use regular soy sauce?
In a pinch, yes. Regular soy sauce is saltier and is not as sweet. So, reduce the amount and add more brown sugar if subbing.
Printable Recipe
Ramen Egg (Ajitsuke Tamago) Recipe
This simple recipe will show you how to make a jiggly and jammy Ramen Egg. It is super easy and requires only a few staple ingredients. Enjoy it as a topping to your ramen or on its own as a snack.
Ingredients
4

large

eggs

water

for boiling, enough to cover eggs

1

tablespoon

vinegar
Instructions
Using an egg piercer or push pin, prick a small hole on the wide or large end of the egg. This is to release the trapped air inside and will make sure your eggs will not crack while boiling and also give you round or full-shaped eggs instead of having a "flat-top" shaped eggs.

water,

1 tablespoon vinegar

Add water to a small pot, enough to cover the eggs by an inch. Add a tablespoon of vinegar. Bring to a boil over high heat. Then lower the heat and use a slotted spoon to gently put the eggs in the boiling water, then turn the heat up again. Let it cook for 6 ½ minutes. Gently rotate the eggs with chopsticks once in a while for the first 3 minutes so the egg yolk will be in the center.

A minute before the timer goes off, prepare the ice water bath. Take the eggs out and transfer to the ice water bath. Tap the eggs with the back of the spoon to create cracks that will let the liquid slide between the shell and egg for easier peeling. Let them sit there for 4-5 minutes. Alternatively, you can run cold water over them for a minute or two ( until the eggs are completely cooled down). This is important to stop them from cooking further. Peel and set aside.

¼ cup dark soy sauce,

¼ cup mirin,

½ tablespoon brown sugar,

½ cup water

Combine the ingredients for the marinade in a small saucepan and simmer over medium heat for 2 minutes stirring from time to time to dissolve the sugar. Remove the pan from heat and let it cool down completely.

Place the eggs in a ziplock bag then pour the marinade. Remove the air and seal. Marinade in the fridge overnight or upto 3-4 days
Notes
If using medium eggs, let cook for about 5 minutes instead of 6 ½ minutes.
Nutrition
Calories:
110
kcal
Carbohydrates:
9
g
Protein:
8
g
Fat:
5
g
Saturated Fat:
2
g
Polyunsaturated Fat:
1
g
Monounsaturated Fat:
2
g
Trans Fat:
1
g
Cholesterol:
186
mg
Sodium:
1048
mg
Potassium:
104
mg
Fiber:
1
g
Sugar:
6
g
Vitamin A:
270
IU
Calcium:
34
mg
Iron:
1
mg