These Deviled Eggs with Relish are made special by the little added sweetness and tanginess. Quick and easy to make that are perfect for snacks, finger-food or appetizer and is a definite party pleaser.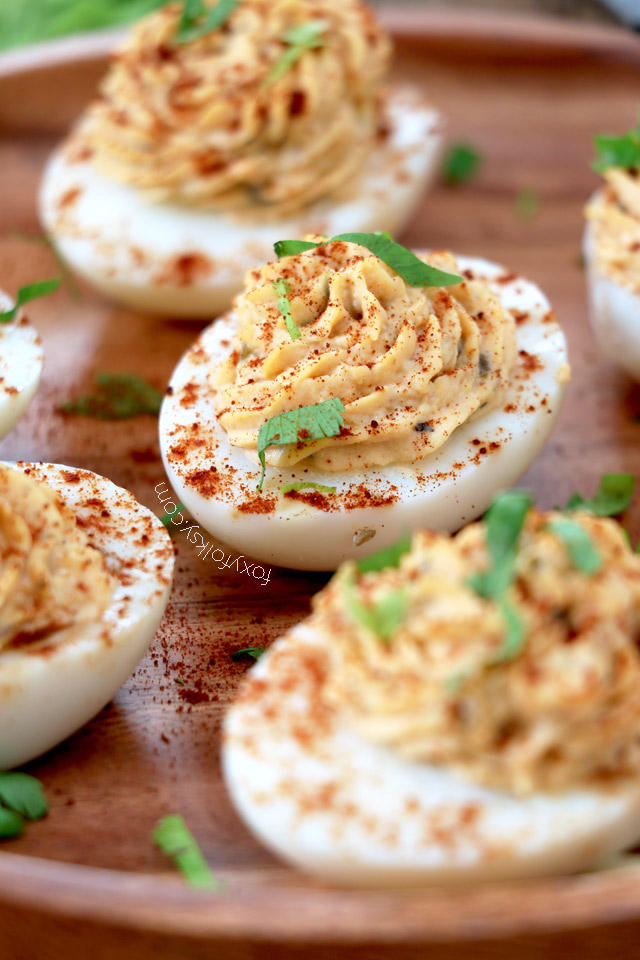 I see a lot of articles about the benefits of eating eggs recently, my Facebook has been constantly bombarded with these 'boiled egg diet' over the last months. Which is not bad actually, as eggs are healthy and I am glad the myth about eating (more) eggs could result in having heart problems is finally being put to rest.
I remember while growing up, we were only allowed to eat max of three eggs in a week because my Papa was afraid that we will suffer from heart diseases in our old age especially as it is in our family history.  Glad that is a thing of past because I love eggs.
But eating just hard-boiled egg could become boring fast. So why not liven it up by turning them into this yummy Deviled Eggs with relish. I am not sure though if they qualify for the 'boiled-egg diet' but they are perfect for a lot of other things.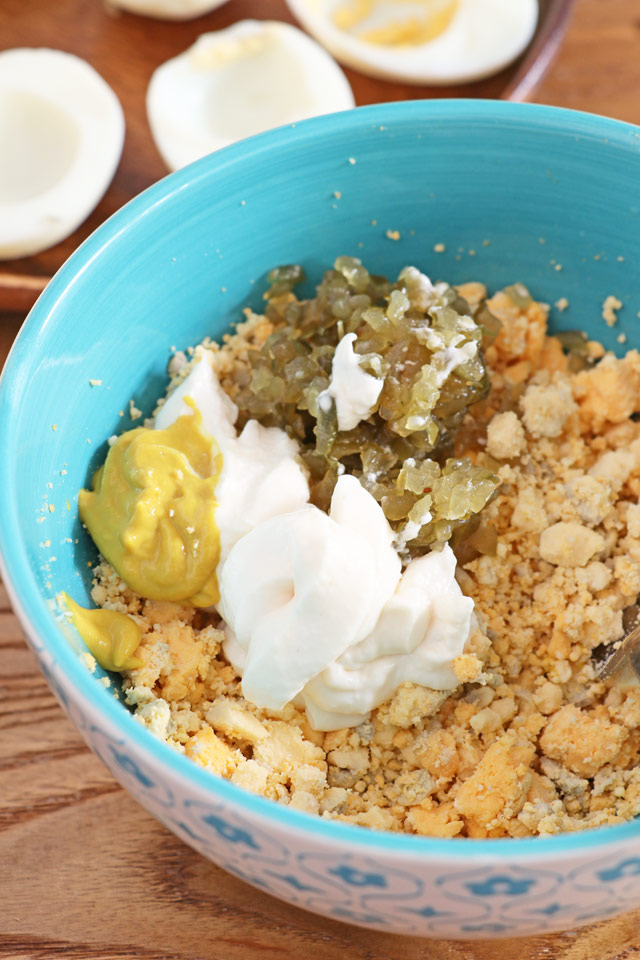 Oooopppss!!! You can see from this photo above that my eggs were a bit overcooked. Ok, maybe not everyone will know it but they are and you can tell this by the grayish hue on the yolks. I was busy editing a video in the other room, trying to multitask, and completely forgot to set the timer and I didn't know how much time has passed so to be on the safe side, I cooked them a bit longer. No worries, a little- overcooked hard-boiled eggs are totally fine to eat and nothing much is different with the taste, only the color of the yolk is not so nice.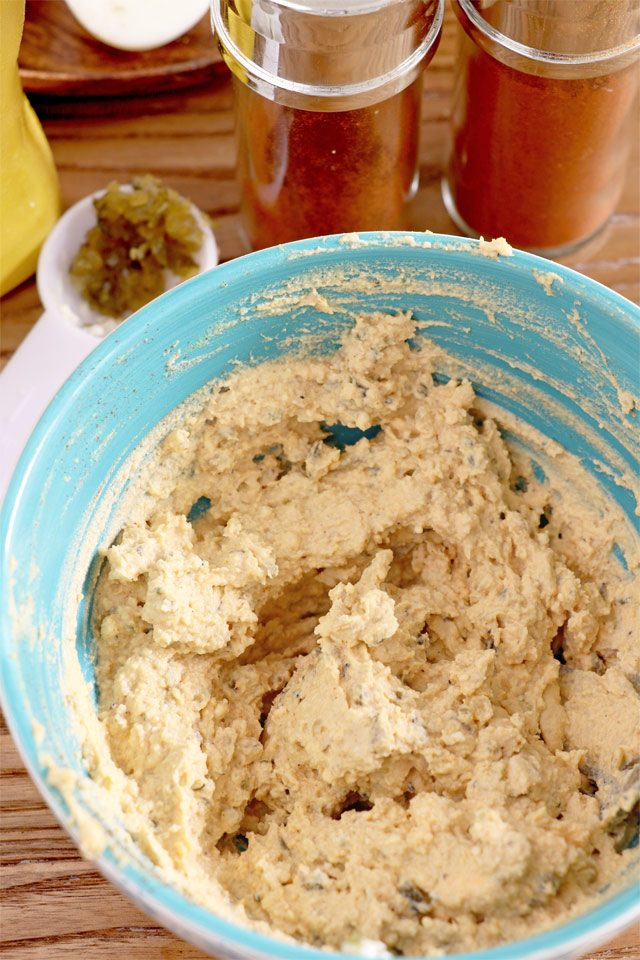 I know that there are different methods of cooking eggs, I used to do it by adding the eggs to the boiling water and cook it for a certain number of minutes depending on how I like my eggs, hard or soft.
But because of this incident, I opted to try a different technique and this one is for keeps as it seems to be the foolproof solution especially if you are forgetful like me. You can read more about it here: How to make perfect hard-boiled eggs?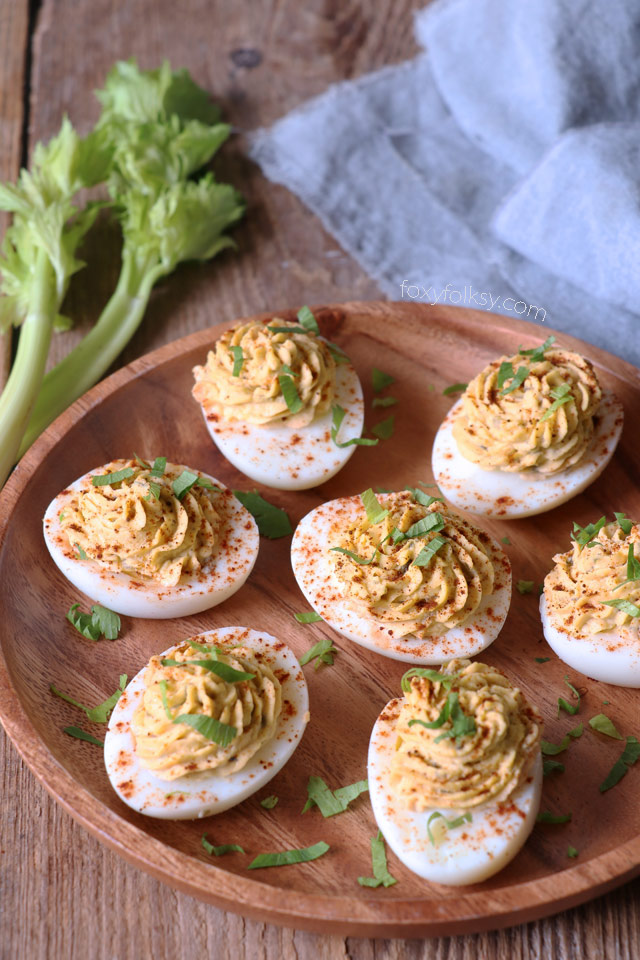 But perfect hard boiled eggs or not so perfect, this Deviled Eggs with relish is simply amazing.
Since they are a breeze to make, they do great as appetizers or finger food for any parties or get-together and your crowd will surely love it.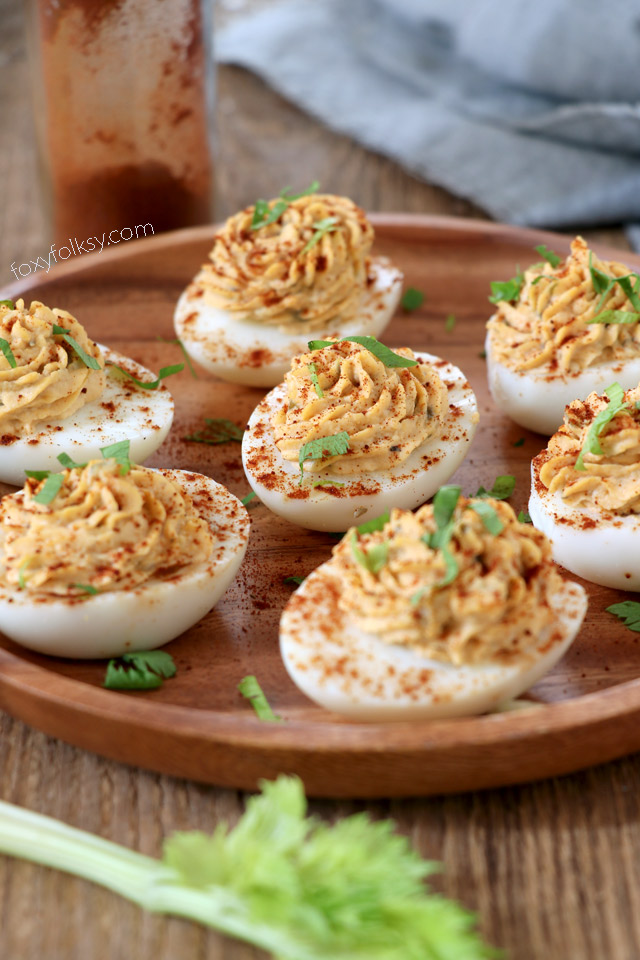 Printable Recipe
Deviled Eggs with Relish
These Deviled Eggs with Relish are made special by the little added sweetness and tanginess. Perfect for snacks, finger-food or appetizer and is a definite party pleaser.

Ingredients
6

big

eggs

4

tablespoons

mayonnaise

1

teaspoon

dijon mustard

3

tablespoons

relish

⅛

teaspoon

salt

⅛

teaspoon

ground pepper

⅛

teaspoon

paprika powder
Instructions
Place the raw eggs in a medium saucepan and fill with cold water with at least 1-2 inches on top. Bring to a rolling boil

over high heat. Remove pan from heat and

cover and let it sit for 15 minutes.

Transfer eggs to a bowl of ice-water and let them cool for five minutes.

Carefully crack and peel the eggs shells.

Slice each egg in half, lengthwise using a sharp knife. Gently remove the yolks and place in a separate bowl. Arrange the egg white halves on a serving platter.

Using a fork, mash up the yolks. Add the rest of the ingredients and mix until well and fully blended.

Transfer the egg paste into a piping bag or use a small plastic bag and cut a hole at one of the corners. Pipe the egg yolk paste on the hollow cups of the egg white halves.

Sprinkle with some more paprika powder (or chili powder ) and chopped parsley or celery leaves if desired.
Notes
As egg yolk size varies, you may need to add more mayonnaise if the yolks are bigger. Just add a tablespoon at a time until the desired creamy texture is achieved and adjust the seasoning as needed. 
Nutrition
Calories:
36
kcal
Carbohydrates:
0
g
Protein:
0
g
Fat:
3
g
Saturated Fat:
0
g
Cholesterol:
3
mg
Sodium:
100
mg
Fiber:
0
g
Sugar:
0
g
Vitamin A:
15
IU
Iron:
0.1
mg