These Deviled Eggs with Relish are made special by the little added sweetness and tanginess. Quick and easy to make that are perfect for snacks, finger-food or appetizer and is a definite party pleaser.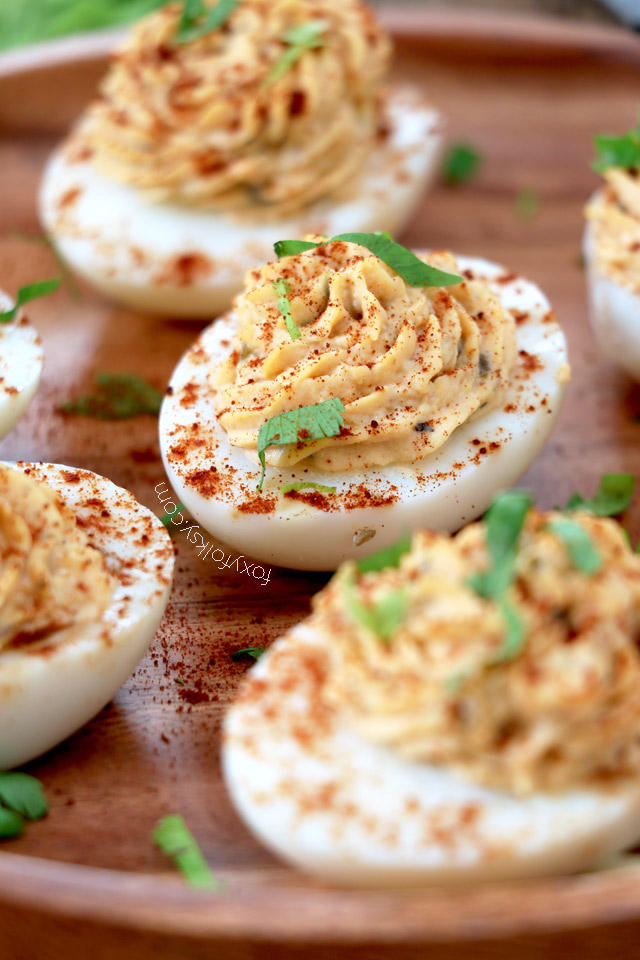 I see a lot of articles about the benefits of eating eggs recently, my Facebook has been constantly bombarded with these 'boiled egg diet' over the last months. Which is not bad actually, as eggs are healthy and I am glad the myth about eating (more) eggs could result in having heart problems is finally being put to rest.
I remember while growing up, we were only allowed to eat max of three eggs in a week because my Papa was afraid that we will suffer from heart diseases in our old age especially as it is in our family history.  Glad that is a thing of past because I love eggs.
MY LATEST VIDEOS
But eating just hard-boiled egg could become boring fast. So why not liven it up by turning them into this yummy Deviled Eggs with relish. I am not sure though if they qualify for the 'boiled-egg diet' but they are perfect for a lot of other things.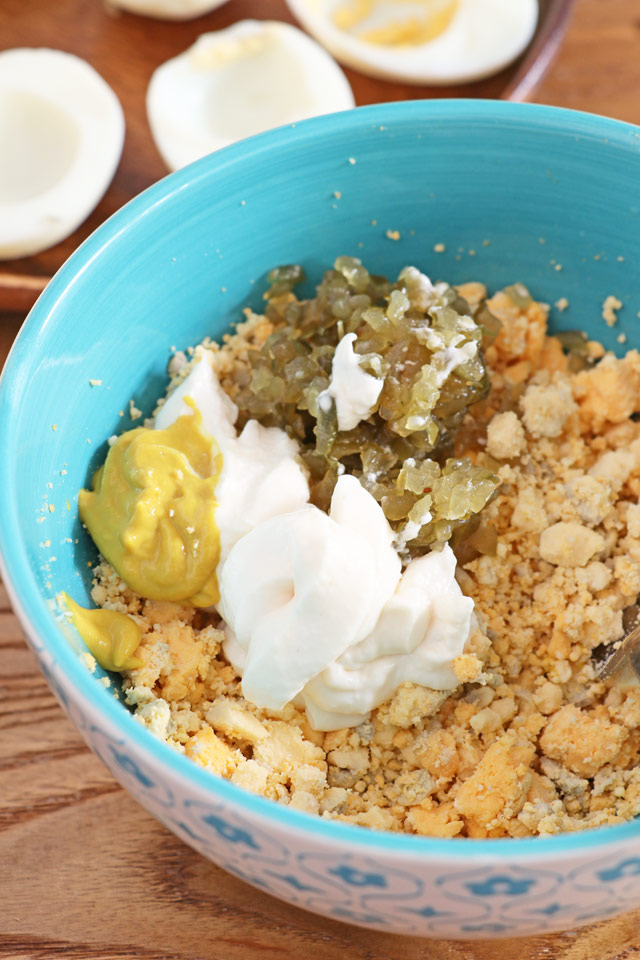 Oooopppss!!! You can see from this photo above that I am not an expert in boiling eggs. I struggle with it actually. I didn't even realize that the grey thing covering the yolks of my boiled eggs meant that they are overcooked. I always thought it had something to do with the eggs themselves. 🤣 Just shows that there are still a lot I have to learn about cooking.
I do not know how something that seems so easy, like boiling eggs can turn out to be a little more complicated.
The thing is, we used to have an egg cooker back in Germany but I did not bring it with us because it is not compatible to Philippine frequency (it has 50 hertz instead of 60). So, now, I do it manually but it is like a hit and miss thing for me. Sometimes they are perfect, but most of the times they are a miss.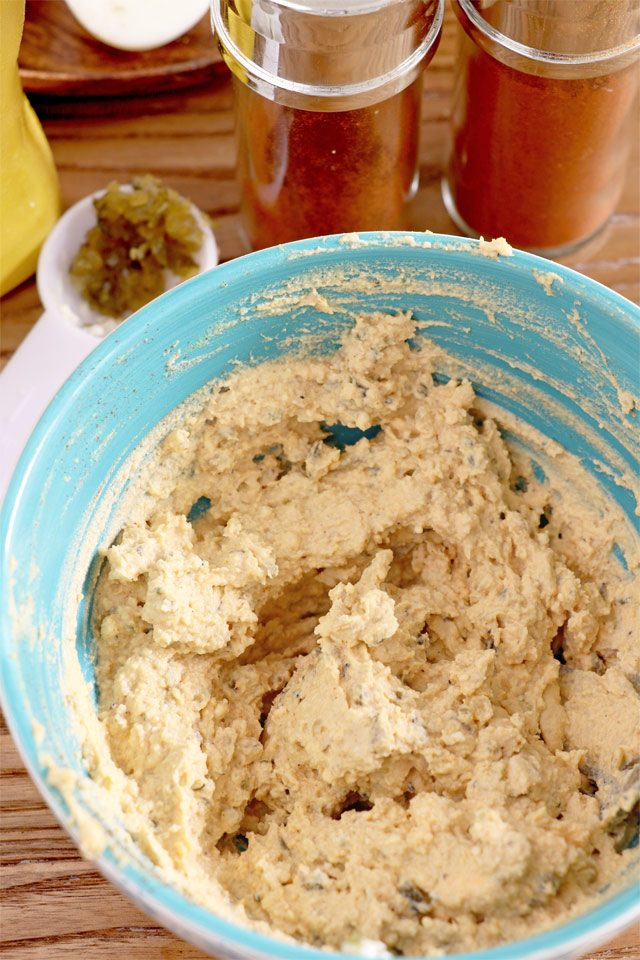 Well, after doing some research, I might be a bit wiser now.
I know, I should have done the research before doing this Deviled Eggs with Relish recipe but it was on an impulse and I didn't really plan the whole thing and just did it. I was actually missing my friend's Deviled Eggs. Christin makes them best but I cannot fly all the way to Germany just to have them now can I.
Anyways, I will put the things I've learned on how to make perfect boiled eggs to the test in the next few days and share it here next time. So we will see if I can master boiling eggs at all.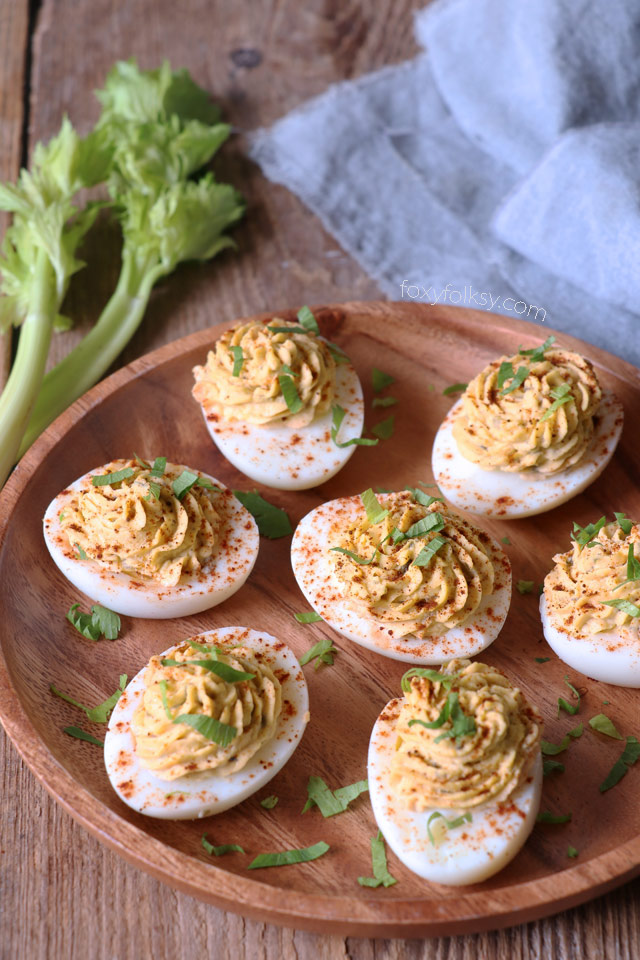 But perfect hard boiled eggs or not so perfect, this Deviled Eggs with relish is simply amazing.
Since they are a breeze to make, they do great as appetizers or finger food for any parties or get-together and your crowd will surely love it.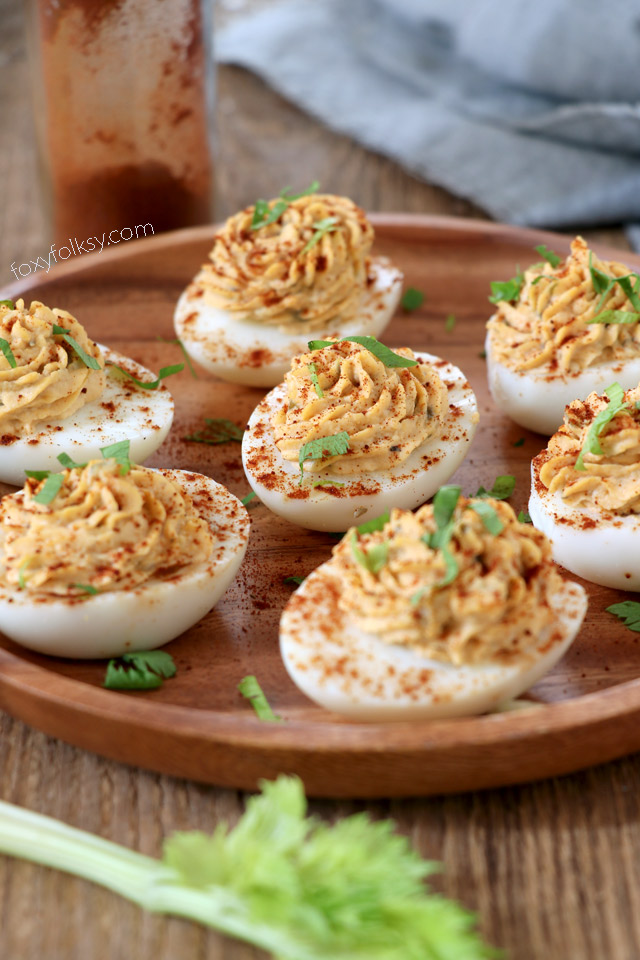 Deviled Eggs with Relish
These Deviled Eggs with Relish are made special by the little added sweetness and tanginess. Perfect for snacks, finger-food or appetizer and is a definite party pleaser.

Ingredients
6

big

eggs

4

tablespoons

mayonnaise

1

teaspoon

dijon mustard

3

tablespoons

relish

1/8

teaspoon

salt

1/8

teaspoon

ground pepper

1/8

teaspoon

paprika powder
Instructions
Place the raw eggs in a medium saucepan and fill with cold water with at least 1-2 inches on top. Bring to a rolling boil over high heat. Remove pan from heat and cover and let it sit for 15 minutes. Transfer eggs to a bowl of ice-water and let them cool for five minutes. Carefully crack and peel the eggs shells.

Slice each egg in half, lengthwise using a sharp knife. Gently remove the yolks and place in a separate bowl. Arrange the egg white halves on a serving platter.

Using a fork, mash up the yolks. Add the rest of the ingredients and mix until well and fully blended.

Transfer the egg paste into a piping bag or use a small plastic bag and cut a hole at one of the corners. Pipe the egg yolk paste on the hollow cups of the egg white halves.

Sprinkle with some more paprika powder (or chili powder ) and chopped parsley or celery leaves if desired.
Recipe Notes
As egg yolk size varies, you may need to add more mayonnaise if the yolks are bigger. Just add a tablespoon at a time until the desired creamy texture is achieved and adjust the seasoning as needed. 
Nutrition Facts
Deviled Eggs with Relish
Amount Per Serving
Calories 36
Calories from Fat 27
% Daily Value*
Total Fat 3g 5%
Cholesterol 3mg 1%
Sodium 100mg 4%
Total Carbohydrates 0g 0%
Protein 0g 0%
* Percent Daily Values are based on a 2000 calorie diet.
3.

Deviled Eggs with Relish