Sipo Egg is a Kapampangan dish of quail eggs cooked with shrimp, peas, carrots and 'singkamas' (jicama or mexican turnip) in a thick creamy and savory white sauce.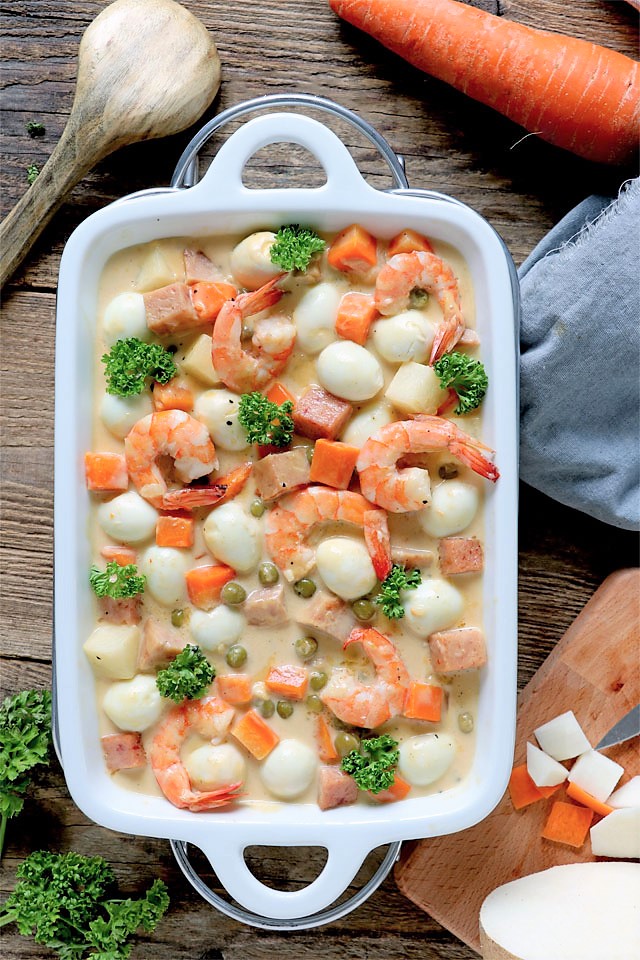 Although Sipo Egg has been more like a banquet dish served usually at weddings, fiestas, birthday and other special celebrations, it is actually very easy to make and could easily be an everyday-meal dish. 
Why it is called Sipo Egg, I really do not know the answer to that but what I do know is that it is delicious.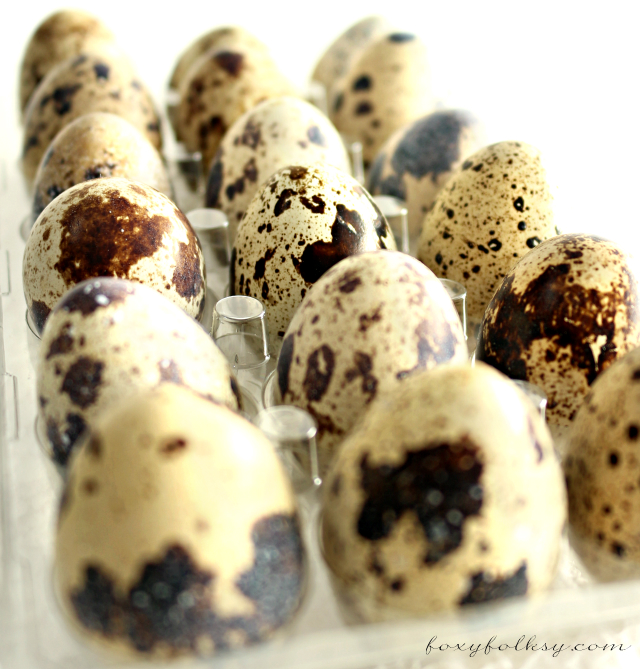 The first time I cooked this Sipo Egg recipe was three years ago and we were still in Germany. I remember how giddy and excited I was finding some quail eggs when my friend, Riza, and I went to an Asian shop in a nearby town to refill our Asian/Filipino food stock.
It is not common to find quail eggs in Germany although they do sell it at some local supermarkets from time to time (like maybe once in a year or so!?).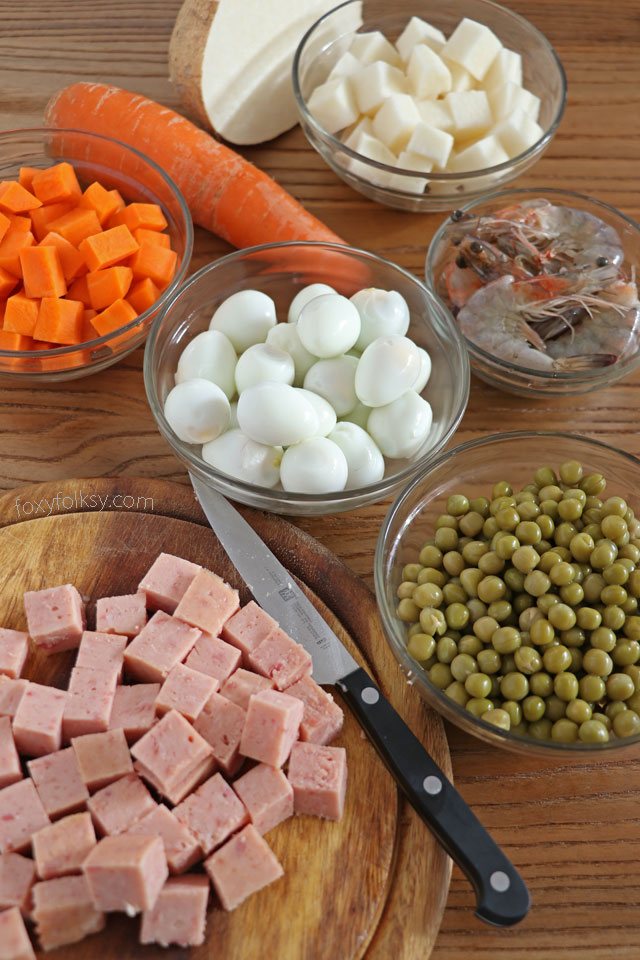 So, although my frugal self was telling me at that time that paying €3+ (Php180+) for 18 pieces of quail eggs was a bit too much...the unpractical and craving side of me said I just have to get some!!!
Now that we are in the Philippines, I still feel excited whenever I see them, available almost all-year round in any local groceries and I no longer have to think twice about the price too! I usually get them for a third of the price (€1 for 24 pieces)! Awesome!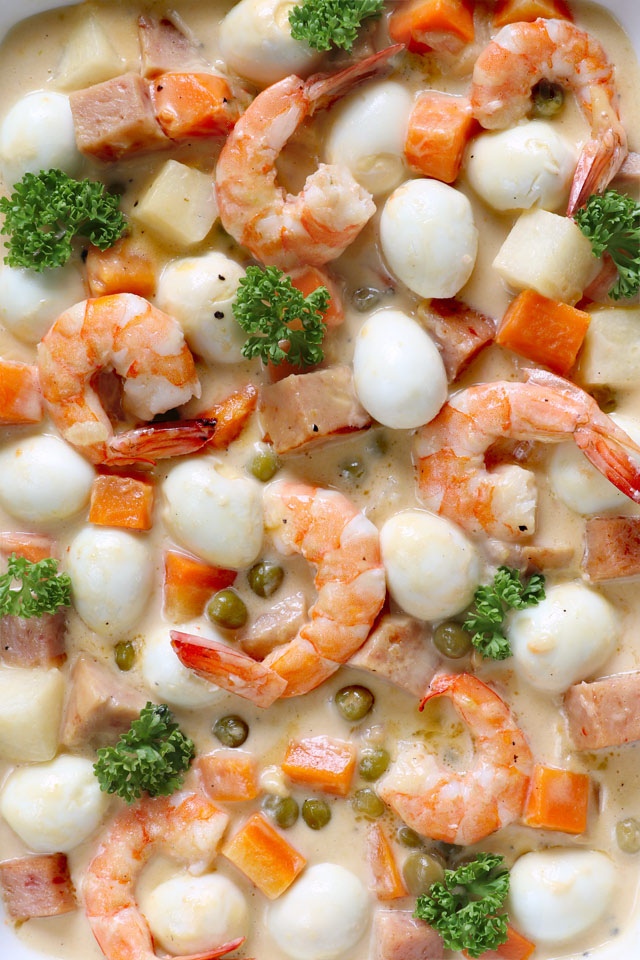 I got this recipe from my Mama and she used to cook Sipo Egg every day as part of her menu when my parents still had a canteen. They have retired and are now busy taking care of grandchildren.
She usually uses chicken gizzard instead of shrimps which I think is what the original Sipo Egg recipe calls for and is also not as expensive.
But I do not want to turn Armin off the dish, especially since it was the first time for him to try it so I opted for the shrimps instead.
Since I never saw 'singkamas' in Germany, I used a really close substitute-->kohlrabi or turnip cabbage-it is as crisp and juicy and also a bit sweet so it is perfect!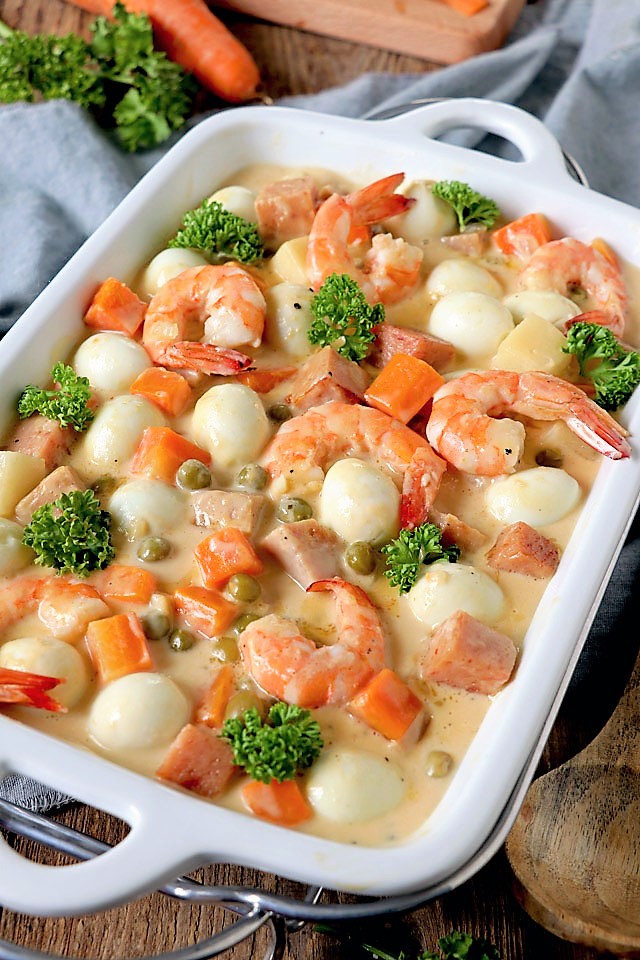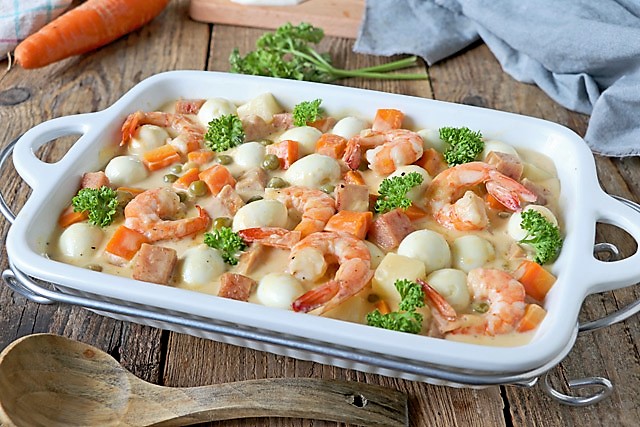 Printable Recipe
Sipo Egg Recipe
Quail eggs with shrimp, ham,carrots, green peas and singkamas or mexican turnip in a thick creamy white sauce.
Ingredients
24

pieces

fresh quail eggs

- boiled and shelled

2

tablespoons

butter

1

tablespoon

vegetable oil

1

cup

shrimp

2

cloves

garlic

- minced

1

small

onion

- chopped

1

medium

carrots

- cubed

1

cup

green peas

1

cup

cooked ham

- cubed

250

ml

all-purpose cream

or heavy whipping cream

1

medium

singkamas (mexican turnip)

- cubed

salt and pepper

2

teaspoons

cornstarch

- dissolved in ½ cup water
Instructions
In a pan, heat butter and oil over medium heat. Cook the shrimps until all sides are done. Remove the shrimps from butter and set aside.

In the same pan with butter, saute garlic and onion until tender. Next, add the carrots and green peas. If using canned green peas then this should be added at the end. Mix in the ham and cook for 2 minutes. Add ½ cup of water, cover and let simmer until carrots are almost cooked.

Add the quail eggs, shrimp and singkamas or kohlrabi then pour in the all-purpose cream and stir. Season with salt and peppers and let it simmer under medium heat for about 3 minutes.

Add the cornstarch mixture and mix for about another 2-3 minutes or until the sauce thickens.

Serve warm and enjoy.
Nutrition
Calories:
409
kcal
Carbohydrates:
17
g
Protein:
13
g
Fat:
32
g
Saturated Fat:
20
g
Cholesterol:
217
mg
Sodium:
445
mg
Potassium:
407
mg
Fiber:
4
g
Sugar:
6
g
Vitamin A:
6835
IU
Vitamin C:
33.9
mg
Calcium:
129
mg
Iron:
1.9
mg