Beef brisket is brined with spices for a couple of days then cooked until it becomes very tender and succulent.  This is what  Homemade Corned Beef is all about!

Why 'Corned' Beef?
For those who are wondering why it is named so, the term 'corned beef' actually refers to the method of how it is prepared. That is, curing the meat in salt. The grains of salt that were used then were larger and coined as "corns" of salt.
So next time you know what to answer if someone asks you why it is called corned beef when there is obviously no corn in it. Yes, I did ask that too while growing up and nobody was able to explain it to me.
Well, that is not surprising since the only corned beef we knew while growing up were the ones from the can. And even today, brining meat is not all that very common in our culture. It is only recently that I am learning a lot about curing and I find it fascinating.
So far I have some success in curing meat by hanging them in our fridge (more about that in the future). And there is this homemade corned beef which I also use in making No-Smoker Pastrami.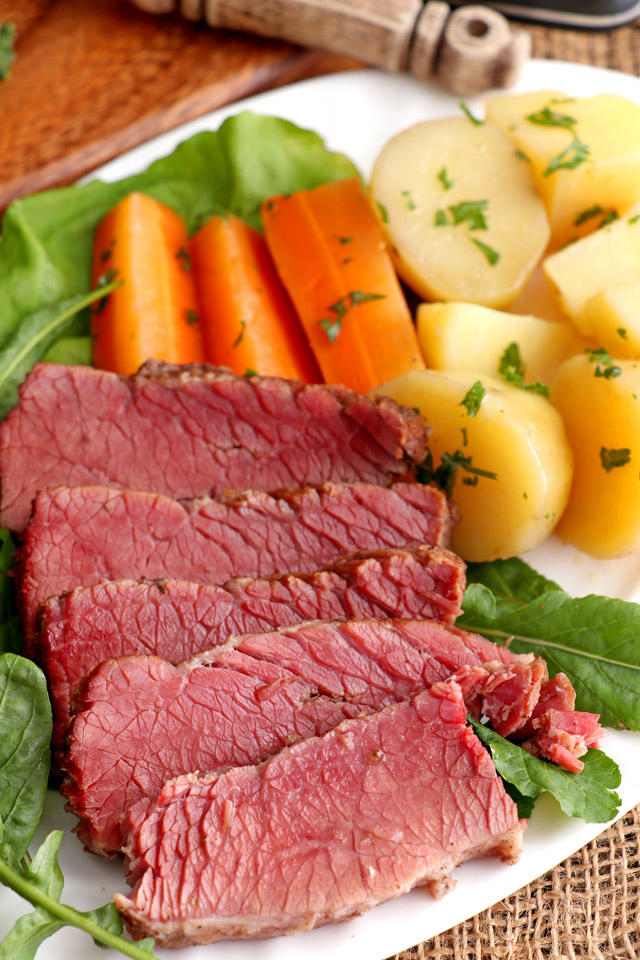 The main ingredients that is crucial in making corned beef if the brine solution and the pickling spice.  As we learned in our science classes, brine is simple water and salt combined. But, of course, we want to add more flavor to our meat so sugar and spices are added.
Since we do not have ready-made store-bought pickling spice, I had to make my own. Good thing I brought some of the spices from Germany with me when we moved and the rest can be bought here. But it is fine if you do not have all the spices on my list, you can use whatever spice you prefer. Some recipes call for cardamom pods which I cannot get here and some added chili flakes which I also skipped.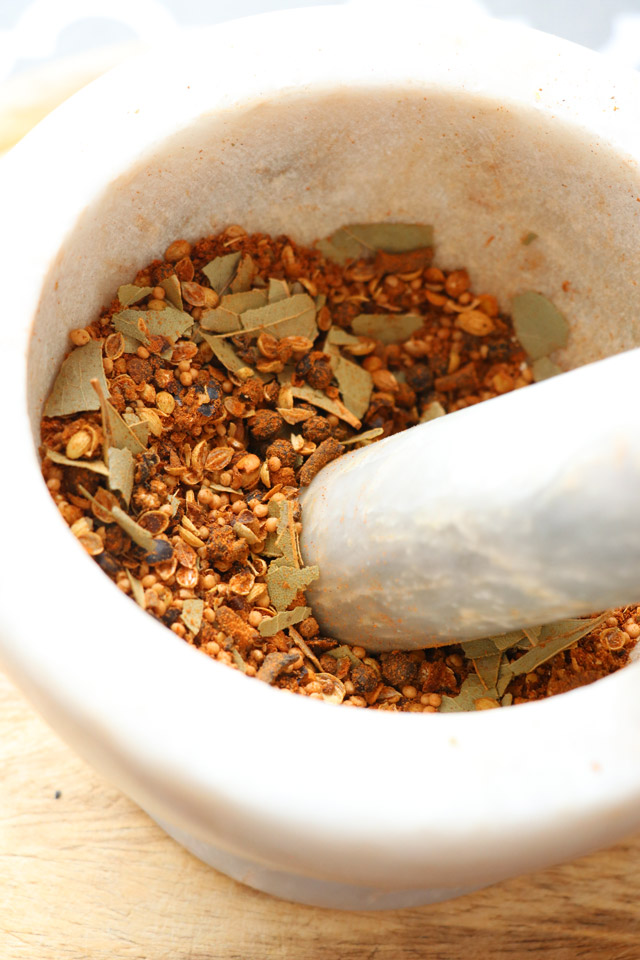 About Pink Curing Salt
This recipe also uses pink curing salt No. 1 (also called Prague powder or Pökelsalz, in German). This is what gives corned beef the pinkish color even after cooking.  It is basically a combination of table salt and sodium nitrite. It is also added to prevent spoilage and botulism normally caused by bacteria and toxin.
Some people might find using pink salt debatable, as using it in high doses can be toxic.  But nitrite is eventually used up during the curing and cooking process so there is really no danger if the correct amount is used. Note also that sodium nitrates also occurs in many vegetables we eat.
If you are not comfortable in using pink curing salt, then you may also skip it. It will not look as nice but still delicious.
What to serve with Corned Beef?
Here are some side dishes ideas that would go very well with this dish:
Cabbage is the traditional choice and you can boil or saute it.
Boiled or steamed potatoes and carrots, then buttered and seasoned with a little salt and chopped parsley or other herbs. You can use the corned beef stock to boil the vegetables for flavor.
Oven-roasted vegetables like this vegetable trio of beets, parsnips, and carrots should also work wonderfully.
Pan-roasted garlic mushroom and baby potatoes  would also be a nice side for corned beef.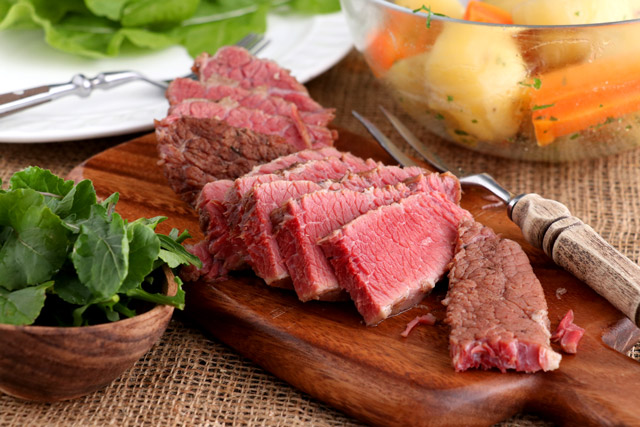 Printable Recipe
Homemade Corned Beef
Curing and making your own corned beef is not all that hard to do and is worth all the wait.
Ingredients
2

pounds

brisket

1.5 to 2 inch thick
BRINE SOLUTION
4

cups

water

1.5

teaspoon

pink curing salt No.1 (prague powder)

½

cup

salt

¼

cup

brown sugar
PICKLING SPICE
1

tablespoon

mustard seeds

2

tablespoon

black peppercorn

8

pieces

cloves

½

teaspoon

dried thyme

4

pieces

bay leaves

1

tablespoon

coriander seeds

1

teaspoon

juniper berries

-optional

½

teapoon

ginger powder

½

teaspoon

garlic powder

- fresh garlic can also be used

1

teaspoon

allspice powder
Instructions
HOMEMADE PICKLING SPICE: Using a mortar and pestle, crush the pickling spice ingredients, except for the last 3. You can also use an electric spice grinder. Add the remaining 3 spices and mix well. Transfer to a small jar and this can be stored for a month.

Pour 1 cup of water in a small pot. Add all the ingredients for the brine solution and half of the pickling spice. Bring to a soft boil and stir until all salt and sugar are dissolved.

Pour the brine to a container big enough to fit the meat and the solution. Add the rest of the water and stir.

Once the brine solution has cooled down completely, add the brisket. The meat should be submerged or place a weight to push it down.

Cure the brisket in the brine solution for some days in the fridge. For 1.5-inch thick meat, it will take 3 days and 5 days for 2-inch thick. Turn the meat every 2 days.

Rinse brined beef brisket thoroughly. Place meat in a pot just large enough so fits snuggly. Fill it with water to cover about 2 inches from the surface of the meat.

Add a tablespoon of the pickling spice to the pot and bring to boil over medium-high heat. Once it starts to boil cover pot and lower heat to the lowest for a very gentle simmer. Cook for 3-4 hours or until meat is fork-tender.

To serve, cut the big chunk into 2, first along the grain or in the same direction of the lines of meat. Then cut across or against the grain into smaller serving size. Enjoy with 1 or 2 vegetable side dishes.
Notes
After boiling the corned beef, you may also store it in the fridge for a week. Just transfer it to a container with the liquids and seal. 
You can also use this corned beef to make this easy Pastrami recipe.
Nutrition
Calories:
300
kcal
Carbohydrates:
15
g
Protein:
32
g
Fat:
12
g
Saturated Fat:
4
g
Cholesterol:
94
mg
Sodium:
9577
mg
Potassium:
568
mg
Fiber:
2
g
Sugar:
11
g
Vitamin A:
195
IU
Vitamin C:
0.2
mg
Calcium:
53
mg
Iron:
3.9
mg