How to make homemade Pastrami without a smoker? Yes, it is possible but it requires some days of planning because we have to make it from scratch. No store-bought corned beef for us.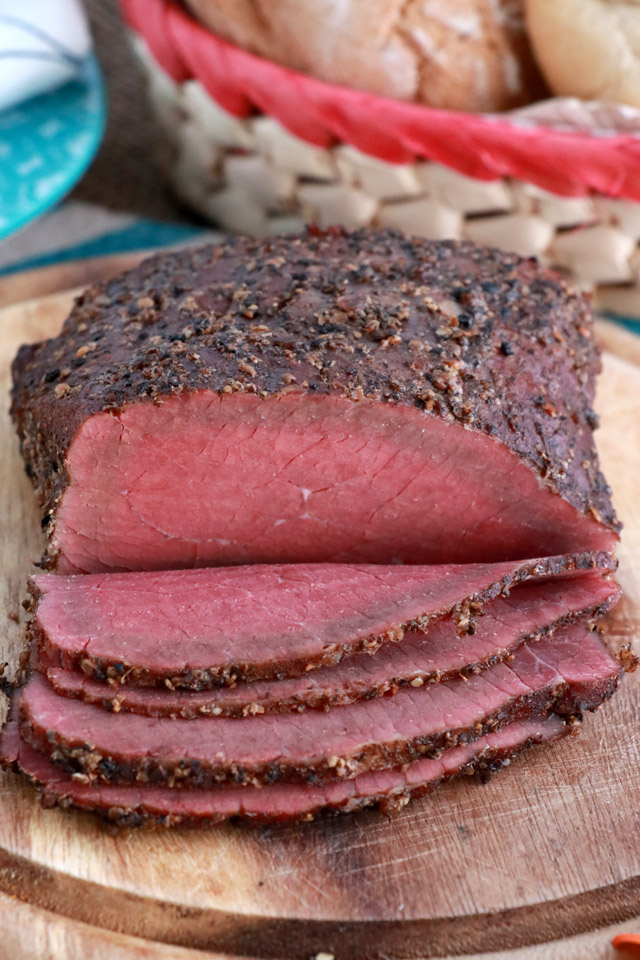 Armin and I both love Pastrami! Albeit we both have yet to try the infamous New York Jewish deli pastrami everyone is raving about. For a long time, we have to make do with the ones in packages sold locally in a specialty food store or deli. But we have to close our eyes or look the other way every time so we do not focus on how expensive a few slices are.
Until I decided enough is enough and it is time we just make our own Pastrami. How hard could it be? Well after some researching, I started to see why it is so expensive. The process involved is quite daunting. It involves curing, smoking and steaming. All of which seems to be a lot of work. Until I found this recipe from Nagi of Recipe Tin Eats. She uses store-bought corned beef and no smoking involved. The problem is we do not have corned beef anywhere in the island. So it was decided-- that I have to make first the corned beef and then make a Pastrami out of it!
What is Pastrami?
Pastrami is a cured and smoked delicatessen meat and is served typically in very thin slices as a deli sandwich. It is seasoned with flavorful spices such as coriander, black pepper, garlic, paprika, salt, and mustard seed. Originally, the process of making pastrami was created to preserve meat by eastern Europeans way before refrigeration is a thing.
In this modern-day though, New York City is the place the get the best Pastrami. In fact, the first pastrami is told to has been served in New York City during the late 19th century. It was brought by Romanian Jewish immigrants when they moved from Eastern Europe to the United States. They formerly use goose breast to make pastrami, but since moving to the United States, they shifted to using beef navel since it is the more inexpensive cut of meat available in the area.
What's the difference between Pastrami and Corned Beef?
Generally, pastrami and corned beef differ in the cuts of meat used and its preparation technique.
While the two uses beef traditionally, the pastrami customarily uses beef navel (navel end brisket)  while corned beef is from brisket.
The preparation for pastrami and corned beef both begins with the same process—the curing. Right after that process, the pastrami is smoked, giving a result of a dried and smoky flavor, unlike the corned beef which is boiled.
This Pastrami recipe starts off with corned beef.  We have a separate post on how to make Homemade Corned Beef that is perfect for making this Pastrami.
How to make Pastrami traditionally?
Pastrami is made by firstly curing the meat. The pastrami is brined for a handful amount of days. Brining is a food preservation process by soaking the meat in salt.
Before smoking, the meat will be coated with flavorful spices once more. Then finally, the meat will be steamed.
What are the best cuts of beef for homemade Pastrami?
The beef navel end or also known as the beef plate is the traditional cut of beef since it is fatty and holds up well to the length of the cooking process required in preparing pastrami.
Another popular choice is the brisket. The flat brisket or first cut is mostly used because it has a better shape and will make nice cuts. The point section is fattier than the flat which also means it is more tender and flavorful.
For a more leaner and tenderer cut, the bottom round can also be used.
What can you do with homemade Pastrami?
Aside from the classic pastrami stuffed deli sandwiches, you can serve pastrami in many ways. Many deli restaurants especially in New York City is serving pastrami as a pastrami egg roll, pastrami taco, pastrami-spiced steak, pastrami pizza, pastrami sushi, and even a pastrami carbonara.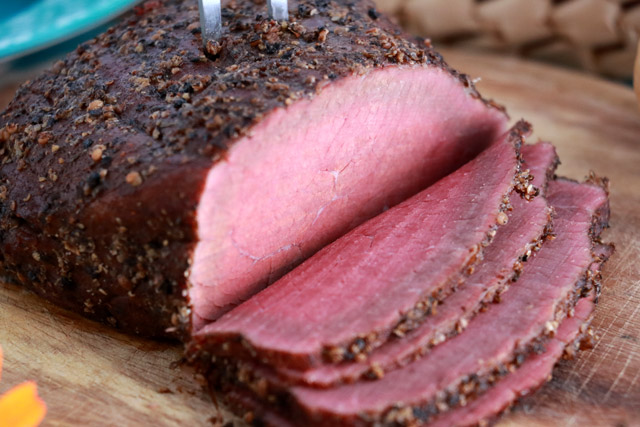 Printable Recipe
Homemade Pastrami without Smoker
Making Pastrami from scratch is so rewarding and worth all the effort. This recipe is a short cut and does not involve smoking but still gives a tender, juicy and flavorful Pastrami.
Ingredients
PASTRAMI DRY RUB
1

tablespoon

black pepper

1

teaspoon

coriander seeds

1

teaspoon

mustard seeds

1

tablespoon

brown sugar

1

teaspoon

paprika powder

½

teaspoon

garlic powder

½

teaspoon

onion powder

2

tablespoon

liquid smoke

- optional
Instructions
Prepare the dry rub by combining all the ingredients and grinding them manually using a mortar and pestle or a spice grinder.

Rinse corned beef and pat dry. Rub with the dry rub and place the meat on a platter. Let it air dry in the fridge for another day.

Remove from fridge and sprinkle with liquid smoke, if using. Cover the meat in 2 layers of aluminum foil. Place it in a pressure cooker (electric or stovetop). Add ½ cup of water and cook for 1.5 hours.

Remove the beef and refrigerate for at least 3 hours. Reserve the juices from the pressure cooker.

Unwrap and transfer to a roasting pan or use the oven rack with a tray below it. Bake at 180°C for 20-30 minutes or until forms a nice crust.

Remove from oven and slice thinly. Drizzle some of the reserved juice. Serve as a sandwich.
Nutrition
Calories:
300
kcal
Carbohydrates:
15
g
Protein:
32
g
Fat:
12
g
Saturated Fat:
4
g
Cholesterol:
94
mg
Sodium:
9577
mg
Potassium:
568
mg
Fiber:
2
g
Sugar:
11
g
Vitamin A:
195
IU
Vitamin C:
0.2
mg
Calcium:
53
mg
Iron:
3.9
mg