Try this roasted vegetable trio of beets, carrots and parsnips for a perfect side dish or it could also be a meal on its own. Healthy and yummy way to help you shed the holiday fat.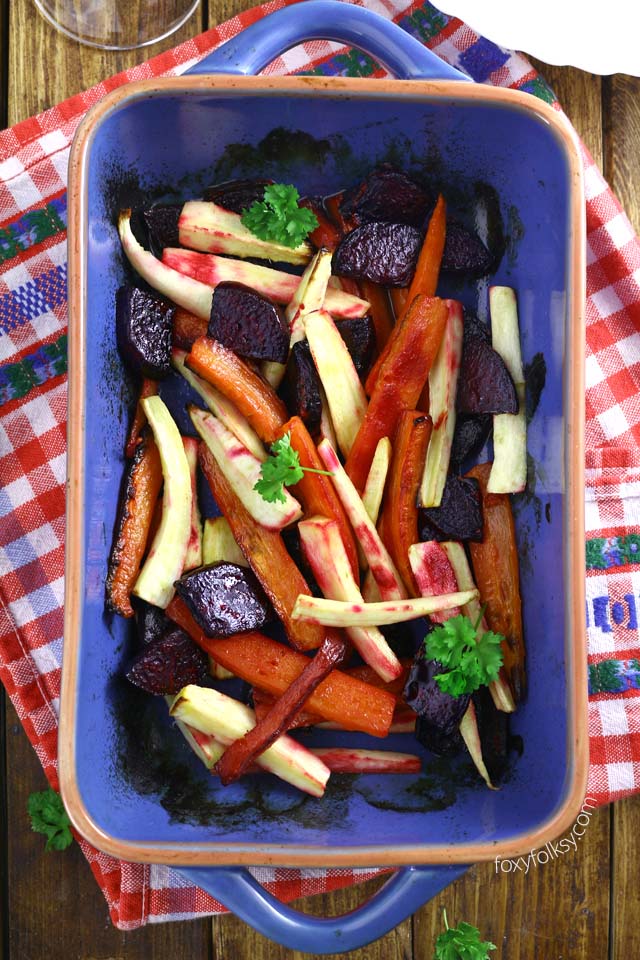 I've been meaning to make this dish of roasted beets, carrots and parsnips for the longest time and now seems to be a good time for it! Not only because they are all freshly available in the market, but because of a rather more personal reason.
After my 5-week-long vacation in the Philippines over the Holiday season, I've gained (a lot of) weight (*sigh*). I don't mind it so much, but it is frustrating when nothing from my closet fits anymore. I guess this is a problem for many at this time of the year when all the fun and excitement of the holidays have subsided and the feeling of guilt (from stuffing your face with all those yummy holiday desserts and treats!) rises. But more so in my case, because it was the first time in almost 5 years that I was home for Christmas and New year and  I've been craving for so many things being away from home... OK! maybe a bit too much drama there, we were home several times over the past years... BUT never on Christmas! I've missed all the Philippine Christmas food like bibingka, puto bumbong, sapin-sapin and fruit salad, leche flan...(I think I need to stop now or the purpose of this post will be lost).
So when I came back, Armin and I agreed that we have to do something to get back into shape, yes him too! We are contemplating on me joining his fitness studio so we could workout together, I am not really into workouts and exercises but I know I should so I would most probably do it and maybe the workout buddy system would work for Armin and me (crossing my fingers).
Of course, aside from working out, food also plays a big role if we want to achieve this, and between food and workout, food is what I am better at...
This recipe of roasted vegetable trio is not entirely my own, I got the inspiration from a friend couple, Lionel and Sara, who brought it last year at a Christmas get-together. It was, for me, love at first bite and never forgot about it! Only I was not able to make it sooner because I seem to always miss fresh beets when they are in season.  
Printable Recipe
Roasted Vegetable Trio - Beets, Parsnips & Carrots
Try this roasted vegetables of beets, carrots and parsnips, a perfect side dish or also a meal on its own for a healthy & yummy way to rid the holiday fat.
Ingredients
2

medium-size

beets

1

big or 2 medium-sized

carrot

1

big or 2 medium-sized

parsnips

2

tablespoons

olive oil

1

teaspoon

sea salt

1-2

tablespoons

honey
Instructions
Heat oven to 200°C.

Wash, peel and cut the beets, carrots and parsnips into strips or slices, about 1 cm thick.

Place them in a baking dish and sprinkle with salt and drizzle with olive oil.

Roast them for about 30-40 minutes or until just tender and golden.

Drizzle with honey before serving.
Nutrition
Calories:
104
kcal
Carbohydrates:
5
g
Protein:
0
g
Fat:
9
g
Saturated Fat:
1
g
Cholesterol:
0
mg
Sodium:
776
mg
Sugar:
5
g
Vitamin A:
55
IU