Everlasting is a Filipino-style meatloaf originating from Marikina commonly served during fiestas and other festivities.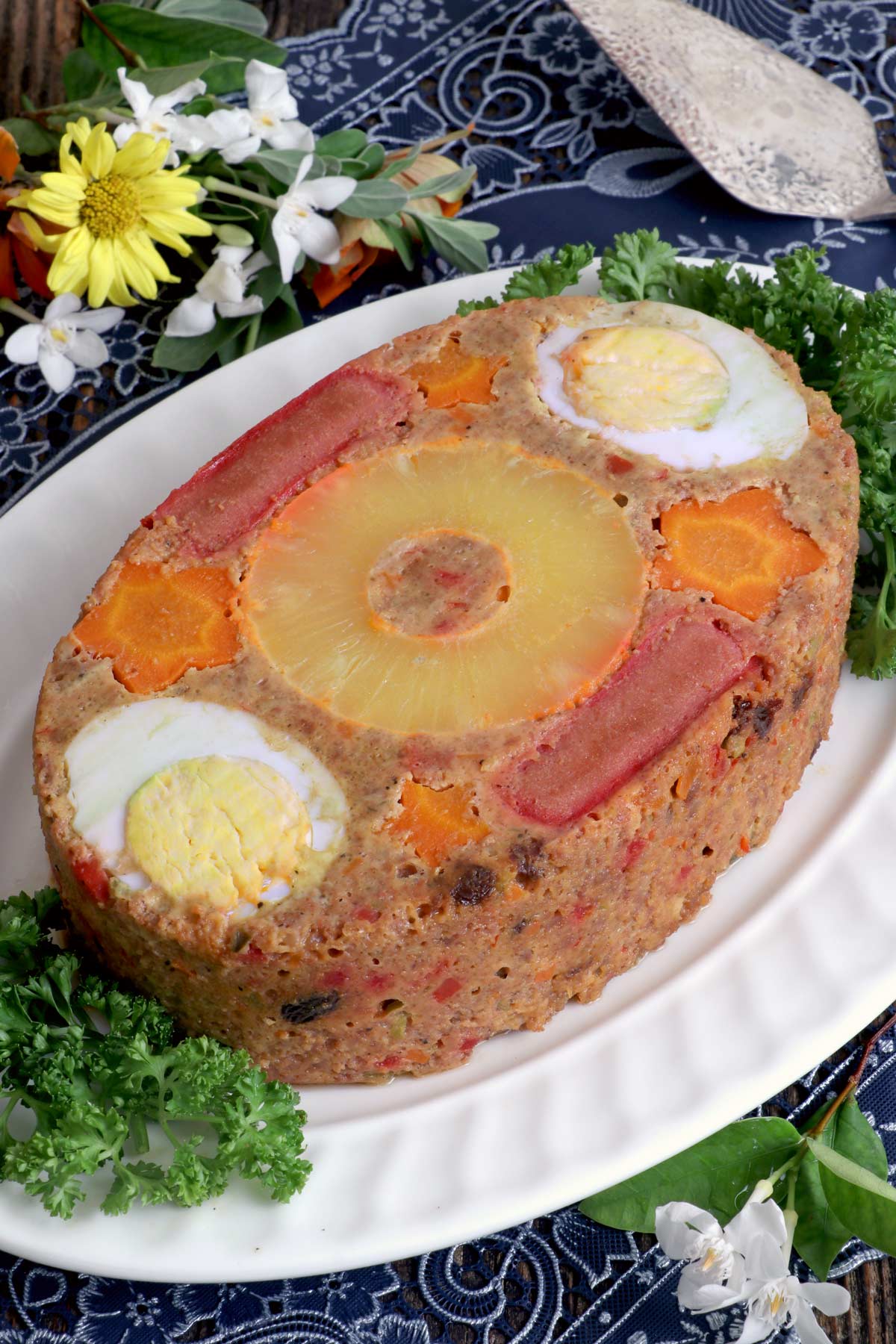 Jump to:
What is Everlasting of Marikina?
This Marikina specialty is made of ground pork, tomato sauce, hotdogs, cheese, eggs, and an assortment of vegetables cooked together in a pan. It is then placed in oval-shaped tin molds called llaneras. Embellished with hard boil eggs, pineapples, carrots, and hotdog slices. Once assembled it is steamed until fully cooked.
It is said to be called as such because it is a quintessential fiesta food. This meaty, flavorful, and festive dish is always present in any local celebration. Aside from that, it does not easily spoil and can last for days when stored properly.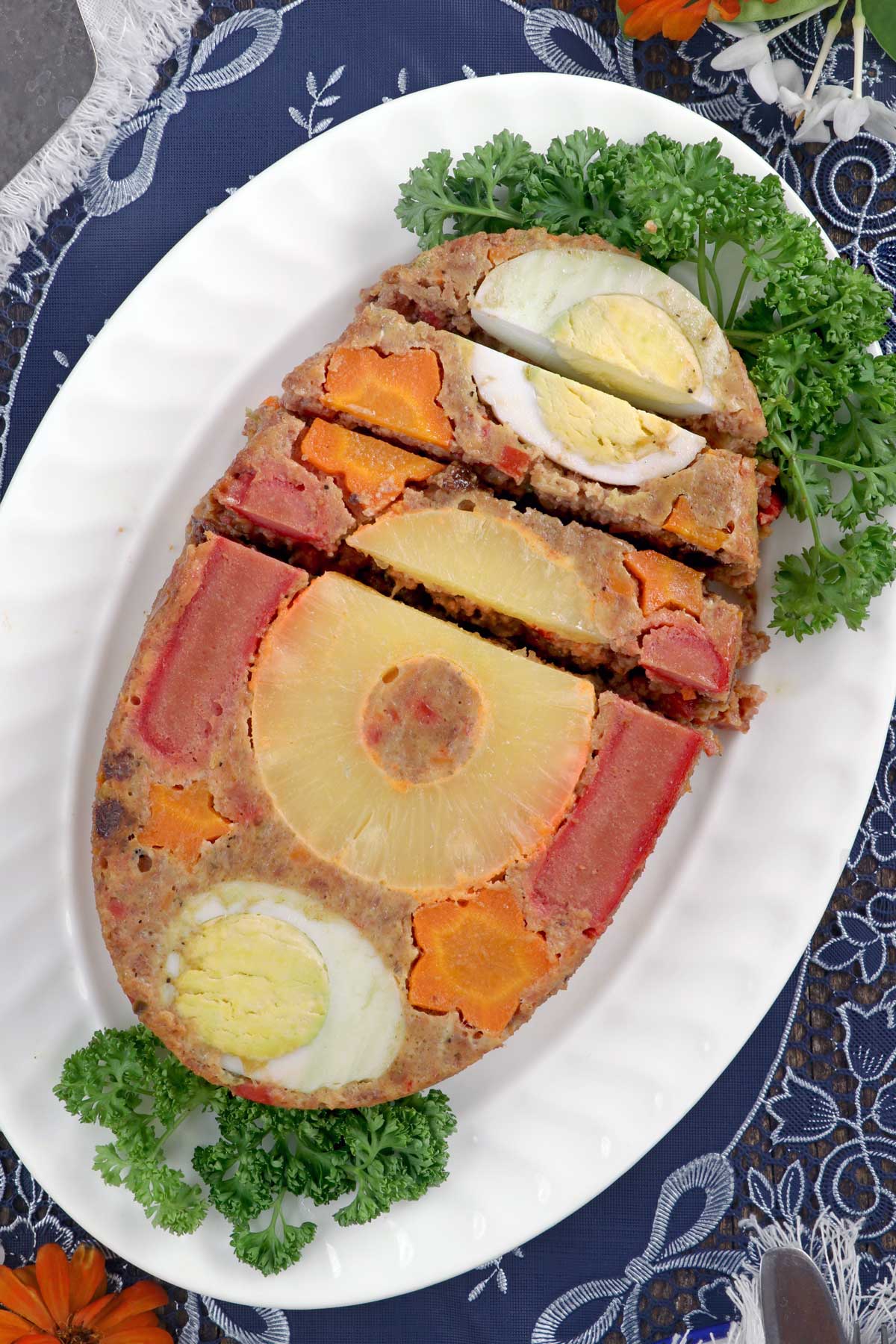 These three Filipino dishes are commonly confused with one another. While they do have a lot of similarities, there are some ways to differentiate them from each other. take note though that because they are all enjoyed all over the country, there will be variations in terms of ingredients used.
Place of Origin- While Everlasting originated from Marikina, Hardinera hailed from Quezon Province, speciafically in Lucban. Embutido's origin is a bit more difficult to pinpoint. However, it was introduced to the Philippines during the American colonial period despite its Spanish name.
Meat Used- All recipes traditionally used pork as the main ingredient. While Everlasting and Embutido uses ground meat, Hardinera uses diced meat.
Other Ingredients- These three recipe uses bell peppers, carrots, eggs, pickled relish, and raisins. However, Hardinera and Embutido uses tomato paste and sausgaes, while Everlasting is made using tomato sauce and hotdogs. Also, Everlasing does not use bread crumbs unlike the two.
Cooking Style- Both Everlasting and Hardinera are steamed in llaneras. On the other hand, Embutido is more or a roulade, where the meat mixture is flattened rolled around the sausages and hard boiled eggs. It is then covered in foil before steaming.
Foxy Tips when Making Everlasting
Make sure that all liquids are evaporated when cooking the meat mixture. Otherwise, you will end up with a soggy meatloaf.
After scooping the meat mixture into the decorated llanneras, release air pocketsd by tapping them in the counter several times. This is to ensure that your meatloaf will not deflate and end up deformed after steaming.
Make sure that the meat mixture has sufficiently cooled down before adding the beaten eggs so they don't cook from the heat. The eggs will act as a binder, so it should be raw before steaming.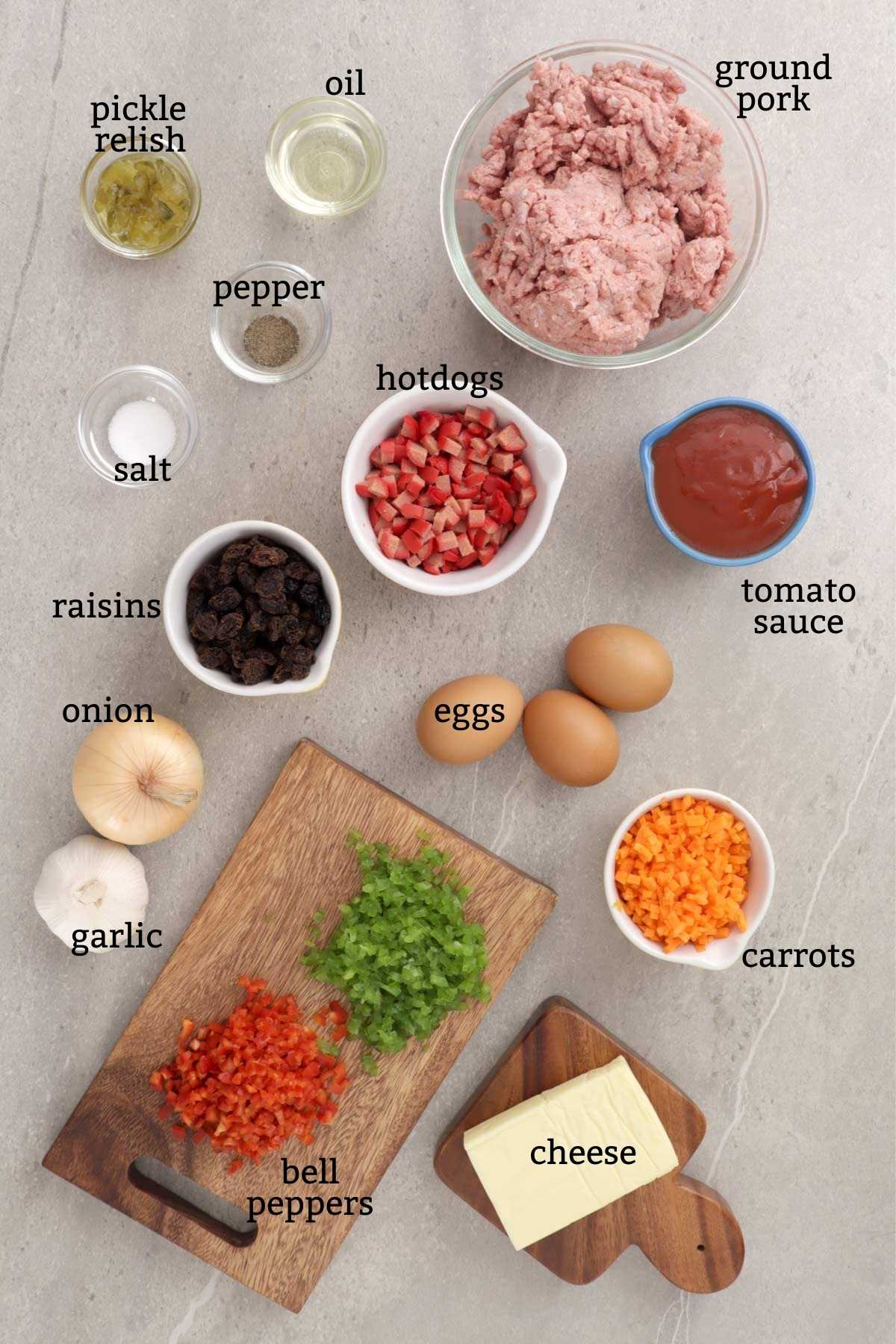 FAQS
Can I use other types of meat?
Yes, you can. You can also use ground beef. Or ground chicken or turkey for a healthier option.
Can I bake this in the oven?
Yes, that is possible. Make a heated water bath by pouring hot water in a baking pan directly below the llaneras.
How long can this be stored?
You can store it in the fridge for put to 7 days and keep it frozen for a maximum of 2 months.
Can I make this ahead?
Absolutely! Don't stress yourself out on the day of the celebration and make it in advance. You can reheat using your oven or microwave.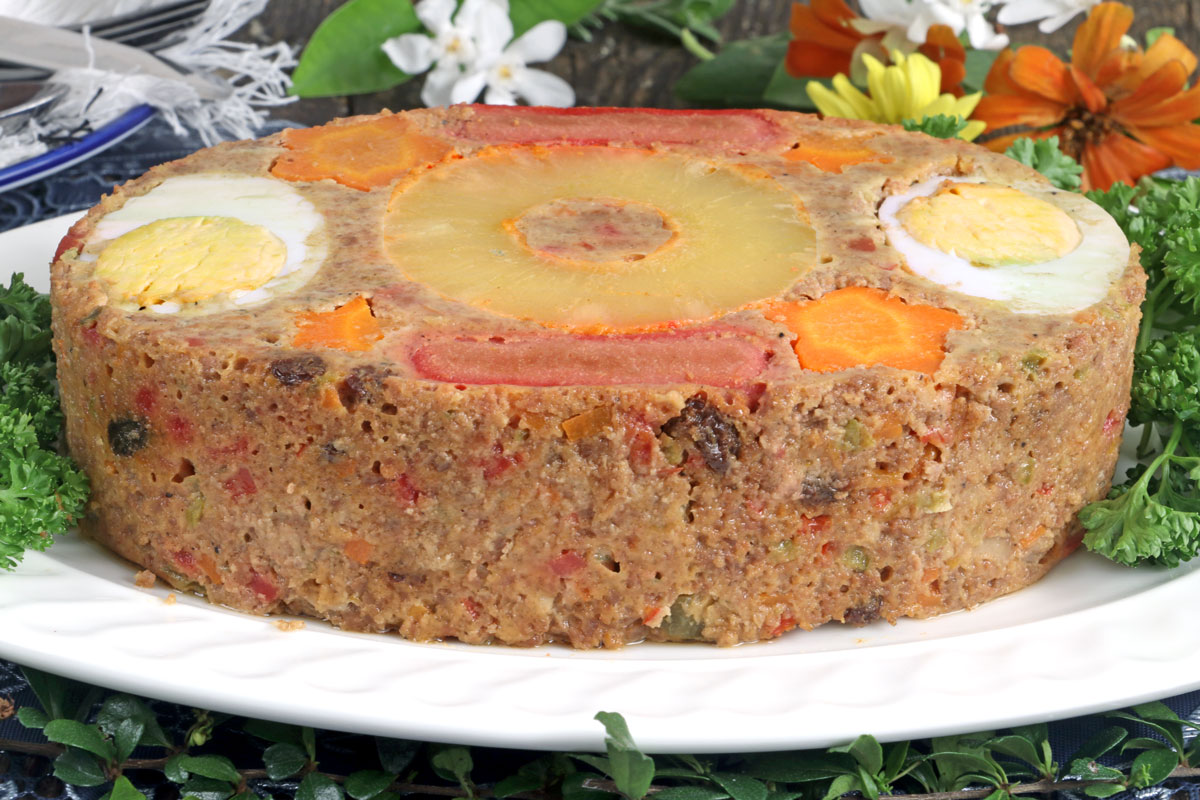 Printable Recipe
Everlasting (Marikina Meatloaf)
Everlasting is a Filipino-style meatloaf originating from Marikina commonly served during fiestas and other festivities.
Ingredients
2

tablespoon

oil

2

cloves

garlic

minced

1

piece

medium-sized onion

chopped

500

grams

ground pork

½

cup

carrots

finely diced

½

cup

tomato sauce

2

tablespoons

pickle relish

½

cup

raisins

½

teaspoon

salt

¼

teaspoon

ground pepper

3

pieces

hotdogs

diced, or luncheon meat

½

cup

cheese

grated

1

piece

small-sized green bell pepper

finely diced

1

piece

small-sized red bell pepper

finely diced

3

pieces

large egg

beaten

Oil or margarine for brushing
Options for garnishing;
2 - 3

piece

Hard boil eggs

cut into halves

2-3

piece

Pineapple rings

Carrot flowers

Hotdog slices
Instructions
In a deep pan, saute garlic and onion in oil until aromatic. Add in the ground pork and cook for 2 minutes or until no longer pink. Make sure to break the lumps.

Add carrots and tomato sauce and cook for a minute. Then add in the raisins, pickled relish. Season with salt and pepper.

Add hotdog and continue to stir cook for 2 to 3 minutes or until all the liquid has evaporated.

Remove the pan from heat then add the grated cheese and bell peppers and mix well. Let cool down.

While waiting for the meat to cool down, prepare the 3 small or 2 medium llaneras. Line the bottom with (heated/wilted) banana leaves. Brush with oil or margarine. Arrange the garnishings on the bottom of the mold/llanera. Be as creative as you like.

Once the cooked meat has cooled down enough, add the beaten eggs and mix until well blended. Fill each llanera with the mixture to the rim. Tap it several times against the counter to release air and make sure there are no spaces or holes, fill again if needed.

Cover with greased aluminum foil or another cut banana leaf. Place it on the top tray of a steamer. Steam for 30 minutes (small llanera) or 40-50 minutes (medium llanera) over medium heat. Turn off the heat and let it cool down for some minutes.

Remove the cover and run a knife along the inner sides of the llanera to detach the Hardinera.

Place the llanera top-side down on a serving plate and lift to release the Hardinera from the mold. Serve.
Nutrition
Calories:
338
kcal
Carbohydrates:
16
g
Protein:
18
g
Fat:
23
g
Saturated Fat:
8
g
Polyunsaturated Fat:
3
g
Monounsaturated Fat:
10
g
Trans Fat:
1
g
Cholesterol:
171
mg
Sodium:
407
mg
Potassium:
489
mg
Fiber:
2
g
Sugar:
5
g
Vitamin A:
2261
IU
Vitamin C:
36
mg
Calcium:
96
mg
Iron:
2
mg