This longganisa recipe is very simple and easy to make. With slightly sweet take and loaded with garlicky goodness. Normally encased in a casing but can also be made skinless.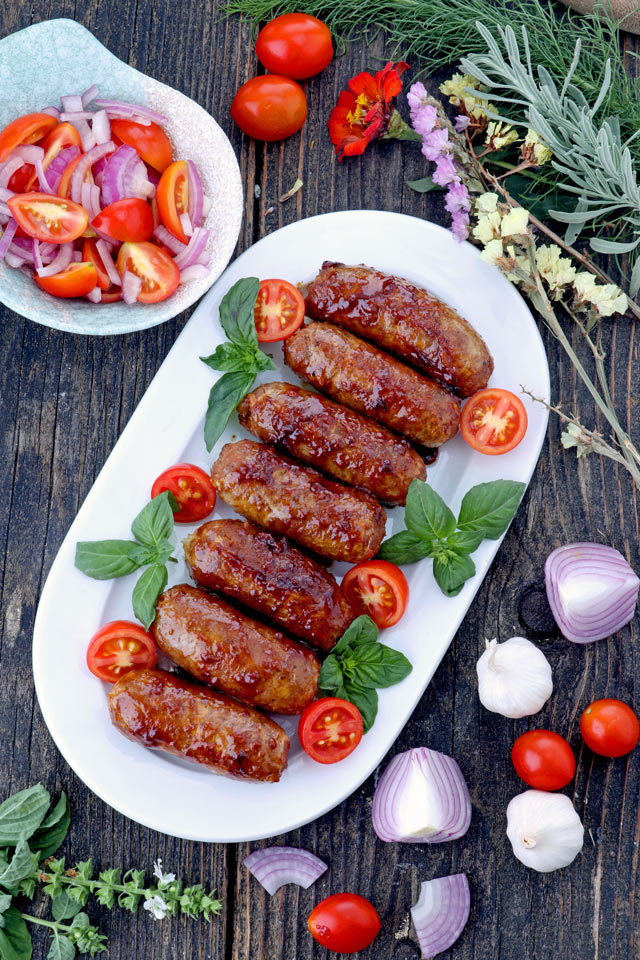 What is longganisa?
Longanisa/longganisa is a Filipino local sausage or chorizo. It is commonly served for breakfast with fried rice and a fried egg, the trio is known as 'longsilog'.
A derivative of the Spanish sausage, longaniza, the local Filipino longganisa has many different kinds. These variants are known after the name of the town or province where it comes from. Basically, they are grouped into two categories, the sweet longganisa (hamonado) and the garlicky/sour/salty ones (derecado).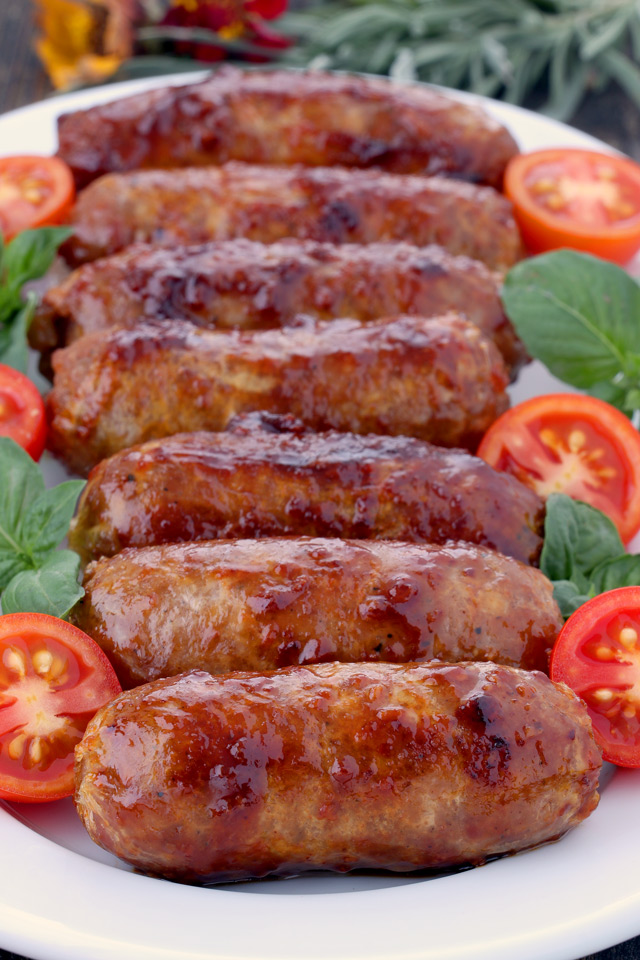 It was a bit ironic, that it was while I was in Germany, where sausages abound, that I learned how to make my own longganisa. I guess you can put it down to homesickness! While there were so many good sausages I can choose from, I can't help but pine for our own version. Specifically the ones I grew up with in Pampanga, Longganisa Hamonada. They are the most widely-known variety because they are commercially produced on a large scale.  I also like the garlicky kind, especially the ones from Cabanatuan and Vigan. So I figured I would combine the two in this recipe.
By the way, I would like to note that this Longganisa recipe is not as sweet as some commercially bought longganisa and has a lot of garlic. You may adjust both to your preference.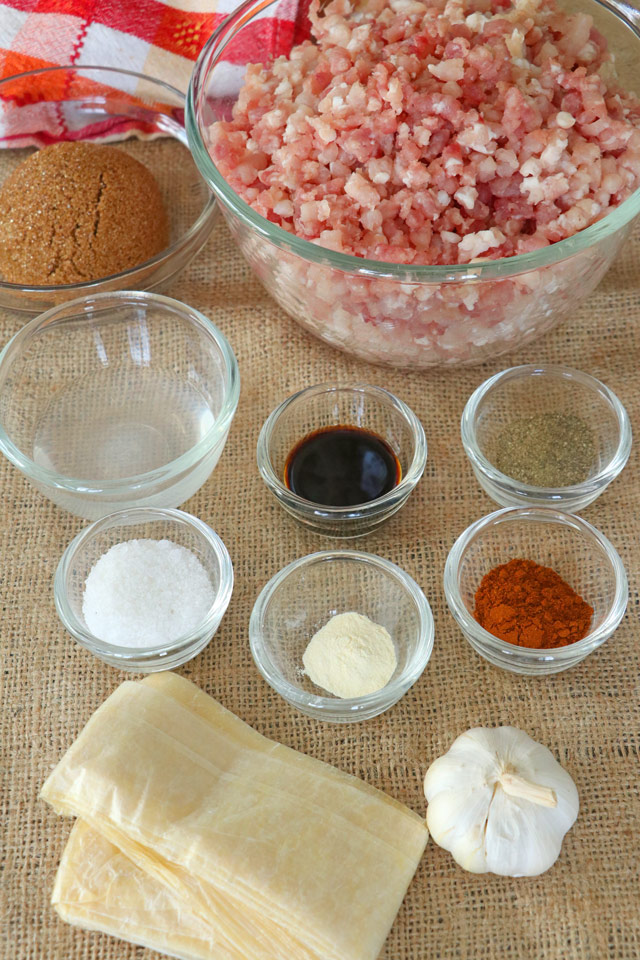 How to make Longganisa?
Making longganisa is really simple. You just mix the ingredients and put them on a casing. If you can not find casing, then make it skinless longganisa. Next, you let them dry our and cure for at least a day.
The ingredients vary from one recipe to the other. The most basic ingredients are ground pork/beef, brown sugar, salt, vinegar, ground pepper, and garlic. You can also add other spices like paprika or achuete powder, soy sauce, anise liqueur, oregano.
NOTES ON SOME OF THE INGREDIENTS
Ground Pork. It is important to add some fat whenever you make sausages. First, it adds flavor, and second, it will prevent the sausage from drying out.  The normal ratio is 70% lean to 30% fat. You can go lower like 80/20 but you cannot completely omit it. You can also use other meat like chicken and beef.
Hog Casing. This is what is normally used to encase longganisa as they are natural and edible. You can get them dry or fresh. In Germany, you can the butcher shop or Metzgerei if they can give you some. They will be fresh and soaked in saline solution. You need to rinse them several times to rid of the salt and the smell. In the Philippines, I got the dried hog casing from an online shop. They are ready to use but I soaked them a bit to make them more pliable.
Ascorbic Acid. Or commonly known as Vitamin C. This is not a must but adding it to meat will slow oxidation and preserve color and freshness during the storage.  You can use the ascorbic acid tablets and crush them to make a powder to be dissolved in cold water.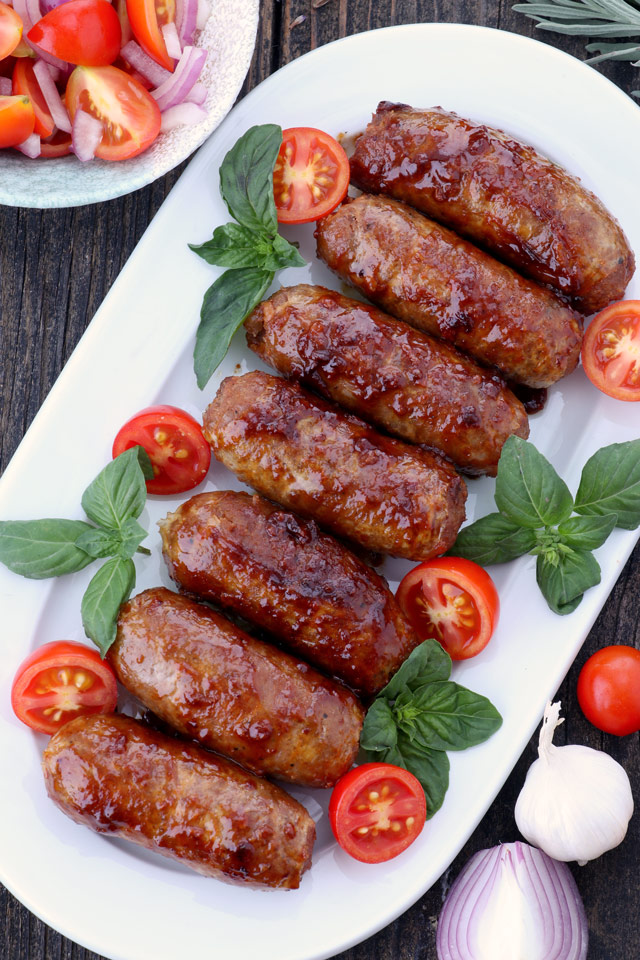 How to cook longganisa?
The way we Kapampangans normally cook Longganisa (encased in a sausage casing) is we boil them first in little water. Use a skillet over medium heat. No need to emerge them in water, add just enough to reach about a quarter high of the longganisa.
Cover the skillet or pan with the lid and let it simmer until water is almost gone. You may need to poke some holes on the sausages or they will burst. Some of the fats would have turned to oil.
Remove the lid and add more cooking oil if needed. Cook the longganisa, turning from time to time until both sides are browned and sugar from inside has caramelized.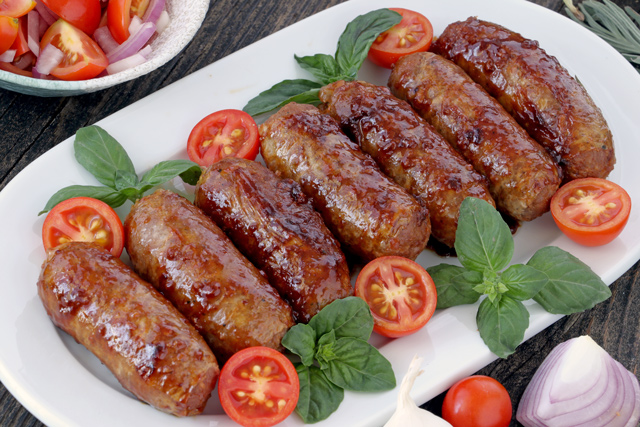 Printable Recipe
Longganisa Hamonado (Filipino sweet sausage)
This longganisa recipe is very simple and easy to make. With slightly sweet take and loaded with garlicky goodness. Normally encased in a casing but can also be made skinless.
Ingredients
1

kilogram

ground pork

- 20%-30% fat

½

cup

brown sugar

- or more

1

head garlic

- finely chopped

1

tablespoon

soy sauce

1000

mg

Ascorbic Acid

- crushed and dissolved in 1 Tbsp cold water

1

tablespoon

salt

3

tablespoons

coconut vinegar

1

teaspoon

ground pepper

1

tablespoon

paprika powder

-optional

sausage casing

(or wax paper for skinless)
Instructions
Put all the ingredients in a bowl, except for the casing, and mix well until fully combined. Cover bowl with a plastic wrap or transfer into a container with a cover. Let it marinate in the fridge for at least an hour.

Close one end of a sausage casing with a knot or tie it with a thin rope or a cooking twine. Fill the sausage casing with the meat mixture. Use a funnel if you have one. Insert the nozzle of the funnel through the open end of the casing all the way to the closed end. Scoop the meat mixture, into the funnel and gently pack into the casing. Once filled tie a knot to enclose. To create the links tie a rope or twine around it at every about 2-3 inches interval.

Once in the casing, place them in a tray and put in the fridge for a day or two to dry out. Pack them in zip locks or cantainer with lid and can be refrigerated for several days. You can also freeze them for longer storage time.

To cook, place sausages (uncut) in a skillet. Using a toothpick, prick a hole or two on each sausage then add some water just enough to reach about halfway up the sausages and cook in medium heat. Let it simmer until water is goned.

Usually, there is no need to add oil since it will have enough from the fats from the sausages itself but add some if needed. Cook until browned and sugar has caramelized.

Transfer to a serving plate and serve with rice.
Nutrition
Calories:
129
kcal
Carbohydrates:
5
g
Protein:
7
g
Fat:
9
g
Saturated Fat:
3
g
Cholesterol:
30
mg
Sodium:
357
mg
Potassium:
134
mg
Fiber:
1
g
Sugar:
4
g
Vitamin A:
147
IU
Vitamin C:
1
mg
Calcium:
10
mg
Iron:
1
mg
This longganisa recipe was originally published in September 2014. Updated in April 2020 to include new photos and a video. The recipe was also improved.