Longanisa Recipe (Filipino sweet sausage)
Longanisa/longganisa is another Filipino food that is popular throughout the country. It is our local sausage or chorizo, but its origin is Spanish (longaniza). Native Filipino longganisa has different kinds depending where (town or province) they are coming from. Basically, they are grouped into two categories, the sweet longganisa (hamonado) and the garlicky/sour/salty ones (derecado). This recipe is hamonado.
It is a bit ironic, that I am living in Germany, where sausages are abound, but still craving for our own brand of sausage! I guess you can put it down to homesickness! Yup, after more than two years, I still get a bout of homesickness from time to time. But big thanks to modern technology, I can talk and see my family who are miles away every time I miss them (or vise versa)! But when I am craving for Filipino food, that is a bit more difficult. Most of them I have to learn to make myself.  And who would have thought that I am able to make this kind of stuff. But I am glad I am, but I am more glad that Armin likes them too!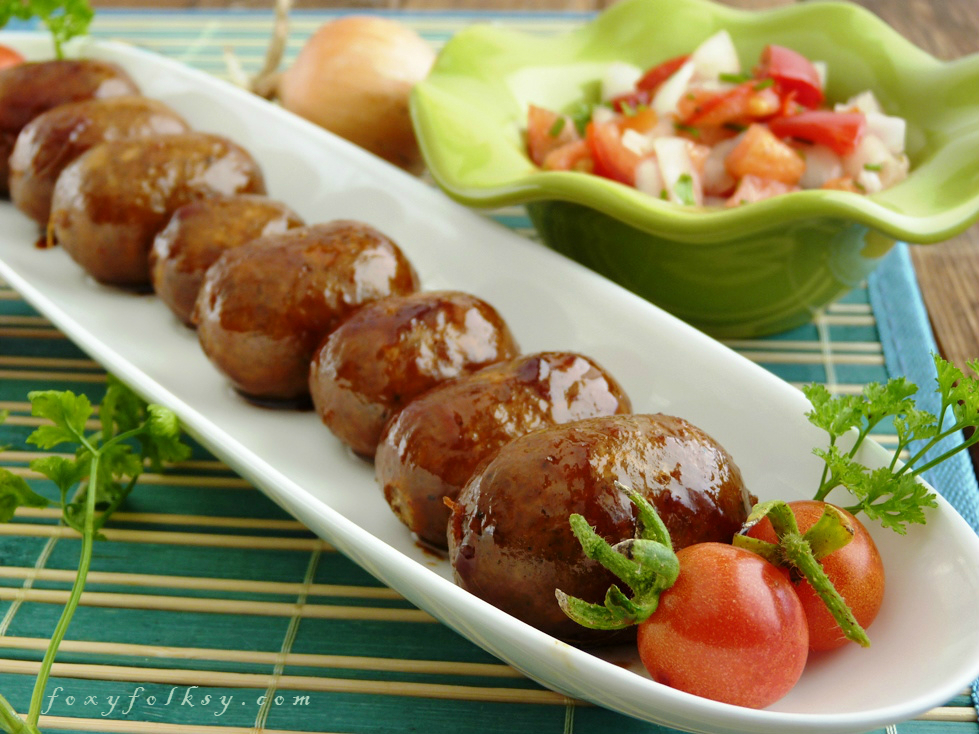 Longganisa (Filipino sweet sausage)
Prep time:
Cook time:
Total time:
Longganisa is popular among Filipinos served at breakfast. Try this simple longganisa recipe that can be encased in a sausage casing or simply skinless.
Ingredients
600 g ground lean pork
250 g ground pork fat
1 head garlic, finely chopped
½ cup brown sugar
1 Tbsp soy sauce
1 Tbsp salt
3 Tbsp vinegar (coconut vinegar)
1 tsp ground pepper
sausage casing(or wax paper for skinless)
Instructions
Put all the ingredients in a bowl and mix well until fully combined. Cover bowl with a plastic wrap or transfer into a container with a cover. Let it marinade in the fridge for at least 2 hours or overnight.
Close one end of a sausage casing with a knot or tie it with a thin rope or a cooking twine. Fill the sausage casing with the meat mixture. Use a funnel if you have one. Insert the nozzle of the funnel through the open end of the casing all the way to the closed end. Scoop the meat mixture, into the funnel and gently pack into the casing. Once filled tie a knot to enclose. To create the the links tie a rope or twine around it at every about 2-3 inches interval.
Once in the casing they may be put in the fridge for a day to dry before freezing.
To cook, place sausages (uncut) in a skillet. Using a tooth pick, prick a hole or two on each sausage then add water about halfway up the sides of the sausages and cook in medium heat. Let it simmer until water is gone. Usually, there is no need to add oil since it will have enough from the fats from the sausages itself.