A festival of flavors and colors, this Hardinera recipe, with its mix of meaty and savory flavors will surely have you wanting for more!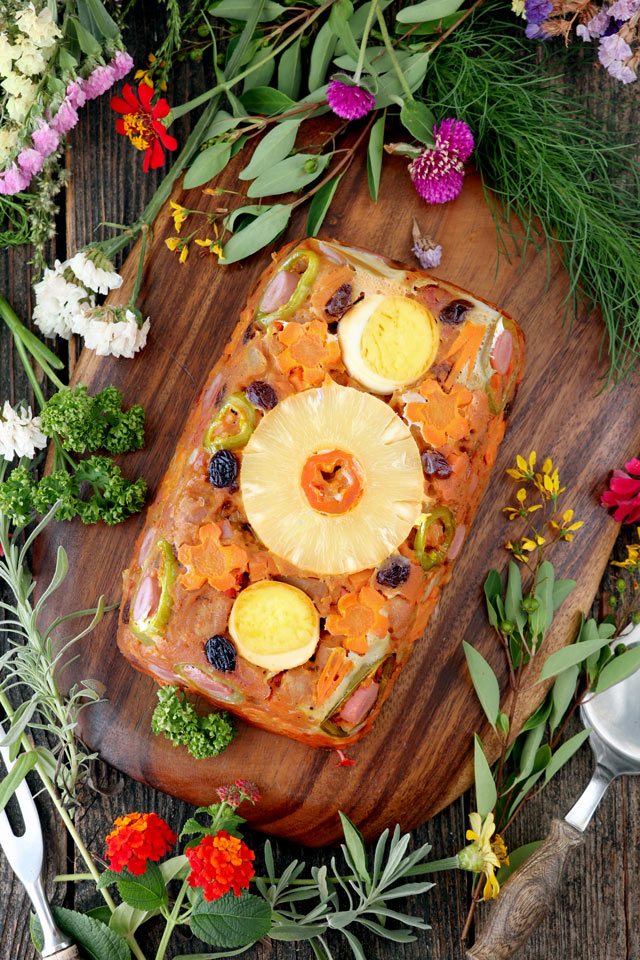 What is Hardinera? 
Hardinera, or Lucban Hardinera recipe (also sometimes called Jardinera), is a traditional type of meatloaf originating from Lucban Quezon, a province in the Philippines. This steamed dish is a holiday favorite and can often be seen during fiestas.
The Hardinera recipe calls for diced pork cooked in tomato sauce and is very similar to Menudo that will be later formed and steamed to become a meatloaf, like Embotido. Usually embellished with various trimmings like pineapple, hard-boiled egg, raisins, carrots, bell pepper and sausages among other stuff.  It is a pretty dish befitting a typical Filipino banquet.  Preparing Hardinera can take some time which is why you only usually see this during fiestas and holidays.
What makes Hardinera different?
Hardinera and Embutido are both meatloaves which is why they're often compared to each other. Their main difference is that Hardinera is already cooked beforehand unlike Embutido which is steamed raw.
Hardinera being made of diced pork is also another thing that separates it from Embutido which uses ground pork. Your choice of meat results in a very different texture while eating.
Another difference is their mixture, as in Embutido you mix everything together with the pork but in Hardinera, you garnish your other add-ons such as boiled egg and pineapple slices as you arrange them in your mold so you have more control in how it looks and how much you're going to add of these ingredients.
There's also the Everlasting recipe. This recipe is from Marikina just like Lucban. It uses ground pork but cooked Hardinera-style.
How to make Hardinera?
Even the people from Quezon have different takes on how to prepare Hardinera. Others would boil the pork cubes first until tender and will be added later on to the sautéed ingredients. I, on the other hand, took the simpler and more straightforward approach of braising. That is, sauté the meat with garlic and onions first then add the tomato sauce or paste, liquids and seasonings to simmer it with.
Once the meat is tender, remove the cover to reduce the sauce. You can then add the other ingredients like diced carrots, bell pepper, raisins, relish, and pineapple tidbits. Remember to just half-cook the vegetables as they will be further cooked when steamed later on. You can actually just add them raw. Add grated cheese and sausages last then remove from heat and cool down a bit.
The next step is to add beaten eggs and flour or breadcrumbs to the mixture. This will serve as a binder that will hold the dish together.
You then transfer everything in a llanera— an oval-shaped tin container or mold used for steaming. I used a different mold, a ceramic baking dish that is larger than a regular llanera. You can decorate the bottom of the mold as you please, with boiled eggs cut into half, pineapple rings, raisins, flower-shaped carrots, etc. The colorful arrangement adds to its festive presentation especially if you're cooking this for an occasion.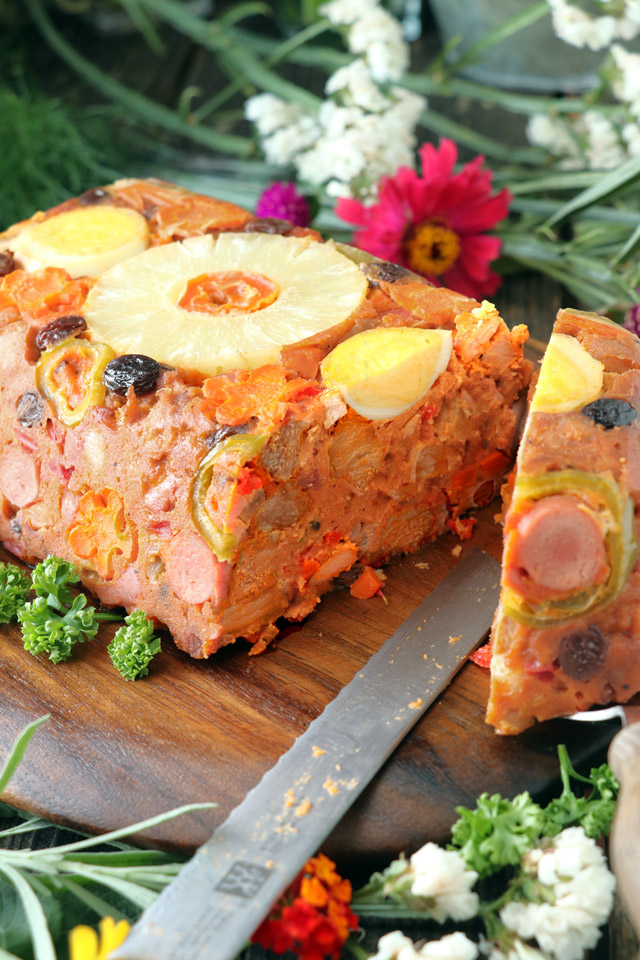 Additional Tips: 
Line your llanera or mold with banana leaves and brush it with a little butter for easy removal of the meat from the mild after steaming. The scent from banana leaves will also add a good aroma to the dish. If you can't get banana leaves, wax paper also works.
The temperature of the pork mixture is important! Cool it down before adding the beaten eggs. The Hardinera won't be able to hold itself together if it's too hot and cooks the egg before it is steamed.
When steaming, make sure to cover the top of llanera or mold with aluminum foil. It will prevent the water from the steam from dripping to the meat. It will also keep the heat trapped inside for faster cooking.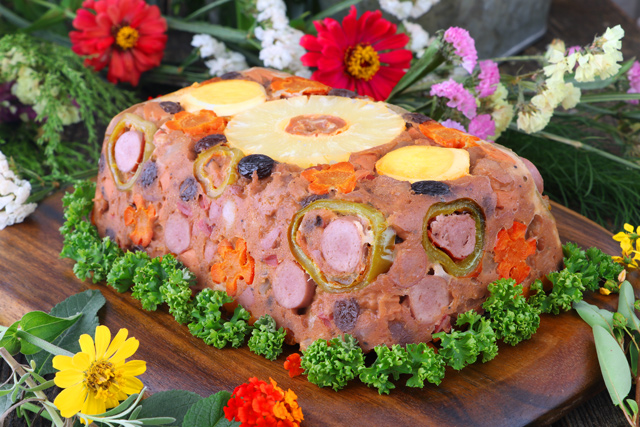 Printable Recipe
Hardinera Recipe
A festival of flavors and colors, this Hardinera recipe with its mix of meaty, mildly sweet and savory flavors will surely have you wanting for more!


Ingredients
2

tablespoons

oil

1

medium

onion

-chopped

2

cloves

garlic

-minced

1

kilogram

pork butt (kasim)

- cut into cubes

1

piece

chorizo

-cut into small cubes

¼

cup

tomato paste (70g)

1 ½

cup

water

salt

ground pepper

1

big

carrots

-diced

1

big

green or red bell pepper

-diced

½

cup

pineapple tidbits

2

tablespoons

pickle relish

¼

cup

raisins

½

cup

grated cheese

1

cup

Vienna sausage

- cut into ½ inch pieces

2

cups

breadcrumbs

4

medium

eggs

-beaten
For the decorations
2

pieces

pineapple rings

1

small

carrots

- cut into flowers

2

pieces

hard-boiled eggs

-cut into halves

1

small

green bell pepper

-cut into rings

¼

cup

raisins
Instructions
Saute onion and garlic in oil in a deep pan or pot over medium heat. Add pork and chorizo cubes and cook until meat turns opaque and slightly browned.

Add tomato paste and water. Season with salt and pepper and bring to a simmer. Cover the pot with the lid and lower the heat to low. Cook for 30-40 minutes or until meat is tender.

Remove the cover and continue to simmer until liquids are reduced significantly into a very thick sauce. Add diced carrots, bell pepper, raisins, relish and pineapple tidbits. Continue to cook until sauce is almost gone. Add grated cheese and sausages and mix until the sauce dries out.

Turn off the heat and let the meat cool down. make sure it is no longer hot. Add the breadcrumbs and beaten eggs to the meat. Mix well.

Grease the inside of the mold or llanera with oil or butter. Line the bottom banana leaf or wax paper. Decorate the bottom and sides as you like. Fill the llanera/mold with the mixture making sure to cover all the crevices and gaps are filled.

Cover the llanera/mold with aluminum foil and place it on the top tray of a steamer. Steam for 30 minutes or until set. Let it cool down for some minutes. Place the mold/llanera top-side down on a serving plate and lift to release the Hardinera from the mold.
Notes
Hadinera can be served warm or cold. You can make them ahead of time and serve cold or warm it in the microwave or re-steam.
This recipe is good for making two (2) llanera or 1 big pan dish.  
Nutrition
Calories:
496
kcal
Carbohydrates:
37
g
Protein:
35
g
Fat:
22
g
Saturated Fat:
8
g
Cholesterol:
186
mg
Sodium:
781
mg
Potassium:
736
mg
Fiber:
3
g
Sugar:
9
g
Vitamin A:
1535
IU
Vitamin C:
14.7
mg
Calcium:
149
mg
Iron:
4.3
mg