Enjoy this hearty, nutritious, and delicious Chinese Spinach Soup. Protein-rich from the eggs and shrimps, carb-loaded from the noodles, and nutrient-dense from the spinach and other veggies used- it is an idyllic dish to make to keep your loved ones fit and healthy.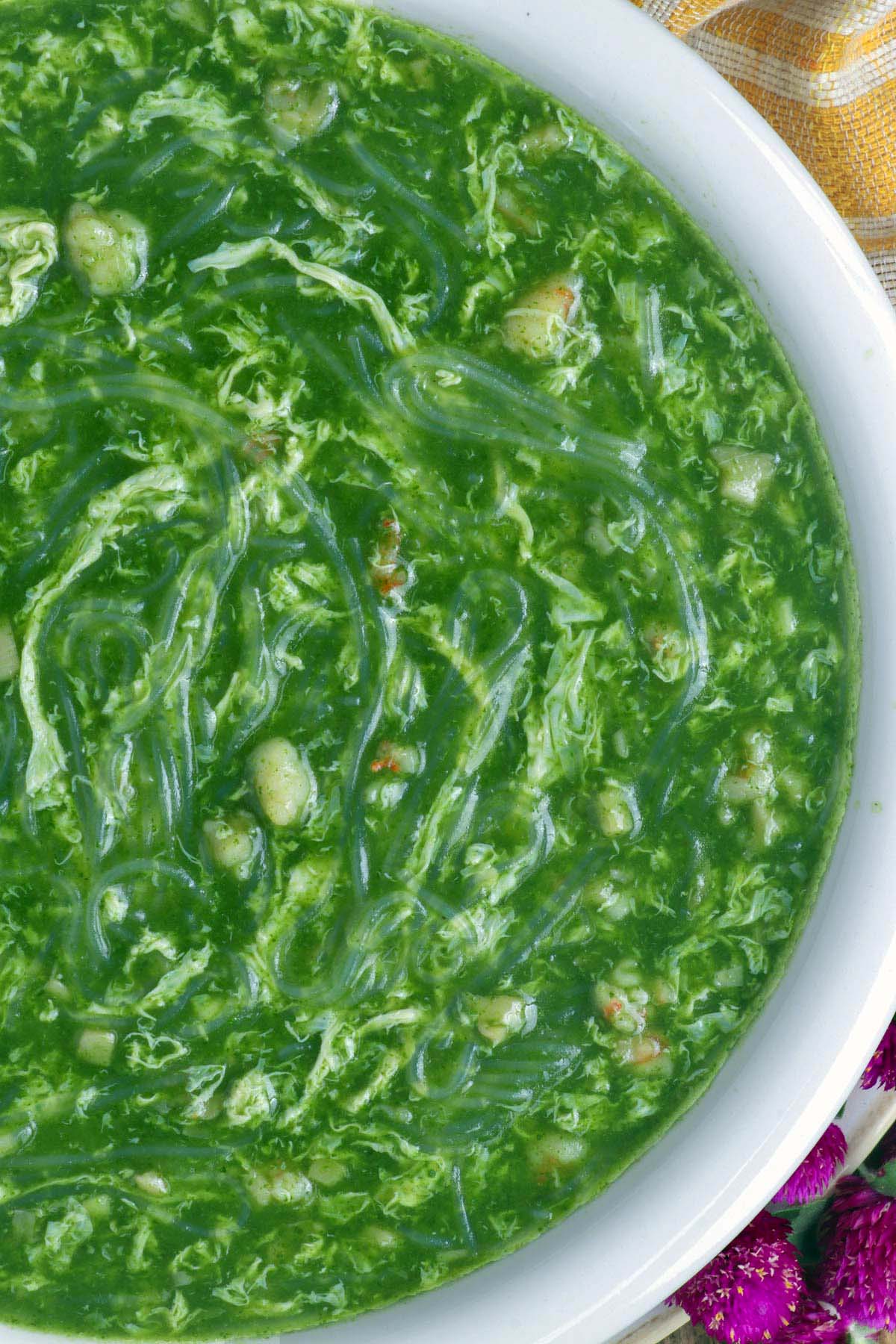 Finally, after ordering this savory green soup from our favorite Chinese restaurant, again and again, I have decided to make it right in the comfort of my own kitchen. I remember the last time we ordered this soup and, there I was, savoring every spoonful of it while making mental notes about what is in it and its texture- and let me tell you, it has paid off!
If you have tried my Egg Drop Soup before, this recipe is almost similar, with some additional ingredients and steps. So worth it, though!
What is Chinese Spinach Soup?
It is also known as Green Soup, Emerald Soup, and Polonchay Soup. One of the key ingredients used in making it that gives it that characteristic deep green color is Chinese spinach or "Po Lun Cai" in Fukien. Chinese spinach is slightly different than regular spinach. It has a deeper flavor which makes this soup a lot more delicious. There are several varieties of this soup where the spinach can either be cooked whole, chopped, or, like in this recipe, pureed.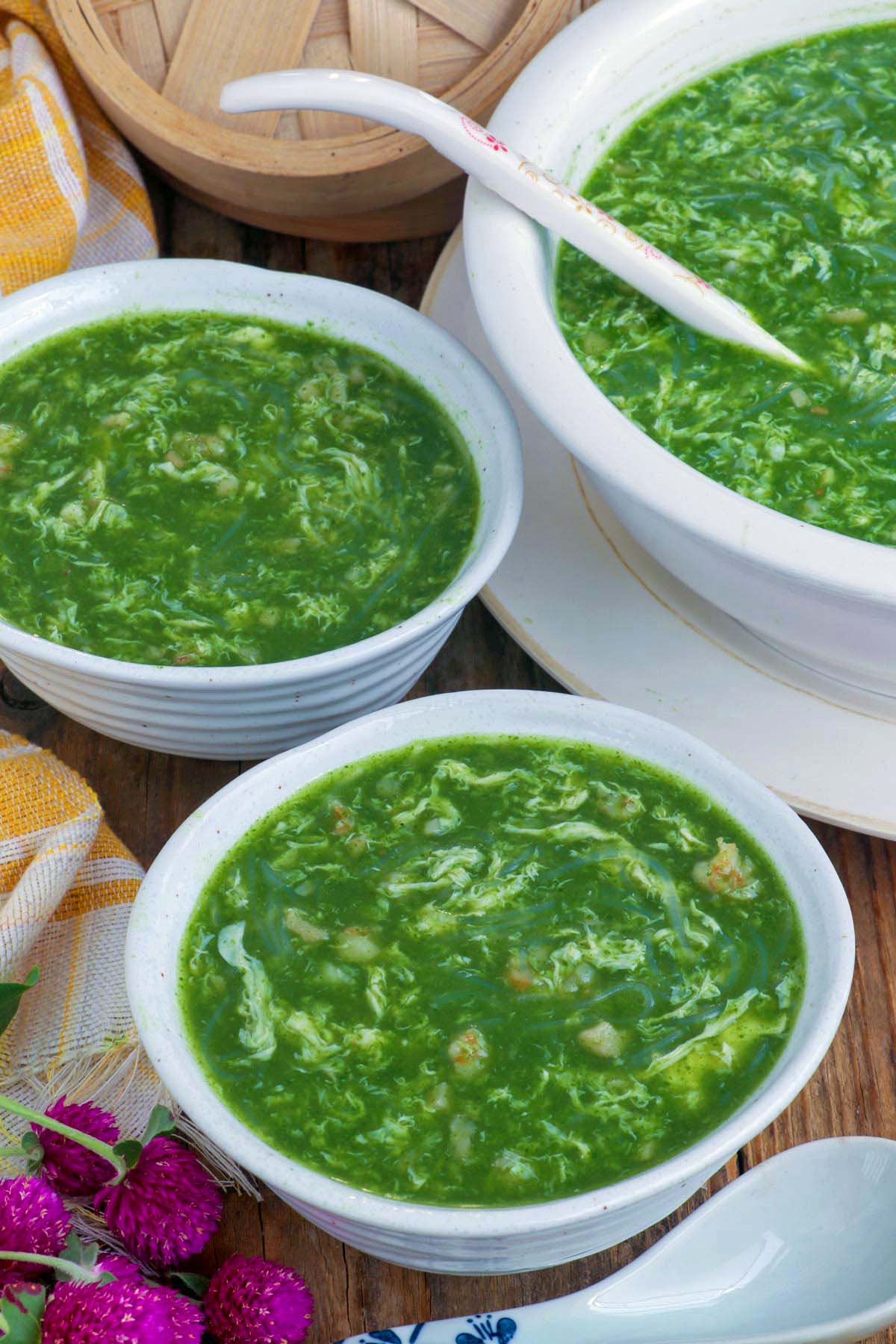 Ingredients Used
Cornstarch + water- this is used to make a slurry that is added at the latter part of cooking to make the soup thick and silky!
Chinese Spinach
Water- you will need 6 cups in total for this recipe, 2 cups for boiling the Spinach leaves in, and 4 cups for the soup base.
Oil- for frying.
Garlic
Mushroom- I used white button mushrooms in this recipe. However, feel free to use other types of mushrooms like cremini or shiitake.
Shrimp- Adds a briny and umami flavor to the soup. I used fresh shrimp in this recipe; however, you can also use dried shrimp if that is what you have.
Fish sauce- you can also use salt if you do not have this.
White pepper
Vermicelli/ Cellophane noodles- these are thin, transparent noodles that are usually made from rice. You can find them in the Asian aisle in supermarkets or at Asian stores.
Eggs- gives the soup more body and thickness.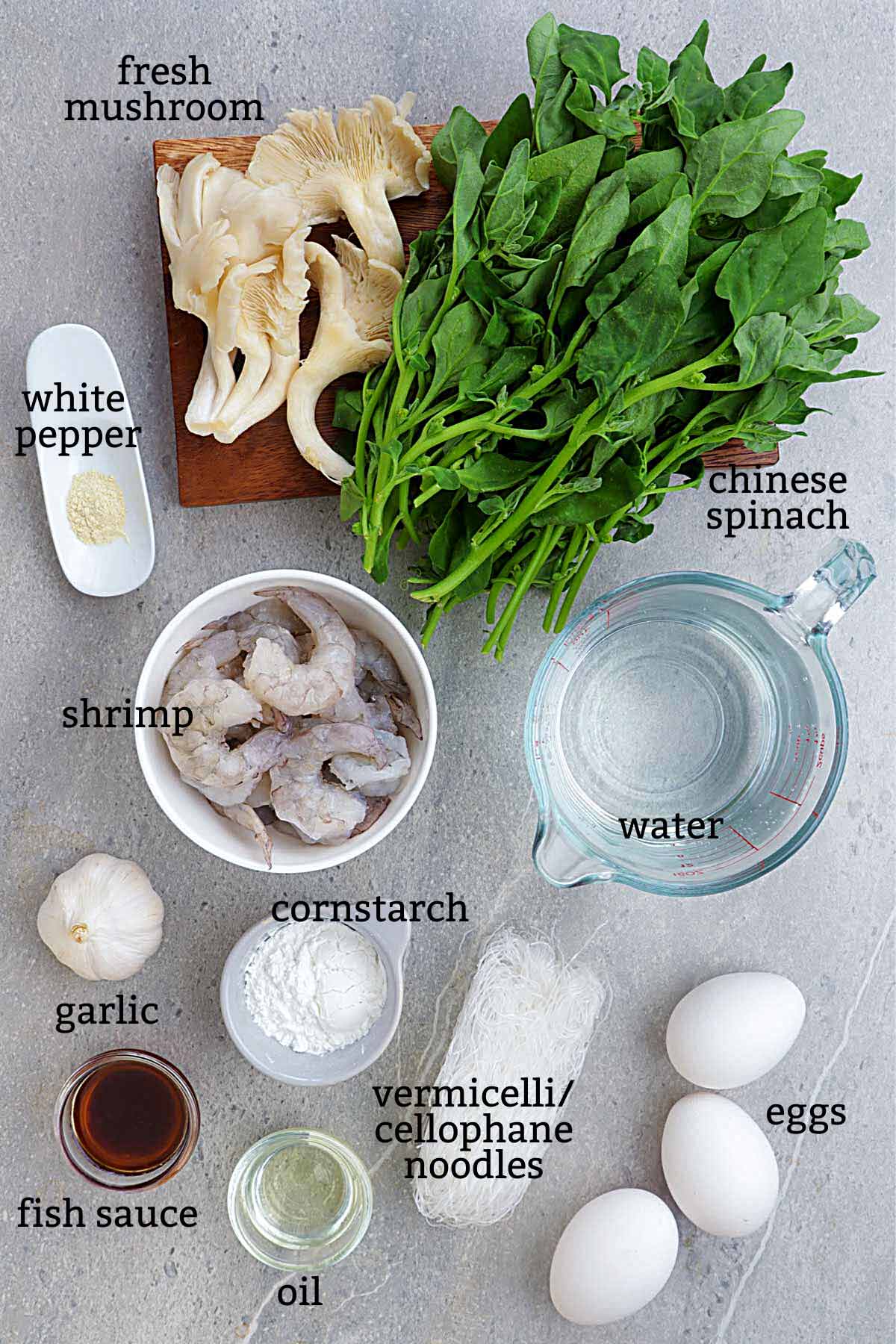 Cooking Tips
You can chop the leaves instead of pureeing them if that is what you prefer. The soup will look different but would still be delicious.
Beat the egg in a large bowl or cup with a handle. This way, it will be easier to slowly pour it in a thin, steady stream.
Stir the cornstarch slurry before adding it to the soup to ensure that the cornstarch has not settled at the bottom. Also, you should always turn the heat to low once the cornstarch has been added, or you will quickly lose the soup's thickness.
Frequently Asked Questions
Is Chinese spinach healthy?
Absolutely! It is considered a plant protein and boasts many nutritional benefits like fiber, antioxidants, Vitamin A, Vitamin C, among other things.
Why did my Polonchay Soup become watery?
It is common for soups like this to lose their thickness after a while. It is because the effect of the cornstarch wanes as it cools and sits.
Why is my soup too thick?
It can be that you added too much cornstarch or too much spinach puree. Don't worry; you can always add more water until you are satisfied with the consistency.
Can I use broth instead of water?
Sure, you can. However, I suggest reducing the amount of fish sauce and pepper, so it does not become too salty.
I can't find polonchay or Chinese Spinach. What else can I use?
You can substitute polonchay with regular spinach. You can also use moringa/malunggay, pechay/pak choi or kangkong/water spinach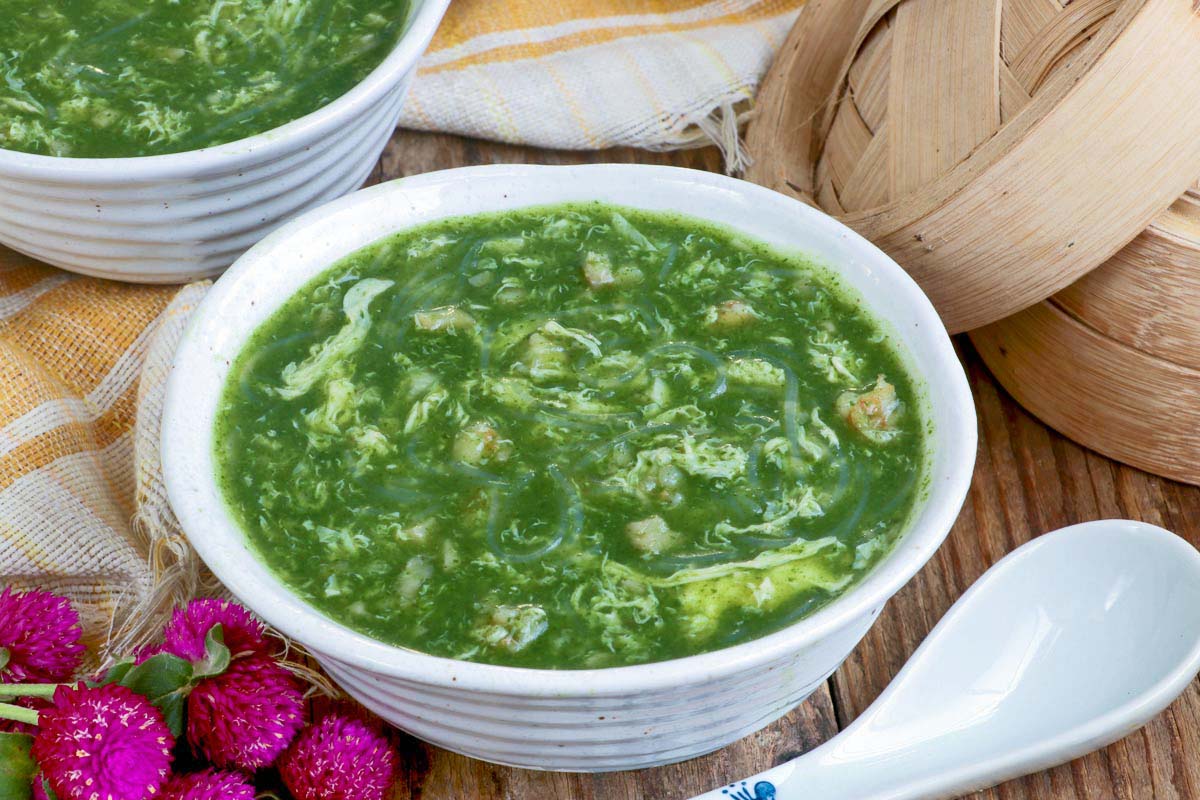 Storing Leftovers
Place your leftover soup in a lidded bowl or container. You can store it in the fridge for up to three days. You can reheat it using the microwave or the stovetop. If it becomes too thick, just add more water.
Printable Recipe
Chinese Spinach Soup
Enjoy this hearty, nutritious, and delicious Chinese Spinach Soup. Nutrient-dense from the spinach, shrimp, noodles and other veggies used- it is an idyllic dish to make to keep your loved ones fit and healthy.
Ingredients
3

tablespoons

cornstarch

¼

cup

water

4

cups

Chinese Spinach

chopped coarsely just to make them smaller

2

cups

water

for boiling

2

tablespoon

oil

2

cloves

garlic

minced finely

1

cup

fresh mushroom

chopped into small bits

1

cup

shrimp

shelled and chopped into bits

4

cups

water

as soup base

3

Tablespoon

fish sauce

or salt to taste

¼

teaspoon

white pepper

1

cup

vermicelli/ cellophane noodles

3

large

eggs
Instructions
3 tablespoons cornstarch,

¼ cup water

In a small bowl, dissolve cornstarch in ¼ cup water. Set aside.

4 cups Chinese Spinach,

2 cups water

Bring 2 cups of water to a boil over high heat. Add the polonchay / spinach and cook for 2-3 minutes or until wilted.

Transfer to the content of the pot into a blender or a mixing bowl if using an immersion blender. Turn the spinach into puree. Set aside.

2 tablespoon oil,

2 cloves garlic,

1 cup fresh mushroom,

1 cup shrimp

Heat oil in a large pot over medium heat. Sweat the garlic and add the shrimp and mushroom bits. Stir to cook until shrimp is no longer pink.

4 cups water,

3 Tablespoon fish sauce,

¼ teaspoon white pepper,

1 cup vermicelli/ cellophane noodles

Pour in 4 cups of water. Season with fish sauce and white ground pepper and bring to a boil. Add the cellophane noodles and cook for 4 minutes. Add the pureed spinach and bring to a boil over high heat.

In a bowl or beaker or measuring cup (with handle for easier pouring), beat the eggs using a fork or whisk. Set aside.

Once boiling, slowly pour the cornstarch slurry into the pot while stirring continuously in a circular manner. (Remember to stir the slurry before adding it as the cornstarch would have settled at the bottom). Once it has slightly thickened, lower the heat to medium.

While simmering, slowly stir the soup, using a whisk or spoon, in a circular motion to create a whirlpool. Then gently pour the beaten eggs over the soup while stirring until 'egg ribbons or flowers' are formed.

Turn off the heat. Season with more salt and pepper if needed.
Nutrition
Calories:
143
kcal
Carbohydrates:
14
g
Protein:
6
g
Fat:
7
g
Saturated Fat:
1
g
Polyunsaturated Fat:
2
g
Monounsaturated Fat:
4
g
Trans Fat:
1
g
Cholesterol:
93
mg
Sodium:
817
mg
Potassium:
243
mg
Fiber:
1
g
Sugar:
1
g
Vitamin A:
2622
IU
Vitamin C:
22
mg
Calcium:
60
mg
Iron:
1
mg